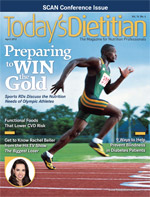 April 2012 Issue
Dietitians Abroad — TD Speaks With Dietitians Working Around the World to Learn What It's Like Practicing Overseas
By Lindsey Getz
Today's Dietitian
Vol. 14 No. 4 P. 48
Have you ever wondered what it might be like to practice dietetics abroad? Today's Dietitian chatted with five RDs who've practiced around the world to find out what their experiences were like and what the local cultures have to offer.
Japan
Laura Nihan, PhD, RD, chief of nutrition and foodservices, Louis A. Johnson VA Healthcare System
Laura Nihan first worked in Japan while stationed in Misawa during her service in the US Air Force (USAF) Reserve. She returned later as a visiting professor at Yamanashi University. Eventually, she was a civilian dietitian working for the military while also working as a lieutenant colonel stationed with the USAF Reserve at Yokota Air Base in Tokyo.
"For five years, I worked as a dietitian at Yokosuka Naval Base and the clinics in Sasebo, Iwakuni, Camp Zama, and Camp Fuji," Nihan says. "I was a guest speaker twice at Kagawa University and coauthored four books for dietetics students on nutrition with Shige Ogawa and Atsuko Yamamoto. I enjoyed Japan and Japanese people so much that I actually worked there at three different times as a dietitian and hope to someday work there again."
While overseas, Nihan, who completed her undergraduate studies at the University of Massachusetts, Amherst and her internship in the USAF at Andrews Air Force Base at Malcolm Grow Hospital, found that the American RD credential is highly regarded in Japan. She says her willingness to learn the Japanese language, culture, and food preferences earned her additional acceptance while giving her the tools she needed to work effectively in dietetics in Japan. "Learning cultural mores and values was a part of successfully managing a kitchen with all Japanese employees," she says.
Some challenges Nihan faced on a daily basis in Japan included working with imported food and planning meals for patients from other cultures and countries in a hospital setting. But she says she learned much about the Japanese diet. "I found the Japanese people very helpful in showing me their 'secret' family recipes so I could do nutritional analysis of foods in restaurants and label menus for potential patrons from the military and embassy dining in the local area," Nihan says. "In addition to working as a dietitian, I taught English, which afforded me the opportunity to learn more about cooking with local foods."
A typical Japanese diet includes rice, pickles, seaweed, tofu, soybeans, noodles, natto, miso, and fish or seafood. But Nihan says one challenge faced by the Japanese people is the fact that ovens are uncommon. That means food is often microwaved, boiled, or fried instead of being more healthfully baked.
For Nihan, her experiences in Japan have become a part of her practice even today. Now working in West Virginia for the VA Healthcare System, she's shared some of her international knowledge, which includes time spent in Germany. "We've had several international theme meals," Nihan says. "Everyone benefits when they have an opportunity to try new foods and traditional celebrations to broaden the understanding of others."
Greece
Elena Paravantes, RD, food and nutrition writer, consultant, and blogger
Though born and raised in Chicago, Elena Paravantes has lived in Greece for the past 10 years. Educated and trained in the United States, Paravantes, who's of Greek descent, worked as a clinical dietitian in the United States before moving to Greece in 2001, continuing in her role as a clinical dietitian while writing for various Greek publications. She then became the food and beverage manager for Starbucks Greece when it first opened, developing and establishing their food program.
Continuing to write, she eventually ended up as the food and nutrition editor of the Greek editions of Men's Health and Prevention. Currently, she works as a nutrition consultant and food and nutrition writer in Athens, and has her own blog, Olive Tomato. She also teaches some introductory nutrition college courses part time.
When Paravantes first moved to Greece, she says she experienced difficulties obtaining professional recognition overseas. "Although there's no registration for dietitians in Greece, all health professionals are required to verify their degree through the Hellenic National Academic Recognition and Information Center, also known as DOATAP," she explains. "This process was not only time consuming, as it took more than nine months to receive the verification; the required documents can be difficult to obtain."
Paravantes says the nutritional challenges the Greek people face are similar to those with which Americans are dealing, and the country is experiencing an increasing rate of obesity. She says it's a problem that's becoming more prevalent in many Mediterranean countries. While the traditional Greek diet is mostly vegetarian, much has changed.
A traditional Greek diet includes plenty of vegetables, such as green beans, eggplant, okra, and peas. These are typically prepared with tomato, onion, garlic, and various herbs and spices, Paravantes says, and then consumed as a main dish together with feta cheese and bread. Olive oil is a main ingredient in the traditional Greek diet—present in almost every dish.
"Pites [vegetable pies] also are popular, especially in northern Greece," Paravantes adds. "They last a long time outside of the refrigerator and provide a way to use any leftover vegetables or other ingredients. The most popular are spinach pies, cheese pies, and leek pies."
But like many places, the times are changing. "Unfortunately, the Greek diet has changed drastically in the past 30 years," Paravantes says. "Greeks are consuming more calories and saturated fat, and 22.5% of Greeks are obese, while 35.2% are overweight. This may be due to several factors, including increased income, a rise in the number of supermarkets, working women having less time to cook, eating out more often in fast-food restaurants, and getting less exercise. Urbanization and economic growth led Greeks away from the traditional Mediterranean diet, adopting a more westernized style of eating. So even though the Greeks continue to eat traditional dishes, they also have an increased consumption of meat and highly processed foods and drinks."
The Netherlands
Erin Boyd Kappelhof, MS, MPH, RD, nutrition and communications consultant, Seattle, Washington
Erin Boyd Kappelhof was first enticed by travel abroad while working for an international supermarket company. After that, she became eager for more international experiences. In September 2008, she moved to Amsterdam to be with her boyfriend (now husband) and was able to jump into an international role working for Unilever in the field of nutrition communication. Until recently she'd been with the food company as global nutrition and health programme manager.
When Kappelhof first moved to the Netherlands, one interesting difference she noticed was that the term "nutritionist" carried more weight than the term "dietitian."
"You might imagine that this was quite strange for me coming from a country where my RD credentials had proven to be essential for opening many professional doors," says Kappelhof, who recently moved back to the United States. "In the Netherlands, the term nutritionist generally implies higher education than dietitian. Furthermore, most dietitians don't work outside of traditional roles, so it caused some confusion when I would introduce myself as a dietitian."
People in the Netherlands share a common dietetic challenge with Americans—not enough fruits and vegetables and too much saturated fat. "A traditional Dutch diet centers around meat, potatoes, vegetables, dairy products, and bread," Kappelhof says. "The Dutch love their dairy. In fact, they consume more dairy products than any other nation in the world—about 140 L (148 qt) per person per year. Unlike the United States, the milk in the Netherlands isn't fortified with vitamin D. The Dutch get much of their vitamin D from margarine, which is spread habitually on the 132 lbs of bread they eat, on average, each year!"
While Kappelhof anticipated that keeping up with her continuing professional education units and maintaining ties with the Academy of Nutrition and Dietetics (the Academy) and her US-based professional contacts would be challenging while living abroad, she says that wasn't the case.
"The biggest reason was that as soon as I made the decision to move, I immediately joined [the Academy]'s international affiliate, the American Overseas Dietetic Association [AODA]," Kappelhof says, who's now president-elect of the AODA. "Through AODA, not only was I able to maintain my ties with my American colleagues and networks, but also be an active part of an international network of nutrition and dietetic professionals from around the globe. That enriched my professional and personal life tremendously and, without a doubt, made my career as a dietitian even more exciting and rewarding."
China
Julie Meyer, RD, nutrition communications specialist and founder of Eat Well Global
Around three years ago, Julie Meyer and her family were confronted with a life-altering change when her husband's company moved to China. So the family of four, which included 3- and 6-year-old daughters, picked up and moved to Shanghai. While she initially struggled with the drastic change, Meyer turned it into one of the most positive experiences of her life. Today, she's created a business that aims to help others traveling abroad.
One of the first things Meyer noticed about life in China was that so many of her conversations with fellow foreigners were about food. Food quality and safety were particular concerns that raised many questions. "I can remember drinking a martini and feeling a burning sensation and smelling the distinct smell of formaldehyde in my nose," she recalls. "Or I'd eat a piece of fruit and my lips would immediately start tingling. There's just a very different view of what's OK and what's not OK in terms of food safety. It can be frightening."
So Meyer took the initiative to start a company called Eat Well Shanghai, which provided down-to-earth nutrition advice, food safety information, and healthful eating tips for ex-pats living in China. She started hosting seminars and classes for the international schools as well as various Shanghai ex-pat groups. And she also published a guidebook, Eat Well Shanghai: Your Guide to Eating Well at Home and on the Go. The book addresses eating healthfully in Shanghai, which Meyer admits can be hard to do. While the traditional diet includes a great deal of rice, tofu, and "wet market" vegetables (cabbage being particularly popular), there's also plenty of fat added to many Chinese meals.
"If you're used to eating American-sized quantities of food and eat only Chinese food, that's a problem," Meyer warns. "It's very greasy and high in fat. The quality of ingredients is low, so they add a large amount of salt, oil, and preservatives to add flavor."
Despite the fat and calorie content, Meyer found that anywhere she went and at any presentation she gave, people weren't asking about that—they were asking about food safety. So that's what she really focused on. "How do you eat the best you can when you only have certain things available to you?" she asks. "That's what people wanted to know. It's so hard to fathom how much you appreciate food safety until you've gone somewhere that doesn't prioritize it."
Meyer is back home in the United States and has started a company called Eat Well Global, a nutrition-led travel media company. She's enlisted help from some AODA members from around the world to create country-specific apps focused on food safety, recipes, global places to eat, and special considerations for vegan or vegetarian travelers.
"I'm hoping to be able to supply travelers with good information no matter where they go," she says.
United Arab Emirates
Ellen Edwards, RD, CNSC, LDN, manager of clinical dietetics at Sheikh Khalifa Medical Center
Ellen Edwards' first job as an RD was at North Colorado Medical Center. She also taught at the local community colleges. At one point she even took one of her nutrition classes for nursing and dental students to Jamaica to do nutrition and dental health volunteer work. But it was long before that when Edwards was "bit" by the travel bug.
"My family subscribed to National Geographic since before I was born," she remembers. "That gave me the travel bug! But when I review my values and goals in life, I seem to have a pioneer spirit, so maybe I was born with it."
Today, Edwards is a pediatric specialist dietitian with certification as a nutrition support clinician in the United Arab Emirates. She says the working experience is similar as in the United States. "Both have great cultural mixes, chances to develop your language skills, and professional dietetic competency opportunities," Edwards says. "We find it's quite easy to plug into evidence-based medical nutrition therapy with the [Academy] continuing education and evidence analysis library systems."
The diet is also quite similar to what's available in the States, with various seasonings, fruits, vegetables, meats, and rice, Edwards says. Local favorites include dates and yogurts.
People in the Emirates face challenges with an increasingly high diabetes risk as well as heart disease and renal insufficiency. "Portion control is an area we're addressing," Edwards adds. "Due to the famous Arabic hospitality, it's normal to serve and receive large portions that are always tempting to eat."
One thing that hasn't been a challenge for Edwards is the language, considering many citizens speak English and translators are available when needed. Edwards says she speaks polite greetings and can pose basic questions and directions in Arabic.
Having truly traveled the globe, Edwards says she's always been interested in international nutrition and the ways in which she could help improve it.
"Visiting countries and assisting with nutrition events gave me a taste that just felt right," she says of trips to places such as Trinidad, Guyana, Romania, Bulgaria, Hungary, and western Europe. "I've always seen a need, but the question was how could one person make a difference? Well, it seems I have—or at least strive to each day!"
— Lindsey Getz is a freelance writer based in Royersford, Pennsylvania.