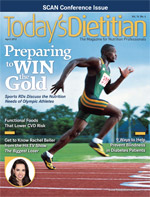 April 2012 Issue
Going for the Gold
By Judith Riddle
Today's Dietitian
Vol. 14 No. 4 P. 4
Like many of you, I'm looking forward to the London 2012 Olympic Games that will take place July 27 to August 12 and feature 26 sports events. And shortly afterward, the Paralympics will take place in London, with 20 events airing between August 29 and September 9.
I can't wait to watch the games' opening ceremonies and all my favorite events: track and field, diving, swimming and, best of all, men's and women's gymnastics, boasting the finest athletes from around the world.
London's new 80,000-seat, $760 million Olympic stadium will be the centerpiece of the 2012 Olympic and Paralympic Games, hosting the opening and closing ceremonies and many of the events. You'll hear the announcers and commentators discuss the intricacies of each sport and the athletes favored to win the gold. But you won't hear about the dedicated group of dietitians tirelessly working behind the scenes to ensure the American athletes are well fueled with nutrient-dense foods, snacks, and beverages to achieve top-level performance. These dietitians should win the gold for their hard work and determination, and for literally putting on shorts and T-shirts and lacing up their athletic shoes to train with the athletes while ensuring they meet all their sports nutrition needs.
In our cover story, "Preparing to Win the Gold," Today's Dietitian interviewed the incredible RDs who comprise the US Olympic Committee Sports Nutrition Team and make their living helping to nourish the American Olympic athletes. These world-traveling dietitians tell us what it's like working with athletic stars, how they meet the athletes' nutrition needs in a variety of sports, and how the needs differ from one sport to another.
Also in this issue, our feature article "The ABCs of Diabetic Retinopathy" discusses the growing prevalence of diabetes and this most feared complication that can lead to blindness. It reviews the important role you can play as nutrition professionals in preventing diabetic retinopathy and slowing its progression in your patients.
And in "Filling in the Fiber Gap," we offer practical tips, strategies, menu ideas, and recipes you can share with clients to help them get more fiber into their diets.
As always, please enjoy the issue!