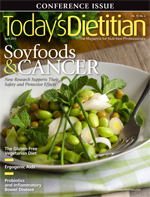 April 2013 Issue
The Freedom in Eating Gluten Free
By Bryan Roof, RD, LDN
Today's Dietitian
Vol. 15 No. 4 P. 66
Seemingly overnight, the outbreak of gluten sensitivity and celiac disease has changed the way we think about food. These conditions are so prevalent that food manufacturers have dedicated entire lines of products to gluten-free eating. (You can now enjoy a gluten-free beer while eating your gluten-free tortilla chips, if you're so inclined.) Plus, gluten-free bakeries are popping up on many street corners, frequented by patrons avoiding gluten or those simply interested in experiencing gluten-free baking for themselves.
There has been a widespread shift in attitude regarding gluten intolerance and celiac disease, and those afflicted are learning that living without gluten doesn't mean eating without enjoyment. Recently, my wife was diagnosed with gluten sensitivity, which caused us to examine the issue firsthand. The whole family was included in the process—even the kids, who began questioning the gluten content of everything that hit the dining room table, be it chicken or noodle or soup.
We learned that wheat, barley, and rye contain two proteins, glutenin and gliadin, and in the presence of water they form gluten. Gluten gives structure and elasticity to dough. Higher-protein flours, such as bread flour, form stronger gluten, while lower-protein flours, such as cake flour, form a weaker gluten structure. For some, their bodies consider gluten to be a toxin. When eaten, gluten prompts an autoimmune response that inflames the intestines, preventing the absorption of certain nutrients and causing digestive problems as well as other conditions, such as migraines and skin rashes. Like corn syrup, gluten hides in countless processed foods, such as soy sauce, ice cream, ketchup, and vegetarian meat substitutes.
Since my family tends to eat mostly whole foods, we didn't need a major pantry overhaul. We read more labels, replaced or changed our buying habits as needed, and increased our reliance on quinoa, brown rice, and beans. Eventually, we began experimenting with gluten-free flour blends. Without the benefit of gluten's elasticity and moisture-holding properties, some products turned out a little dry and tough in the beginning. But sooner or later we learned a few tricks, like adding fruit purées, oil, and sugar or honey for moisture retention and tenderness.
Like anything new, you eventually learn to adapt. And honestly, the whole experience has benefited—even improved—the way our family eats overall. As the saying goes, when life gives you lemons, make lemonade—and our lemonade is always gluten free.
— Bryan Roof, RD, LDN, is a chef, dietitian, and food writer living in Boston. Follow him on Twitter @bryanroof.
Gluten-Free Buttermilk Biscuits
Makes 12 biscuits
The success of any gluten-free recipe depends on the flour blend. This recipe was developed using Cup4Cup gluten-free flour blend. It can be found at most grocery stores and online.
Ingredients
2 cups (10 oz) gluten-free flour
2 tsp baking powder
1/2 tsp baking soda
2 tsp sugar
1 1/4 tsp fine sea salt
1 cup buttermilk
1/4 cup extra-virgin olive oil
Directions
1. Adjust oven rack to middle position and heat oven to 475˚F. Line a rimmed baking sheet with parchment paper. Whisk dry ingredients together. Stir in buttermilk and oil until just combined.
2. Using a greased ice cream scoop, drop 12 equal scoops of batter, evenly spaced, onto the prepared baking sheet. Bake until golden brown, 12 to 14 minutes, rotating the baking sheet halfway through baking. Let biscuits cool on a wire rack for 5 minutes before serving.
Nutrient Analysis per serving (one biscuit)
Calories: 150; Total fat: 5 g; Sat fat: 1 g; Trans fat: 0 g; Cholesterol: 0 mg; Sodium: 410 mg; Total carbohydrate: 21 g; Dietary fiber: 0 g; Sugars: 3 g; Protein: 2 g