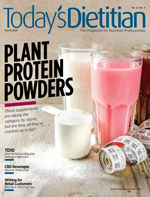 March 2020 Issue
Editor's Spot: Get Your Praise On
By Judith Riddle
Today's Dietitian
Vol. 22, No. 3, P. 5
Dietitians have much to celebrate in March!
This month kicks off National Nutrition Month® (NNM) and Registered Dietitian Nutritionist Day (March 11), a time to celebrate the nutrition profession, who you are as dietitians, and the remarkable work you do each day in numerous health care settings and specialties to spread nutrition messages, improve patient care, help the underserved, and develop strategies to establish a sustainable planet. According to the Academy of Nutrition and Dietetics, this year's theme is "Eat Right, Bite by Bite," promoting the message that every bite of nutritious food is a "step in the right direction" toward better overall health. RDs will be promoting this message with creative programming in supermarkets, heath care facilities, hospitals, and schools across the country.
In honor of NNM and Registered Dietitian Nutritionist Day, Today's Dietitian is publishing its 11th annual TD10 feature on page 26, which showcases profiles of the top 10 RDs you helped nominate for the awesome work they do in dietetics. These dietitians are forward-thinking pioneers, entrepreneurs, and risk takers who have gone above and beyond the call of duty to improve dietetics education and nutrition status among people from all walks of life.
RDs in New Jersey have been in celebration mode since January 13. After 35 years of persistence on the part of the New Jersey Academy of Nutrition and Dietetics and others, Governor Phil Murphy signed into law The Dietitian/Nutritionist Licensing Act so dietitians in that state can become licensed. This milestone makes New Jersey the 48th state to assure that health care professionals who call themselves dietitians meet certain standards of education and experience, pass an examination, and uphold documented ethical and professional standards of competence in dietetics and nutrition practice. Many RDs took to social media to proclaim this good news and thank everyone responsible for bringing it about.
"Today is a cause for celebration," tweeted Felicia Stoler, DCN, MS, RDN, FACSM, FAND. "After 35 years of advocacy, #dietitians #nutritionists are finally #licensed in #NJ! I've been involved with this for 20 of those years! Many, many volunteers to thank in addition to our lobbyists, legislators, and governor!" Other dietitians tweeted and posted reactions on Facebook with the same sentiments.
So blow your party horns and don your party hats and NNM garb all month long as you participate in events to promote healthful eating and physical activity habits and make a positive difference in people's lives.
In your down time, read the articles on writing for retail customers, plant protein powders, CBD beverages, and exercise and eating disorders. Please enjoy the issue!
Judith Riddle
Editor
TDeditor@gvpub.com