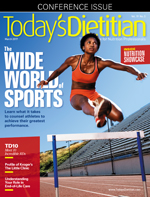 March 2017 Issue
TD10
By Juliann Schaeffer
Today's Dietitian
Vol. 19, No. 3, P. 24
Today's Dietitian's Eighth Annual Showcase of 10 RDs Who Are Making a Difference
The dietetics community is teeming with nutrition professionals who work tirelessly to make their communities and the world a healthier place. Dietitians work in supermarkets, hospitals, media and communications, sports nutrition, foodservice and culinary management, education, public health, private practice, and in other areas of health care to improve the nutrition status of people of all ages and walks of life.
And while many work hard each day, there are those who go well beyond what's expected of them to promote health and wellness. Each year, Today's Dietitian (TD) asks its readers to nominate colleagues they believe do outstanding work that's making an impact in the nutrition field and that should not go unrecognized.
In honor of National Nutrition Month® and Registered Dietitian Nutritionist Day, TD has selected 10 remarkable RDs who deserve acknowledgment for the transformative work they're accomplishing today. This year's winners include an ardent AIDS activist, a diabetes educator and dog enthusiast, a body love believer, an accidental long term care advocate, and an India-born media maven. We hope their stories propel all dietetics professionals to keep meeting higher goals and reaching for higher career aspirations—for their clients and patients, the communities in which they live, the world, and themselves. Congratulations to all of you who were chosen as our TD10.
Lisa Zook, MS, RD, LD           
Corporate Dietitian, Sprenger Health Care         
After graduating with her dietetics degree 35 years ago, Lisa Zook embarked on a long and fulfilling career in foodservice. Today, her career has her occupying a corporate dietitian post at Sprenger Health Care, a family-owned group of long term care facilities in Ohio.
To ensure quality assurance, a main part of Zook's role is traveling between nursing homes and assisted living facilities to provide guidance and supervision over the foodservice managers and dietitians. That takes her to Ohio, Indiana, and soon to South Carolina.
She's always juggling multiple balls in the air at once, making sure staff members are on their game and residents are happy. One unique way she does that? "I eat at all of our facilities when I travel so I can say I truly know what we're serving and how it tastes," she says. This gives her firsthand knowledge of whether the food served at each facility exceeds in flavor and nutrition expectations or it needs some help.
"Each facility has its own flair for cooking menu items," she says. "I like seeing new ways to make meatloaf or chili. It lets me easily share ideas from one facility to another."
In the long term care world, Zook's role doesn't end but just begins with quality assurance. The list of what she does day to day is expansive: assisting foodservice managers with equipment purchases, ensuring all RDs are up to date on evolving standards of practice, providing clinical coverage where necessary, and assisting whenever someone's workload becomes overwhelming—even cleaning a kitchen if that's what's needed.
Zook makes it known that she's not above performing the most menial of duties and expects the same from employees. In an incredible show of resolve, Zook even pushed through her own breast cancer diagnosis and worked throughout the duration of her treatment.
"As a breast cancer survivor, working full-time during chemotherapy, radiation, and in between the surgeries helped me find some normalcy during a stressful time in my life. Having friends both at work and in my private life provided me with much needed support."
Zook's unyielding strength and the support she received has made her an exceptional mentor—and you can tell she takes that role seriously. She contributes to colleagues' career advancement in any way she can, noting that this impact is one of her greatest achievements.
Elizabeth Friedrich, MPH, RDN, CSG, LDN, FAND            
President/Owner, Friedrich Nutrition Consulting        
Today Liz Friedrich is a staunch advocate for older adults—but she never guessed she'd end up here. Before grad school, you could find her working as a research technician, analyzing the nutrient content of waste from hog farms.
Quite a leap, no? Friedrich agrees, but she couldn't be happier with (or prouder of) where she is today.
Friedrich fell into the gerontological nutrition specialty in 1995, after a decade of working in public health and a move that pushed her to open her own consulting practice. A random foray into long term care, and she hasn't left the specialty since.
It may be an accidental passion, but it's become her passion all the same. Not long term care itself but advocating for so many older adults who find they're unable to speak up for themselves as they near the end of their lives. Friedrich sees it as an honor and privilege to help ensure older adult patients receive the types of foods they desire because it can mean the world to them.
"I think one of the most difficult challenges is that many health professionals don't realize that quality of life and enjoyment of food often takes precedence over managing disease through dietary modifications for older adults," she explains.
Whether it's educating a patient's family about diet and nutrition or intervening on behalf of patients, she ensures patients' wishes are respected. That could mean overriding a patient's low-sodium diet restrictions or talking a family out of making their mom eat gluten-free foods because they think it'll improve her memory.
When asked what is her proudest career achievement, she told a story of once managing the care of her friend's father. He was on a puréed diet for medical therapy and was miserable. She went through the channels to get it changed to a regular diet.
"He knew the risks (and there were risks), but he was happy," she explains. After he died six months later, his son expressed his gratitude to Friedrich for what she had done.
"That's not a reward, and it's not a recognition. But it made me proud that I had done what it took to make that man happy—and his family recognized that."
Regulations that govern long term care require that a person's right be respected. But it goes so much farther than that, Friedrich says. It's simply the humane and kind thing to do.
Ashvini Mashru, MA, RD, LDN
Owner, Wellness Nutrition Concepts, LLC
Growing up in India, the first foods Ashvini Mashru ever tasted are very different from that of most Americans. In fact, everything about how her native culture approaches food is different. Mashru grew up eating fresh foods daily—all meals made from scratch—with the country's well-known emphasis on herbs and spices. It's this approach to food that first drew her to the world of dietetics.
She received her bachelor's degree in nutrition in India before she made her way to a whole new world (literally) soon after she married her husband in her early 20s. With few professional resources or assistance, she successfully navigated the American education system and earned a master's degree and her RD credential. Not to mention the effort it took to assimilate to a new country, including tasks that many others can take for granted, such as learning to drive and communicate.
After early stints in clinical positions, she opened her own nutrition and wellness coaching private practice with the goal of spending more time with her young children. What she couldn't imagine then was how successful her practice would be. Today, she not only has a nationwide client base (via virtual consultations) but also is an accomplished speaker and media personality.
When she's not espousing the latest nutrition trends on local or national TV, she's helping executives, CEOs, and others meet individualized goals. (She's not just counseling power women—she's one herself. Mashru was named "Power Woman 2016" by a local magazine, one of several honors she's been awarded in her career.)
And you better believe she puts an ethnic spin on her nutrition recommendations, mingling her knowledge of Eastern cultures with her US education. Mashru says clients love her in-depth knowledge of the health benefits of herbs and spices. And because of her background, she's adept at working with clients of various ethnicities and backgrounds.
Despite having little time to spare, Mashru makes a point to be an active member of her community. She's involved in several nonprofit organizations, including Hotties 4 Humanity, a nonprofit group that helps raise money for organizations with few resources, and Fox Chase Cancer Center's Board of Associates' Main Line Chapter.
"When I first came to this country, I didn't have many resources or professional support," she explains. "Now that I've built myself up, I want to be a resource in my community and help as many people as I can."
Susan Weiner, MS, RDN, CDE, CDN
Owner, Susan Weiner Nutrition, PLLC
Susan Weiner is full of energy, which fuels her dual passions: diabetes and dogs.
Named educator of the year by the American Association of Diabetes Educators in 2015 and the 2016 Dare to Dream Award honoree for the Diabetes Research Institute Foundation (the first and only dietitian to receive the honor), Weiner is one of the most effective voices on diabetes self-management today.
Why? Because she's all about practicality. It's that mindset that led her to develop the book The Complete Diabetes Organizer: Your Guide to a Less Stressful and More Manageable Diabetes Life, which offers tools and strategies for people overwhelmed by a diabetes diagnosis.
Weiner has been so encouraged with the book's feedback that she has taken her practical approach elsewhere. For example, she writes a bimonthly Q&A department for Endocrine Today magazine called "Diabetes in Real Life." She's providing practical advice (this time for physicians and other health professionals) on topics affecting people with diabetes today. Sex, depression—nothing's off limits if Weiner thinks the discussion will help people.
She's involved with several diabetes advocacy groups, largely speaking for those who have no voice or few resources. One hot topic she's fired up about these days is advocating for symptom awareness of type 1 diabetes, since a misdiagnosis for kids and adults can be a matter of life or death.
She has authored many articles and recently took her cause international when she spoke in Nazareth with researchers, physicians, and members of the Israel Health Ministry about diabetes education and received a fresh glance into the role culture can play in diabetes management.
And the dogs? (There were two, but one passed away.) Weiner considers them as much her family as her husband and two children. They're all rescues, which speaks to Weiner's approach to private practice.
"I want to rescue the dogs that no one else wants," she says. "But I think that's how I am with nutrition, too. I like to tackle situations that are more difficult because you can make the biggest difference that way."
In her private practice, this one-on-one counseling—always sitting in a chair next to her clients, never a desk—is where Weiner feels she makes the most impact. That's also what makes her feel most accomplished. That, and growing a good tomato, in her garden that she graces every summer morning, as she sings softly with her dog.
Janelle L'Heureux, MS, RDN
Dietitian, APLA Health (formerly AIDS Project Los Angeles)
If you know HIV/AIDS advocate Janelle L'Heureux, a humble soul who hails from a large family raised on little means in small-town Colorado, it would be hard to believe that she worked on Rodeo Drive in Los Angeles before entering the dietetics field.
The jewelry industry is where she worked for many years before she went back to school in midlife and got her degree in dietetics at the age of 40. That's also around the time she first stopped by the AIDS Project Los Angeles to inquire about volunteering. She hasn't left since.
That volunteer gig led to a full-time position where she has worked as a dietitian providing nutrition counseling for the AIDS Project Los Angeles (now APLA Health) for 18-plus years. In those early years—when there were only a few medications to treat HIV—there were many long days and nights taking care of sick patients.
"We were learning about HIV in real time," L'Heureux says, "but it was heartbreaking at the same time. There was so much need, and we were largely powerless to help except to provide compassion and support however we could."
Today, research largely has revolutionized the care of HIV and AIDS. That has enabled L'Heureux time to advance HIV care in other ways, namely nutrition therapy. She, along with other dietitians in HIV care, assisted the Academy of Nutrition and Dietetics in developing the HIV Nutrition Evidence-based Guidelines, which were published in 2010. She also organizes an annual conference for providers and is a preceptor for dietetics interns.
Still, much work needs to be done at APLA Health. Her challenges today relate to HIV's persistent stigma and the many other challenges of the low-income population she sees.
For example, how do you get a client to care about nutrition goals when they're worried about how to put dinner on the table due to living at the poverty level? If you ask L'Heureux, it requires plenty of creativity and compassion. Much of the work she does involves planting seeds of motivation and accomplishment in people who live outside society's norms and often feel shunned for it.
L'Heureux isn't so sure her tactics have been successful. But the hugs she gets when walking down the street, a simple show of appreciation, tell a decidedly different story.
Latrasha Freeney, RD, LDN             
Senior Public Health Nutritionist, Florida Department of Health-Hillsborough     
"Teamwork makes the dream work," is Latrasha Freeney's motto, and she lives it out loud through her role as senior public health nutritionist in the Florida Department of Health in Hillsborough. She's not only pushing her limits daily but also bringing her staff along for the ride.
Freeney joined the Florida Department of Health 17 years ago as a nutrition educator, where she participated in WIC, focusing on breast-feeding counseling. As she pursued her dietetics internship and completed her licensing, she saw how it enabled her career to grow and empowered her to help more people. One day as she chatted with her training partner about what they could do to help other employees who were nutrition educators but not RDs and who had stalled in their own career pursuits due to lack of confidence or skills, a light bulb went off.
Soon after, the dietetics readiness program was born. The program consists of six monthly sessions that delve into participants' insecurities, knowledge gaps, and experience shortfalls to get them in tip-top shape to land a dietetics internship.
And it has worked fabulously so far—10 employees have completed the program in the past few years, six already have been accepted in dietetics internships, and three have received their RD certification. It's been so successful that a neighboring county is pursuing whether a similar program makes sense for its employees.
Freeney has received numerous "Extra Mile" awards and "Star Cards" for her work performance, but it's the difference she's making in the lives of her employees—as well as her clients—that has made her the most proud. One pregnant client who came to her in the WIC program complained of symptoms that just didn't sit well with Freeney. So she trusted her gut and referred the woman back to her doctor. Sure enough, the client came back some weeks later and asked to see her.
"She gave me an ultrasound picture of her baby, and she told me I saved her life and her baby's life. Turns out her gallbladder was inflamed, and she was starting to go into liver failure," she says. "Once she had the baby, she gave me his picture, which sits next to my desk."
It's a simple but significant reminder of the difference dietitians can have in each person's life.
Aimee Crant-Oksa, MS, RDN, FAND
Clinical Nutrition Manager, CentraState Medical Center          
Aimee Crant-Oksa has been leading the charge toward wellness long before it was considered a growing trend in the health care workplace. She revamped the cafeteria menu at CentraState's Medical Center in New Jersey more than five years ago as part of an award-winning wellness initiative—tossing out fryers and cutting the price of bottled water along the way. As part of revising the menus, Crant-Oksa developed a program called "Nutrilicious," which includes heart-healthy meals that are 550 kcal or less, contain no more than 10% total fat, less than 7% saturated fat, and 600 mg or less of sodium.
Moreover, she helped implement a farmers' market on hospital grounds and takes pride in leading frequent and fun educational sessions for employees on weight loss, heart health, and diabetes meal planning.
She also has been on the front lines promoting the ability of RDs to write dietary orders. "As an RD for close to 20 years, I dreamed about this privilege since I was first a dietitian," she says. She was a vital advocate at CentraState, which was one of the first facilities in New Jersey to grant order-writing access to RDs—a huge career achievement for her.
Crant-Oksa is no stranger to setting ambitious goals, but she has a track record for following through in her personal life, too. For example, she signed up for her first triathlon without even knowing how to swim. "I set a goal for myself and then did what I needed to achieve it," she says. "Four years later, I have completed three half ironman races."
These days, Crant-Oksa continues to push the envelope of health and wellness for CentraState's employees and the surrounding community. Whether that involves a couch-to-5K challenge or an initiative that's yet to come, you'd be wise to bet that more successes are in store.
Rebecca Scritchfield, RDN, HFS
Author of Body Kindness and Owner of Capitol Nutrition Group
Rebecca Scritchfield is on a mission to help make the world a healthier and happier place, and she's throwing out setting weight-loss goals to get there—not because it's the trendy thing to do, or because she thinks weight has no connection to health (she admits people can experience good or poor health at a variety of weights). But it's how dietitians use weight loss that can potentially hinder their clients' success. She knows this because that's how she had practiced for many years.
"I thought counting calories and creating meal plans was the way to help people achieve better health," she says. But as she watched her clients shame themselves for not meeting their weight loss goals, she grew frustrated. Looking for a better way, she happened upon intuitive eating, body positivity, and positive psychology.
What Scritchfield came to realize is that dieting (and setting weight loss goals) leads to emotional distress, periods of under eating and overeating, and weight gain. Since, she has transformed her entire business to be weight inclusive—everybody can pursue health without necessarily using weight loss as a goal. Instead of weight loss, she focuses on creating a better life through flexible, values-centered choices—which in turn gets people excited about building new health habits, even though the work is still challenging. In the end, people have a skill set for decision-making you don't get from diet plans.
"We're not all meant to be the same weight, just as we don't all have the same eye color or hair color. No matter what a person weighs, helping them pursue health is better for their well-being."
To spread her message of body positivity—and the real research that supports it—she cocreated Dietitians for Body Confidence, a website that offers practical and free resources for dietitians open to engaging in this hot topic dietetics dialogue.
Through nationwide media outlets, her new book Body Kindness, and her website Dietitians for Body Confidence (www.rd4bc.com), Scritchfield is screaming from the rooftops (in the nicest way possible) that the time is now to nix the scale for a focus that connects science and the soul.
"Let's find other reasons to motivate people other than weight loss," she says. It's not only the kinder approach, but research continues to show it's more effective, too.
Cynthia Moore, MS, RD, CDE, FAND
Assistant Clinical Nutrition Manager, Ambulatory, University of Virginia Health System
To say Cynthia Moore's nutrition career has run the gamut hardly scratches the surface. She has worked in clinical, research, education, culinary, and resort retirement settings with pediatric, adult, and geriatric populations at various facilities throughout her career.
To name just a few of the positions she has held, Moore has worked as a relief clinician in New Orleans, where she filled short- and medium-term RD vacancies across the country for Marriott's health care division; a clinical nutrition manager at teaching hospitals in North Carolina and Indiana; and the first nutritionist ever at the five-star Greenbrier Resort & Spa in West Virginia, where, among other duties, she led nutrition presentations for Fortune 500 companies.
It's an impressive résumé. And there's more left out here than we have room to include, such as the intriguing (she did the first known nutritional analysis of the deep sea fish pollock while in college) and the intuitive (she taught her colleagues stress-management and resilience techniques for enhanced well-being during staff retreats).
But if you ask Moore, she'll simply tell you she feels blessed to have had those opportunities. Today, you can find Moore working as the assistant clinical nutrition manager for ambulatory nutrition at the University of Virginia Health System/Morrison Healthcare. However, a more apt title might be "life coach," though even that doesn't express her gift of changing lives on a daily basis.
Not to discount her expertise in areas such as diabetes, weight management, metabolic control, and several other diseases, but Moore's clear focus—and talent—is in translating that knowledge to help patients meet their full potential. But who really knows if you've changed someone's life? Moore's colleagues do—because they hear story after story from patients who use those words to describe what Moore did for them.
She tells one such story that has stayed with her more than most: "I had a younger-than-usual venture capitalist client when I worked with executives at the Greenbrier Clinic. He was drinking one-half to one bottle of wine with his one large meal in the hotel room after a long day of consulting.
"As a result of our initial interaction and my forecasting what 10 more years of this pattern would yield healthwise, he made significant changes in his eating and alcohol intake and lost weight. The next time I saw him was in a Time magazine centerfold. He'd made even more significant changes in his lifestyle since I saw him!"
Too many clients to count have told her they wish they'd had the skills Moore provides earlier in their lives. How does she do it? "On my best days, I simply shine the light so patients can see their own magnificence and hear their own wisdom," she says.
Terri Brownlee, MPH, RDN             
Director of Nutrition and Wellness, Bon Appétit Management Company
Fourteen years ago, North Carolina–based Terri Brownlee joined Bon Appétit, an onsite restaurant company offering full foodservice management to corporations, universities, museums, and specialty venues, as its first regional dietitian. A testament to her work ethic and leadership, five years ago she became its first director of nutrition and wellness.
What does that job entail? "I'm part cheerleader, part gatekeeper, a juggler, mixed in with some innovation—and always a good dose of ideals to combat reality," she says about her job in which she provides nutrition analysis for restaurants, handles food allergy issues, and works with chefs and managers to ensure food is tasty and nutritious.
As she's led the charge to include nutrition in corporate foodservice, she has brainstormed innovative solutions for nutrition analysis and for complying with FDA labeling regulations for restaurants. She also has ensured that students with food allergies can eat without fear on college campuses across the country. (She receives thank you notes from parents of these students, who can feel safe leaving their children in school for the semester because of Brownlee's work.)
She works collaboratively not only with chefs and managers but also with marketing and IT—all with science on her side. "RDNs have an ethical responsibility to promote science-based practices," she says. "We have to find ways to stay on the cutting edge, push the limits, and present our messages in ways that can capture attention and build that same excitement."
Whether it's through her work developing Bon Appétit's Well-Being Indicator® Program, which guides guests to healthful meals at corporate wellness cafés, or her other efforts to ensure nutrition and wellness stay a key focus nationwide, Brownlee is a shining example of how to impact the nutrition profession.
— Juliann Schaeffer is a freelance writer and editor based outside of Allentown, Pennsylvania, and is a regular contributor to Today's Dietitian.