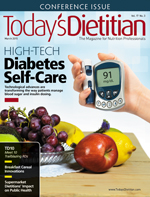 March 2015 Issue
Probiotics: Improve Gut Health With Probiotic Supplements
By Sherry Coleman Collins, MS, RDN, LD
Today's Dietitian
Vol. 17 No. 3 P. 14
Here's a review of six products, the research supporting them, and tips for counseling clients. 
By now, dietitians are aware of the importance of the microbiome in gut health. Probiotics, prebiotics, and even synbiotics are common terms nutrition professionals discuss among themselves and with their clients. Most dietitians prefer that patients get probiotics naturally from foods, such as yogurt, kefir milk or kefir water, miso, or kimchee. But for individuals who either don't like probiotic-rich foods or don't get enough probiotics from foods, taking daily probiotic supplements may help.
When considering recommending probiotics, it's important to carefully evaluate the products available. One essential factor to understand is how specific microbes are named—by genus, species, and strain. For example, for the bacteria Lactobacillus acidophilus ATCC 4356, Lactobacillus is the genus; acidophilus is the species; and ATCC 4356 is the strain. Not all species with a specific genus or strain impart the same benefit, since the strain can make all the difference in efficacy. Research on probiotics is conducted using a specific type of microbe, and results can be only associated with that specific microbe. In addition, research is performed using a certain dose, which is based on colony-forming units (CFUs). When recommending certain probiotic products, it's important to tell clients that they should contain the specific live microbes in adequate amounts as reflected in the literature to receive the health benefits.
This article reviews six popular probiotic supplements individuals can choose to help improve their gastrointestinal health. It discusses the evidence supporting these products, and provides counseling tips on what to recommend to clients and patients for specific conditions.
1. Align
Align brand probiotic supplement contains Bifidobacterium infantis 35624, which has been shown to reduce symptoms such as bloating, cramping, and stool frequency in those with irritable bowel syndrome (IBS). In a study of 362 patients with IBS, those who took B infantis 35624 experienced a significant decrease in symptoms.1 Those who took other types of probiotics or placebo didn't experience reduced symptoms.1 Another study of 77 subjects compared B infantis to L salivarius or placebo for eight weeks and also showed that B infantis caused a greater reduction in all IBS symptoms than L salivarius, except stool frequency and consistency.2 Recommended dosage for Align is one capsule per day.3
2. Bio-K+
Containing both Lactobacillus acidophilus CL 1285 and L casei, Bio-K+ has been clinically shown to lower the incidence of antibiotic-associated diarrhea (AAD). A study of 216 patients in an inpatient care facility showed that those who received Bio-K+ supplementation experienced statistically significant reduced rates of AAD than those who didn't receive the supplement.4 Another randomized controlled trial of 89 patients showed a decrease in AAD compared with placebo and fewer required hospital days.5 Probiotics taken to prevent or treat AAD should be taken at a different time than the prescribed antibiotics, since broad-spectrum antibiotics will kill the good bacteria in the probiotics. Bio-K+ is available as a drinkable probiotic beverage in original, strawberry, soy, and organic rice varieties. It's also available in regular, strong, and extra strength capsules. The dosage for Bio-K+ is 1 to 2 capsules per day or 1/4 to 1 bottle of the beverage per day.6
3. Culturelle
Perhaps the most familiar probiotic on the market, Culturelle contains Lactobacillus rhamnosus GG ATCC 53103. According to the World Gastroenterology Organisation, in multiple studies, L rhamnosus GG has been shown to reduce severity and duration of acute infectious diarrhea and AAD in both children and adults.7 In addition, a study of 104 children with functional dyspepsia, IBS, or functional abdominal pain, showed that those with IBS who received L rhamnosus GG vs placebo experienced decreased symptoms, but not those with functional dyspepsia or functional abdominal pain.8 One to two capsules per day deliver the recommended amount of bacteria for treating and preventing diarrhea.9
4. Florastor
Florastor contains a yeast called Saccharomyces boulardii. According to a 2010 meta-analysis, S boulardii is effective in preventing AAD and traveler's diarrhea in both children and adults.10 Further, the World Gastroenterology Organisation's probiotic guidelines support S boulardii as effective in reducing the severity and duration of acute infectious diarrhea.7 Shaleen Burgess, RD, LDN, of Memorial Healthcare System in Pembroke Pines, Florida, says physicians commonly recommend Florastor probiotic to treat chronic diarrhea from a Clostridium difficile infection, since S boulardii has shown promise in relieving symptoms in clinical studies.10 The dosage for Florastor is one to two capsules or powder packets twice per day.11
5. Mutaflor
Available for purchase in Canada but not in the United States, Mutaflor is a probiotic that contains the bacteria E coli Nissle 1917, which may be as effective as mesalazine, a potent anti-inflammatory drug, in sustaining remission of ulcerative colitis.7 In another randomized, double-blind, placebo-controlled study of 120 individuals with IBS, use of E coli Nissle supplements resulted in a significant improvement within 10 to 11 weeks.12 The dosage for Mutaflor is two capsules three times per day for the first three days, then two capsules two times per day starting on day four and thereafter for eight weeks.13
6. VSL#3
VSL#3 is a probiotic medical food that contains eight different strains of bacteria: Lactobacillus paracasei, L plantarum, L acidophilus, L delbrueckii subsp. bulgaricus, Bifidobacterium longum, B breve, B infantis, and Streptococcus thermophilus.7 It's available in pediatric and adult powder packets, double-strength powder packets (available only by prescription), and adult capsules. In multiple studies, VSL#3 has been shown to be effective in alleviating symptoms of IBS, ulcerative colitis, and pouchitis.7 A 2010 review of therapeutic uses of probiotics found VSL#3 to be safe and efficacious for both adults and children with these conditions.14
Wendy Jo Peterson, MS, RD, CSSD, owner of Edible Nutrition in San Diego, and Fuelin' Roadie in Austin, Texas, recommends VSL#3 for her clients because it contains multiple strains of beneficial bacteria; it's well researched to support its use, and is associated with ease of dosing. "Whether a client has gut issues, mental health issues, or is dealing with absorption concerns, probiotics are a safe place to start," Peterson says, adding that she usually sees a response in gut regularity within one week. Depending on the acute symptoms and condition being treated, the recommended daily dosage of VSL#3 varies from two to 16 capsules or one to four powder packets for adults, and one to eight packets for children.15
Beyond the Brands
Despite the number of probiotic supplements on the market, not all dietitians recommend specific brands. Instead, they provide guidelines to help their clients and patients become critical consumers of dietary supplements. Stephanie Biggs, RD, LDN, CLC, consultant RD for Family Food in Philadelphia, recommends probiotic supplements for people during periods of stress or illness, if they're taking antibiotics, or have a history of antibiotic use. She tells clients to look for a product that contains a variety of bacterial strains with a CFU in the billions. Biggs doesn't recommend clients take probiotics indefinitely but that they should include probiotic-rich foods as part of their regular diet.
Niki Strealy, RDN, LD, owner of Strategic Nutrition and author of The Diarrhea Dietitian: Expert Advice, Practical Solutions, and Strategic Nutrition, uses recommendations from "The P's and Q's of Probiotics: A Consumer Guide for Making Smart Choices," developed by The International Scientific Association for Probiotics and Prebiotics, which recommends looking at the following four criteria before choosing a probiotic:
1. Probiotic strain. Match the particular strain with published scientific research.
2. Proof of efficacy. Probiotics must be tested (and be shown effective) in humans to determine health benefits.
3. Quality and quantity. Probiotics can be effective at varying strengths. Scientific studies have determined health benefits from 50 million to more than 1 trillion CFUs per day. A probiotic with higher CFUs doesn't necessarily equal better quality or effectiveness.
4. Package information. Strain, quantity of CFUs, serving size, health benefits, proper storage conditions, expiration date, and additional corporate contact information all should be provided on the label.16
Once clients begin taking a probiotic supplement, Strealy suggests they take it regularly for several weeks before deciding it isn't working and trying another brand.
Patricia Grace-Farfaglia, MS, RD, CDN, FADA, the Nutmeg Nutritionist in Sandy Hook, Connecticut, who works primarily with people who have food intolerances, recommends choosing products that have the United States Pharmacopeia symbol on the label, indicating that the manufacturer undergoes voluntary third-party testing. Moreover, dietitians should be aware of possible allergens in probiotic supplements, since many are grown in a medium that contains dairy. Grace-Farfaglia starts her clients on the lowest doses used in randomized controlled clinical trials (if available), administered once per day, and monitors for side effects.
Not for Everyone
While probiotic supplements are beneficial in improving gastrointestinal health, not all patients should take them. According to Julie Lanford, MPH, RD, CSO, LDN, wellness director at Cancer Services in Winston-Salem, North Carolina, individuals at risk of infections, including those undergoing cancer treatment and with significantly suppressed immune systems, should avoid them. This caution likely is the result of the fungal infections individuals often experience when receiving chemotherapy through central lines, or catheters, and taking S boulardii supplements.10 However, if these patients want to use them to help manage treatment side effects, Landford recommends they use prescription probiotics under the close supervision of their medical team so they can be monitored for adverse side effects.
Lanford says the Academy of Nutrition and Dietetics' evidence analysis library didn't find much evidence to support the use of probiotics to treat diarrhea induced by cancer treatments. The review says that probiotics "appear to be helpful," but that more evidence is needed. Grace-Farfaglia says that those following the FODMAPs diet also may not tolerate probiotic supplements.
Bottom Line
Probiotic supplementation is an exciting and growing area of research. The current literature supports their use for a variety of conditions, primarily within digestive health. Dietitians can recommend probiotic food sources for all clients. They can suggest probiotic supplements for some individuals, provided they consume the proper strain and dose. "If I can't [get clients to] change their diet first, I don't recommend probiotic supplements," Grace-Farfaglia says. At the end of the day, the overall diet is still the key to maintaining optimal gut health.
— Sherry Coleman Collins, MS, RDN, LD, is a private practitioner in Atlanta, specializing in food allergies and sensitivities, digestive disorders, and nutrition communications.
References
1. Whorwell PJ, Altringer L, Morel J, et al. Efficacy of an encapsulated probiotic Bifidobacterium infantis 35624 in women with irritable bowel syndrome. Am J Gastroenterol. 2006;101(7):1581-1590.
2. O'Mahony L, McCarthy J, Kelly P, et al. Lactobacillus and bifidobacterium in irritable bowel syndrome: symptom responses and relationship to cytokine profiles. Gastroenterology. 2005;128(3):541-551.
3. Align product information. Align website. http://www.aligngi.com/information-on-Align-probiotic-supplement. Accessed January 30, 2015.
4. Sampalis J, Psaradellis E, Rampakakis E. Efficacy of BIO K+ CL1285 in the reduction of antibiotic-associated diarrhea — a placebo controlled double-blind randomized, multi-center study. Arch Med Sci. 2010;6(1):56-64.
5. Beausoleil M, Fortier N, Guénette S, et al. Effect of a fermented milk combining Lactobacillus acidophilus CL1285 and Lactobacillus casei in the prevention of antibiotic-associated diarrhea: a randomized, double-blind, placebo-controlled trial. Can J Gastroenterol. 2007;21(11):732-736.
6. Original dairy culture probiotic. Bio-K+ website. http://www.biokplus.com/en-us/original. Accessed January 7, 2015.
7. World Gastroenterology Organisation. World Gastroenterology Organisation global guidelines: probiotics and prebiotics. http://www.worldgastroenterology.org/assets/export/userfiles/Probiotics_FINAL_20110116.pdf. Published October 2011. Accessed January 6, 2015.
8. Gawronska A, Dziechciarz P, Horvath A, Szajewska H. A randomized double-blind placebo-controlled trial of Lactobacillus GG for abdominal pain disorders in children. Aliment Pharmacol Ther. 2007;25(2):177-184.
9. Culturelle Digestive Health Capsules. Culturelle website. http://www.culturelle.com/digestive-health-probiotic-capsules. Accessed January 7, 2015.
10. McFarland LV. Systematic review and meta-analysis of Saccharomyces boulardii in adult patients. World J Gastroenterol. 2010;16(18):2202-2222.
11. Florastor: Saccharomyces boulardii lyo. Florastor website. http://www.florastor.com/sites/default/files/Florastor%20Package%20Insert.pdf. Updated January 2011. Accessed January 7, 2015.
12. Kruis W, Chrubasik S, Boehm S, Stange C, Schulze J. A double-blind placebo-controlled trial to study therapeutic effects of probiotic Escherichia coli Nissle 1917 in subgroups of patients with irritable bowel syndrome. Int J Colorectal Dis. 2012;27(4):467-474.
13. What is the dosage of Mutaflor? Mutaflor website. http://mutaflor.ca/what-is-the-dosage-of-mutaflor/. Accessed January 7, 2015.
14. Iannitti T, Palmieri B. Therapeutical use of probiotic formulations in clinical practice. Clin Nutr. 2010;29(6):701-725.
15. Recommend VSL#3. VSL#3 website. http://www.vsl3.com/hcp/recommend.asp. Accessed January 7, 2015.
16. The P's and Q's of probiotics: a consumer guide for making smart choices. Bifantis website. http://www.bifantis.com/pdf/Ps_and_Qs_of_probiotics.pdf