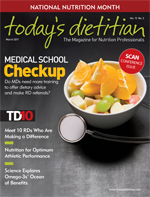 March 2011 Issue
Where Has Home Economics Gone? — Experts Speak to the Importance of Food Education in Schools
By Lenora Dannelke
Today's Dietitian
Vol. 13 No. 3 P. 8
The very idea of home economics—in previous generations, typically a mandatory class preparing girls for a presumptive career as a homemaker—may seem outdated, irrelevant, and just plain sexist. Indeed, that may be part of the motivation for many states' rebranding of these studies, now offered to both genders, as family and consumer sciences.
And those classes address the needs of society in much the same way as when Ellen Richards pioneered the field in the late 1800s. "The work that she did with water quality and nutrition and helping people be able to run their homes economically is really right back to where we're at," says Susan Turgeson, a teacher at Wisconsin's Menomonie High School and the American Association of Family & Consumer Sciences (AAFCS) 2009 Teacher of the Year. "Looking to our roots, really the science of food, understanding where food comes from and how it gets on our plates—because so many people are removed from that concept—has been much more of a focus in the last few years."
A Need for Knowledge
Alice H. Lichtenstein, DSc, and David S. Ludwig, MD, PhD, cited alarming statistics that "about 35% of adolescents are overweight or obese, a prevalence that approaches 50% in minority populations" as a rallying cry for The Journal of the American Medical Association article "Bring Back Home Economics Education," published in May 2010. The authors pointed to a "comprehensive curriculum to teach students about the scientific and practical aspects of food" as a possible antidote to an insufficient home education about healthful food choices, explaining that "many parents never learned to cook and instead rely on restaurants, take-out food, frozen meals, and packaged food as basic fare." Another startling fact they reported is that more than one third of total calories consumed by children and adolescents are from meals and snacks prepared away from home.
Life in the fast lane all too often includes a drive through the fast-food lane, a contributing factor in a supersized problem. In a CBS News report "How Americans Eat Today," which aired in January 2010, Katherine Brooking, MS, RD, stated that "as fast-food franchises began to rise in the 1960s and '70s, portion sizes grew quite a bit. The chains were anxious to offer you larger portions for a better sense of value. It's important to note also that portion size is a key factor in weight gain, and obesity has increased since the 1970s in both adults and children. Another important statistic to keep in mind: 54% of Americans will eat until their plate is clean. So as our portion size has gone up, so has our appetite."
School may be the ideal setting for pragmatic dietary training about healthful eating habits. "As children transition into young adulthood, they should be provided with knowledge to harness modern conveniences (eg, prewashed salad greens) and avoid pitfalls in the marketplace (eg, prepared foods with a high ratio of calories to nutrients) to prepare meals that are quick, nutritious, and tasty," Lichenstein and Ludwig stated. "It is important to dispel the myths—aggressively promoted by some in the food industry—that cooking takes too much time or skill and that nutritious food cannot also be delicious."        
Plans for Action
Currently, there are no national mandates for standardization of such school programs. While family and consumer science classes are required rather than elective in four states, tracking what educators are teaching is difficult. "It's a moving target," says Marilyn Swierk, a past AAFCS president who presently heads the organization's Taking It to the Streets advocacy campaign. The recent obesity initiative ties in with First Lady Michelle Obama's Childhood Obesity Action Plan. (Visit www.aafcs.org/Advocacy/TIS.asp for more information.)
"We take a holistic approach with everything," Swierk says. "In the case of obesity, it's not just about food preparation or what you eat. It covers the whole gamut: What's the emotional relationship to food? The social or cultural relationship?" Family habits and how they're developed are also addressed. "There's a concern about what is and is not being taught in the home because you don't expect everybody to whip out mixing bowls and saucepans and teach their child how to cook. Some people don't have the wherewithal and knowledge or time and expertise to help their kids make better food choices because nobody ever taught them. There's a real need." Economic issues and access to quality foods are other significant factors.

Raising the Educational Bar
Due to ever-tightening budgets, family and consumer sciences electives are often among the first to suffer cutbacks. Turgeson attributes the success of the program at Menomonie High School to the strong support of the community and school board, who recognize its value. "Our classes are linked to core academics," she says. "They're not fluff." Turgeson also takes advantage of nearby University of Wisconsin-Stout, which offers a bachelor of science degree in food systems and technology, for field trips and research.
The following synopses illustrate the depth of her courses:
• Food, Family & Society I: This prerequisite for additional courses is for students who enjoy food and its preparation and are interested in its impact on society. Foods and principles covered include fruits, vegetables, quick breads, microwaves, convenience foods, and nutritional snacks. The educator emphasizes nutrition throughout the life cycle, food meanings, trends, and consumers' food demands. Students will learn and apply knowledge of equipment and utensil usage, proper measurement techniques, food safety, and food preparation methods through cooperative lab work.
• Food, Family & Society II: Units include local and global hunger, proteins, yeast breads, pastries, and cultural foods. The teacher will also address management of resources (eg, energy, time, money). This class is for students who want to expand their knowledge and skills related to the principles of food.
• Introduction to Hospitality & Tourism: Students who are interested in a career in the hospitality, restaurant, and tourism fields might take this class in which they will explore a broad range of careers, including lodging, convention and recreation facilities, tour and travel, and foodservice. Students will apply foodservice, business, and marketing skills as they participate in a variety of catering and dining experiences and job shadowing opportunities.
• Food Science: Students will have an opportunity to explore the field of food science and discover related careers. Active participation in experiments related to the fundamentals of chemistry and nutrition will enhance analytical reasoning and writing skills. Science principles are applied to food in farm fields, processing plants, home and restaurant kitchens, and research laboratories. Units of study include food safety, digestion, food processing and preservation, and research/development.
• Controversies in Food & Nutrition: This discussion-based course focuses on food and nutrition topics commonly addressed in the media, such as obesity, diabetes, diet trends, food allergies, sports nutrition, and functional foods. Students will apply their knowledge by conducting experiments, preparing educational materials, and participating in labs. Individuals considering careers in the medical profession, guidance and education, or fitness are encouraged to take this course.
Turgeson has received positive feedback on the efficacy of the "basic life skills" she teaches in her classes via the parents and younger siblings of former class participants. Students—both male and female—in college look forward to moving from dorm to apartment so they can start cooking or they might call home and request a recipe. More than a few have pursued a career in food or nutrition. Turgeson views these young adults as role models. With her energetic and creative vision, Turgeson's program may be the role model for the future of American family and consumer sciences education.
— Lenora Dannelke is a freelance writer in Allentown, Pa.