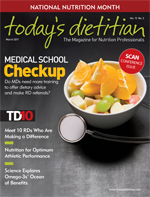 March 2011 Issue
In Praise of the Braise
By Bryan Roof, RD, LDN
Today's Dietitian
Vol. 13 No. 3 P. 64
I cook for a diverse and demanding clientele: a 4-year-old hard-wired to be some kind of miraculous semi-vegetarian, a 2-year-old who shares my carnivorous passions but demands soy sauce with everything, and a 1-year-old who actually eats almost anything—as long as it's scattered on the floor. Then there's my wife, who eats all but the "gristly bits." Finally there's me, who thrives nearly exclusively on those bits. Needless to say, dinner can be challenging. But we all meet in the middle when it comes to a braise.

Pages could be dedicated to the merits of a good braise. But it all comes down to a few key elements: the right cut of meat, layering flavors, and time. The right cut of meat is rich in intramuscular fat and collagen, which melts into gelatin with prolonged cooking, resulting in fall-apart tenderness. I prefer short ribs, a cut from the chuck section of the cow.
A good braise begins by searing the meat to add complexity to the overall flavor. A light coating of flour on the short ribs encourages quicker browning and helps prevent drying and toughening of the exterior. Once seared, I set the meat aside and add the aromatics to the pot to caramelize lightly and bring out their sweetness. Since a braise is somewhat rustic, I use whole sprigs of thyme and rosemary, which I fish out later. Next, I add the tomato paste and allow it to darken, which deepens its flavor. Then I add flour to act as a thickening agent for the braising liquid, giving it a saucy consistency. Many braises add red wine at this point, but I reach for white because I think red tends to muddy the flavors. As a final flavor booster, I add soy sauce and orange zest along with chicken broth.
From there, it's mostly a matter of time—about three hours in the oven. Potatoes are added near the end of cooking, which prevents them from breaking down completely while still allowing them to absorb plenty of the braising liquid. Finally, what emerges from the oven is a warming one-pot meal that, hopefully, satisfies all. And if your family doesn't like it, try scattering it on the floor.
— Bryan Roof, RD, LDN, is a chef, dietitian, and food writer living in Boston.

Braised Short Ribs
Serves 8
Ingredients
2 lbs boneless beef short ribs, trimmed
Kosher salt and ground black pepper
1/4 cup unbleached all-purpose flour
2 T extra-virgin olive oil
4 medium carrots, peeled and cut into 2-inch pieces, thicker ends halved lengthwise
2 medium onions, minced
4 sprigs fresh thyme
2 sprigs fresh rosemary
1 bay leaf
4 medium garlic cloves, minced
1 T tomato paste
1 1/2 cups white wine
2 cups low-sodium chicken broth
1 T low-sodium soy sauce
4 (3-inch) strips orange zest, removed with vegetable peeler
1 lb Yukon gold potatoes, cut into 1-inch chunks
Directions
Place oven rack at lowest position and heat oven to 325˚F.
Season beef with 1 1/2 tsp salt and pepper to taste. Dredge beef in flour and pat lightly to remove excess; reserve remaining flour. Heat oil in large Dutch oven over medium-high heat until shimmering. Working in two batches, sear beef on all sides until well browned, adjusting heat to prevent pot from scorching. Transfer beef to plate and set aside.
Add carrots, onions, thyme, rosemary, and bay leaf to pot and cook until onions begin to brown, 3 to 5 minutes. Add garlic and tomato paste and cook until tomato paste darkens and garlic is fragrant, about 2 minutes. Add reserved flour, stir to coat vegetables, and cook for 1 minute. Slowly add wine, stirring constantly to avoid lumps, and bring to simmer. Add broth, soy sauce, zest, and beef and bring to simmer. Cover and transfer to oven. Cook undisturbed for 2 1/2 hours.
Remove pot from oven and add potatoes, submerging them in braising liquid. Cover and return pot to oven. Cook until beef and potatoes are tender, about 45 minutes. Remove from oven, season with salt and pepper, and serve.
Nutrient Analysis per serving
Calories: 520; Total fat: 36 g; Sat fat: 14 g; Trans fat: 0 g; Cholesterol: 70 mg; Sodium: 490 mg; Total carbohydrate: 21 g; Fiber: 3 g; Protein: 20 g