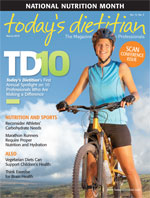 March 2010 Issue
Unintended Weight Loss — Evidence Analysis Library Offers New Guidelines
By Becky Dorner, RD, LD
Today's Dietitian
Vol. 12 No. 3 P. 8
The American Dietetic Association (ADA) offers all members an incredible resource called the Evidence Analysis Library (EAL). Managed by the ADA's Research and Strategic Business Development Team, this online library continues to grow and provide a body of summarized evidence to guide dietetic practice.
The ADA EAL projects are chosen based on need and requests from dietetic practice groups and practicing RDs. Projects currently published include guidelines for adult weight management, chronic kidney disease, chronic obstructive pulmonary disease, celiac disease, diabetes, hydration, hypertension, and indirect calorimetry.
Once analysis is completed, a project may evolve into the guidelines phase. Evidence-based Nutrition Practice Guidelines consist of a series of guiding statements and treatment algorithms developed using a systematic process for identifying, analyzing, and synthesizing scientific evidence. The guidelines are intended to summarize best-available research and provide the practitioner with a course of action. While the guidelines do not replace clinical expertise or critical thinking, they do highlight where the practitioner may use strong evidence to make nutrition care decisions.
I had the privilege of working on one of the most recently published ADA EAL projects related to unintended weight loss in older adults. The expert workgroup also included Mary Ellen Posthauer, RD, CD, LD, chair; Ronni Chernoff, PhD, RD, FADA; Krista Clark, RD, LD, CNSD; Charlette Gallagher-Allred, PhD, RD, LD; Gretchen Robinson, MS, RD, LD, FADA; and Erica Gradwell, MS, RD, as project manager.
This article briefly discusses the recommendations, but readers should visit the ADA EAL for detailed information on the guidelines.
Objectives and Overview
According to the ADA EAL, the overall objective of this particular project was "to provide MNT [medical nutrition therapy] guidelines for older adults with unintended weight loss to increase energy, protein and nutrient intakes, improve nutritional status, and improve quality of life." The specific objectives included defining "evidence-based unintended weight loss nutrition recommendations for registered dietitians (RDs) that are carried out in collaboration with other healthcare providers."
Included in these guidelines are recommendations regarding MNT, caloric needs, diet liberalization, modified texture diets, medical food supplements, enteral nutrition, dining environment, and eating assistance.
Rating the Evidence
Each recommendation may be rated as strong, fair, weak, consensus, or having insufficient evidence. Based on the evidence reviewed and the workgroup's determination, strongly rated recommendations include those in which the benefits exceed the harms and the supporting evidence is strong (excellent/good science). The ADA recommends that practitioners follow strong recommendations unless there is a clear reason to follow an alternate approach.
Fair recommendations include those in which benefits exceed harms but the evidence is not as strong. The ADA recommends that practitioners generally follow fair recommendations but also remain alert to new information and sensitive to patients' preferences. Weak recommendations include those that only have evidence that is suspect or quality studies do not show a clear advantage of a specific approach. The ADA advises practitioners to use caution in deciding whether to follow a weak recommendation and to be alert to emerging evidence in addition to considering patient preference in decision making.
Consensus recommendations are based on expert opinion due to a lack of available scientific evidence. They advise flexibility in the decision-making process and take patient preference into account. Insufficient evidence recommendations lack evidence and/or a clear balance of benefits vs. harms. In this instance, patient preference should take priority, and practitioners should seek information on emerging evidence that may assist in decision making. In addition, each recommendation statement is defined as conditional (situational or targeted to a specific subgroup) or imperative (broadly applicable).
The ADA EAL Web site provides more detailed definitions of these ratings.
Sample Recommendations
The workgroup developed recommendations for unintended weight loss in older adults in four categories to follow the ADA's Nutrition Care Process: nutrition assessment, nutrition diagnosis, nutrition intervention, and nutrition monitoring and evaluation. The following is a small sampling of the recommendations from the guidelines1:
UWL: Assessment of Nutritional Status
The Registered Dietitian (RD) should ensure that the nutrition assessment of older adults with unintended weight loss includes (but is not limited to) the following:
• Anthropometric measurements (e.g. height, weight, weight change)
• Biochemical data, medical tests and procedures
• Client history (e.g. cognitive decline, depression, neurological disease, hydration status, presence of infection and pressure ulcers, recent hospitalization, admission to healthcare communities and female gender)
• Food/nutrition-related history (e.g. loss of appetite, swallowing problems, eating dependency, low physical activity level, decreased activities of daily living)
Assessment of the above factors is needed to effectively determine nutrition diagnoses and plan the nutrition interventions; all of these are associated with adverse health effects in older adults.
Strong
Imperative
UWL: Instruments for Assessment of Nutritional Status
The Registered Dietitian (RD) should collaborate with other health care team members and policy makers to ensure that nutrition assessment tools have been validated in the older population. The Mini-Nutritional Assessment is the most widely studied and validated in this population; several other nutrition assessment instruments have also been developed but not validated.
Strong
Imperative
More Information Is Available
The guidelines also include information related to estimating energy needs, the evaluation and treatment of depression, the use of appetite stimulants, modified texture diets, indication for and initiation of enteral nutrition, route of enteral feeding, and contraindications for enteral nutrition. Recommendations for nutrition monitoring and evaluation are also included in the guidelines.
There is much more detailed information regarding this topic on the ADA EAL Web site. Full access is available to ADA members at www.eatright.org.
— Becky Dorner, RD, LD, is a speaker and an author who provides publications, presentations, and consulting services to enhance the quality of care for the nation's older adults. Visit www.beckydorner.com for free articles, newsletters, and information.
Reference
1. Evidence-Based Nutrition Practice Guideline on Unintended Weight Loss in Older Adults published October 2009 at www.adaevidencelibrary.com and copyrighted by the American Dietetic Association. Accessed November 20, 2009.