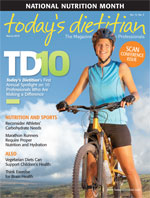 March 2010 Issue
Ratatouille — 'Fringe Chef's' Take on a French Classic
By Chef Kyle Shadix, MS, RD
Today's Dietitian
Vol. 12 No. 3 P. 64
Recently, when I mentioned the word ratatouille to a friend, the first thing she thought of was the 2007 Disney/Pixar hit movie about Remy, the youthful rat who travels to Paris after learning his culinary idol is dead.
My culinary idol, Julia Child, is also deceased, but her appreciation for French cuisine has become a part of my personal passion. Her moniker was "The French Chef," so I have adopted one, too: "The Fringe Chef."
When I traveled to France, I knew my idol was alive only in the spirit of her cookbooks and PBS reruns. But knowing that did not stop me. In her footsteps, I also studied at Le Cordon Bleu Paris, and not a day goes by that I don't think of Julia. I have her signed autograph in my kitchen in New York City, and a massive wooden plank that adorns the archway of my kitchen is a constant reminder of her greatest quote: "Life itself is the proper binge."
That said, there is no need to overindulge, but when it comes to the French classic dish ratatouille, it's hard not to overdo it. Ratatouille traditionally consists of eggplant, tomatoes, bell peppers, onions, zucchini, garlic, herbs, and olive oil. It is usually served as a side dish (in France, it would accompany beef in the classic dish pot-au-fue), but it is also served as an appetizer (a dollop on a cracker or crostini is sure to enliven the senses).
Classically provincial (which refers to the southeast region of France along the Mediterranean Sea), the dish is filled with the foods grown in that region. The word is derived from the slang word rata, which translates "to stew," and the French verb touiller, which means "to stir." 
As you can imagine, every home has its own spin on ratatouille, but the following recipe serves as a good starting point. Let your tastes inspire you to create your own signature version by switching out ingredients. Add leftovers to omelets and pasta sauce served over hot noodles. The possibilities are endless.
— Chef Kyle Shadix, MS, RD, is a culinary nutrition communications consultant in New York City and online at www.chefkyle.com.
"The Fringe Chef's" Ratatouille
Yields about 4 cups
Ingredients:
1⁄2 lb eggplant, cut into 1⁄2-inch cubes
2 cups onion, thinly sliced
6 T olive oil, divided
1⁄2 lb zucchini, trimmed, cut into 1⁄2-inch cubes
1 red bell pepper, thinly sliced into strips
1 yellow bell pepper, thinly sliced into strips           
1 lb firm but ripe tomatoes, peeled, seeded, cut into 3⁄8- to 1⁄4-inch-thick strips
2 garlic cloves, pressed
3 T fresh parsley, minced
1 T herbes de Provence*
Salt (optional)
Directions:
Preheat oven to 400˚F.
Stir together eggplant, onion, and 3 T olive oil in large roasting pan. Place in middle of oven, stirring occasionally, for 15 minutes.
Stir in zucchini, bell peppers, and 2 T olive oil and cook for 25 to 30 minutes. While vegetables are roasting, simmer tomatoes, garlic, parsley, herbes de Provence, and remaining 1 T olive oil in heavy saucepan, stirring occasionally until thickened, for 15 minutes.
Stir tomatoes into roasted vegetables and season ratatouille with salt, if desired.
Nutrient Analysis for 1 cup:
Calories: 237
Total fat: 17 g
Saturated fat: 2 g
Trans fat: 0 g
Cholesterol: 19 mg
Sodium: 15 mg
Total carbohydrate: 18 g
Dietary fiber: 4 g
Protein: 3.5 g