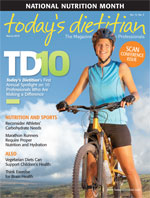 March 2010 Issue
TD 10 — Meet 10 Dedicated Dietitians Who Are Making a Difference
By Maura Keller
Today's Dietitian
Vol. 12 No. 3 P. 40
When you think of successful dietitians, which of their professional skills and attributes come to mind? Knowledge? Certainly. Dedication to and passion for their career? Definitely. Care and concern for clients, patients, and the public? Absolutely.
In honor of National Nutrition Month and to spotlight some deserving RDs, Today's Dietitian asked readers to nominate exceptional individuals who exhibit the previous traits. We received hundreds of recommendations and would like to extend a hearty thank-you for taking the time to nominate your colleagues and give them a chance to shine.
The individuals we selected are being recognized for their efforts within the field and their unique and creative approaches to practice. While we applaud them in this special feature, we also applaud all nutrition professionals who dedicate their lives to educating people on eating for optimal health, finding innovative ways to fight obesity and chronic disease, and simply promoting nutrition's role in wellness. This is your month. Celebrate. You deserve it.
Please enjoy reading these profiles of your peers.
Ashley Koff, RD
Owner of Ashley Koff Approved
When Ashley Koff completed her application to graduate school to become an RD, she realized that despite seemingly unconnected work experiences, she had been preparing to be an RD her whole life.
Koff's experience with her father, a pediatric surgeon who used to say, "If kids ate more fiber, I'd have to operate less," was her jumping-off point into the world of nutrition. Early on she worked as a grocery store bagger and cashier, and the subsequent exposure to what people were eating and not eating prompted her to question the components of a wholesome diet.
After seeing eating disorders among her peers, experiencing her own digestive issues, being involved with new product development at Kellogg's, and learning about the myriad food intolerances facing the nation, Koff soon realized her calling.
"One day I was in the bookstore with 12 books on 'food as medicine' in my hands, and I said, 'This is what I should do and be paid to do,'" she says. "It was from there that I went back to school at NYU [New York University] and took the 16 course requirements for an RD."
Afterward, Koff found herself in an internship at Los Angeles County + University of Southern California (USC) Healthcare Network.
"My training was such a crazy experience—by day with homeless, burn victims, and working in the kitchen with immigrants and by night working with celebrities, some of whom only need me to talk them 'off the (food) ledge,'" she says. "And from here, I set roots, first as director of a weight loss program for kids and parents and later in private practice."
One year ago, Koff developed AKA (www.ashleykoffapproved.com) to bridge the commonalities of four different paths—namely her media work, patient work, consulting work, and her work as a partner/educator for physicians and other healthcare practitioners.
What does Koff find most rewarding? "Helping someone find what works for them. When you see their confidence build, their being seems lighter and they become more productive, too," she says. "It's selfish, really. As I help people get healthier, make better choices for the environment, I ensure a world of healthier, happier people and an environment that can feed and nurture me and my loved ones."
Julie Miller, MPH, RD, CDE
Program Coordinator of the MOVE! Weight Management Program at the VA Greater Los Angeles Healthcare System
When raised by parents who are overweight, children are likely to follow in their footsteps. But that wasn't the case for Julie Miller, whose parents raised her to eat healthy and exercise even when they themselves were overweight.
"I decided I wanted to become a dietitian my sophomore year in college as it seemed like a natural career choice since I felt strongly about living a healthy lifestyle," she says.
Miller earned a bachelor's degree in health promotion and disease prevention from USC. She completed the rest of the didactic program in dietetics at California State University Northridge and her dietetic internship at the VA Greater Los Angeles Healthcare System combined with a master's in public health (MPH) from UCLA. In June 2009, Miller became a certified diabetes educator (CDE).
During her freshman year of college, Miller trained to be a group fitness instructor, and she continues to teach at facilities throughout Los Angeles. In addition, she is an adjunct faculty member at Santa Monica College teaching an introduction to nutrition science class at the undergraduate college level. "I hope to impact my students' lives by promoting wellness and teaching them that health is deeply related to diet," she says.
For Miller, education does not stop with becoming an RD. "One of the benefits of being a college nutrition instructor and a weight management program coordinator is that I have to stay abreast of the most current nutrition science information."
As the MOVE! (Managing Overweight/Obese Veterans Everywhere) weight management program coordinator, Miller oversees the weight management classes at six VA facilities in the greater Los Angeles area.
"The veteran population is unique and can be challenging at times," she says. "I use those challenging moments to listen and work with patients on what their specific weight management needs are. I do not promote one specific diet but instead encourage patients to discover what healthy behavior changes they are willing to make and sustain for a lifetime. I find that the patient is the expert on themselves, and I am here to guide them through their weight loss journey."
Miller continues to utilize her CDE skill set by teaching weekly carbohydrate-counting classes to patients with diabetes. As Janice H. Dada, MPH, RD, CSSD, CDE, CHES, owner of SoCal Nutrition & Wellness, explains, "As a CDE, she aims to deliver practical and realistic guidance to her patients with diabetes."
"I thrive on teaching and encouraging people to make healthier choices," Miller says. "Each workday is filled with prevention teaching moments—from seeing students appreciate the importance of fresh fruits and vegetables to having patients demonstrate their understanding of how to read a food label. These moments are why I became a dietitian."
Bethany Campbell, RD
Nutrition Support Dietitian at Wesley Medical Center
Bethany Campbell's interest in the role nutrition plays in disease states has been the core foundation of her work for the past 15 years. After graduating from the University of Southern Mississippi in 1990 with a degree in dietetics, Campbell was hired by her current boss, Judy Gill, MS, RD, LD, and has continued to work at Wesley Medical Center in Hattiesburg, Miss.
"Bethany has worked as the nutrition support dietitian and has built up an excellent rapport with all physicians," says Gill. "They seek her for her 'nutrition expertise' and recognize her as the expert."
The tremendous amount of respect that Campbell has earned from her peers within the medical community has had a profound effect on the dietitian she is today. "I have told many new coworkers over the years that there has never been a day that I have dreaded going to work," Campbell says. "I enjoy each aspect of my job."
In her role, Campbell is responsible for providing nutritional care to patients who receive either enteral or parenteral nutrition. She also covers the pediatric unit and provides any required nutritional care to those patients.
"As I became a more experienced dietitian, my interest expanded to the area of nutrition support because I saw the positive impact that nutritional therapy had on the outcome of the patient," Campbell says. "I always strive to provide the best possible care to each patient in the hopes of seeing the best recovery possible. It is so rewarding to see a patient who has been on a ventilator for weeks and receiving nutritional therapy improve to the point of weaning off the ventilator and being able to converse with me. What is especially rewarding is when they voice a day or so later, 'I'm hungry'—that lets me know that I have helped in some way to give that patient the care they needed to survive, in some cases, insurmountable odds."
Campbell admits that one of the challenges she faces in her job is not always being able to predict a positive outcome. "Nutrition support plays only one role in the total care of the patient, and when a patient has, for example, multisystem organ failure, at times you have to accept the inevitable," she says. "The job I have is one in which I have more positive outcomes and joys than negative outcomes, so I continue to learn more each day to make the positive recoveries always outweigh the negative ones."
If Campbell could communicate one thing to the patients she sees, it would be: "I believe life to be a precious gift. … Each and every patient I come in contact with has my vow to provide the best nutritional care they need to see another tomorrow."
Emma Fogt, MS, RD, MBA, LDN
Owner of Nutrition for Kids, Teens and Families
When she was young, Emma Fogt learned a key lesson from her father: to seek out jobs in the science field in order to support herself in good times and in bad. She later found that the study of nutrition suited her personality best.
After graduating with a degree in dietetics from the University of Vermont, Fogt entered the Brigham and Women's Dietetic Internship program in Boston. She worked for Stacy Bell, DEd, RD, and George Blackburn, MD, PhD, as a nutrition support research dietitian, collecting data for phase 2 and 3 enteral and parenteral pharmaceutical trials.
"I realize how much I learned from these professionals, and I am thankful for their goodwill in helping younger people enter the field of nutrition. They taught me to try to give back to the nutrition profession," says Fogt.
After working in Germany as a guest researcher at the University of Ulm conducting parenteral studies in the bone marrow transplant unit, Fogt returned to the United States to earn a degree in nutrition and communications through a unique program at Boston University.
Today, Fogt owns a private practice called Nutrition for Kids, Teens and Families and helps clients of all ages establish a lifetime of healthy eating. Most recently, she has found herself teaching cooking classes to children and becoming more involved in writing, illustrating, and implementing children's nutrition programs.
Being with people—teaching, educating, and working with families and children—is what Fogt loves best, and it shows in her work.
"Emma is a devoted, highly knowledgeable dietitian who has been incredibly supportive to me with my children's nutritional needs," says client Betsy Leschinsky. "She has an especially kind manner and is extremely thorough."
"I hope to positively influence [my clients] to follow a balanced lifestyle based on their needs, as well as empower busy parents to optimize the health of their children through nutrition, activity, and eating behavior," Fogt says. "My approach with families and children is always positive—how can we add a skill, idea, or food to help them feel empowered and improve the whole family's health."
Debbie Benner, MA, RD, CSR
Vice President of Clinical Support at DaVita Inc
Meet Debbie Benner, barber-school dropout turned registered dietitian. Benner, vice president of clinical support at DaVita Inc, attended the barber school that her father owned. She soon determined that being a barber was not her life's passion. Returning to college, Benner was introduced to "all things dietary" by her foods and nutrition professor.
"She asked me if I had ever thought of becoming a dietitian," Benner says. "At the time, I had never heard of the profession. She shared a printout description of the profession and the required education. I knew immediately that was the job I wanted and was the right fit for me. It fit my passion for education and the science of food and nutrition perfectly. I hope she knows how much she made a difference in my life."
Benner graduated with a degree in dietetics and food administration from California Polytechnic State University, San Luis Obispo. She went on to complete an internship at Good Samaritan Hospital in Cincinnati, Ohio, and later obtained her master's degree from California State University, Long Beach. She began her first professional position at an acute care hospital and chronic dialysis center in the early days of dialysis.
"I started in the nephrology specialty over 30 years ago and have devoted my life to specializing in the care of patients with chronic kidney disease," Benner says. "This area allows the RD to work collaboratively with the entire healthcare team and to provide long-term interaction and support to patients where nutrition is critical to their quality of life and well-being."
Currently, Benner enjoys her role at DaVita. "I oversee the nutrition and social work programs within the company," she says. "This is a special company that is a large provider of dialysis services employing over 1,200 RDs and over 1,100 social workers. I work with a team of RD and social work leaders to coordinate new hire training [and] provide ongoing education and clinical resources designed to provide the highest quality care for patients with kidney disease."
Benner also leads DaVita's Dietitian Council, which includes some of the most innovative renal dietitians in the company, in core planning and activities that help them keep on the leading edge of nutrition outcomes.
"I enjoy the opportunity to make a difference and to inspire fellow dietitians to excel at what they do and to advocate for the value RDs bring to patients and the healthcare team," she says. "I hope dietitians will obtain greater recognition for the demonstrated value and contributions of this highly educated group of professionals."
Alysun Deckert, MS, RD, CD, MHA
Clinical Dietitian at the University of Washington Medical Center
At the University of Washington Medical Center (UWMC), Alysun Deckert works as an inpatient dietitian providing dietary services in the areas of transplant surgery, general medicine, dialysis, medical ICU, and high-risk obstetrics.
Deckert has degrees in nutrition and exercise sciences from Kansas State University, a master's in nutrition from the University of Washington, and more recently a master's in health administration.
"I was attracted to the idea of getting a dual degree in nutrition and exercise sciences because it fit in well with my lifestyle," she says. "I've always been a runner and competed in college, as well as postcollegiately, so combining the degrees was a natural fit."
Deckert always thought she'd find a job in sports nutrition or wellness. But during her internship, she found that working in a hospital could be a very rewarding, stimulating experience.
"I have enjoyed the challenge that my assignments provide," she says. "I have to be on top of the highly acute critical care needs of my ICU patients and at the same time be able to explain the rationale of limiting carbohydrate intake to a newly diagnosed gestational diabetic."
With Deckert's continued involvement in the running community, she's been able to satisfy her interest in sports nutrition by doing clinics and talks for athletic groups and teams, writing newsletter articles, and coaching.
"In 2001, I decided that if I still hadn't found the perfect sports nutrition job, I'd have to turn my patients into athletes," she says. "That's when we started UWMC Team Transplant, a training group devoted to promoting fitness and organ donation awareness." The group consists of UWMC transplant recipients, UWMC employees, and their friends and families.
"As a group, we train for the Seattle Half Marathon in November and the Rock 'n' Roll Seattle Half Marathon in June," she says. "I give everyone a 16-week training schedule based on their starting fitness level—everyone has to be able to walk/run 3 miles before joining us. And we meet every Saturday morning during those months to train as a group.
"My goal is to create a culture for my patients that encourages healthy lifestyle habits—one that emphasizes the importance of diet and exercise within a community that supports their efforts," Deckert says. "I enjoy working with the transplant recipients and I feel incredibly lucky to be a part of their journeys. I learn so much from each one of them. Their stories keep me grounded and their ability to overcome [obstacles] inspires and humbles me. They constantly remind me of how lucky I am to be able to fill my Saturday mornings with good friends and exercise!"
Elizabeth Kautz, RD, LDN
Nutrition Services Coordinator and Quality Manager at Kendal Crosslands Communities
Working as a dietary aide, summer nutrition intern, and summer relief WIC (Women, Infants, and Children) consultant provided Elizabeth Kautz with valuable insight into the world of foodservice and nutrition.
"The idea that what we put in our mouths plays a pivotal role in our overall health from preconception to old age and that I could help influence these outcomes through nutrition education and interventions is what enticed me to enter this field," Kautz says.
With a degree in food and nutrition from Virginia's Radford University, Kautz completed her dietetic internship at Massachusetts General Hospital in Boston. She also earned an American Dietetic Association certificate in adult weight management.
Today, Kautz serves as the nutrition services coordinator and quality manager for Kendal Crosslands Communities, devoting herself to the nutrition needs of 110 skilled nursing residents and 102 assisted living residents.
In her role, Kautz volunteered to join the committee for implementing an electronic medical record (EMR). "I represent Kendal dining and nutrition services for all of the Kendal communities," she says. "I collaborated with the software developer to enhance nutrition features of our EMR to ensure better tracking and resident outcomes, which included revising their nutrition assessment [and] getting the correct nutrition calculations for nutritional needs programmed into the software."
Within the database, Kautz developed care plans and PES (problem, etiology, and signs) statements consistent with the Nutrition Care Process and helped to train other dietitians in its use. "Elizabeth has led our dietitians group with the implementation of the Nutrition Care Process and Answers on Demand, an electronic medical record," says Kathy Yerkes, MS, RD, LD, director of dining services at Kendal Crosslands Communities. "As the only dietitian on the implementation team, Elizabeth added a resident-focused perspective to how the plans of care were created."
Kautz also chairs the campus continuous quality improvement committee. "This committee is made up of members from all departments," she explains. "It seeks to quantify our quality initiatives and provide us benchmarks."
Kautz enjoys the variety that her job provides. "I am never bored. I am rewarded when I see an outcome change because of my nutrition interventions. A weight loss becomes a gain because I offered a snack. Prealbumin level normalizes because protein powder was added and a wound heals. An overweight resident with DM [diabetes mellitus] is able to lose some weight and reduce their insulin. A resident is able to be weaned from tube feeding back to an oral diet," she says. "I work to be a leader of change. I hope the future brings me continued opportunity for growth."
Kendra Glassman, MS, RD, LD, CNSC
Clinical Dietitian at South Texas Veterans Health Care System
Being a successful dietitian requires motivation and a desire to improve the lives of others. Kendra Glassman, a clinical dietitian at South Texas Veterans Health Care System, exhibits those qualities and more.
"Kendra is highly motivated [and] well respected by the medical and surgical staff," says Dorian Foster, MS, RD, a dietitian at South Texas Veterans Health Care System. "She pushes herself and the dietitians on our staff to stay on the cutting edge of medical nutrition therapy. She is a living example of an excellent dietitian."
After graduating with a bachelor's degree in dietetics from Kansas State University in 2002, Glassman was commissioned into the U.S. Army where she completed her dietetic internship. "I obtained my CNSD in 2004 and recently recertified in 2009," she says. "I was discharged from the military in 2005 and I ... completed my master's degree in nutrition in May 2009 from Central Michigan University."
Glassman currently works at Audie L. Murphy VA Hospital, where she covers the surgical intensive care, cardiac care, and psychiatric units.
"I find every facet of this field fascinating," she says. "With nutrition and dietetics, you have so many options. I can give my patients a natural and easy way to change their health. I also can make their day a whole lot better by feeding them. I also enjoy educating other medical staff on the importance of adequate nutrition. I love it when they actually learn the importance of nutrition after their rotation in the SICU [surgical ICU] after a month of me pounding nutrition during morning rounds."
Glassman works closely with staff and veteran clients, continually educating them through wellness and fitness activities, including 5K "fun runs," community talks, and health fairs. Someday she would like to become a certified specialist in sports dietetics. "I enjoy working with athletes, especially runners, as I am a marathoner myself," she says.
"I hope to continue to become an expert in the field in nutrition support," Glassman says. "I have so many mentors: Ainsley Malone, Carol Rees Parrish, Joe Krenitsky—individuals I strive to be like. I would like to become as well respected and speak at the same level they do now."
When it comes to patient care, Glassman thinks it is important to look at every patient as an individual. "I wish I could counsel my patients before they get to the SICU and make them realize what they eat over the course of their lifetime does impact their life and risk during surgery. I feel like I can help patients make small and very manageable changes to alter their health in a better way."
Beth Taschuk, RD, LD
Bariatric Dietitian at St. Elizabeth Weight Management Center
Entering college with an undecided major, Beth Taschuk explored several career options. With an interest in science and health, she took her first nutrition course and felt an immediate passion for her professional future. "Dietitians have the unique ability to give patients the skills that they need to make attainable food and activity goals, optimal food choices, and behavior modification strategies to sustain long-term success," she says.

Taschuk obtained a bachelor's degree in dietetics from Ohio's Bowling Green State University and completed a dietetic internship at Mount Carmel College of Nursing in Columbus, Ohio. Additionally, she earned a certificate of training in adult weight management.
Today, Taschuk serves as a bariatric dietitian at St. Elizabeth Weight Management Center. "As an outpatient bariatric dietitian, my first priority is preparing patients for weight loss surgery and the diet and lifestyle changes that accompany it," she says. "My role is to give my patients a sense of normalcy in their lives, teaching them how to have a healthy relationship with food."
Taschuk directs the nutrition process for the Weight Management Center, which specializes in the laparoscopic approach to weight loss surgery. She took the initiative to develop and execute the nutrition process for the new surgical weight loss center on her own, creating policies, evidence-based classes, and teaching materials. "Building a bariatric program was a hospital initiative to meet the needs of our community," Taschuk says. "Our vision was to be a regional and national leader by creating a multidisciplinary program delivering exceptional patient care and program outcomes."
With her eight years of service to the hospital, Taschuk has established strong working relationships with many departments. "This made educating the nursing units, food and nutrition employees, and the inpatient dietitians [about the surgical weight loss center's nutrition process] seamless," she says. "I worked closely with dietary to create the select menus for our surgical patients. We added a 'liberal' bariatric menu for patients [more than] three months out that allows the patient ownership in selecting appropriate amounts of food and foods that they can tolerate."
As part of the in-service training, Taschuk and her team felt it was imperative to include sensitivity training for all employees. "We have witnessed bias towards bariatric patients (both surgical and nonsurgical) from the healthcare provider—a slow response to call light, delayed feeding in the ICU, and insensitive verbal and body language, to name a few," she says. The training that Taschuk provided addressed these issues.
Taschuk's passion for nutrition care doesn't stop with her role at St. Elizabeth's. She also is the founder and facilitator of the Greater Cincinnati Bariatric Dietitian Network and enjoys guest lecturing at the University of Cincinnati on medical nutrition therapy for the surgical weight loss patient.
While establishing a successful program at St. Elizabeth's is paramount for Taschuk, it is the positive patient outcomes that drive her. "I am inspired daily by patients to maintain a healthy lifestyle and excel in professional development. Recently I received a picture of a patient crossing the finish line of her first 5K [race]—it does not get any better than this."
Marianne Wetherill, MPH, RD, LD
HIV Wellness Dietitian for Tulsa CARES
When did you first become interested in nutrition and healthy eating? For Marianne Wetherill, it was when she began reading the back of food labels at the grocery store while shopping with her mother.
"Growing up, my parents were very health conscious. Every week, my mom would make homemade bread, as well as natural peanut butter using the juicer," she says. "My exposure to healthy eating started before birth, and I have been interested in the relationship between food and health since I can remember."
Wetherill graduated from the University of Oklahoma Health Science Center's Coordinated Program in Dietetics with a bachelor's degree in nutrition. In the fall of 2005, she enrolled in the university's MPH program with a study emphasis in health administration and policy. After graduating with her MPH in May 2009, she enrolled in the DrPH program that summer.
Since 2005, Wetherill has been the HIV wellness dietitian for Tulsa CARES, a not-for-profit agency serving people living with HIV/AIDS with low and very low incomes. "In addition to care coordination, mental health, and housing services, we have a strong nutrition program," she says. "During the years, we have developed our food pantry program to place a greater emphasis on health with a focus on prevention and wellness. We believe it is our duty to not only feed people but to provide them with foods that fight the health disparities they often face."
When Wetherill started this job, an assortment of Hostess Cup Cakes, Spam, and Vienna sausages lined the pantry shelves—but not anymore. "During Marianne's time here, she has changed the trends and attitudes of our clients, as well as staff, by communicating the importance of healthy eating," says Micah Hartwell, BA, nutrition services director for Tulsa CARES. "She has created an environment in which choosing healthy food is not only an option but is encouraged and can be as effective as medicine."
During their visits, Wetherill's clients receive not only a good quantity of food but also high-quality, nutrient-dense items that they could not afford otherwise.
"A few years ago, I also decided we needed to do something about the 'food deserts' in which many of our clients live," Wetherill says. "Fresh fruits and vegetables just are not available for purchase near their homes."
To help bridge the gap between healthy nutrition and unmet need, Wetherill and her team decided to start their own farmers' market. They opened it at certain times during the summer months, and clients were encouraged to take whatever fruits and vegetables they wanted for free, with no limits.
The response was small at first. But today, the team offers the market once every month, year-round, and many clients line up outside the building an hour before the market opens.
"Many people tell me this is the only time each month they get fresh produce, and they look forward to it each month," Wetherill says. "By getting to try new fruits and vegetables each month, clients are learning what fresh broccoli tastes like, that spaghetti squash really does look like spaghetti when you cook it, and that kiwi isn't fuzzy all the way through. These things tell me that this program is making a difference."
— Maura Keller is a Minneapolis-based writer and editor.