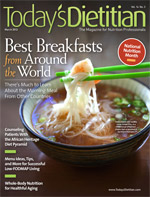 March 2012 Issue
Brussels Sprouts — They've Now Become the Old New Favorite
By Bryan Roof, RD, LDN
Today's Dietitian
Vol. 14 No. 3 P. 64
Brussels sprouts, someone recently told me, are now trendy. The once shunned, boring vegetable that's been around since the 13th century, a result of selective breeding between members of the cabbage family, is now en vogue? This gives me hope that my prime is still on the horizon. Yet I'm forced to wonder why Brussels sprouts are just now gaining gastronomic notoriety. It seems as though nearly everyone is quick to tell you how much he or she once despised Brussels sprouts. I'd venture a guess that the cooking method is partly to blame. The accepted approach has long been to boil these petite cabbages, which fills the house with a smell so potent that it leaves everyone at dinner suspiciously eyeballing the person to their left.
But things change, and this change has seen a massive shift of affection toward the humble sprout. Those who once hated are now in love and, again, the cooking method is responsible. Roasted Brussels sprouts have burst onto the scene as something of a game changer. Intense heat caramelizes the sprouts, and they take on a marked sweetness that pairs well against their inherent bitter edge. The outer leaves become crispy while the heart turns as tender as a marshmallow. And roasting couldn't be easier: Turn on the oven, preheat a baking sheet, and drop the sprouts on top. It may be easier than boiling—surely less odoriferous!
When shopping, choose small sprouts, as they tend to be sweeter and less woody than large ones, and avoid those with yellowing or wilted leaves, a sign of aging.
Waiting for the next fad to emerge from my crisper drawer, I'll put my money on underloved produce and a hot oven. Maybe, just maybe, I'll be ahead of the trend.
— Bryan Roof, RD, LDN, is a chef, dietitian, and food writer living in Boston.
Roasted Brussels Sprouts With Apple and Pine Nuts
Serves 4 as a side dish
Ingredients
1 lb Brussels sprouts, stems trimmed, halved lengthwise
61/2 oz cooked, peeled chestnuts, halved
1 large red apple (such as Fuji, Pink Lady, or Gala), cut into a 3/4-inch dice
1 large shallot, sliced into thin rings
2 T extra-virgin olive oil
1/4 tsp sea salt
1/4 tsp pepper
2 T pine nuts, toasted
Directions
1. Adjust oven rack to lower-middle position, place large, rimmed baking sheet on rack, and heat oven to 425˚F.
2. Toss Brussels sprouts, chestnuts, apple, shallot, oil, salt, and pepper together in large bowl until thoroughly combined. Carefully remove hot baking sheet from oven and pour contents of bowl onto sheet in even layer, working quickly and taking care to flip Brussels sprouts cut side down.
3. Roast until sprouts are well browned, about 25 minutes. Transfer to platter and sprinkle with pine nuts. Drizzle with additional olive oil and salt if desired.
Nutrient Analysis per serving
Calories: 280; Total fat: 12 g; Sat fat: 1.5 g; Trans fat: 0 g; Cholesterol: 0 mg; Sodium: 170 mg; Total carbohydrate: 43 g; Dietary fiber: 7 g; Sugars: 14 g; Protein: 6 g