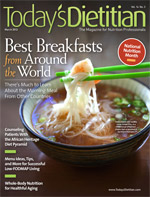 March 2012 Issue
Counseling Clients Who Just Won't Change — RDs Give Sage Advice to Fine-Tune Your Approach
By Lindsey Getz
Today's Dietitian
Vol. 14 No. 3 P. 46
Bob has been back for several follow-up visits yet he seems to continue struggling with the same issues: unstable blood sugar and a high hemoglobin A1c level. He's already on medication for glucose, blood pressure, and lipid control, but he isn't following the exercise regimen you suggested or making any dietary changes.
As a certified diabetes educator and dietitian, you've probably dealt with several patients like Bob who just won't change, leaving you feeling frustrated, helpless, and maybe a little angry because they're not following your directions. Under these circumstances, it may be challenging to take a step back to assess the situation, but it's the perfect opportunity to examine your approach.
"If you're frustrated with certain patients and can't understand why they won't make important changes, you may need to ask yourself what can you do differently," suggests Ann Constance, MA, RD, CDE, a master trainer for the Stanford Chronic Disease Self Management program and healthcare coordinator and director of the Upper Peninsula Diabetes Outreach Network in Michigan. "There are many issues that can come into play. Skills like empowerment and motivational interviewing can be used effectively to determine what barriers might need to be overcome."
This article will discuss the issues involved with patients who are unwilling to make important changes that will benefit their health and well-being and strategies that will help you guide them in the right direction.
Patient Readiness
First, RDs must be aware of whether the patient is ready to change. The theory of "Stages of Change" can help you to recognize whether the patient is ready to make a change or not, Constance says. "You cannot work with someone who is not ready," says Cecilia Sauter, MS, RD, CDE, clinical project manager at the University of Michigan who coauthored the book Inspiring and Supporting Behavior Change: A Food and Nutrition Professional's Counseling Guide with Constance. "That's where listening becomes so important."
By listening to the patient, you'll have the ability to recognize if he or she is even ready to change—and if not, you can start to understand what it will take to get the patient to a place where he or she will be ready. Sauter and Constance have identified the "Stages of Change" as precontemplation, contemplation, preparation, action, maintenance, relapse, and termination. Identifying where a patient falls on this continuum is key to understanding their ability to change. The following is a listing of what takes place during each stage:
• Precontemplation: The person isn't ready to make a change and may not even see his or her behavior as problematic.
• Contemplation: The person is thinking about making a change but not right away.
• Preparation: The person is getting ready to make a change soon.
• Action: The person has started taking some steps toward making a change.
• Maintenance: The person has been successfully working on a change for at least the past six months.
• Relapse: The person has returned to his or her old behaviors.
• Termination: The change has become a habit, and the person is absolutely certain that he or she won't relapse.
In precontemplation, for example, an RD would simply ask the patient what positives he or she sees in making a particular behavior change. In contemplation, an RD would help the person take a look at the pros and cons of a particular behavior change, Constance says.
Better Listening
Sauter says part of listening is moving away from the idea that the patient is automatically noncompliant and looking at the situation from the patient's perspective. "The patient may just have a different goal [in mind] than the provider—it's not that he's noncompliant," she adds.
There are three Rs that can help facilitate the opportunity to look at things from the patient's point of view: reflective listening, rephrasing, and reframing. According to Sauter, reflective listening is reiterating the same information back to the patient. "You're letting them know that you hear what they're saying," she says. "With reflective listening, you just want to be careful you're not overusing it or you'll sound like a parrot. The point is just to make sure the patient knows you heard what they said."
With rephrasing, you add more context and put some feelings into it, perhaps telling the patient you understand he or she is scared, worried, or confused. "With both reflective listening and rephrasing, you're allowing them to look into the mirror and either realize that's not what they meant to say or to confirm that is how they feel," Sauter says. "And finally, with reframing, you're helping them see they're not alone. You might say, 'I have another patient that has had a very similar situation. Would you like to hear what we did with her?' Now they're seeing the situation in a new frame."
Letting the patient do most of the talking and focusing more on listening can be a challenge for the provider, Constance admits. "When working with patients, it's easy to be the one doing all the talking because you have a lot of knowledge, and you know how you want to help them," she says. "But the reality is that we need to identify what the patient is most concerned about and help the patient to set reasonable goals."
Motivational Interviewing, Empowerment
Though many link the concepts of motivational interviewing and empowerment together, they aren't the same. Both use the tools of reflective listening, rephrasing, and reframing, but with motivational interviewing, the provider is working against ambivalence. The end point of motivational interviewing is setting a goal, whereas empowerment gives patients the tools they need to succeed. "I believe it's really important to be trained in motivational interviewing and not to attempt it without being well trained," Sauter asserts. "You're dealing with a lot of ambivalence and want to make sure you're able to build a case for behavior change."
Empowerment helps the patient achieve self-confidence, acceptance, expertise, and emotional and physical well-being while also allowing the patient to become his or her own behavior change expert. "You're not just saying, 'Here's the goal and these are the steps,' but you're working with the patient to help them become experts on tackling problems they're faced with," Sauter explains. "At the end of the day, you're not going home with the patient, so they need to be able to make the decisions on their own. Patients are responsible for 99% of their own healthcare. You need to make sure you're not setting goals that you want the patient to do. The patient needs to set the goals."
 The bottom line is that you want the patient to put some of the goals you discuss into practice, and the way to do that is to ensure he or she is interested in making those changes. "We can dictate what's best for the patient, but unless they view it as important and doable, it probably isn't going to happen," Constance says. "Make sure you ask open-ended questions such as 'Tell me how you feel about having type 2 diabetes?', 'What's the most difficult thing about changing your eating habits?', or 'What are your concerns?' Once you get those responses, work from there on the solution."
— Lindsey Getz is a freelance writer based in Royersford, Pennsylvania.
Systems Approach
The WHAT System is a practical approach to setting goals discussed in the book Inspiring and Supporting Behavior Change: A Food and Nutrition Professional's Counseling Guide by Ann Constance, MA, RD, CDE, and Cecilia Sauter, MS, RD, CDE. A concept created by Constance, the WHAT System is based on smart goal setting and was designed to assist clinicians when helping their patients make their goals specific, measurable, and achievable.
"Often a clinician will tell a patient simple statements like 'Get more exercise' or 'Eat less fat.' These are all great things to work toward, but how do you really put them into practice?" Constance says. "That's where the patient often needs help. That's where the WHAT System can come into play."
Here's what the WHAT System stands for and how you can put it to use with "get more exercise" as the goal. The purpose is to get as specific as possible, dissecting the goal and making it doable for your client.
• W = What, when, and where?: What are you going to do? When are you going to do it? Where are you going to do it?
• H = How much, how many, or how often?: How much are you going to exercise? How many times a week? How often? How many miles or how long?
• A = Achievable (and believable): This goes back to checking on the patient's confidence. Are you confident the patient can achieve this? Is he or she achieving it? If no, talk about the barriers. Maybe the patient needs better sneakers or to rethink the days when exercise is planned. Get specific about the barriers.
• T = Time frame for achieving the goal: How long is the patient going to try to meet this goal? Be realistic here. Most follow-up appointments are three months later, so you need to set up a way to connect—perhaps through e-mail or a phone call—in a shorter time frame to check in on whether the patient is meeting the goal and help him or her make modifications if needed.
— LG