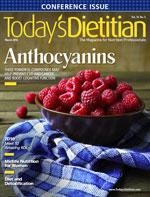 March 2014 Issue
Taking the SNAP Challenge
By Sharon Palmer, RD
Today's Dietitian
Vol. 16 No. 3 P. 40
Through the personal pages of their diaries, five RDs describe the experiences that gave them a new appreciation for families who are food insecure.
For many dietitians, whether they're employed with a hospital, WIC, supermarket, or outpatient clinic, helping people feed their families nutritious food within their budget can be one of the most important—and rewarding—achievements of their career.
Currently, one in six people in the United States struggles with hunger. In 2012, 49 million Americans (33.1 million adults and 15.9 million children) were food insecure, defined as reduced food intake or disrupted eating patterns in a household due to lack of money or other resources.
Battling food insecurity has long been a primary goal of the Academy of Nutrition and Dietetics (the Academy). The Academy states that it's committed to improving the health of Americans by ensuring they have access to a healthful, safe, and adequate food supply through protecting and strengthening the Supplemental Nutrition Assistance Program (SNAP),2 a key initiative in our nation's nutrition safety net. SNAP, WIC, the National School Lunch Program, and the School Breakfast Program form the core of a network of national nutrition assistance programs designed to increase food security.
A Snapshot of SNAP
Formerly known as the Federal Food Stamp Program, SNAP is the largest program in the domestic hunger safety net, offering nutrition assistance to millions of eligible low-income individuals, families, and communities. The first Food Stamp Program, which allotted stamps to purchase agricultural surpluses, dates back to 1939 and is credited to its first administrator, Milo Perkins, who was quoted as saying, "We got a picture of a gorge, with farm surpluses on one cliff and undernourished city folks with outstretched hands on the other. We set out to find a practical way to build a bridge across that chasm."3
Since then, the Food Stamp Program slowly has evolved to what it is today. Recipients can use the benefits to buy food, from authorized stores, that will be consumed at home. In 2012, 82% of benefits were redeemed in supermarkets and superstores. Nationwide, there were 3,214 farmers' markets and farmers who sold directly to consumers with food stamp benefits.4
The amount in benefits a household receives is called an allotment, the household's net monthly income multiplied by 0.3, which is subtracted from the maximum allotment for the household size. The calculation is based on the projection that SNAP households are expected to spend about 30% of their resources on food. For a household of four, for example, the maximum monthly allotment is $632.5
Since November 1, 2013, SNAP has been in the news because of the elimination of the temporary increase in benefits included in the American Recovery and Reinvestment Act of 2009. Ultimately, Congress did not continue that $11 billion increase. The recently passed farm bill that funds SNAP also included an additional $8 billion in cuts over ten years, according to the Wall Street Journal. Together those reductions will result in an estimated drop of $90 in SNAP benefits per month for a family of four, according to Mother Jones Earth News.
Studies have shown that SNAP helps reduce food insecurity. An August 2013 USDA study found that participating in SNAP for six months was associated with a decrease in food insecurity of about 5 to 10 percentage points. SNAP was associated with lower percentages of households that were food insecure, that experienced very low food security, and that had children who were food insecure.6
"As RDs, we know that enough healthful food at all stages of development keeps people healthy and prevents chronic diseases. SNAP helps to improve diets," says Karen Ehrens, RD, LRD, past chair of the Academy's Legislative and Public Policy Committee who also works with the North Dakota Department of Health to coordinate the Creating a Hunger Free North Dakota Coalition.
Getting Acquainted With SNAP
It's important for dietitians to understand this nutrition program even though they may not work directly with SNAP recipients. "All RDs can and should be mindful of how we can advocate for a healthy food system," says Brooke Nissim-Sabat, MS, RD, LD, an assistant professor of foods and nutrition at Pierpont Community and Technical College in West Virginia. "Working to alleviate hunger is an undeniable part of our profession, and RDs are poised to work toward solutions. Food is at the heart of our profession, and promoting access to nutritious choices for our vulnerable populations is some of the most important work an RD can do."
"Every day, in any job an RD has, we make recommendations about what people should eat to be healthiest," Ehrens says. "We all need to understand how easy, difficult, or even impossible our recommendations might be based on a client's background, which includes their health status, personal preferences, motivation, living circumstances, and ability to access healthful food. Helping people access the healthiest foods within the limits of their resources I hope is a goal that each of us works toward. Understanding SNAP can help us understand how to help people make food choices."
Five RDs Take the SNAP Challenge
To understand SNAP firsthand, Ehrens, Nissim-Sabat, and many other dietitians have taken what's called the SNAP challenge to find out what it's like to live on a limited food budget of about $4.50 per person per day as both a hunger awareness statement and a way to better appreciate the challenges that food-insecure clients and patients face every day. Others, from restaurant CEOs and congressman to journalists, have tried it, too.
Today's Dietitian shares real-life stories of five RDs who took the SNAP challenge last fall through the encouragement of the HEN DPG. If you're interested in taking a SNAP challenge, you can find out more information on the Food Research and Action Center website (www.frac.org).
Lisa Dierks, RD, LD
A mother of three, Dierks is nutrition manager at the Mayo Clinic and lives in Wanamingo, Minnesota. Here's an excerpt from Dierks' SNAP challenge diary.
Day 1: For ease of writing, I'm going to use some Twitter abbreviations for family members: DH = darling husband, DS14 = darling son 14-year-old, DS11 = darling son 11-year-old, and DS5 = darling son 5-year-old.
After working a full day, I hopped on my commuter bus for the 45-minute ride home. DH and DS11 called me to ask what's for supper because basketball practice was at 6 PM. I told them they'd have to eat a peanut butter sandwich, yogurt, or fruit for a snack to hold them over. I was greeted at the door by DS5 tossing a half-eaten apple into the garbage and DS14 complaining about wanting supper and "why do we have to eat like poor people?" (He is a good kid, just your typical teenager.)
For breakfast and an after-school snack, DS11 and DS5 helped me make peanut butter/banana/oatmeal muffins. The batch made 22. I thought I could get by with eating one muffin per day, but after going to the gym this morning, I had to eat two to fill up. We have oatmeal for when the muffins run out.
For lunch, DH and I will either take leftovers from the evening meal or a peanut butter sandwich. To round out the meal, we can have yogurt, fresh fruit, and raw veggies.
Our decision for what to prepare for supper was based on the desire to dispel comments we've heard from both sides of the SNAP argument, such as "People on SNAP only buy processed junk" and "People on SNAP can buy only beans and rice." It was our goal to see if we could have a healthful meal that included fruits and vegetables, and everyone would leave the table satisfied.
Tonight's meal was chili beef cornbread bake, green beans, and unsweetened applesauce. I also had some carrot and celery sticks left from my lunch that I put on the table rather than throwing them away. DS14 had this evening's parting comments: "Wow, Mom, this was really good. I thought when you said we were doing this that we had to eat ramen noodles, Hamburger Helper, and TV dinners. I didn't know it would be real food. I also thought I couldn't have seconds and would have to be hungry. And I was really surprised that there were fresh vegetables on the table; I thought we were eating canned veggies."
Isn't it interesting how experience can change our perceptions?
Day 3: DH, DS14, and DS11 had Boy Scouts at 6:30, so they ate a bowl of cold cereal and will eat supper when they get home. I think they were hoping for pizza.
For tonight's menu, I chose fish for a couple of reasons: The 2010 Dietary Guidelines recommend we increase our consumption of fish to 8 oz per week, but could we afford it? And I wanted to get DH more involved in this week's challenge. I scanned the grocery ads and found cod at $6.98/lb. If I bought one pound and cut it into five pieces, we'd have a little more than 3 oz each. It seemed that we could afford one meal of cod, but two meals were out of the question.
What would it take to meet the guidelines for our family if we chose local fish? After all, we live in the "Land of 10,000 Lakes." Here are some of DH's thoughts: Fishing is free in Minnesota state parks, but the closest one to us with good fishing is more than one hour away. A license costs $22, and we still need to drive about 30 minutes to get to a good spot. Bait would be about $3 per trip. There are daily limits and possession limits for every kind of fish. You can't fish all year long, and many waterways are closed from one to three months in the spring for spawning. Then there's the time factor; DH and I both work full-time, and the kids are busy with activities. Needless to say, the avid fisherman thought I was crazy to think that we could catch enough local fish to sustain our fish intake and meet the guidelines. So what did I do? I made Curried Tomato Cod with barley and sweet potato. Everyone also had a fresh pear. Total bill: $14.68.
Day 6: I asked everyone what they were thankful for after doing the challenge. Responses included having enough food to eat for the week; creative recipes from basic ingredients; peanut butter sandwiches (that's from DS5); having enough food to eat all the time, and that the food was better than I thought it was going to be; a family to share meals with, that when I ask my mom if a friend can stay for supper the answer is always yes and that we don't worry about having enough; being able to share our story with friends; and making new friends through our storytelling.
Brooke Nissim-Sabat, MS, RD, LD
Living in the community of Fairmont, West Virginia, Nissim-Sabat took the SNAP challenge with her husband. Here's what she recalls from her experience.
We devoted one week to eating on about $4.50 per person per day and found ourselves counting pennies as the day wore on into evening. The protein-rich foods and fresh produce were some of the more costly; it would be very easy to fall back on nutrient-poor, energy-dense choices. It's clear to me how, when money is limited, families can think in terms of total calories rather than nutritional quality. I found myself much more cognizant of food waste and acutely aware of hunger and satiety. Even as an RD with hundreds of low-cost recipes at my fingertips, I still was preoccupied with having enough money to last the whole week and stretching out my meals.
I did little snacking and consumed only about 1,200 to 1,300 kcal/day, which isn't enough for me to maintain a healthful weight and is difficult to meet my nutrient needs. I normally take great pleasure in eating and enjoying meals with loved ones; this week felt much more utilitarian. Eating local and sustainable foods became quite difficult. For example, one egg as part of a dozen from the farmers' market might work out to be $0.29, while one egg from the discount grocery store might cost $0.11—less than half as much. Many people don't bat an eye at paying $3.50 per dozen for fresh eggs from hens who live on pasture, but when money is this tight and you can't keep your own chickens, it's a different perspective. Luckily, dried beans and lentils always are in heavy rotation in our household, and for this week, we barely strayed from legumes at all.
Here's a sample day's menu:
Breakfast: plain yogurt, one banana, one boiled egg, and coffee with a splash of half and half (a complete splurge)
Lunch: 1/2 can of tuna with a squirt of mayo, 1 slice of whole wheat bread, 1 cup of baby carrots
Dinner: 1 cup of cooked black beans (from dried), 1 cup of cooked brown rice (from dried), 1 1/2 cups of spinach cooked with one pat of butter
Snack: 1 small apple
Total cost: $4.04
My analysis of this day indicates I consumed approximately 1,250 kcal, which is much lower than the amount I require to maintain my weight. I exceeded my Dietary Reference Intake for protein, coming in at about 67 g, and had about 183 g of carbohydrates with 32 g of fiber; the beans went a long way toward helping me meet many of my nutrient goals. I met my needs for vitamin A thanks to the carrots, and had plenty of folate and magnesium, again because of the liberal plant proteins. On the other hand, on this day, I was very low in vitamins C and E as well as calcium and iron.
Because my husband is very active, he fell short of many of his nutrient needs. He toughed it out though, going to bed hungry rather than staying awake and ruminating on what to eat that might cut into the next day's budget. At this point, I tried to talk him out of it, but he took the challenge seriously.
When the challenge was over, we had the luxury of going back to our eating habits: purchasing organic ingredients, dining out, preparing new dishes that require an investment of ingredients. Individuals and families who qualify for SNAP don't have these prospects; rather, their experience in poverty may run generations deep with no sign of letting up.
This experience strengthened my resolve to not only make individualized recommendations that are sensitive to my clientele but also to continue working to improve access to a healthful, sustainable food supply for everyone.
Kristina DeMuth, RD
DeMuth, a University of Minnesota MPHN candidate, chronicled her experience on her blog http://for-i-was-hungry.blogspot.com. Here are some highlights.
I decided to take the SNAP challenge because hunger and poverty are at the core of the work I do. I spent one year living in Haiti and came home wanting to learn more about the hunger that not only exists in other parts of the world but also here in my home country.
Doing the SNAP challenge for one week will never equate with the experience of people who live on SNAP benefits day to day. However, engaging in the week-long activity provided me a window of insight to various challenges people may face living on tight budgets here in America. I also wanted to see if it was possible to consume an entire whole, plant-based diet on fewer than $4 per day.
For the first few days of the challenge, I felt extremely hungry. I was afraid of running out of food by the end of the week, so I didn't eat as much as I could have and should have. Surprisingly, however, I ended up with leftover food at the end of my challenge and only ended up consuming about $25 worth of food for the week.
Shopping for the challenge was exciting when I found great deals, but it also was mentally exhausting as I tried to decide which foods to buy, determine whether I had enough money, and prioritize my food list. I realized that while shopping, I had the luxury of going to three different locations to get my food for the week. I also had the luxury to shop at a farmers' market. These are situations that people living on a budget may have to face: what stores to shop at, how to be savvy with coupons and deals, and even consider the transportation to get to various stores.
I also realized on the second day of the challenge that I needed to give up coffee to incorporate peanut butter into my meal plans. Originally, I avoided purchasing peanut butter because the ingredient list on the cheapest peanut butter had ingredients I usually avoid (added sugar, palm oil). I caved in on the second day and decided that I'd just eat the cheap peanut butter to meet my dietary needs.
Also, I chose to eat entirely from scratch, which can save an extraordinary amount of money; however, it does require some basic cooking and baking skills, resources for preparing and storing foods, and the confidence to try new things. I realize that not everyone is like me. Not everyone feels confident in the kitchen, and not everyone likes to be creative with food.
The following are foods I ate throughout my challenge:
Breakfast: oatmeal banana pancakes with peanut butter, oats cooked in a slow cooker overnight with banana and peanut butter, and a sweet potato oatmeal casserole
Snacks: Almost daily, I ate carrots, an apple, and pumpkin seeds (saved those from my pumpkin). I also used leftover frozen pumpkin to make pumpkin ice cream, and I made homemade air-popped corn.
Lunch and dinner: Lunch consisted of leftovers from the night before. I made creamy tomato soup (made with tofu), pumpkin soup, veggie burgers with sweet potato and roasted vegetables, lentil-oat meatballs, carrot-ginger soup, lentil apple and sweet potatoes with vegetables, and peanut butter.
I ate incredibly healthy and at a very low cost. The cost of plant proteins vs. organic animal-based proteins was much more economical. A serving of lentils costs $0.10 (13 g of protein); organic quinoa costs $0.30 per serving (6 g of protein); and edamame costs $0.50 per serving (13 g of protein). Eating less expensive protein increases the amount of money you can spend on fruits and vegetables.
Recently, I spoke with a few parents who use SNAP benefits. Some of them don't think they'd be able to eat as healthfully without the SNAP program. I was surprised by how many of the parents said they cook from home because it's cheaper. Perhaps there are many misconceptions about what people's lives are like on a tight budget.
Elizabeth Lee, MS, RD
Working in Orange County, California, as an outpatient dietitian and blog writer at HEALing Foodie, Lee shares a glimpse of her experience during the SNAP challenge.
I took the SNAP challenge for one week because I thought it'd give me a glimpse into some of the food struggles that millions face each day.
For the most part, I was able to manage the week on the SNAP budget because I have basic cooking skills, time, and a functional kitchen. For some low-income families, those three essentials may not be available to them. Unprocessed whole foods often are cheaper than convenience foods, such as microwavable meals and fast foods. To say that it costs much to eat well may not be true. However, not everyone has the ability to turn fresh ingredients into meals.
Not being able to afford certain organic produce while knowing they belong to the Dirty Dozen list or organic ground turkey when conventional was found to contain the highest amount of antibiotic-resistant bacteria was difficult. Shopping for the week required either lots of arm strength and strong walking legs or a car. It would have been nearly impossible for me to buy everything I needed if I was taking public transportation. I felt that I ate healthfully on the budget, perhaps even more so than usual because I didn't have extra money to spend on prepackaged snacks. Here's a sample of what I ate:
Breakfast: chia oatmeal topped with 1/2 banana
Lunch: leftovers from the night before
Afternoon snack: apple
Dinner: two-bean and yam turkey chili
Karen Ehrens, RD, LRD
Ehrens, past chair of the Academy's Legislative and Public Policy Committee, shares a few pages from her diary during the SNAP challenge, which she took with her husband and 15-year-old daughter in North Dakota.
Day 1: Feeling humbled and grateful for the food skills and knowledge we have. We've been blessed and have had the opportunity to work toward having many resources, such as a well-stocked pantry, cooking tools, pots and pans, a great stove, and refrigerator. Many in our country don't start out with nearly this much.
Grocery shopping takes a long time when you need to budget down to the penny. We spent our dinner conversation planning. More time afterwards discussing. Went to two stores and tried to guess which one would have the lower prices on certain items; I lost a couple of bets. We saved $0.10 by bringing our own bags to Target. Small victories. Tired from making so many choices. Fully recognizing that our choices were small potatoes compared to really hard choices others face day in and day out.
Honestly, the hardest thing to deal with during this challenge was not being able to access the food in our pantry and recognizing how hard it could be to build a pantry on a very limited budget. How can you purchase for the future while trying to meet today's needs first? I could have blown my day's worth of resources on one jar of spices that I might need to make a delicious recipe.
We groaned when we cut into the pear and found half of it bad, leaving less to eat at supper. My husband returned the pear to the grocery store, and they gave us double our money back. Because we weren't working, have a reliable car, and live just under one mile from the store, we could do this. Not the case for many others relying on SNAP benefits.
Day 2: Preoccupied by thoughts of food. Can't sleep. Trying to make sure there will be enough food for the short five days of this challenge. We convinced our 15-year-old daughter to join in, so we have her share of $4.25/day as well. For her, we're getting by with a modified version. We'll run out of milk by the end of the challenge, so I'll make sure she has milk each day. I can't knowingly shortchange my growing daughter with food.
Day 4: As of this morning, my daughter, Emily, finished off the milk. There's more in our fridge, so she'll have that. But for those other parents out there who don't have more milk in their fridges or bread in the breadbox, what do they do? Eat less? Not pay a bill? Ask a neighbor? Visit a food pantry?
Day 5: So glad to report that although we ran out of some foods, we still have some left. Our family will be using peanut butter to hold together our last day of the challenge. Emily is so glad. She and my husband will be having peanut butter for breakfast, and I'll have a peanut butter/banana tortilla roll-up for lunch. For supper, it'll be a mishmash of what's left: a couple of eggs, two small zucchinis, a small bit of chicken lunchmeat, two slices of bread, and yogurt.
The fifth and last day of our challenge was a roller coaster ride. It started in the morning after I posted the recording of the interview about our SNAP challenge experience online. I went to the Facebook page of the television station where the link was posted and started reading the comments that started to pour in. I should have put on a flak jacket first. The comments judged, derided, and attempted to shame people who accept assistance: "Those people have cell phones and fancy jeans." "They fill up their carts with soda and chips." "I pulled myself up by my bootstraps." These sent my stomach churning; 83% of the households receiving SNAP benefits have a child, a senior, or a disabled person living in them.
We did it. We pulled it together. But to anyone who says that this is "taking the easy way out," I encourage you to try it yourself. It will change how you think about how people access what's necessary for all human life: food.
— Sharon Palmer, RD, is a Los Angeles-based foodie, the author of The Plant-Powered Diet, the editor of the Environmental Nutrition newsletter, and a contributing editor at Today's Dietitian.
References
1. Hunger and poverty statistics. Feeding America website. http://feedingamerica.org/hunger-in-america/hunger-facts/hunger-and-poverty-statistics.aspx. Accessed December 20, 2013.
2. Academy of Nutrition and Dietetics. Priorities for the 2012 Farm Bill.  Maryland Academy of Nutrition and Dietetics website. http://www.eatwellmd.org/docs/Congressional Materials/Farm Bill recommendations313.pdf. Accessed December 15, 2013.
3. Supplemental Nutrition Assistance Program: a short history of SNAP. US Department of Agriculture Food and Nutrition Service website. http://www.fns.usda.gov/snap/short-history-snap. Accessed December 20, 2013.
4. The facts about SNAP benefits and where they are used. US Department of Agriculture Food and Nutrition Service website. http://www.fns.usda.gov/sites/default/files/Fact Sheet_011613.pdf. Accessed December 21, 2013.
5. Supplemental Nutrition Assistance Program: how much could I receive? US Department of Agriculture Food and Nutrition Service website. http://www.fns.usda.gov/snap/how-much-could-i-receive. Accessed December 28, 2013.
6. Measuring the effect of Supplemental Nutrition Assistance Program (SNAP) participation on food security (summary). US Department of Agriculture Food and Nutrition Service website. http://www.fns.usda.gov/sites/default/files/Measuring2013Sum.pdf. August 2013.