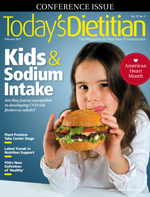 February 2017 Issue
The Retail RD: Driving Produce Consumption With Innovation
By Barbara Ruhs, MS, RDN
Today's Dietitian
Vol. 19, No. 2, P. 16
Mentioning food and technology in the same sentence may scare some people, but the food industry always has been focused on innovation to sell more products. Fruit and vegetable companies are no different. In fact, they have a great opportunity to maximize profits while improving public health by using greenhouse growing techniques, agricultural technology, and introducing new packaging innovations. According to the Produce for Better Health Foundation's State of the Plate: 2015 Study on America's Consumption of Fruits and Vegetables, there has been a 7% decrease in fresh produce consumption over the past five years despite an increase in availability.1
Attending the Produce Marketing Association's 67th annual Fresh Summit conference and expo last October in Orlando, Florida, provided me the opportunity to witness innovation aimed at increasing produce consumption. The three-day event is the largest produce show in the United States; it draws more than 20,000 attendees from 65 countries and hosts more than 1,200 exhibitors. Making produce more accessible (locally grown), improving taste (freshness), and offering more convenience packaging are some of the ways fruit and vegetable companies are offering solutions to boost intake.
Locally Greenhouse Grown
The terms "local" and "seasonal" are among the most popular labeling claims and marketing themes in the supermarket today. Choosing local and seasonal produce, however, can be a barrier to eating fresh produce year-round for most Americans. But the popularity of greenhouse-grown produce may be changing that reality by reducing food miles and offering consumers a variety of their favorite fresh-grown products throughout the year.
Tomatoes are the fourth favorite vegetable consumed in the United States behind potatoes, lettuce, and onions, and are among the leaders in the industry when it comes to greenhouse innovation.2 According to the USDA Economic Research Service's 2005 report "North American Greenhouse Tomatoes Emerge as a Major Market Force," roughly 37% of fresh tomatoes sold in US supermarkets are currently produced in greenhouses. If you haven't been brave enough to buy a tomato in the winter, now's the time to give them a try because the taste has dramatically improved with better growing and breeding technology. Choosing the best varieties for taste and growing them under perfect, climate-controlled conditions produces delicious and juicy vine-ripened tomatoes. Plants are fed a nutrient-specific solution that maximizes growth and increases output by five to 10 times per acre compared with a typical outdoor farm. You can find a colorful variety of tomatoes in all shapes and sizes that taste great all year long in the grocery store.
Although there are several varieties of great-tasting greenhouse-grown tomatoes, NatureFresh Farms in Leamington, Ontario, Canada, and Delta, Ohio, stands apart for their packaging innovations and commitment to educating the public on sustainable agriculture. They've added the "fun factor" to buying tomatoes with the introduction of their TomBall machine—basically a gumball machine for tomatoes. Shoppers get to choose a variety of small "snacking" tomatoes including a rainbow of red, yellow, and orange grape tomatoes; sweet red cocktail and cherry tomatoes; and a nifty "TomBox," a recyclable container similar to the traditional Chinese-food take-out containers. In addition, their unique, mobile "Greenhouse Education Center" (#GreenInTheCity Tour) travels throughout the country visiting retailers and schools and teaching about how greenhouse vegetables are grown.
Improved Taste and Freshness
The lettuce industry also is facing an evolution with the use of greenhouse technology aimed at reducing food miles and offering a new alternative to preserving peak freshness and quality. From November through March, 90% of the lettuce sold in US supermarkets is grown in Yuma, Arizona, and is transported thousands of miles across the country. Being among the top-selling produce items, with more than 80% of US households buying bagged salad,3 there's an opportunity for growers like Live Gourmet, a division of Hollandia Produce, based in Carpinteria, California, to capture some of the $3.7 billion per year in packaged salads in this category.4 Live Gourmet is expanding their operations to the eastern United States to offer consumers a more local, fresher alternative. Part of their unique strategy to maintaining freshness extends beyond the packaging; selling their product with the roots intact, they market their lettuce as "fresh" and "alive." Their leafy greens are grown hydroponically (without soil, in water) in greenhouses and allow customers to experience picking their own lettuce leaves within their own kitchen.
Although there are some downsides to greenhouse growing, such as increased energy costs and overhead, there are many other benefits, including food safety and traceability, that continue to fuel the growth of this produce industry segment. Greenhouse-grown products are protected from outside elements, such as pollution and soil-born contaminants, and the process of sanitizing and recycling water offers them a level of safety and traceability that's difficult for field-grown produce companies to match. Produce companies believe the benefits of choosing a more locally grown product ultimately will be profitable and most appealing to consumers, driving demand and increasing sales.
Packaging Convenience
In addition to growing technology, packaging innovations that make buying and consuming produce more convenient is an important strategy that may play a powerful role in changing consumer consumption patterns. From bagged salads to precut vegetables, baby carrots, smoothie kits, and fruit cups, packaged produce items are more prevalent in the supermarket today than ever. Chelan Fresh, based in Chelan, Washington, is a leader in package innovation that has proven to have traction with fruit-loving consumers seeking convenience and unique, flavorful new apple varietals. The world's favorite fruit, more than 7,500 apple varieties exist worldwide, and more than 100 are commercially available in the United States. Chelan Fresh is on the cutting edge of growing demand for apples by introducing new varietals and marketing them in unique packages. The company recently introduced the Rockit apple, the world's first specially bred, miniature high-quality variety, to the US market. Packaged in a small plastic tube containing three or four apples, it's easy to display in both supermarkets and convenience stores and is sold at a "fixed weight," a pricing solution to help shoppers avoid the hassles of weighing and calculating price. In an effort to make fruit "cool" again with kids, Chelan Fresh has been testing other innovative packaging such as using licensed Disney characters. The company also supports a program with the USDA, National Football League, and National Dairy Council called "Fuel Up To Play 60," which they promote on some of their apple packaging. By placing the program logos and active kids on their packaging, they hope to raise awareness of the importance of physical activity to reduce childhood obesity.
Final Thoughts
Consumers face many challenges in consuming adequate amounts of fruits and vegetables. They're bombarded with buzzwords and seemingly helpful advice to eat locally and seasonally. The bottom line is that everyone needs to eat more fruits and vegetables in all forms, and the produce industry is offering solutions that decrease food miles, improve taste and freshness, and make it convenient for time-starved shoppers to fill their plates with more nutrient-rich foods.
— Barbara Ruhs, MS, RDN, is a retail health expert and founding partner of the Oldways Supermarket Dietitian Symposium.

References
1. Produce for Better Health Foundation. State of the plate: 2015 study on America's consumption of fruits & vegetables. http://www.pbhfoundation.org/pdfs/about/res/pbh_res/State_of_the_Plate_2015_WEB_Bookmarked.pdf. Published 2015.
2. Tomatoes. USDA Economic Research Service website. https://www.ers.usda.gov/topics/crops/vegetables-pulses/tomatoes/. Updated October 19, 2016.
3. FreshFacts on retail: 2014 year in review. United Fresh Produce Association website. http://www2.unitedfresh.org/forms/store/ProductFormPublic/fresh-facts-on-retail-2014-year-in-review. Updated March 2015.
4. Watson E. Nielsen: salad kits are driving the growth in packaged salads, with sales up 31% YoY. Food Navigator-USA website. http://www.foodnavigator-usa.com/Markets/Nielsen-Salad-kits-are-driving-growth-in-packaged-salads. Updated May 18, 2016.