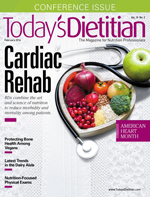 February 2016 Issue
Editor's Spot: Silver Lining
By Judy Riddle
Today's Dietitian
Vol. 18 No. 2 P. 4
According to the American Heart Association's 2016 Heart Disease and Stroke Statistics Update, one in every three deaths in the United States in 2013 resulted from heart disease, stroke, and other cardiovascular diseases (CVDs), while heart disease and stroke were the number one and number two killers worldwide. Despite the progress in reducing the number of deaths from heart disease and stroke in this country, much work still needs to be done.
In 2015, heart disease and stroke claimed the lives of several notable people, including civil rights activist Julian Bond, basketball stars Moses Malone and Darryl Dawkins, baseball hall of famer Ernie Banks, actor Omar Sharif, rock guitarist Sam Andrew, legendary jazz saxophonists Ornette Coleman and Bob Belden, and former New York City Governor Mario Cuomo. And many of you probably have had loved ones and close friends die of CVD over the past year.
The good news is that much research is being done to develop better standards of care and new drug therapies for hypertension and high cholesterol, major risk factors for CVD. The American Heart Association and American Stroke Association recently compiled their annual list of the top 10 major advances in heart disease and stroke research in 2015 that the medical community believes will save more lives. For example, a landmark study found that treating hypertension more aggressively reduces CVD-related deaths. Other research shows that the diabetes drug empagliflozin (Jardiance) is the first to reduce deaths from heart complications in people with type 2 diabetes, and findings from four groundbreaking studies emphasize the importance of practicing healthful habits to lower CVD risk.
Dietitians can discuss these study findings with patients as they counsel them on lowering blood pressure, diabetes medications, developing healthful eating habits, and incorporating physical activity to help prevent heart disease.
Clinical RDs who specialize in cardiac care also can positively impact the lives of patients who already have experienced adverse cardiovascular events such as a myocardial infarction, coronary angioplasty, angina, heart failure, and even heart transplantation. Dietitians can develop individualized treatment plans that address nutrition and lifestyle behaviors while working closely with interdisciplinary health care teams to reduce mortality rates among these patients. To learn more about the clinical dietitian's role in cardiac care, read "Cardiac Rehabilitation" on page 18.
Also in this issue are articles on emerging dairy trends, the vegan diet and bone health, nutrition-focused physical exams, and second-career dietitians. Please enjoy the issue!
Judith Riddle
Editor
TDeditor@gvpub.com