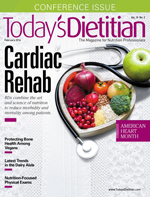 February 2016 Issue
Cardiac Rehab
By Karen Collins, MS, RDN, CDN, FAND
Today's Dietitian
Vol. 18 No. 2 P. 18
Dietitians have the unique opportunity to combine the art and science of nutrition to reduce patient morbidity and mortality.
Cardiac rehabilitation programs provide a unique setting in which dietitians can help people adopt heart-healthy eating habits. The inherent structure of multiple weekly sessions offers the chance for frequent patient follow-up that usually doesn't occur. Yet programs even within the same community can vary widely in how dietitians address patients' nutrition needs.
Most programs employ just one dietitian. Thus, cardiac rehabilitation calls for RDs who can collaborate and provide trusted nutrition expertise as part of a multidisciplinary health care team and find creative ways to meet participants' needs.
What's Happening Today
As evidence has grown demonstrating that cardiac rehab reduces mortality rates and risk of myocardial infarction (MI), so has the number of diagnoses for which it is recommended.1,2 Today's cardiac rehab includes patients who have had an MI, coronary angioplasty, coronary bypass or valve surgery, or heart transplantation, and those who have stable angina or heart failure.
Cardiac rehab provides medically supervised physical activity and individualized treatment plans that may address nutrition, stress management, and tobacco cessation. Participants typically attend three days per week for 12 weeks, with third-party payment covering a total of 36 sessions. These may all be exercise sessions, or some may address nutrition and lifestyle.
"I see every patient in the program," says Judy Hinderliter, MPH, RDN, LDN, CPT, a cardiac rehab dietitian/nutritionist at University of North Carolina Hospital's Cardiac Rehabilitation Program in Chapel Hill. "First, they get a 60- to 90-minute group class that covers general heart-healthy eating. I think it's good for patients to hear others' questions and suggestions about how to eat out, include more vegetables, or prepare fish, for example. Then each is scheduled for an individual session, giving me opportunity to deal with other medical issues, as well as sleep and activity patterns. I go out on the exercise floor, too, where I can address questions and talk with people about changes they're making."
Not all programs use this combination of group and individual care. Sharon Smalling, MPH, RD, LD, is a dietitian specialist in the Memorial Hermann Cardiac Rehabilitation Program at Memorial Hermann Hospital—Texas Medical Center. Other than dialysis patients, "I see all patients individually for 11/2 to two hours. I see people for follow-up if needed for further weight-related help or to address blood sugars that are out of range when they come to exercise. In addition, since my office is adjacent to the program's exercise area, I often talk with people while they're on the treadmill. Everyone knows that if my door is open, they're welcome to come in and ask questions."
Still, another approach to nutrition in cardiac rehab comes from Karen Ross, MA, RD. "I am the registered dietitian in the Cardiac Therapy Foundation of the Midpeninsula in Palo Alto, California, a 501(c)3 nonprofit. Everyone here is medically referred because of heart disease or related issues. However, unlike traditional programs with a defined number of sessions covered by third-party payers, people in this program pay for monthly membership, and some continue for years. I provide nutrition education exclusively through group classes, and focus on a different topic each month. I also provide nutrition information through articles in our monthly newsletter, a presentation at the center's quarterly luncheon for new members, and through conversations as I walk through [the gym] once every two months while people exercise."
Changing Face of Cardiovascular Nutrition
Recommendations for primary and secondary prevention of cardiovascular disease (CVD) have evolved from a primary focus on limiting dietary fat and cholesterol to a broader vision of heart-healthy eating.3,4 These recommendations endorse eating patterns based on the Dietary Approaches to Stop Hypertension (DASH) diet and the USDA Food Pattern (the basis for MyPlate). The Mediterranean diet also has been shown to decrease CVD risk,5,6 so limiting total fat intake to less than 30% of calories no longer is supported as vital to cardiovascular health.7,8
Heart-healthy eating patterns decrease intake of saturated fat, trans fat, and sodium while emphasizing consumption of vegetables, fruits, whole grains, low-fat dairy products, poultry, fish, legumes, nontropical vegetable oils, and nuts, and limiting intake of sweets, sugar-sweetened beverages, and red meats.4 Cardioprotective benefits of a plant-focused eating pattern likely involve dietary fiber, vitamins, minerals, and phytochemicals these foods provide.9
Research supports a shift in cardiac rehab nutrition education, increasing emphasis on heart-healthy food choices. Randomized controlled trials show that dietary patterns high in fruits and vegetables improve blood pressure, lipid levels, insulin resistance, and inflammatory biomarkers.10,11 Observational studies following people post-MI link healthier eating patterns with decreased mortality rates.12-14 In one of these studies, better outcomes were specifically related to greater intake of healthful foods rather than decreased intake of unhealthful foods.12
Most cardiac rehab patients also need help reducing sodium consumption. Intake should be limited to no more than 2,400 mg daily to reduce blood pressure, according to the American Heart Association/American College of Cardiology (AHA/ACC) 2013 guideline, and many in cardiac rehab are among those for whom reduction to 1,500 mg is identified as desirable.4,15 Still, for people unable to reach these levels, even reducing sodium intake by 1,000 mg significantly reduces blood pressure and cardiovascular events.4 Regardless of target, since by far the majority of most Americans' sodium intake comes from various types of processed food, messages about simply putting away the salt shaker don't address the problem.16 Optimal nutrition care in cardiac rehab seems to require a three-pronged approach of assessment, counseling, and follow-up.
First Stop: Dietary Assessment
Since cardiac rehab patient care is based on an individualized treatment plan, some form of dietary assessment is an important starting point. In some programs, nurses conduct this assessment as part of baseline evaluations; in others, dietitians either provide the assessment or evaluate results.
Previously, dietary assessment tools focused on intake of dietary cholesterol, total or saturated fat, and some estimate of sodium intake. Choice of assessment tools today ideally reflects the emphasis on broader dietary patterns, takes into account patient literacy level and comfort with technology, and considers staff time to administer the dietary assessment and record results.
"I perform a dietary assessment for every patient in the program using the New Leaf tool [see Resources sidebar] and either a three-day food record or 24-hour recall. I also check waist and BMI, and make note of labs and medications," Hinderliter says.
Smalling says, "In our program, patients' height, weight, and anthropometric measurements are taken by exercise physiologists. Nurses administer the dietary survey on a patient's first day, along with other baseline assessments. Currently, we use a dietary survey that provides a score based on saturated fat intake, though I plan to switch to another option. Then I see patients individually and do an in-depth diet recall to assess food and beverage intake before their event or hospitalization. Some patients also get an advanced lipid profile, and I discuss results with them."
Obesity Conundrum
Obesity among patients in cardiac rehab remains a common, complex problem. Current cardiac rehab care models often aren't set up to address it. More than 40% of participants in one cardiac rehab program were identified as obese,17 and other research identified 80% of participants as overweight or obese.18 Because of potential for clinically meaningful improvement in several cardiovascular risk factors, a 5% to 10% weight loss is a recommended target for both primary and secondary prevention of cardiovascular events in those with excess body fat.19
However, some controversy involves an "obesity paradox," in which observational studies show that weight loss by overweight people with heart disease isn't necessarily associated with better outcomes. Further analysis, however, highlights the importance of distinguishing between unintentional weight loss, which is associated with adverse cardiovascular events, vs weight loss achieved through intentional changes in diet and exercise, which is associated with improvement in cardiovascular risk factors and outcomes.20,21
Despite participation in supervised exercise, average weight loss during cardiac rehab is only 3% to 4%.20,22 Intervention trials demonstrate that clinically significant weight loss can be achieved with exercise plans designed to increase weekly caloric expenditure and behavioral modification of eating habits.22-24
"I am the one who sets weight goals with the patient," Smalling says. "Patients sometimes set lofty goals, but I generally recommend a 10% weight loss if obese. I talk about 'reasonable goals,' including consideration of their weight history." In fact, Smalling says she often doesn't address BMI at all, focusing instead on the body fat and waist circumference measures taken as part of baseline assessments.
Hinderliter emphasizes achievable goals with patients as well, saying she often recommends a 5% to 10% weight loss. In fact, "I really try first to get patients to choose a healthier diet; if weight loss doesn't occur, then I encourage smaller portions." She finds that simple changes like drinking more water, especially at the start of meals, or switching use of sweets to a few bites of dessert to top off a meal instead of as snacks, often make a difference. "With some patients, I encourage having no more than one 'luxury food' a day (or seven per week). A luxury food is an item with 150 to 200 calories." She says this is essentially teaching people to choose between options.
Education and Engagement
It's important to recognize that patients aren't coming in to cardiac rehab as "blank slates." Part of helping them adopt heart-healthy eating habits often involves addressing myths and incorrect advice from well-meaning friends and family. Participants often have questions about various dietary fats from peanut butter to coconut oil, and ask if "butter is back." While the newly released 2015–2020 Dietary Guidelines for Americans no longer limit daily intake of dietary cholesterol, questions about whether dietary cholesterol should be limited by all cardiac patients or only those whose LDL levels remain high is controversial, since major organizations have differed on this point.4,25,26
Some cardiac rehab participants are eager to know everything they can do to reduce health risks, while others are reluctant to change eating habits. Smalling created a form to show people their lipid lab results, normal values, and what foods and macronutrients affect them. "I explain to people that I want to review how they were eating before their event or hospitalization to make sure they aren't unnecessarily giving up favorite foods," Smalling says. "I suggest we look at what might need to be 'tweaked' a bit, which seems to help people open up. Often, I can help them determine another way to prepare a food so it tastes just as good, or close to it, yet is healthier."
Hinderliter says, "I start individual sessions by asking people what they want to accomplish. We come up with nutrition goals together, and I ask what they're willing to change and how I can support them." She says one of her most popular tools is a handout she developed based on a review article about cardioprotective diets.9 "I made it colorful and to the point, encouraging people to fill up on healthful foods, as in the Mediterranean and DASH diets."
Ross is an avid reader of nutrition newsletters, and keeps a file to provide background information as she develops classes and articles on topics that pique participants' interests. "Past classes have covered situational challenges (eating alone, mindless eating, eating in restaurants), preparing and using particular foods (whole grains, seasonal vegetables), and nutritional issues making headlines (sugar and heart disease, sodium issues, meeting calcium needs). It's especially fun when I can involve members in presenting classes, such as one we did on Indian cuisine."
For classes and individual appointments, visual aids enhance learning and engagement. Food models and measuring cups and spoons are traditional elements in a dietitian's toolbox. Food labels and empty food containers can help when teaching label reading or discussing choices like flaxseed or phytosterol-enriched foods. Where southern "sweet tea" is popular, a bottle filled with an equivalent number of sugar cubes can be powerful. Smalling has samples of unsalted seasonings and calorie-free flavor enhancers for water that patients can try. She also keeps an Internet-connected tablet handy to check nutrition information on products patients want to discuss.
Both Hinderliter and Ross say that grocery store tours are popular with patients. "I think it's really helpful for patients to look at specific products and talk about why something is a good choice," Hinderliter says. In addition to grocery store tours, Ross has led field trips to a local fish market and to a specialty spice store. She also enjoyed her role in a weekend women's retreat that was well received by participants.
Follow-Up to Meet Needs
Published dietary recommendations summarize evidence of a diet's effectiveness in shaping health outcomes and provide the science base that can guide priorities for heart-healthy eating. Nutrition care in cardiac rehab involves combining that science with the skill of facilitating patients' behavior change.
For example, Smalling says, "Very few of my patients would be able to eat enough food if limiting sodium to 1,500 mg a day. I usually target 2,000 mg of sodium, or aim to decrease intake by 1,000 mg, since the AHA/ACC guideline identifies this as a risk-reducing step.4 The goals I set with people may differ depending on barriers they face due to educational level or financial ability to purchase certain foods."
Ross finds discussions of mindful eating principles helpful to many of those with whom she works. She uses free handouts developed by Michelle May, MD, available at http://amihungry.com/resources/for-health-and-wellness-professionals.
Hinderliter, Ross, and Smalling are unanimous in finding value in opportunities while participants are walking on treadmills for brief conversations to answer questions, address media controversies, and provide encouragement for small changes made. Cardiac rehab provides an example of how relationships—with patients and within the health care team—can be an important element in care.
— Karen Collins, MS, RDN, CDN, FAND, is chair-elect of the Sports, Cardiovascular, and Wellness Nutrition, or SCAN, Dietetic Practice Group of the Academy of Nutrition and Dietetics. She promotes healthful eating as a speaker, consultant, and syndicated columnist, and through her blog, Smart Bytes, which dietitians can access through her website, www.karencollinsnutrition.com.
[Sidebar 1]
RESOURCES
Cardiac rehab dietitians interviewed for this article suggest the following resources for educational materials, though they develop many of their own handouts to meet the needs of their patient populations.
• The American Heart Association (AHA) created Salty Six, an infographic highlighting top sources of sodium and lower-sodium alternatives. It can be downloaded as a printable PDF for patient handouts. The AHA also offers a variety of educational materials in Spanish, Vietnamese, or Chinese, found by selecting from the "languages" option on the website.
• New Leaf Dietary Risk Assessment is a comprehensive tool that assesses saturated fat intake and overall diet quality in a low-literacy format. This assessment tool and coordinating teaching materials are available at no cost. To learn more, visit www.centertrt.org/?p=intervention&id=1005&section=12.
• The Nutrition Care Manual by the Academy of Nutrition and Dietetics provides a variety of handouts. For more information, visit www.nutritioncaremanual.org.
• SCAN Fact Sheets, developed by the Sports, Cardiovascular, and Wellness Nutrition Dietetic Practice Group, can be downloaded free by members and at minimal cost by nonmembers. Topics especially useful in cardiac rehab include sodium, using spices and herbs, quick stop lunches, and heart health for women. For information, visit www.scandpg.org/cardiovascular/cardiovascular-health-fact-sheets/.
— KC
[Sidebar 2]
PROFESSIONAL EDUCATION AND NETWORKING
Since most cardiac rehab programs employ only one dietitian, it's helpful to connect with others in the field to share ideas and stay in touch with what's new.
The Sports, Cardiovascular, and Wellness Nutrition (SCAN) Dietetic Practice Group offers relevant webinars and newsletter articles, and the chance for discussions with cardiac rehab RDs nationwide through the Wellness and CV electronic mailing list, available free as part of SCAN membership.
To connect with health professionals involved in cardiac rehabilitation across professional disciplines, the American Association of Cardiovascular and Pulmonary Rehabilitation can be a valuable resource. It offers professional education live at its annual meeting and through virtual webcasts throughout the year.
— KC
References
1. Hammill BG, Curtis LH, Schulman KA, Whellan DJ. Relationship between cardiac rehabilitation and long-term risks of death and myocardial infarction among elderly Medicare beneficiaries. Circulation. 2010;121(1):63-70.
2. Suaya JA, Stason WB, Ades PA, Normand SL, Shepard DS. Cardiac rehabilitation and survival in older coronary patients. J Am Coll Cardiol. 2009;54(1):25-33.
3. Smith SC Jr, Benjamin EJ, Bonow RO, et al. AHA/ACCF secondary prevention and risk reduction therapy for patients with coronary and other atherosclerotic vascular disease: 2011 update: a guideline from the American Heart Association and American College of Cardiology Foundation endorsed by the World Heart Federation and the Preventive Cardiovascular Nurses Association. J Am Coll Cardiol. 2011;58(23):2432-2446.
4. Eckel RH, Jakicic JM, Ard JD, et al. 2013 AHA/ACC guideline on lifestyle management to reduce cardiovascular risk: a report of the American College of Cardiology/American Heart Association Task Force on Practice Guidelines. Circulation. 2014;129(25 Suppl 2):S76-S99.
5. Estruch R, Ros E, Salas-Salvadó J, et al. Primary prevention of cardiovascular disease with a Mediterranean diet. N Engl J Med. 2013;368(14):1279-1290.
6. Martinez-Gonzalez MA, Bes-Rastrollo M. Dietary patterns, Mediterranean diet, and cardiovascular disease. Curr Opin Lipidol. 2014;25(1):20-26.
7. Hooper L, Summerbell CD, Thompson R, et al. Reduced or modified dietary fat for preventing cardiovascular disease. Cochrane Database Syst Rev. 2012;5:CD002137.
8. Vannice G, Rasmussen H. Position of the academy of nutrition and dietetics: dietary fatty acids for healthy adults. J Acad Nutr Diet. 2014;114(1):136-153.
9. Mozaffarian D, Appel LJ, Van Horn L. Components of a cardioprotective diet: new insights. Circulation. 2011;123(24):2870-2891.
10. Nordmann AJ, Suter-Zimmermann K, Bucher HC, et al. Meta-analysis comparing Mediterranean to low-fat diets for modification of cardiovascular risk factors. Am J Med. 2011;124(9):841-851.e2.
11. Swain JF, McCarron PB, Hamilton EF, Sacks FM, Appel LJ. Characteristics of the diet patterns tested in the optimal macronutrient intake trial to prevent heart disease (OmniHeart): options for a heart-healthy diet. J Am Diet Assoc. 2008;108(2):257-265.
12. Sijtsma FP, Soedamah-Muthu SS, de Goede J, et al. Healthy eating and lower mortality risk in a large cohort of cardiac patients who received state-of-the-art drug treatment. Am J Clin Nutr. 2015;102(6):1527-1533.
13. Li S, Chiuve SE, Flint A, et al. Better diet quality and decreased mortality among myocardial infarction survivors. JAMA Intern Med. 2013;173(19):1808-1818.
14. Lopez-Garcia E, Rodriguez-Artalejo F, Li TY, et al. The Mediterranean-style dietary pattern and mortality among men and women with cardiovascular disease. Am J Clin Nutr. 2014;99(1):172-180.
15. Lloyd-Jones DM, Hong Y, Labarthe D, et al. Defining and setting national goals for cardiovascular health promotion and disease reduction: the American Heart Association's strategic Impact Goal through 2020 and beyond. Circulation. 2010;121(4):586-613.
16. United States Department of Agriculture. Scientific report of the 2015 Dietary Guidelines Advisory Committee. http://www.health.gov/dietaryguidelines/2015-scientific-report/PDFs/Scientific-Report-of-the-2015-Dietary-Guidelines-Advisory-Committee.pdf. Published February 2015.
17. Audelin MC, Savage PD, Ades PA. Changing clinical profile of patients entering cardiac rehabilitation/secondary prevention programs: 1996 to 2006. J Cardiopulm Rehabil Prev. 2008;28(5):299-306.
18. Ades PA, Savage PD, Brawner CA, et al. Aerobic capacity in patients entering cardiac rehabilitation. Circulation. 2006;113(23):2706-2712.
19. Jensen MD, Ryan DH, Apovian CM, et al. 2013 AHA/ACC/TOS guideline for the management of overweight and obesity in adults: a report of the American College of Cardiology/American Heart Association Task Force on Practice Guidelines and The Obesity Society. Circulation. 2014;129(25 Suppl 2):S102-S138.
20. Ades PA, Savage PD, Toth MJ, et al. High-calorie-expenditure exercise: a new approach to cardiac rehabilitation for overweight coronary patients. Circulation. 2009;119(20):2671-2678.
21. Pack QR, Rodriguez-Escudero JP, Thomas RJ, et al. The prognostic importance of weight loss in coronary artery disease: a systematic review and meta-analysis. Mayo Clin Proc. 2014;89(10):1368-1377.
22. Savage PD, Lakoski SG, Ades PA. Course of body weight from hospitalization to exit from cardiac rehabilitation. J Cardiopulm Rehabil Prev. 2013;33(5):274-280.
23. Aggarwal S, Arena R, Cuda L, et al. The independent effect of traditional cardiac rehabilitation and the LEARN program on weight loss: a comparative analysis. J Cardiopulm Rehabil Prev. 2012;32(1):48-52.
24. Ades PA, Savage PD, Harvey-Berino J. The treatment of obesity in cardiac rehabilitation. J Cardiopulm Rehabil Prev. 2010;30(5):289-298.
25. United States Department of Agriculture. Dietary Guidelines for Americans 2015–2020 Eighth Edition. http://health.gov/dietaryguidelines/2015/guidelines/chapter-1/a-closer-look-inside-healthy-eating-patterns/#other-components. Published January 7, 2015.
26. Jacobson TA, Maki KC, Orringer C, et al. National Lipid Association recommendations for patient-centered management of dyslipidemia: part 2. J Clin Lipidol. 2015;9(6 Suppl):S1-S122.e1.