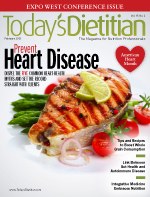 February 2013 Issue
Consuming More Whole Grains
By Juliann Schaeffer
Today's Dietitian
Vol. 15 No. 2 P. 32
These creative, real-world strategies can help turn the foods clients love into more healthful options.
It's no secret that most Americans aren't eating enough whole grains, which provide important vitamins, minerals, and fiber for optimal health, even though there's plenty of information available to help them choose healthful foods rich in whole grains.
As you know, the 2010 Dietary Guidelines for Americans recommend all adults make at least one-half of their grains whole, which amounts to three to five servings of whole grains per day (or at least 48 g). Children require slightly less but still should get at least two to three servings daily.
According to the Whole Grains Council website, the average American eats less than one serving of whole grains each day, and some studies have shown 40% of people don't consume any whole grains in the course of their day.
Why is this so concerning? Ann Kulze, MD, a family physician and the author of the Eat Right for Life series, says that when people opt for more refined grains most (if not all) of the time, they're missing out on a treasure trove of nutrients. "Whole grains are excellent sources of vitamin E, B vitamins, fiber, and the minerals zinc, iron, and magnesium," she says. "Like other plant-based foods, they're abundant in health-boosting phytochemicals, including polyphenols and phytoestrogens. They contain cholesterol-lowering phytosterols and an abundance of gut-friendly insoluble fiber. In summary, whole grains offer a unique and powerful constellation of nutritional attributes that [people] are nuts to miss out on."
Yet many people may not be missing out on all the benefits of whole grains purposefully. "Finding whole grain products in the supermarkets often is difficult when they currently make up only 10% to 15% of grains available on the shelves," says Tanya Zuckerbrot, MS, RD, creator of the F-Factor Diet and author of The Miracle Carb Diet: Make Calories and Fat Disappear — With Fiber! "Consuming half of your grains as whole grains is a challenge for many when refined grain foods clog the shelves, are cheaper, and are more convenient."
And for others who know they should be integrating more whole grains into their diet, a lack of cooking confidence may stop them in their tracks, says Ryan Conklin, executive chef for Rex Healthcare in Raleigh, North Carolina, who's been a whole grains advocate for the past four years.
"In my opinion, not enough people have the confidence to actually cook with whole grains at home," he says. "Since it's most likely something they never had in their early years, they may be slightly intimidated to try them more as adults. That's why I feel the focus should be on exposing more of our younger generation to more readily available whole grain dishes, even using them as a component to snack foods as well. We should be doing tastings and encouraging young kids to enjoy whole grains now so they can reap the rewards of their benefits in the future."
If teaching clients about whole grains and the foods that contain them isn't getting the results you'd like to see, the following strategies can help you provide practical advice for families, busy professionals, and moms on the go so when they leave your office, they'll know exactly which foods they can eat and snack on to boost their daily intake.
Getting Whole Grain Goodness Into Family Meals
For days when time is in short supply, Denice Ferko-Adams, MPH, RD, LDN, director of the MacDonald Center for Obesity Prevention and Education at Villanova University's College of Nursing, advises parents to stock their pantries with cracked, split, or ground whole grains, as these can be prepared in less time. "Cracked wheat can be prepared in five to 15 minutes [depending on how refined it is]," she says, "and use a low-sodium chicken or vegetable broth in place of water to enhance the flavor. Or lightly sauté grains in a nonstick pan before adding the liquid to give them a nuttier, toasted flavor."
Zuckerbrot suggests thickening stews or casseroles with whole grain flours or wheat bran to sneak whole grains onto dinner plates or substituting whole grain bread or cracker crumbs for the typically more refined variety used in meatloaf.
When it comes to stews, "I've found that using certain whole grains as a substitute for ground beef applications can be both unique and satisfying," Conklin says. "Try substituting wheatberries or farro for ground beef in your favorite chili recipe. It's truly delicious.
"In addition, one of our chefs recently made wheatberry tacos with a Korean cabbage slaw that were absolutely terrific," he says, adding that this recipe may be more suitable for the adventurous cooking aficionados.
On weekends or whenever clients have more time to spare, Ronda Elsenbrook, RD, LD, of Kelsey-Seybold Clinic in Houston, says cooking ahead can benefit families for days later. "Whole grains can sometimes take longer to prepare," she says. "On days when you have more time, prepare larger quantities to be used on other days or bake breads, muffins, or cookies with whole grain ingredients and freeze for later use."
For snacks, Zuckerbrot recommends transforming rolled oats into granola bars or cookies and including the family's favorite add-ins, noting that breakfast is another easy way to fit in some whole grains. She suggests breakfast burritos with eggs, low-fat cheese, and salsa on a whole grain tortilla or French toast made with whole grain bread as two of her favorite family-friendly options.
Quick Bites for Busy Professionals
Rachel Berman, RD, director of nutrition at CalorieCount.com, says various whole grain snacks that could work for the jet-setting (or otherwise just busy) set are available in supermarkets, including popcorn, crackers, granola, and oats. "Or if you're looking to satisfy a sweet tooth craving, whole wheat chips or whole grain power bars are a good option, too," she says, pointing out that having whole grain bread on hand can work for on-the-go sandwiches, as can cereal preportioned in baggies, which clients can easily grab when running out the door.
Zuckerbrot also likes preportioned snacks, whether clients pack their own favorite whole grain snacks or buy them that way, like single-serving packs of popcorn or instant oatmeal.
For people with pickier tastes, Caroline Cederquist, MD, medical director for bistroMD and The Cederquist Medical Wellness Center, recommends clients make their own whole grain snacks from scratch. To do so, suggest they mix 100% whole grain cereal with whatever dried fruit, seeds, and nuts suit them. "Or spread half of a 100% whole grain English muffin with peanut butter," Cederquist says. "These are quick and easy snacks that are simple to take with you when you're on the go, and both fit the tastes of adults and children alike."
Mary M. Trotter, MS, RD, LDN, of Nemours/Alfred I. duPont Hospital for Children in Wilmington, Delaware, and senior program and policy analyst for Nemours Health and Prevention Services, suggests clients look for fiber first when searching for how to fit more whole grains into their day. She likes to recommend foods with at least 2.5 g of fiber per serving (what she calls good fiber foods) or, better yet, those with at least 5 g (high-fiber foods).
Some of her favorite choices for fast and delicious on-the-go whole grain snacks include one slice of toasted whole grain bread with melted cheese, 1/2 cup cooked whole grain pasta with veggies, and air-popped popcorn with a sprinkle of parmesan cheese.
Kid-Friendly Ideas for Picky Eaters
Sometimes, kids can be the hardest to please, especially when a new, unfamiliar food is introduced. To get around this difficulty, Conklin suggests using what he calls "stealth health" tactics. "Using a whole grain as a component to batters and crusts is a great way to sneak them in," he says. "For instance, adding cooked quinoa and farro to a pancake or waffle batter works well, along with using cooked whole grains in batters that are usually deep fried, like beer batter or tempura batter."
Jennifer E. Seyler, MS, RD, CPT, a nutrition communications specialist and nutrition director at Current Lifestyle Marketing, agrees and tells parents to leave the guilt behind, as it's the parents' duty to get their children to eat healthfully. "Don't be afraid to hide whole grains in other foods once in awhile. There's no harm in sneaking in whole grains when possible to increase consumption," she says. "While it might be obvious there's whole grain rice on the plate, there's also an opportunity to mix whole grains within soups, casseroles, or other mixed dishes."
Even easier, says Marlene Koch, RD, author of Eat More of What You Love: Over 200 Brand-New Recipes Low in Sugar, Fat and Calories, simply pair an unfamiliar taste with something kids already know and love, as this can make eating a new food less intimidating. "Pairing whole grains with familiar flavors is a great way to get even the fussiest of eaters to try them," she says. "Peanut butter and jelly can be tucked into whole grain crackers or bread; instant brown rice stir-fried with light soy sauce, ginger, and vegetables is a great stand in for fried white rice; and whole grain pasta blends are hard to resist when covered with marinara sauce and Parmesan cheese."
Kulze provides two recipe ideas, both of which she says are a hit with kids of all ages and could double as a meal or snack. Her first suggestion: peanut butter/banana roll-ups, which consist of a whole wheat wrap, spread with a bit of peanut or other nut butter, and half a banana sliced lengthwise, rolled up together. "Sprinkle with a little wheat germ for additional nutritional punch," she says.
Her second suggestion: Prepare a whole grain egg-in-the-hole, which is a slice of 100% whole wheat bread with a hole cut out using a small drinking glass. "Just crack an egg into the hole and pan fry using canola oil [cooking spray]," Kulze says.
When trying to get the teen-or-younger set to try any new food, Berman says the key is in the presentation. "Besides bread and cereal, picky eaters might reject brown rice, bulgur, pasta, etc, just because it looks and tastes different," she says.
To avoid this, Berman suggests using the same creative tactics that will work for younger kids: pair unfamiliar whole grain additions with foods teens already like. "Is your [teen] a fan of spaghetti and meatballs or mac and cheese? Use whole wheat spaghetti and macaroni," Berman says. "Does your child love chicken stir-fry? Try mixing in some brown rice. Even when it comes to sweets, buying and using whole grain flour or incorporating oats into the recipe will add some whole grains into the child's diet as well."
When coaxing any client to give more whole grains a try, and all else fails, take Seyler's advice: Teach clients how to translate the health messages on food packaging in stores, "not just the nutrition label but all the other health messages on the package," she says. "This can help clear any confusion clients may have and help provide them with a simple solution, such as 'X and Y brands are the top two whole grain options I have for pasta.' This is a clear message."
— Juliann Schaeffer is a freelance editor and writer based in Allentown, Pennsylvania, and a frequent contributor to Today's Dietitian.
Whole Grains at the Grocery Store
Whole grains may not be strategically placed on every shelf in the supermarket just yet, but there are certainly more options today than in years past—and that's likely to continue if and only if consumers demand more whole grain options. Here's a sampling of some new or otherwise interesting whole grain products currently gracing grocery store shelves near you.
• Breakfast: Think whole grains and waffles don't mix? Think again—or think Kodiak Cakes, which makes flapjack and waffle mixes, available in Whole Grain Buttermilk & Honey and Whole Wheat Oat & Honey varieties. Using whole white wheat and oat flour with egg whites, honey, and nonfat dried milk, these mixes contain no added fat, sugar, or cholesterol.
Cereal lovers have a few new whole grain cereal options to choose from this winter. First up: Bear Naked Fit cereals start out with whole grain flakes and crispy clusters with flax, pepitas, and a sprinkle of chia. Available in two flavors (Almond Crisp with coconut and Autumn Blend with raisins and apples), each offers 30 g of whole grains, 6 to 7 g of protein, and 6 to 7 g of fiber per serving.
Also new are two cereals from Kashi, Simply Maize and Indigo Morning. Simply Maize, which uses whole organic corn puffed into crisp flakes, is lightly sweetened with molasses and provides 23 g of whole grains per serving. Indigo Morning adds dark blueberries and blackberries to its organic cornflakes, offering 22 g of whole grains in each serving.
• Snacks: Kashi's new Soft-Baked Squares can make for an easy children's lunchbox treat or even an on-the-go snack for adults. In Chocolate and Almond flavors, they're made with whole grains and are sweetened with agave. The chocolate variety delivers 10 g of whole grains, while the Almond offers 14 g, each with 4 g of fiber.
Another portable breakfast or snack option is Oatmeal Toasters by Nature's Own: squares a bit smaller than a slice of bread, with a soft, chewy texture. Made with whole grains and real oats, and studded with sweet fruit, each square offers 4 g of fiber and 20 g of whole grain. Shoppers can choose from two flavors: Cinnamon Raisin and Cranberry Orange.
New CJ Bibigo Whole Grain Potstickers, which can serve as a snack, side dish, or entrée, offer 17 g of whole grains as well as 4 g of fiber per serving. Available in two varieties—BBQ Flavored Chicken and Chicken & Vegetable—they provide fillings of chicken and fresh vegetables and spices encased in a nutty whole grain wrap.
• Dessert: For clients looking to slip some whole grains into a winter dessert, the Wholly Wholesome spelt 9-inch pie shell is made with whole spelt flour and little else. Using all organic ingredients, it contains 120 kcal and 1 g of fiber per serving.
— JS
Kid-Friendly "Fried" Chicken Tenders
Serves 12
Ingredients
Nonstick cooking spray
3/4 cup fat-free buttermilk
3 lb boneless, skinless chicken tenders
1/2 cup whole grain cracker crumbs, crushed
11/2 tsp paprika
11/2 tsp salt
1/2 tsp black pepper
Directions
1. Preheat oven to 400˚F.
2. Spray baking pan with nonstick cooking spray.
3. Pour buttermilk into a shallow bowl. Add the chicken, turning to coat. In another shallow dish, combine cracker crumbs with paprika, salt, and pepper. Dip each chicken tender into the cracker mixture to coat and place on baking pan.
4. Bake for 10 minutes, turn, and bake for another 10 minutes until chicken is crisp and golden brown.
Nutrient Analysis per serving
Calories: 312; Total fat: 18 g; Sat fat: 4 g; Trans fat: 0 g; Cholesterol: 47 mg; Sodium: 684 mg; Total carbohydrate: 19 g; Dietary fiber: 1 g; Sugars: 1 g; Protein: 17 g
— Recipe courtesy of Tanya Zuckerbrot, MS, RD
Wheatberry Chili
Serves 12
Ingredients
2 pasilla Negro chiles
1 ancho chile
8 oz wheatberries
2 qt water
2 T olive oil
1 cup diced onions
11/2 cups diced bell pepper
3 T fresh garlic
3 cups diced tomatoes
3 T tomato paste
1 qt vegetable stock
2 cups black beans (cooked)
3 T chili powder
2 T ground cumin
2 T fresh oregano
2 T brown sugar
1 chipotle pepper
Salt and pepper, to taste
Directions
1. Toast the chiles in the oven at 400˚F until fragrant (about 7 to 8 minutes). Remove and place chiles in a small amount of hot water and soak them until they turn soft. At this point discard the stems and seeds, and chop chiles finely.
2. Boil water, add wheatberries, and cook until tender. This may take up to 15 minutes. Drain the water and set wheatberries aside.
3. In a large pot, sauté onions, bell pepper, and garlic in olive oil for about 5 minutes. Be careful not to burn the garlic. Add tomatoes, tomato paste, vegetable stock, beans, chiles, and remaining spices. Cook for about 20 minutes, stirring frequently.
4. Add cooked wheatberries, and cook for an additional 10 to 20 minutes. Add vegetable stock as needed to prevent the chili from getting too thick, as the wheatberries will absorb some liquid. Adjust seasoning with salt and pepper and enjoy.
Nutrient Analysis per serving
Calories: 106; Total fat: 3 g; Sat fat: 0 g; Trans fat: 0 g; Cholesterol: 0 mg; Sodium: 260 mg; Total carbohydrate: 15 g; Dietary fiber: 4 g; Sugars: 5 g; Protein: 4 g
— Recipe courtesy of Ryan Conklin
Rainbow Rice Salad
This simple recipe packs a whole lot of vitamins, minerals, and protein. Kids will love it because it's colorful and fun to eat!
Serves 2
Ingredients
1/2 cup uncooked brown rice
1/2 tsp paprika
1/2 T olive oil
1/2 cup chicken breast, diced
1/4 cup canned green peas, rinsed
1/4 cup chopped red/orange bell pepper
1/4 cup shredded carrots
1 T olive oil
1 T finely chopped cilantro leaves
Salt and pepper to taste
Directions
1. Rinse rice well and put in a pot with 1 cup of water. Bring to a boil, lower heat, and let cook, covered, until the water is absorbed and rice is soft. Then turn off heat and let rice sit covered for about 10 minutes.
2. Mix paprika and olive oil and coat the chicken breast in the mixture. Place in oven at 350˚F for about 25 to 30 minutes until cooked through.
3. Mix the brown rice, diced chicken, peas, bell pepper, and carrots.
4. Combine olive oil and chopped cilantro, and mix into the rice mixture. Add salt and pepper to taste.
Nutrient Analysis per serving
Calories: 285; Total fat: 13 g; Sat fat: 2 g; Trans fat: 0 g; Cholesterol: 30 mg; Sodium: 124 mg; Total carbohydrate: 28 g; Dietary fiber: 4 g; Sugars: 3 g; Protein: 15 g
— Recipe courtesy of Rachel Berman, RD