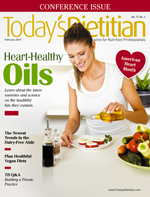 February 2015 Issue
What's New in the Dairy-Free Aisle
By Juliann Schaeffer
Today's Dietitian
Vol. 17 No. 2 P. 30
Consumer demand for plant-based dairy products is on the rise. Learn more about which categories are gaining in popularity and how these options compare nutritionally with their dairy counterparts.
Whether it's due to milk allergy, ethical concerns, or an interest in the Paleo diet or other plant-based eating patterns, more people are including dairy alternatives in their diet than ever before.
With this increased popularity come new food and beverage introductions as the dairy-alternative market scrambles to keep up with and cash in on consumer demand. According to a Bloomberg Businessweek article published in August 2013, "Retail sales of dairy alternatives made from almonds, rice, and coconut milk in the US are now nearly $1.4 billion, estimates Marketresearch.com, and are expected to reach $1.7 billion by 2016."
"Today, there are more dairy-free alternatives available as food companies expand their product lines to provide good-tasting, nutritious options for the growing number of consumers seeking dairy-free foods," says Rachel Neifeld, RD, CDN, CDE, of the Gerald J. Friedman Diabetes Institute at Mount Sinai Beth Israel in New York City.
Plant-based dairy alternatives widely available in supermarkets include various milk options such as soy, almond, coconut, rice, hemp, and flax, in addition to dairy-free yogurts, frozen desserts, spreads, and cheeses. Among these alternatives, cashew frozen desserts and almond and coconut milks have seen the most growth in sales in recent months. According to a Food Business News article that analyzed an Innova Market Insights report on 2014 top industry trends, "Dairy alternative launches increased by 36% [in 2013], led by almond milk, which accounts for more than 55% of the US plant-milk industry market. Also making a splash is coconut milk, which grew 36% in product introductions from 2012 to 2013." Whereas soymilk, an ancient food that was the first plant-based milk to appear in the United States, may have been the early favorite in the plant-based milk alternative category for several years, its popularity has waned. "For many years, soymilk was a popular destination, until it fell out of favor due to its lack of calcium and fears that its high phytoestrogen content might increase the risk of breast cancer," as stated by an August 2014 Boston Globe article. According to data from the Soyfoods Association of North America, in 2013 sales of soymilk beverages fell 8.5% to $638 million. Yet, despite soymilk's decline in sales, many consumers continue to enjoy its taste and health benefits.
In this article, Today's Dietitian speaks with experts to learn more about the fastest-growing plant-based alternative categories and how they compare nutritionally with their dairy-based counterparts so you can better counsel clients and patients.
Milks
According to Suzanne Hagener, group marketing manager for Blue Diamond Growers, maker of Almond Breeze almondmilk, consumer demand for nondairy milk has increased significantly over the past few years. "Total nondairy category sales are up 16% from [November 2013] and account for nearly $1.1 billion in sales," she says, quoting recent statistics from Food, Drug and Mass Merchandisers. "Almond milk is fueling this growth, up 38% vs one year ago."
Plant-based milks' growing popularity could be an issue of convenience, according to Sherry Coleman Collins, MS, RDN, LD, president of Southern Fried Nutrition in Atlanta. "More people are increasingly making purchasing decisions based on health and are seeking dietary changes that lead to better health and longevity," she says. "With an emphasis on the benefits of plant-based eating, consumers are looking for easy ways to replace animal foods with plant foods. I think for many people, replacing cow's milk with a plant-milk alternative is an easy way to make a change that may not feel like a sacrifice."
Its versatility and wide availability also could be a factor, says Sharon Richter, RD, nutrition ambassador for KeVita Sparkling Probiotic Drinks. Whether using milk in their coffee, cereal, smoothie, or just in a glass with some cookies or cake, she says people are finding that milk alternatives can be consumed in many of the same ways as cow's milk. "I also think the market needs to work on taste of the other products in the dairy-free category," she adds.
Neifeld says taste alone could be the primary factor driving some customers to try dairy-free milk. "The milk alternatives such as almond and coconut milk seem to be gaining a lot of popularity even among consumers who aren't lactose intolerant or vegan due to the appeal of novel flavors and, in some cases, preferable nutrient profiles," she says. "For example, the lower carbohydrate content of almond and coconut milk compared to cow's milk may be preferable for people monitoring their carbohydrate intake, such as those who are managing diabetes."
There's a plethora of dairy-free milk options available today, from rice, oat, soy, almond, and other nut-based varieties, even seed options from flax, sunflower, or hemp. But almond and coconut milks are gaining the most steam with consumers—though cashew and hemp milks could be varieties to watch in the coming year.

For all plant-based milks, Desiree Nielsen, RD, a private practitioner in Vancouver, Canada, and author of Un-Junk Your Diet, asks clients to consider three key factors: sugar content, fortification, and protein. "Many plant-based milks are heavily sweetened, so look for unsweetened varieties, which are commonly available in each line," she says. And particularly if clients are avoiding all dairy, they need to consider where their vitamin D and calcium are coming from. Most plant-based milks are fortified, but there are still a few that aren't.
"Most of my clients are shocked to find out that almond milk—and most plant-based milks—have almost no protein," she adds, so it can't be a replacement for dairy milk in meal planning. "The reason for this is that the protein content remains in the pulp fraction that's strained out of the milk. Only soymilk is nutritionally comparable to dairy milk in terms of protein. For that reason, organic soymilk is my first choice for clients without soy allergies."
Almond Milk
Even with a vast variety of nondairy milks available today, Hagener says almond milk is by far the No. 1 segment of nondairy sales, accounting for more than one-half of total category sales.
"The popularity of almond milk is the strongest product driver of the plant-based beverage category growth, with Silk Almondmilk experiencing a 30% increase in sales in the third quarter of 2014 compared to the same period in 2013," says Katy Raneri, MS, RD, senior director of nutrition and regulatory, R&D, for WhiteWave Foods in Bridgeton, New Jersey, a manufacturer of Silk and So Delicious brands.

According to Alexandra Rothwell, RD, CSO, CDN, clinical nutrition coordinator at the Dubin Breast Center at the Mount Sinai Hospital in New York City, this trend is particularly strong in major cities, and she predicts it will likely remain so for the next few years, at least.
"It's the 'new' soymilk, often found in coffee shops for dairy-free lattes," she says. "It has a smoother consistency—less chalky—than soymilk, which is why it has been adopted by many people who have never considered going dairy-free before."

Dunkin' Donuts is one of the coffee chains now offering almond milk to its customers. "As of September 2014, Almond Breeze is now offered in many Dunkin' Donuts locations across the country," Hagener says. "Consumers wanted a nondairy option for their coffee and since almond milk is one of the country's most popular nondairy alternatives, it was a natural fit."
Christy Shatlock, MS, RD, a dietitian with diet delivery service bistroMD, says that since almond milk is plant-based, it's much lower in protein than cow's milk, providing only 1 g of protein per serving compared with about 8 g in cow's milk. However, most almond milks are fortified with additional vitamins and minerals. Through fortification, Raneri says Silk Almondmilk offers 50% more calcium than dairy milk and is an excellent source of vitamin D.
As consumer interest has grown, Hagener says Almond Breeze has developed more flavors and sizes to appeal to all—offering unsweetened and reduced-sugar varieties and selling larger (96 oz) as well as smaller, single-serve sizes. New flavors recently were introduced by the brand as well: Almond Breeze Hint of Honey and Almond Breeze Hint of Honey Vanilla.
Nielsen sees flavor blends as the newest trend in almond milk varieties, such as almond and coconut or almond and vegan protein. "I like that Pacific Foods offers an organic option and Natura has a great-tasting unsweetened option," she says.
Coconut Milk
Used primarily in southeast Asian cooking, coconut milk has been around for ages, but Rothwell says consumers are showing new interest in coconut milk as a cow's milk substitute. With the 2014 Innova trend report showing that coconut milk product introductions grew 36% from 2012 to 2013, it's proving to be a popular addition to many consumers' kitchens.
Available in vanilla, original, and unsweetened varieties, Silk Coconutmilk has a mildly nutty taste with 50% more calcium than dairy milk due to fortification, Raneri says. It's also a great source of vitamin D because of fortification, she adds.
In addition to original, unsweetened, and vanilla varieties, So Delicious also offers a chocolate coconut milk.
Rothwell says most new additions to the coconut milk scene have fewer calories and fat than canned coconut milk, which she says may be better for consumers who intend to drink it regularly. A 1-cup serving of canned raw coconut milk contains 445 kcal and 48 g of fat, of which 43 g are saturated. It also contains 5 g of protein. Rothwell retains a preference for the BPA-free canned variety for numerous culinary applications. "Though more caloric, it's excellent for cooking and can make a perfect dairy-free whipped cream," she says.
Hemp Milk
While sales data have yet to prove hemp milk as popular as the almond or coconut varieties, Rothwell believes it will soon take hold in households that can look past its earthy, hippie stigma, especially in the more health-conscious communities. "Most people feel more comfortable with dairy alternatives that come from foods they've been frequently exposed to, which is likely why almond milk is taking off so rapidly," Rothwell says. "Hemp milk will likely become more popular in the very health-conscious communities, as hemp seeds themselves have become."
Though she notes it's unlikely to ever reach the kind of popularity of almond or other nut milks, Rothwell says hemp milk is still a great option for people who can't eat nuts and prefer to consume less starch. Typically made from hulled hemp seeds, water, and a sweetener, hemp milk contains a three-to-one ratio of omega-6 and omega-3 essential fatty acids. However, the omega-3 fats in hemp are alpha-linolenic acid, not the better forms (EPA and DHA) found in cold-water fish. Other nutrients include magnesium, phytosterols, calcium, fiber, iron, and potassium, as well as 10 essential amino acids, making it a good vegetarian protein source, as hemp protein doesn't contain phytates, enzyme inhibitors found in some soy protein that can interfere with absorption of essential minerals.1
Other Plant-Based Milks
Consumer demand for more dairy-free options is evident in Silk's most recent addition to its plant-based beverages: cashew milk.
"With only 60 calories per serving and no saturated fat or cholesterol, Silk Original Cashewmilk is creamier than skim milk with 25% fewer calories," Raneri says, noting that Silk Unsweetened Cashewmilk, with 25 calories per serving, has one-third the calories of skim milk, 50% more calcium than dairy milk, and provides an excellent source of vitamin D.
Rothwell predicts cashew and even hazelnut milks are likely to gain popularity in the coming years, as consumers desire more flavor variation. When clients are searching for any plant-based milk, she suggests they look for a short ingredient list and be aware of extra additives.
"Some dairy-free milks are full of additives, a variety of stabilizers and thickening agents, including sugar, gums, inulin, and carrageenan," Rothwell says. "The best nut milks, in my opinion, are made from nuts, water, salt, and spices."
Yogurt
Yogurt is another category that's seeing increased consumer demand and subsequent product innovation. Dairy-free is one of the fastest growing segments in yogurt, says Raneri, who cites a 2014 AC Nielsen Homescan Data report that shows nontraditional yogurts account for more than 20% of the yogurt category growth compared with the same time the previous year. "And a 2014 Kantar Shopper Study estimates that with 8% dollar sales growth year over year, this segment is estimated to reach $2.9 billion by 2017," she says.
Collins has noted a surge in popularity for dairy-free yogurts in addition to other drinkable cultured beverages. "Most people have heard that yogurt is good for their digestive health, so those who are dairy-free are seeking ways to incorporate more fermented and cultured products," she says.
In fact, more consumers are inquiring about nondairy probiotic sources. According to a recent nationwide consumer study on probiotics, New Hope found that while 73% of consumers are at least moderately aware of probiotics, 40% of probiotic consumers say they're seeking nondairy-based probiotics.
"One thing I hear time and time again with dairy-free diets is clients' concern that they're ingesting enough calcium and probiotics," Richter says. "It is a bit ironic that many are going dairy-free due to GI [gastrointestinal] issues, where probiotics are key. There's actually relatively low awareness that probiotics exist in a nondairy form."
While nondairy yogurt alternatives may not stack up nutritionally to their dairy counterparts, Kara Lydon, RD, LDN, RYT, nutrition consultant and blogger at The Foodie Dietitian, notes that most manufacturers fortify yogurt alternatives with vitamins and minerals inherently present in dairy, such as calcium, vitamin D, B12, and iron. "As for protein, however, don't count on finding this satiating nutrient in any yogurt alternatives other than soy-based products," she says.
Richter says KeVita is one option for consumers seeking a nondairy probiotic source to help maintain a healthy gut. "KeVita uses a blend that includes nondairy kefir and four probiotic strains," she says. "They also just launched a KeVita Tonics line that includes the probiotic blend plus effective doses of apple cider vinegar and other cleansing ingredients."
For clients curious about nondairy probiotic products, Nielsen guides them to look for products that list the number of live active cells, which may be listed as CFU (colony forming units). "The higher the number, the better, particularly if clients are interested in fermented foods for supporting digestive or immune health," she says.
Frozen Desserts
Though milk alternatives and yogurts are popular, Alisa Fleming, founder of www.GoDairyFree.org and author of Go Dairy Free: The Guide and Cookbook for Milk Allergies, Lactose Intolerance, and Casein-Free Living, believes the category consumers are most excited about is dairy-free frozen desserts.
An article in the November 2014 FoodNavigator-USA also predicted this trend, quoting ice cream guru Malcolm Stogo, who said he believes the US dairy-free frozen dessert category could "double or triple" in the next five years. No doubt hoping to cash in on such burgeoning consumer interest, Stogo created DF Mavens, a line of dairy-free ice creams with coconut, almond, and soy options.
Whereas dairy-free ice cream often was made from soy in the past, Rothwell says consumers looking for more options now have frozen dairy-free varieties made from almond, coconut, and even cashew.
"I think that these will follow the same patterns as dairy-free milks," Rothwell says. "We will probably see more coconut and cashew ice cream because these tend to be the best taste/texture options."
Compared with dairy ice creams, coconut milk-based frozen alternatives are comparable in terms of calories and fat, though coconut options will boast much more saturated fat. Whereas Turkey Hill dairy ice creams average around 140 kcal with 7 g of fat per serving (for vanilla and chocolate flavors), So Delicious chocolate-flavored coconut milk frozen dessert comprises 150 kcal and 9 g of total fat per serving—8 g of which is saturated fat.
Consumers will need to prepare for some calorie-shock with certain cashew-based frozen options as well. Mr. Dewie's chocolate cashew milk frozen dessert comes in at 270 kcal and 15 g of fat per serving, though it does offer 7 g of protein vs 1 g to 2 g of protein in dairy and coconut varieties.
Moreover, Lydon says these decadent desserts typically aren't fortified, so don't expect them to be a good source of calcium.
While Rothwell predicts cashew milk probably won't see the kind of popularity almond milk enjoys today, she believes cashew and coconut could win over a windfall of customers in the ice cream department. "Coconut milk, because of its high fat content, is a great base for dairy-free ice cream. Cashew milk is a good option as well," Rothwell says.
Consumers also can head over to their local TCBY to try a dairy-free coconut option, as Nina Eng, RD, chief clinical dietitian at Plainview Hospital in New York, says TCBY recently partnered with Silk to release its third dairy-free flavor: coconut.
Spreads
According to Adriane Little of Earth Balance, which offers plant-based, vegan, non-GMO, lactose-free, and egg-free products that include buttery spreads, the company is seeing growth in dairy-free versions of traditional spreads. Neifeld likes Earth Balance's variety of buttery spreads and their contents of heart-healthy unsaturated fats, including olive oil, omega-3, and organic whipped. "Buttery spreads that contain less saturated fat, such as Smart Balance and Earth Balance, are increasing in popularity as people look to consume less saturated and more unsaturated fats in their diet to promote heart health, though only those who are avoiding dairy for ethical reasons really need to choose a dairy-free spread since most buttery spreads are naturally lactose-free or very low in lactose," Neifeld says.
In the near future, Rothwell expects to see more dairy-free spread options made from plant oils such as olive, flax, canola, and soybean, as well as more emphasis on butters made from olive oil or flax oil and maybe even spreads fortified with omega-3 fatty acids. She says coconut could become a factor here as well, with more spreads made from coconut oil likely to surface if consumer interest increases.

For clients seeking dairy-free spreads, Rothwell cautions against choosing products with the words "partially hydrogenated" in the ingredient list. "Look for greater quantities of olive, flax, or canola oils for healthful fat profiles," she says, noting that she recommends Earth Balance spreads to her clients.
Both dairy and dairy-free spreads lack a substantial amount of protein, vitamins, and minerals, Lydon says, and both contain a similar amount of calories and fat. "Earth Balance is made from a blend of plant-based oils, and doesn't contain any dairy or plant-based ingredients," Little says. "Therefore, Earth Balance contains 0 g cholesterol, whereas butter does contain cholesterol."
Cheese
Commercial growth in the dairy-free cheese category may not be surging as of late, which Nielsen says could be due to the many obstacles evident in creating a usable nondairy cheese. "Daiya still really owns the market with its dairy-, gluten-, and soy-free option," she says, noting that, even still, she's seeing exciting things happening for dairy-free cheese lovers.
"What's really exciting is the growth of artisan, small batch nondairy cheese makers, who create raw, fresh cheese products from nuts," Nielsen says. "These are usually regional in scope."
Little agrees, stating that nut-based cheeses as well as pea-protein–based cheeses are highly revered, "and these items are gaining in popularity among consumers who may not be strictly vegan, but are looking to cut down on their dairy consumption," she says, adding that Daiya, Kite Hill, Treeline, and Miyoko's Kitchen are brands getting the most buzz from Earth Balance's vegan focus group.
When comparing slices of regular cheese to their dairy-free alternatives, don't expect to see a significant difference in calories and fat, Lydon says. "But you will notice a distinction in the protein and calcium department," she says, "as the dairy-free versions have negligible amounts."
Rothwell sees a forthcoming trend of nut-based cheeses and recommends interested or intrigued RDs check out One Lucky Duck, a vegan take-out restaurant in New York, which sells some of its products online. "Try the Macadamia Cheddar Crunch or Pumpkin Seed Parmesan," she says.
Whether clients come to a dairy-free consensus for health, ethical, or taste reasons, one thing seems clear: For consumers interested in incorporating dairy alternatives into their diet, such increased offerings across the dairy-free food spectrum are likely a welcome surprise.
— Juliann Schaeffer is a freelance writer and editor in Alburtis, Pennsylvania, and a frequent contributor to Today's Dietitian.
Reference
1. High on hemp milk? DrWeil.com—Official Website of Andrew Weil, MD. http://www.drweil.com/drw/u/QAA400584/High-on-Hemp-Milk.html