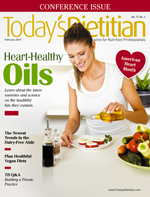 February 2015 Issue
Living Gluten-Free: Creating a Healthful Gluten-Free Kitchen
By Beth W. Orenstein
Today's Dietitian
Vol. 17 No. 2 P. 20
These expert tips can get clients with celiac disease and nonceliac gluten sensitivity off to a good start.
Clients who have been diagnosed with celiac disease or nonceliac gluten sensitivity must learn to cook without gluten, the protein found in wheat, rye, barley, spelt, and triticale. To accomplish this, they must first establish a kitchen filled with healthful gluten-free ingredients and foods and learn how to prepare them. But keeping a gluten-free kitchen isn't as simple as substituting gluten-free versions of one's favorite foods for those that contain gluten, says Carol Fenster, PhD, author of 12 gluten-free cookbooks, including Gluten-Free 101. It requires reading labels, learning about gluten-containing ingredients, finding gluten-free products the entire family will like, developing new cooking skills, and experimenting with recipes, she says.
In addition, creating a gluten-free kitchen in a house where some family members can eat gluten and others can't is another challenge because people with celiac disease can't ingest any gluten, even in minuscule amounts, says Marlisa Brown, MS, RD, CDE, CDN, author of Gluten-Free, Hassle Free; The Gluten-Free, Hassle Free Cookbook; and Easy Gluten Free, and president of Total Wellness Inc, a private nutrition consulting company in Bayshore, New York.
In this scenario, dietitians can offer clients and patients practical tips for setting up a gluten-free kitchen to prevent cross-contact. Clients can buy two sets of appliances and utensils—particularly toasters and colanders, which can harbor hidden gluten—and designate one set for gluten-free foods. Transferring gluten-free staples into metal or glass containers also will help prevent cross-contact.
"For foods that can become easily contaminated from dipping and spreading, such as peanut butter, mayonnaise, and jam, make sure to clearly label which is which or use squeeze bottles when possible," Brown says.
One of the first things clients should do is clean out their kitchen pantries, says Canadian-based celiac nutrition expert Shelley Case, RD, author of Gluten-Free Diet: A Comprehensive Resource Guide. Many foods that clients wouldn't suspect contain gluten include soups, salad dressings, soy sauce, seasoned potato chips, and seasoned rice. Cleaning out their pantry and starting fresh assures them that all their foods and ingredients are gluten-free, Case says.
The Shopping List
Helping clients create a gluten-free shopping list is a good way to get them started. And if it's a packaged food, suggest they double-check the ingredients list for hidden gluten, says Rachel Begun, MS, RD, a food, nutrition, and culinary consultant in Boulder, Colorado. Manufacturers have been known to change their ingredients without warning, she says. Also, clients should buy foods manufactured in gluten-free facilities to avoid the possibility of cross-contact. "If they don't process anything else in that facility except gluten-free items, they will tell you on the label," Fenster says. If clients are in doubt, they can check the product's website or call the manufacturer, Fenster adds. A study published in the June 2010 issue of the Journal of the American Dietetic Association examined the potential for cross-contact of inherently gluten-free grains at food processing plants. Researchers sent 22 unopened, inherently gluten-free grains, seeds, and flours to a company that specializes in gluten analysis. Researchers found that seven samples of inherently gluten-free grain products contained mean gluten levels of 20 parts per million (ppm) or higher, and therefore wouldn't be considered gluten-free under the FDA rule for gluten-free labeling. The study raised the issue that if foods aren't processed in a separate facility designated for gluten-free foods, products potentially can become contaminated with gluten, making it even more important for consumers to look for products that carry the gluten-free label.1
In August 2013, the FDA established a final rule to standardize the definition and labeling requirements for gluten-free products for food manufacturers, imported foods, and restaurants. The deadline for compliance was August 2014. Foods must contain fewer than 20 ppm of gluten to be called and labeled gluten-free, so it's important for clients and patients to check product packaging.
According to the dietitians interviewed, a gluten-free shopping list may include the following unpackaged and prepackaged foods:
• Fresh produce such as broccoli, apples, and bananas: Fresh fruits and vegetables are naturally gluten-free. Canned, dried, and frozen fruits and vegetables are gluten-free as long as they aren't prepared with sauces or seasonings that may contain gluten, Fenster says.
• Fresh chicken and lean cuts of meat: Poultry and other meats that aren't preprepared with marinades, sauces, bread crumbs, stuffing, or spice mixes are more likely to be gluten-free. Processed poultry and red meat such as sausages, meatloaf, and meatballs often contain wheat-based fillers. Suggest clients check labels on any prepackaged or prewrapped meats for gluten-containing ingredients such as wheat flour, soy sauce, or malt vinegar.
• Milk, cheese, butter, ice cream, and yogurt: Clients should avoid ice cream and yogurt containing cookies or other gluten-containing ingredients such as sprinkles, pretzel pieces, granola, or cake.
• Gluten-free salad dressings: Unless the labels say "gluten-free," recommend clients read ingredient lists carefully, since ranch dressings and other creamier varieties may be thickened with wheat.
• Condiments such as mustard, ketchup, horseradish, vinegar (not malt vinegar), relish, pickles, olives, and Worcestershire sauce: Suggest clients read labels for country of origin because Canada, for example, uses malt in its formulations.
• Unflavored or unseasoned rice cakes, popcorn, potato chips, and corn chips: These products are less likely to contain gluten than the seasoned varieties flavored with cheese and spices that may contain fillers, stabilizers, or flavoring agents made with gluten, Brown says. Multigrain varieties also contain wheat, so it's best for clients to buy plain chips made from corn and potatoes, since they're more likely to be gluten-free, she adds. However, dietitians should encourage clients to read ingredient lists carefully.
• Nut butters such as almond, cashew, and peanut: These products are naturally gluten-free. Fenster says she's unaware of any varieties or brands of nut butters that contain gluten, but it's always wise to read labels, especially if flavors are added to the plain nut butter. Some nut butters can come from companies that produce gluten-containing products in the same facility, so clients must check labels, Brown warns.
• Gluten-free pastas: Several gluten-free pasta varieties from Jovial Foods, Maplegrove Foods, Three Bridges, and Ancient Harvest are sold in stores. 
• Gluten-free breads: Many brands of gluten-free breads, baguettes, rolls, and wraps are sold in supermarkets. Clients can try different varieties until they find the one their family likes best. Some gluten-free brands clients can find on grocery shelves include Rudi's, Udi's, and Canyon Bakehouse.
• Gluten-free breakfast cereals such as brown Rice Krispies, and Corn or Rice Chex: They will have the words "gluten-free" on the front of the box. Chex also makes gluten-free oatmeal. Other options include Glutino Sensible Beginnings, Arrowhead Mills Organic Sweetened Rice Flakes, Nature's Path gluten-free cereals, and Post's Fruity Pebbles and Cocoa Pebbles.
• Coffee and tea: Unflavored coffees and teas don't contain gluten, although flavored varieties may contain it. "The most common gluten-containing ingredient found in flavored coffee and tea is barley malt, which is usually a sweetener or flavoring agent," Fenster says. "I found this in a tea flavor from Celestial Seasonings around the holidays."
Stocking Your Pantry
Just as important as grocery shopping for the most healthful, gluten-free foods is stocking the pantry with gluten-free essentials to prepare meals and snacks. Dietitians recommend the following list of gluten-free staples clients should have on hand to facilitate the transition to a gluten-free kitchen:
• vegetable oils such as canola and olive;
• jams and jellies, honey, maple syrup, and sugar;
• whole grains such as amaranth, buckwheat, cornmeal (polenta), millet (hulled), quinoa, brown rice, sorghum, teff, wild rice, and certified gluten-free steel-cut oats (oats are inherently gluten-free but are frequently contaminated with wheat during growing or processing, so encourage clients to read labels);
• arrowroot, cornstarch, and potato starch;
• plain nuts and seeds such as almonds, walnuts, sunflower, flax, and pumpkin (clients can eat them whole or grind them into nut butter);
• salt and pepper, herbs and spices, tapioca, baking soda, baking powder, cocoa, gluten-free chocolate chips, all-purpose gluten-free flour blends, gluten-free baking mixes (eg, Bisquick, Bob's Red Mill) for making pancakes or biscuits, and gluten-free brownie and cake mixes; and
• soups, bouillon, and broth (recommend clients check labels to verify they're gluten-free).
Substitutions for Gluten-Containing Foods
Once clients shop for the gluten-free foods and ingredients they need, they can begin cooking and baking. Gluten-free cooking isn't much different from cooking with gluten, other than ensuring the use of gluten-free grains, Begun says. On the other hand, gluten-free baking differs significantly from conventional baking. For example, clients can't simply replace wheat flour with a gluten-free flour. "Single ingredient gluten-free flours on their own can't mimic what wheat flour brings to a recipe," Begun says. One solution is to mix other ingredients with gluten-free flours to provide the "stickiness" gluten brings to food. Gluten-free baking "is both an art and science and takes some time to learn and perfect," Begun says.
The following is a general baking mix Fenster uses often as a substitute for wheat flour in most recipes. The mix can be used cup for cup, although this may vary depending on the recipe.
Makes 4 cups
11/2 cups sorghum flour or brown rice flour
11/2 cups potato starch (not potato flour)
1 cup tapioca flour/starch
Other substitutions include the following:
• Use cornstarch, arrowroot, or sweet rice flour instead of wheat flour to thicken gravies and sauces.
• Eat gluten-free breakfast cereals rather than regular granola, which may contain gluten.
• Choose rice, potatoes, or gluten-free pasta in place of regular pasta or noodles.
• Replace wheat flour with the same amount of rice or corn flour mixed with 1/4 tsp of baking powder as a batter for coating chicken or fish. The baking powder acts as a binder.
• Incorporate gluten-free bread crumbs, grits, or cornmeal in recipes that require a crunchy texture or topping.
• Use tamari sauce for making broth or gravy instead of soy sauce, which may contain wheat.
• Add xanthan gum or guar gum to gluten-free flour blends. They're interchangeable and will replace the stickiness that gluten provides baked goods, Fenster says. Generally you want to add 1/2 tsp xanthan gum or guar gum per 1 cup of gluten-free flour. "Different types of baked goods require different amounts of gums," Fenster says. "So I add the gum when I mix up the recipe." As a thickening agent, the more xantham gum you add, the thicker the sauce or gravy. Too much and your recipe will be heavy or gummy.
• Use finely ground gluten-free breakfast cereals as a replacement for graham crackers or cookies in piecrust recipes. It costs less than substituting gluten-free cookies or gluten-free graham crackers.
• Use 100% corn tortillas in place of flour tortillas. Make sure the label states they're gluten-free.
Tips for Baking and Cooking
Clients who are new to gluten-free cooking and baking can sign up for free cooking classes to learn essential tips and tricks to get started, Begun says. They can invest in gluten-free cooking and baking cookbooks and magazines to build a repertoire of recipes and eventually add their own twists and finishing touches to dishes once they gain some experience.
The following are examples of gluten-free baking and cooking tips dietitians can share with clients:
• Cover baking sheets with aluminum foil or wax paper if they aren't dedicated gluten-free baking sheets. This step will prevent accidental cross-contact if the pans aren't 100% free of gluten-containing crumbs, Brown says.
• Use buttermilk to enhance the flavor of baked goods. "Wheat has a higher acidity than gluten-free flour or gluten-free flour blends," Brown explains. "By using buttermilk, you're making the pH similar to that of a wheat-containing product." An extra teaspoon of baking powder or the addition of xanthan gum also may improve the flavor of gluten-free baked goods.
• Choose gray rather than black bakeware. Black bakeware tends to burn and brown gluten-free baked goods too quickly, Fenster says. "When baking gluten-free bread, you need to take special care to make sure it's done inside, and so you may need to leave it in the oven longer." Fenster doesn't recommend silicon baking pans because they don't allow gluten-free baked goods to brown or rise as nicely either. "If your baked goods don't brown, they won't be pleasing to look at," she adds.
• Cook gluten-free pasta according to package directions. "If you let gluten-free pasta cook too long, it can lose its shape and become mushy," Case says.
• Make sure kitchen prep areas are clean and free of gluten. "You don't want any gluten sneaking into your cooking," Fenster adds.
— Beth W. Orenstein is a freelance writer living in Northampton, Pennsylvania. 
Reference
1. Thompson T, Lee AR, Grace T. Gluten contamination of grains, seeds, and flours in the United States: a pilot study. J Am Diet Assoc. 2010;110(6):937-940.