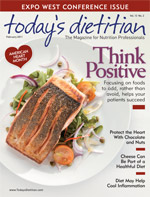 February 2011 Issue
Cool Tools — Technology Helps Kids Better Manage Their Type 1 Diabetes
By David Yeager
Today's Dietitian
Vol. 13 No. 2 P. 8
With many academic, athletic, and social demands on kids' time, not to mention myriad entertainment options, staying focused has never been more challenging. But for kids with type 1 diabetes, attention to detail is a critical part of managing the disease. While this can be difficult, both for kids and their parents, the benefits of early detection and management will be felt throughout their lives.
"They can certainly reach all of their life's goals, but because they have a condition [that affects] the functioning of their brain and how they feel, it's important that they take charge," says Danine Fruge, MD, associate medical director and director of women's health and family medicine at the Pritikin Longevity Center & Spa.
As research continues to advance the medical community's understanding of diabetes, technology has advanced to provide more management tools than ever before. These tools are changing the way patients and clinicians think about diabetes. Some improve glucose monitoring, others provide nutrition information, and many of them reach out to children directly.
Continuous Glucose Monitors Aid Management
One of the most burdensome and difficult-to-assess components of diabetes management is glucose monitoring. The reading from a finger stick reflects a single point in time and has to be considered along with a person's activity level and what he or she has eaten. It's a snapshot. Continuous glucose monitors (CGMs) are more like movies. The professional model, which is the most popular, is worn on the abdomen near the back and is the size of a quarter. For three days it takes a reading every five minutes. The child still must do four finger sticks per day to calibrate the sensor data, but when the data are downloaded at the physician's office, the information produces a graph of the glucose readings. This has the advantage of showing blood sugar levels during sleep as well as the effects of exercise.
"The kids understand graphs," says Virginia Peragallo-Dittko, RN, BC-ADM, CDE, executive director of the Diabetes and Obesity Institute at Winthrop-University Hospital in New York and executive director of the Diabetes and Obesity Institute at the Winthrop Wellness Center. "It's age appropriate, of course, but they really get into it because they can see what's happening."
Patients can't read data from professional CGMs, but they can read data from personal CGMs. Along with a blood sugar reading, personal CGMs display one or two up or down arrows to indicate trends. This information can be extremely useful for managing blood sugar and preventing hypoglycemic reactions. There are also sensor-augmented pumps that can be adjusted based on blood sugar readings.
Peragallo-Dittko says the biggest disadvantage of personal CGMs and sensor-augmented pumps is that there's a significant learning curve regarding how to respond to the trending data, which typically lag 20 minutes behind actual blood sugar levels. But she believes the data help patients make more informed decisions. "This is giving them more information to make better decisions with more feedback, so it's really positioned as a tool," says Peragallo-Dittko. "And the kids have all those skills with technology, so they do very well with that."
Proper Nutrition Gets High Tech
Along with glucose monitoring, proper nutrition is essential for effective diabetes management. Peragallo-Dittko says dietitians provide critical support to families by helping them understand nutritional principles, developing meal plans, and devising strategies for eating outside the home. Fruge says patients who educate themselves and approach their health proactively have a better chance of delaying and, in some cases, preventing side effects that were once considered synonymous with diabetes. One tool that can help kids find comprehensive nutrition information is the Calorie Count website.
Calorie Count, owned by About.com and The New York Times, is an online database that lists nutritional information, such as the amount of nutrients, calories, carbohydrates, sugar, and fiber, for more than 120,000 foods. Portion sizes can be adjusted to suit the user. Children must be at least 13 years old to use it, but parents can use it with younger children. Users can create food logs to help them track, for example, how much they eat, when they eat, how much sugar they consume, and how much fiber is in their food. They can also see how specific changes in their diet affect its overall content. A recipe analyzer allows users to cut and paste a recipe into it, and then it produces a label for one serving of that item. The best part is it's all free.
In addition, there are smartphone apps, and the Calorie Count website is available on all mobile phones. But Mary Hartley, MPH, RD, director of nutrition for Calorie Count, who maintains a regular question and answer column on the site, says the most popular features among teens are the social networking features. The company estimates that 78,000 of its 2 million users are between the ages of 13 and 18. The site includes forums for young calorie counters, people with health conditions, and people with eating disorders. These forums allow teens to chat with each other in an informal setting and connect with people who are facing similar challenges.
"These forums are as much about support and motivation as they are about how to eat healthy," says Hartley.
Texting for Positive Purposes
Support and motivation are critical factors for ensuring that teens manage diabetes conscientiously. Jennifer Dyer, MD, MPH, an endocrinologist at Nationwide Children's Hospital in Columbus, Ohio, says because of their busy lives and, in some cases, because they don't want to think about diabetes, teens need frequent reminders to take medication and eat regularly. Dyer recently completed a pilot study using text messages to help teens keep to their treatment plans. She says she chose texting because teens prefer it to e-mail or talking on the phone. She describes the messages as "friendly nagging." Once per week, Dyer would send a series of seven text messages to the study participants. The first was a greeting, the second was unique to each patient, the next four were medical protocol questions designed to make sure they were adhering to treatment plans and that their blood sugar levels were within an acceptable range, and the last was a message of encouragement and support.
All three patients in the study showed improved hemoglobin A1c scores and efforts to eat regularly. Prior to the study, they were skipping nine to 11 out of 21 meals each week; by the study's end, they were skipping only two to four meals each week. Dyer also asked the study participants to count carbohydrates using any smartphone function of their choice; they all chose Google. Dyer believes this type of feedback is much more useful with teens than trying to explain that lack of attention to diabetes now can lead to significant health problems later. "If you want to try to reason with them by saying, 'This is something that's going to happen when you're 30,' that isn't going to work because they think that 30 is old," says Dyer.
Dyer spoke at the World Research Group's 3rd Annual Health 3.0 Conference in January to make her case for reimbursement of initiatives such as this one. She has also applied for a Robert Wood Johnson Foundation grant to expand her texting research by conducting a controlled trial study comparing the efficacy of texting with the current standard of care on medication compliance and food bolus targets. Her goal is to automate and personalize text messages for 50 to 100 patients. The patient information will be entered and automated through her iPhone, although all of the information will be stored on a remote server to comply with HIPAA rules.
While texting will never replace office visits or comprehensive education, Dyer believes it has the potential to be a valuable diabetes management tool, especially among teens. "I think that adding that dimension of health information to their phone, which houses their social life, their family life, all their connections to the world, is really big for teens," she says. "I think that what this texting is doing is that it's really meeting patients where they are."
— David Yeager is a freelance writer and editor based in Royersford, Pa.
Resources
• Calorie Count: www.caloriecount.com/
• Pritikin Longevity Center & Spa – Diabetes Information: www.pritikin.com/index.php?option=com_content&view=section&layout=blog&id=6&Itemid=65
• Winthrop-University Hospital Pediatric Diabetes Program: http://winthrop.org/departments/specialtycenters
• YouTube video highlighting Jennifer Dyer's research: www.youtube.com/watch?v=WinDPSY59EA