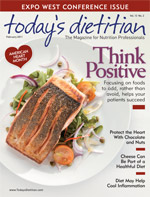 February 2011 Issue
Kumquats — Beauty That's More Than Skin-Deep
By Bryan Roof, RD, LDN
Today's Dietitian
Vol. 13 No. 2 P.  64
Kumquats have always intrigued me. They add an air of creativity and originality to a dish and offer up a bit of the unusual.
By outward appearances, a kumquat is just a miniature orange. Unlike oranges, though, the skin of the kumquat is sweet and fragrant and the flesh sour as a lemon. Of the two types available in the United States from November to March, Nagami kumquats are more popular. They have a bright orange skin and grapelike shape compared with the rounder, pale orange, and sweeter Meiwa kumquats. Originally cultivated in Asia, kumquats were introduced to the West in the 19th century and even earned mention in Fannie Farmer's famed Boston Cooking-School Cook Book in 1896.
In the kitchen, kumquats are usually pigeonholed for use in jams and marmalades, unfortunate in one sense because their subtle texture and bittersweet flavor are often cooked away and masked by heaps of sugar. On the other end of the spectrum, some even serve kumquats raw in salads and relishes. Keeping with this simple approach, I prefer a delicately cooked compote (think cooked relish) that leaves both their texture and flavor intact.
In the past, I've spent days picking kumquat seeds and shucking their bitter innards—common practice—only to come 'round full circle to realize that their beauty is more than skin-deep. In my kitchen, I leave their insides intact and barely pay attention to the seeds, which are edible and even less noticeable once cooked. Sliced into attractive rings, a quick blanch helps tame their bitterness, and a second round of cooking with orange juice and sugar accentuates their heady citrus notes and gives them a light candied quality. Pistachios added at the end provide crunch, and nutmeg offers a gentle competing flavor that detracts from any bitterness on the back end. Virgin olive oil, a long-time supporter of citrus, rounds out the compote. Suitable for everything from grilled fish to roasts to plain old toast, this kumquat and pistachio compote serves as a simple introduction to a fruit often overlooked because of its petite size but revered far and wide for its big flavor.
— Bryan Roof, RD, LDN, is a chef, dietitian, and food writer living in Boston.
Kumquat and Pistachio Compote
Makes about 3/4 cup; serving size 2 T
Ingredients
5 oz (about 1 cup) kumquats, stems removed
1/4 cup juice from 1 orange
2 T sugar
1/4 tsp nutmeg
Pinch kosher salt
2 T shelled pistachios, toasted and coarsely chopped
2 tsp extra-virgin olive oil
Directions
Slice kumquats crosswise into 1/4-inch thick slices, removing any large seeds that present themselves. Transfer kumquats to small saucepan and cover by about 1 inch with water. Bring to boil over medium-high heat, reduce to simmer, and cook until al dente, about 5 minutes. Strain and return kumquats to saucepan.
Add orange juice, sugar, nutmeg, and salt to kumquats and return pan to medium heat. Cook until sugar is syrupy and coats kumquats, 5 to 7 minutes. Remove from heat and stir in pistachios and olive oil. Cool to room temperature before serving. 
Nutrient Analysis per serving: Calories: 70; Total fat: 3 g; Sat fat: 0 g; Trans fat: 0 g; Cholesterol: 0 mg; Sodium: 45 mg; Total carbohydrate: 10 g; Fiber: 2 g; Protein: 1 g
Note: Don't stress too much about removing all of the seeds. After cooking, they mostly get by unnoticed. This recipe can easily be doubled.