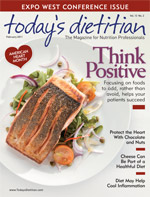 February 2011 Issue
Inflammation — Can't Stand the Heat? Then Get in the Kitchen
By Sharon Palmer, RD
Today's Dietitian
Vol. 13 No. 2 P. 36
Inflammation, at the root of myriad chronic diseases, is a hot topic in science. Interestingly, research is revealing that certain foods and eating patterns may help cool this response. Help your clients create an anti-inflammatory kitchen with our grocery list and get cooking with healthful recipes.
A strategy of eating your way to lower inflammation levels has entered the modern lexicon. A recent Google search for "anti-inflammatory diet" yielded more than 3.6 million hits. Scientists recognize that inflammation can fuel the major chronic disease killers of our time.
While acute inflammation, the body's natural reaction to an injury or assault, is good, chronic inflammation is not. When the body's inflammatory reaction fails to shut off or becomes activated when there is no real trigger—sometimes lasting for days, months, or even years—chronic inflammation results. This underlying inflammation can become the root of many diseases, including heart disease, metabolic syndrome, type 2 diabetes, cancer, rheumatoid arthritis, and neurological degeneration.
Tune in to the research on diet and inflammation and discover ways to help your clients and patients infuse more anti-inflammatory ingredients into their lifestyle. The recipes included throughout promote an anti-inflammatory cooking style.
Support for Anti-Inflammatory Living
Perhaps no one is more familiar with anti-inflammatory living than Andrew Weil, MD, director of integrative medicine at the University of Arizona and author of several books, including Eating Well for Optimum Health. "All diseases of aging have a common root: inappropriate inflammation. Now it is a mainstream view that the inflammatory process promotes diseases like coronary heart disease and Alzheimer's disease. There is also a link to cancer; anything that upregulates inflammation increases the pressure for cells to divide rapidly," Weil explained at the Seventh Annual Nutrition and Health: State of the Science & Clinical Applications Conference in Atlanta on May 10, 2010. "Inflammation is at the cornerstone of the body's healing process; it's so powerful yet so destructive. If it is chronic at low levels that are imperceptible throughout the body, it creates the foundation of age-related diseases."
Strategies to Calm Inflammation
A growing body of evidence links particular foods and eating patterns with lower levels of inflammatory biomarkers. Both epidemiological studies and intervention trials support a link between diet and a reduced risk of many chronic diseases, and experts believe that the diet-inflammation connection might be one explanation.
In a 2006 study published in the Journal of the American College of Cardiology, scientists found that diets high in refined starches, sugars, saturated fats, and trans fats and low in fruits, vegetables, whole grains, and omega-3 fatty acids appear to turn on the inflammatory response. But a diet rich in whole foods, including healthful carbohydrates and fat and protein sources, along with regular exercise and not smoking, seems to cool down inflammation.
At the Atlanta conference, Weil pointed out that epidemiological evidence links traditional dietary patterns such as the Japanese and Mediterranean diets with lower disease rates. Both diets have characteristics linked with lower inflammation levels. The traditional Japanese diet is low in fat, sugar, flour, and dairy and high in fish, vegetables, sea vegetables, rice, green tea, fruit, and soy foods, while the Mediterranean diet is low in meat and sugar and high in fish, whole grains, olive oil, fruits, and vegetables.
"You can go through life with an anti-inflammatory lifestyle or you can go through life with a proinflammatory lifestyle. Diet has a huge impact on inflammation. People should stop eating refined, processed, manufactured foods and eat an abundance of fruits and vegetables that are high in phytonutrients that protect against cancer and other diseases and focus on high-quality vegetable proteins such as legumes, nuts, grains, and soy foods," Weil stressed.
Scientists are also exploring the benefits of individual foods on inflammation. While a dietary pattern rich in plant foods appears to be at the root of lower inflammation, particular foods such as berries, tomato products, walnuts, turmeric, and red wine appear to be especially promising, according to recent research. Britt Burton-Freeman, PhD, MS, director of nutrition at the National Center for Food Safety and Technology at the Illinois Institute of Technology, spoke on diet and inflammation at the American Dietetic Association's Food & Nutrition Conference & Expo (FNCE) in Boston on November 8, 2010. She reported that the modern Western diet—high in calories, fat, and sugar and low in nutrients—is proinflammatory. In fact, obesity is a proinflammatory state. But individuals can fight this inflammatory status with diet, she says.
Burton-Freeman explained that phytonutrients in plant foods reduce disease risk through multiple inflammation-related pathways. In a randomized, double-blind, placebo-controlled 12-week crossover trial that Burton-Freeman led (and was published in 2010 in the Journal of the American College of Nutrition), a strawberry beverage reduced overweight men's and women's inflammatory response to a high-fat meal. In another study (awaiting publication) that Burton-Freeman presented at FNCE, tomato paste blocked meal-induced inflammation in healthy-weight men and women.
"There are dietary strategies that can combat inflammation," she said. "The effect of antioxidant-rich fruits and vegetables can be seen even at a single meal. Consider a lifetime of meals unprotected from inflammation or a lifetime of meals protected. "
A Portrait of the Diet
Scientific evidence is moving forward to paint a picture of an anti-inflammatory diet that looks something like this:
• rich in a variety of foods to provide a rainbow of nutrients and anti-inflammatory compounds;
• low in processed, refined, low-nutrient foods;
• packed with fruits and vegetables to provide antioxidant and anti-inflammatory compounds;
• balanced in calories to promote optimal weight;
• emphasizes healthful carbohydrates that are less refined, are high in fiber, and have a low glycemic index;
• moderately low in animal proteins (except for fish);
• focuses on plant proteins such as legumes, soy foods, and nuts;
• includes healthful fats such as extra-virgin olive oil, nuts, and avocados and minimizes saturated and trans fats;
• includes omega-3 fatty acids from fish and plant sources such as walnuts and flax;
• generously flavors foods with antioxidant spices and herbs such as garlic, green herbs, ginger, and turmeric;
• encourages frequent tea consumption;
• promotes moderate consumption of red wine (if alcohol is consumed); and
• allows small amounts of antioxidant-rich dark chocolate (at least 70% cocoa) as a treat.
Healthful and Delicious
An anti-inflammatory eating style happens to blend in with an overall optimal dietary pattern recommended by numerous health experts and organizations. Even the Dietary Guidelines Advisory Committee, which was tasked with reviewing the current database of nutrition science in order to make its optimal eating recommendations for the Dietary Guidelines for Americans 2010 (which is awaiting announcement as of press time), advises an eating pattern that shares much in common with this dietary style.
With its emphasis on whole, antioxidant-rich plant foods, healthful fats, flavorful herbs and spices, seafood, and moderate wine and chocolate consumption, it may be not only a healthful lifestyle but also a delicious one.
— Sharon Palmer, RD, is a contributing editor at Today's Dietitian and a freelance food and nutrition writer in southern California.
Anti-Inflammatory Shopping List
To help them create an anti-inflammatory kitchen, send your clients and patients grocery shopping with this food list.
Fish and Shellfish
Cod
Flounder
Halibut
Mackerel
Mussels
Oysters
Salmon
Sardines (canned in olive oil or water)
Scallops
Shrimp
Tuna (light, canned in water)
Fruits (fresh, frozen, or canned without sugar)
Apples
Apricots
Avocados
Bananas
Blueberries
Cantaloupe
Cherries
Cranberries
Dried plums (prunes)
Figs
Grapefruit
Grapes
Kiwifruit
Mangoes
Oranges
Peaches
Pineapples
Plums
Raisins
Raspberries
Strawberries
Watermelon
Grains
Amaranth
Barley
Brown rice
Bulgur
Farro
Kamut
Millet
Oatmeal (old-fashioned or steel cut)
Popcorn (light)
Quinoa
Spelt
Wheat berries
Whole grain stone-ground breads
Whole wheat pasta
Herbs and Spices (fresh or dried)
Allspice
Basil
Bay leaf
Chervil
Chives
Cilantro
Cinnamon
Clove
Dill
Garlic
Ginger
Marjoram
Mustard
Nutmeg
Paprika
Parsley
Pepper (black or red)
Peppermint
Rosemary
Saffron
Sage
Tarragon
Thyme
Turmeric
Legumes, Nuts, and Seeds
Almonds
Black beans
Chickpeas (garbanzo beans)
Flax
Kidney beans
Lentils
Navy beans
Peanut butter
Peanuts
Pine nuts
Pinto beans
Pistachios
Pumpkin seeds
Sesame seeds
Soybeans/edamame
Sunflower seeds
Tofu
Walnuts
Oils
Extra-virgin olive oil
Safflower oil
Sunflower oil
Vegetables (fresh, frozen, or canned without salt)
Arugula
Asparagus
Beets
Bell peppers (green, red, orange, or yellow)
Broccoli
Brussels sprouts
Cabbage (green or red)
Carrots
Corn (sweet yellow)
Green beans
Kale
Lettuce
Mushrooms
Onions (green, red, white, or yellow)
Peas
Potatoes (red or white)
Radishes
Spinach
Squash (summer or winter)
Sweet potatoes
Swiss chard
Tomatoes
Miscellaneous Items
Dark chocolate (at least 70% cocoa)
Red wine (in moderation)
Tea (green, white, or black)
— Author compiled list using multiple resources. This list is not exhaustive.
Warm Quinoa Salad With Orange Blossom Vinaigrette
Recipe courtesy of and adapted with permission from chef Ray Garcia of FIG restaurant in Santa Monica, Calif., for California Olive Ranch
Makes 4 servings
Quinoa Salad
31/2 oz red quinoa
1 cup vegetable stock
1 sprig rosemary
2 oz butternut squash
2 oz Swiss chard
2 oz haricots verts (green beans), blanched
1/2 Granny Smith apple, chopped
1 T California Olive Ranch extra-virgin olive oil
1 oz almond flakes, toasted
Orange Blossom Vinaigrette
1/4 cup orange blossom honey
1 cup orange juice
1/2 cup white balsamic vinegar
7 T California Olive Ranch extra-virgin olive oil
Directions
Simmer and reduce orange juice for vinaigrette by one third; allow to cool. When orange juice has cooled, mix all ingredients for dressing and set aside.
Cook quinoa in vegetable stock with rosemary. When cooked, drain the quinoa.
Cut butternut squash into 1/2-inch cubes and roast at 350˚F for 15 minutes or until fork tender.
Sauté apple, Swiss chard, and blanched beans in 1 T olive oil.
Mix roasted squash and sautéed ingredients with quinoa and dress with vinaigrette. Garnish with toasted almond flakes.
Nutrient Analysis per serving: Calories: 319; Fat: 18 g; Sat fat: 2 g; Sodium: 54 mg; Carbohydrate: 38 g; Fiber: 4 g; Protein: 5 g
Cauliflower Gold
Recipe courtesy of chef Jim Perko for the California Walnut Commission
Makes 6 to 8 servings
Ingredients
4 T extra-virgin olive oil
One head cauliflower, cut into small florets
1 T garam masala
1 tsp ground cumin
1/2 tsp chili powder
1/2 tsp turmeric
Pinch of cayenne pepper
11/2 cups vegetable stock
3 T tomato paste
1/2 cup California walnuts, chopped and toasted
Directions
Heat 3 T of olive oil in a large skillet over moderate heat and add cauliflower. Stir frequently until lightly browned and tender, 15 to 20 minutes. If cauliflower is not tender when pierced, cover pan for last 5 minutes of cooking. With slotted spoon, remove cauliflower from pan and set aside.
Return pan to heat and add remaining tablespoon of olive oil. Add garam masala, cumin, chili powder, turmeric, and cayenne pepper and stir for 30 seconds. Add vegetable stock and tomato paste and stir to blend. Return cauliflower to pan and stir for 2 to 3 minutes to heat through. Add walnuts, mix well, and serve.
Nutrient Analysis per serving: Calories: 150; Fat: 13 g; Sat fat: 1.6 g; Sodium: 60 mg; Carbohydrate: 8 g; Fiber: 3 g; Protein: 3 g
Moroccan Bean and Pepper Stew
Recipe courtesy of McCormick and Oldways
Makes 6 servings
Stew
1 T olive oil
2 cups bell peppers (yellow or red), chopped
2 cups butternut squash, cubed and peeled
11⁄2 cups onions, chopped
2 tsp ground cinnamon
1 tsp garlic powder
1⁄2 tsp ground cumin
1⁄2 tsp ground ginger
1⁄4 tsp ground red pepper (cayenne)
1⁄4 tsp sea salt
1 can (16 oz) chickpeas (garbanzo beans), drained and rinsed
1 can (151⁄2 oz) red kidney beans, drained and rinsed
1 can (141⁄2 oz) diced tomatoes, undrained
1 cup water
Couscous
3⁄4 cup vegetable broth
1⁄4 tsp ground cinnamon
1⁄4 tsp ground ginger
2⁄3 cup whole wheat couscous
1⁄4 cup golden raisins
Chopped fresh mint (optional)
Toasted sliced almonds (optional)
Directions
For the stew: Heat oil in 3-qt saucepan on medium-high heat. Add bell peppers, squash, and onions; cook and stir for 5 minutes or until vegetables are softened. Add cinnamon, garlic powder, cumin, ginger, red pepper, and sea salt; cook and stir for 1 minute. Stir in beans, tomatoes, and water. Bring to a boil. Reduce heat to medium-low; simmer, covered, for 20 minutes or until vegetables are tender.
For the couscous: Bring broth, cinnamon, and ginger to a boil in medium saucepan on high heat. Remove from heat. Stir in couscous and raisins; cover. Let stand for 5 minutes or until liquid is absorbed. Fluff couscous with fork.
Serve stew over couscous in large soup bowls. Sprinkle with mint and almonds, if desired.
Nutrient Analysis per serving: Calories: 272; Fat: 4 g; Sodium: 477 mg; Carbohydrate: 50 g; Fiber: 10 g; Protein: 9 g
Strawberry Tostada
Recipe courtesy of the California Strawberry Commission
Makes 6 servings
Ingredients
21/2 cups (about 3/4 lb) fresh California strawberries, stemmed and quartered
1/2 lb jicama, peeled and cut into 1/2-inch dice
1/2 cup cilantro, chopped
1 tsp jalapeño peppers, minced
2 T lime juice
1 lb avocados, peeled, seeded, and cut into 1/2-inch dice
Salt (optional)
6 (6-inch) yellow corn tortillas
Chili powder
6 T crumbled queso fresco
6 cilantro sprigs
1 lime, cut into 6 wedges
Directions
Heat oven to 400˚F.
In large bowl, mix together strawberries, jicama, cilantro, peppers, and lime juice. Add avocados; fold together gently. Season with salt (optional).
Arrange tortillas on oven rack in one layer. Toast about 10 minutes or until crisp and starting to brown.
Mound 1 cup strawberry mixture in center of each tortilla. Sprinkle each tostada with chili powder and 1 T queso fresco. Garnish with 1 cilantro sprig and 1 lime wedge.
Nutrient Analysis per serving: Calories: 252; Fat: 14 g; Cholesterol: 5 mg; Sodium: 63 mg; Carbohydrate: 30 g; Fiber: 8 g; Protein: 5 g
Pea and Tofu Curry
Makes 10 servings
Ingredients
2 cups (10 oz) extra-firm tofu
2 cups frozen peas
1 cup onion, coarsely chopped
1 T ginger, peeled and chopped
1 tsp garlic, minced
1 tsp green chile, chopped, or to taste (or 1/2 tsp cayenne pepper)
1/2 cup tomato sauce
1 tsp cumin seeds
1 T almond meal (or 1 T almond butter)
1 T white poppy seeds
1/2 tsp turmeric
2 tsp ground coriander
3 T canola or vegetable oil, divided
2 1/2 cups water
1 tsp salt
3/4 tsp garam masala
2 T cilantro, chopped
Directions
Cut tofu into 1/2- to 3/4-inch squares and lay on a towel for 10 minutes to remove excess water. Thaw frozen peas by soaking in cold water.
In a blender jar, grind onion, ginger, garlic, green chile, tomato sauce, cumin seeds, almond meal, poppy seeds, turmeric, and coriander to a smooth paste. Set aside. (If necessary, add 1 to 2 T water to help grind the [mixture.])
Heat 1 T oil in a heavy skillet over medium-high heat. Add tofu pieces in a single layer. Cook until light brown on one side; turn over and brown the other side, about 2 to 3 minutes on each side. Remove tofu to a plate and set aside.
Add onion mixture to the same skillet. Cook until most of the liquid has evaporated, stirring occasionally. Add remaining 2 T of oil and cook until mixture is thick enough to draw away from sides and bottom of pan in a dense mass and oil starts to separate, making [mixture] shiny. Add water and bring to a boil.
Add peas, salt, and tofu pieces. Bring mixture to a boil, reduce heat, and simmer for 10 minutes. Add garam masala and cilantro. Transfer to a serving bowl.

Nutrient Analysis per serving: Calories: 151; Fat: 10 g; Sat fat: 1 g; Sodium: 334 mg; Carbohydrate: 8 g; Fiber: 3 g; Protein: 10 g
Reprinted from The Indian Vegan Kitchen by Madhu Gadia by arrangement with Perigee, a member of Penguin Group (USA) Inc, Copyright © 2009 by Madhu Gadia