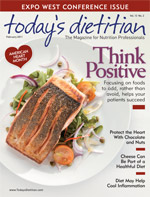 February 2011 Issue
Home, Safe Home — Help Clients With Celiac Disease Avoid Gluten Contamination in the Kitchen
By Lindsey Getz
Today's Dietitian
Vol. 13 No. 2 P. 14
Although celiac disease is manageable and treatable, a diagnosis can overwhelm patients. After all, the condition necessitates significant lifestyle changes. Simply buying gluten-free products is not enough; patients with celiac disease must practice safe food handling, preparation, and storage in their homes. While maintaining a safe kitchen involves a lot of responsibility, dietitians can arm their patients with helpful tips to make the task seem less daunting.
Flawless Food Preparation and Handling
The gluten-free market has come a long way. Today there are more products available than ever before, and people with celiac disease are realizing they can enjoy many of their favorite foods again. But keeping food truly safe means avoiding cross-contamination with gluten-containing products, something that's not always easy to do in a busy home kitchen.
Shelley Case, RD, author of Gluten-Free Diet: A Comprehensive Resource Guide and a member of the Celiac Disease Foundation Medical Advisory Board, keeps and clearly labels separate containers of certain frequently used food products, such as margarine, peanut butter, and jam. "It's very easy for crumbs to cross-contaminate these jars when dipping a knife in," she says. "If you don't have separate jars, you need to emphasize a 'no double dipping' rule."
People with celiac disease may need to buy only one bottle each of other condiments, such as ketchup, mustard, relish, and mayonnaise, if they opt for squeeze containers. "Then you can just squeeze it out with no fear of a knife ever contaminating the product," she says.
Case recently discovered Toast-It Bags (www.toastitbags.com/) from Celinal Foods, a company that offers gluten-free products and solutions. These reusable bags are designed for toasting bread or bagels, as the toaster is often full of crumbs and one of the more likely places for contamination to occur. "These bags are great for people who can't afford to buy or [don't] have room to store a second toaster," she says. "You put your gluten-free bread in the bag, stick it in the regular toaster, and don't have to worry about crumbs touching it."
Without the bags, people should use the toaster oven instead of the toaster, as contamination is much more likely to happen when using the latter, advises Case. "With a toaster oven, you can pull the rack out and clean it well," she explains.
Individuals who must avoid gluten may find that having two sets of tools such as cutting boards, strainers, and mixing bowls is helpful for preparing food. But if clients don't want to purchase or store two of everything, Tricia Thompson, MS, RD, an independent nutrition consultant for celiac disease and author of The Gluten-Free Nutrition Guide, recommends that they always make the gluten-free foods first. "For example, if you are cooking two types of noodles—wheat noodles and gluten-free noodles—and don't have two pasta strainers, strain the gluten-free noodles first."
Clients should follow the same rules when baking. "Always bake your gluten-free cakes, cookies, and breads before your wheat-based ones," Thompson says. "It's far better to get rice flour in wheat flour than the other way around."
Cookware materials also make a difference. Melissa Pickell, RD, owner of New You Nutrition, a private practice in New Jersey, and author of the gluten-free/vegetarian cookbook Marvelous Meatless Meals: Gluten, Dairy & Refined Sugar Free Recipes for Everyday, advises using nonporous utensils and cutting surfaces. Wooden spoons and cutting boards can be absorbent. "Use glass pie pans and baking dishes whenever possible, since these can be thoroughly cleaned," she says. "Stainless steel mixing bowls are also easy to clean of contaminants."
After use, all products should be thoroughly washed with hot, soapy water, especially if the tools get double duty prepping gluten-free and non–gluten-free foods. Pickell says these tools, such as food processors and blenders, need thorough attention when scrubbing clean. Food particles can hide in corners and crevices and potentially contaminate the next meal.
Smart Storage
Safely storing food and kitchen supplies is another important consideration for patients with celiac disease. Pickell suggests using parchment paper or foil to cover baking sheets or dishes that have been used for any non–gluten-free baking and cooking so that any traces of contaminants don't make their way onto those surfaces. Clients with space to spare can create an entirely separate "gluten-free pantry" (or at least a shelf or two) to store products and supplies. This way, other household members won't be confused or accidentally cross-contaminate a product.
Case also recommends storing gluten-free products in separate containers labeled with bright, easy-to-read stickers. She places a big "GF" on her gluten-free supplies. "A lot of the gluten-free flours look a lot like white or wheat flours, so it's really important to make it obvious," she says. "I like to always store the gluten-free version in the same separated area. An important tip is also to store those products higher up on the shelves. If you open your wheat flour on the top shelf and it spills over, it can contaminate the lower shelf. So put your gluten-free products on the highest level."
Clients can follow the same steps when storing products in the refrigerator. They can mark gluten-free versions with brightly colored stickers or labels, distinguishing them from the other products.
Much to Consider
Sharing a household with a person who has celiac disease can certainly be overwhelming for all involved, and there is much to consider.
Dietitians can help clients make their homes safer when hosting parties involving guests with and without celiac disease. Pickell says people should not hesitate to remind guests that they must not dip non–gluten-free crackers or chips into a gluten-free dip. "Consider making a separate plate for the gluten-free guest or family member to avoid this," she adds. "Or better yet, only put out snacks that everyone can eat."
Pickell also suggests saving the packages from foods included in the meal if guests who must avoid gluten are in attendance. "The guest may want to look these over just to be sure. Don't be insulted by their attention to safety," she says. "Remember that every ingredient that you use in a recipe must be gluten free and uncontaminated. You also need to make sure there are plenty of serving utensils so that each gluten-free food that's put out has its own utensil."
Knowledge is key to making the home kitchen a safer place, and RDs have a big responsibility in educating their clients on some of these important steps. "It's one thing to educate the patient about purchasing gluten-free products, which is certainly important, but cross-contamination with even small amounts of gluten can be enough to keep the antibody levels elevated and cause potential complications," says Case. "The food preparation in the home needs to be done carefully to prevent cross-contamination, as research has shown that even small amounts of gluten can cause symptoms. Cross-contamination is probably one of the biggest issues. And though it happens more often when eating out, I still see a lot of cases that are happening at home. It's an area where dietitians can really play a role in helping their clients truly be gluten free."
— Lindsey Getz is a freelance writer based in Royersford, Pa.