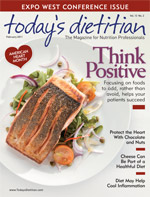 February 2011 Issue
Creating Local Food Connections — One RD's Take on 100-Mile Eating and Hosting a Locavore Dinner
By Sharon Palmer, RD
Today's Dietitian
Vol. 13 No. 2 P. 12
On an Indian summer evening at the home of Melanie Ward in Monrovia, Calif., dinner guests gather in the garden at long rows of tables decorated with candles and locally grown gourds, squashes, and olive tree boughs. The tables are draped in vintage linen with not a disposable in sight. Guests place their own dinner plate on the table, contributing to a colorful, eclectic collection that ranges from bright green Depression glass to dainty flowered wedding china. Delicious aromas from the wood-fired barbeque and soup pot waft over the table. I can't wait to sample the platters and bowls of beautiful salads, cheeses, and side dishes perched on a side table. What's the special occasion? It's simple: Tonight we're celebrating local food.
It's no surprise that becoming a locavore, defined as someone who eats within a radius of his or her home, has become de rigueur in recent years. Chefs call out the names of farms on menus, farmers' markets are flourishing, and even home gardening is making a comeback. Books such as Animal, Vegetable, Miracle: A Year of Food Life by Barbara Kingsolver eloquently depict the life of local eating. And documentaries such as Food, Inc. highlight the need for slowing down the food system. As a result, people are increasingly seeking a meaningful connection with food, starting with where and how it is grown.
A return to local eating can offer many rewards. People can reduce their carbon footprint and support their local community by purchasing foods grown close to home and feast on delicious, nutritious foods harvested at their peak—a far cry from foods mass produced and shipped from across the country.
Locavore dinners are a natural evolution in the local food movement. Outstanding in the Field, an organization that hosts local culinary events, has created quite a following, as celebrity chefs, foodies, and farmers gather together to celebrate la vida local at fine dinners held around the world. Founded by Jim Denevan, Outstanding in the Field started with a few "farmer dinners" held in a café in Santa Cruz, Calif., but quickly grew into something even better: locavore dinners held on orchards, farms, vineyards, and ranches. While these professionally planned locavore events are nothing short of fabulous, people can bring this vision to their own backyard by creating their own grassroots event to shine the light on the pleasures of local foods.
Which brings me back to Ward's garden in Monrovia, located only 24 miles from the soaring skyline of downtown Los Angeles. The party planners, including local food and home gardening aficionados Jean Rapagna and Sue Kopcha, have created their own vision for a locavore dinner, and I am glad to be counted among the guests. We've all been assigned a task: Bring a dish—carefully and lovingly prepared—and pair it with a drink, both sourced from within 100 miles. One might think that such an assignment would be difficult when living within the confines of a sprawling urban area, encased in cement and glass.
But, surprisingly, many options exist, and finding them was half the fun. Who knew that the animal sciences program at a nearby university sells fresh sausages and beef that would end up on our outdoor barbeque on that October evening? A neighbor supplied fresh backyard eggs for an artichoke bake. Fresh vegetables purchased at Whole Foods Market, which conveniently labels the name and location of local farms, were tossed into a gorgeous salad. Potato leek soup, fashioned of ingredients from the farmers' market, simmered in a crockpot. Cream from a nearby dairy was hand-churned into butter. An abundance of late-summer tomatoes was made into delicious dipping sauces for appetizers. Lemons from backyard trees were plucked and squeezed into lemon tarts. Numerous wineries and breweries within the 100-mile mark were called upon to serve up flavorful wines—from Chardonnay to Syrah—as well as hearty beers to pair with the dishes. At a local wine and cheese shop, I discovered an artisanal cheese maker who produces a remarkable Gouda that I served with field greens, walnuts, and persimmons from the farmers' market.
As we sat at the long tables, taking in the joy of friendship on one of the last warm evenings of the year, each guest stood and offered his or her dish with its story, describing details about where the ingredients came from, the origins of a special recipe, or the creation of a handmade platter. And then the dish was passed down the table for each guest to share, enjoy, and reflect on. With freshly harvested ingredients, each dish was like a little miracle—and a reminder of the pleasures that coming back to the table for local bounty can bring.
Create a Locavore Dinner
Anyone who is interested in starting a grassroots local food movement in the community can host a locavore dinner. The following are tips to get started:
• Select a location for the locavore dinner, trying to find an adequate outdoor setting that can accommodate rows of tables to seat the desired number of guests.
• Set a date, considering the season for local bounty and weather.
• Develop a guest list according to the number of guests the event can accommodate.
• Create an eco-friendly e-mail invitation to invite guests, clearly outlining the intent and details of the dinner.
• Assign each guest a dish in one category: appetizer, salad, soup, main dish (vegetarian and nonvegetarian), side dish, and dessert. Specify the number of servings each dish should serve and ask the guest to divide the dishes into separate family-style serving containers to accommodate family-style meal service at the tables. Keep in mind that large events with more dishes available should be served in tasting-portion sizes.
• Explain to guests the parameters of dish preparation, such as the number of miles within which main ingredients should be sourced. Give guests suggestions of local purveyors who might supply ingredients.
• Ask guests to pair a local beverage with their dish.
• Ask guests to bring their own dinner plate and wine glass that might have special significance.
• Inform guests of the approximate length of event, as each course will require plenty of time.
• Gather tables, chairs, buffet tables, tablecloths, and napkins to use at the event, avoiding rentals and disposables.
• Plan local, live table displays utilizing seasonal plants and foliage as well as candles.
• On the night of the event, refrigerate or maintain the heat of each dish as needed. Create an order for each dish to be served by the guests. Announce each dish and guest, allowing the guest to describe the dish, recipe, fabrication, and ingredients, and then serve the dish. Allow about 20 minutes between each course as well as plenty of time for guests to enjoy the entire evening.
— Sharon Palmer, RD, is a contributing editor at Today's Dietitian and a freelance food and nutrition writer in southern California.