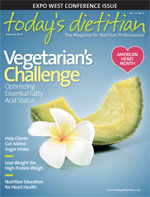 February 2010 Issue
Perfect Pairing — Chefs and Dietitians Unite for Healthy, Flavorful Cuisine
By Bryan Roof, RD, LDN
Today's Dietitian
Vol. 12 No. 2 P. 8
Many chefs hesitate at the thought of working side by side with a dietitian. Despite their obvious connection with food and eating, some would even say the two are as different as chicken and chickpeas. A chef might perceive a dietitian as an evil stepsister who slaps his hand on the way to a generous pat of butter to finish a sauce or a healthy pinch of salt to liven the flavors of an otherwise bland dish. Conversely, the chef could be considered somewhat of a dietary outlaw. Watch the face of a dietitian cooking alongside a chef, and you're likely to witness a gaping mouth, wide eyes, and muffled gasps. In reality, these two professionals are more alike than they think … or at least they should be.
Still, both professionals approach food from two very different angles. The chef is inspired by the season, customer wants, culinary trends, and, most importantly, taste. A salad of freshly harvested beets, artisanal goat cheese, and black walnuts is a waste if it doesn't actually taste great. The chef's entire training has been focused on making the customer happy, sometimes regardless of the health factor. After all, a diner visits a restaurant on average about twice per month. Who cares whether the chef uses a little extra butter as a means to bring a smile to a customer's face? Still, many times chefs are unaware just how much sodium or unhealthy fat is really in a dish, "so a dietitian can determine the nutritional content and suggest ways to improve the numbers," says Janice Bissex, MS, RD, one of the Meal Makeover Moms, who has taken the responsibility of teaching healthy eating head-on by helping chefs and busy families learn to cook and eat better.
The dietitian, on the other hand, approaches food with a strong academic background and must negotiate the abundance of ever-changing research to improve a client's health.  Despite their best intentions, dietitians' practical cooking experience can sometimes be weak, which can decrease their level of effectiveness. Their clients likely know less than they do about food and cooking and even less about healthy cuisine. This is the reason why companies such as Weight Watchers now have so many Web tools teaching clients about cooking techniques and recipes. While people will always be dieting, they'd ideally like to do it with delicious food.
For these two professionals to work effectively together, they first need to meet on common ground and establish open lines of communication. "The most common problem between dietitians and chefs is communication," says Josh Hammond, a dietitian with the senior services company Springwell, who regularly convenes with chefs to coordinate home meal deliveries to clients in the Boston area.
Step Into a Chef's World
As with any working relationship, communication is key. Chefs have their own "language," similar to dietitians, and taking the time to learn that language is critical to a successful partnership between the two professions. Chefs, by training, are taste- and ingredient-driven beings, and dietitians can appeal to that nature by stepping into their kitchen mindset.
Reading industry publications such as food magazines and cookbooks, especially those geared to the restaurant chef, can give dietitians insight into food trends such as flavored salts and spice crusts and new ingredients such as boutique olive oils and uncommon varieties of dried chiles. Tuning in to cooking shows that focus less on loud, in-your-face personalities and more on serious cooking is also a great way to get quick sound bites about techniques and ingredients. Food Web sites that offer recipes and cooking tips are great when they come from reliable sources, but beware because these sites are often a mixed bag of untested and unreliable recipes.
Cooking classes, which are frequently offered at continuing education institutions and culinary schools, can also improve kitchen skills and teach new flavor combinations such as how to properly blend spices and when to add herbs to a dish. Learning new and different ways to treat common ingredients such as chicken breasts, an item that pokes its pale, dry head out at any and every attempt at "healthy" cuisine, can add valuable firepower to menu discussions between dietitians and chefs.
Above all, cook! Putting in the hours behind the stove is invaluable to not only collaborating with chefs but also educating clients. This hands-on approach hones skills, and the more one cooks, the better he or she becomes (in most cases, anyway). The ingredient focus should be on nonprocessed foods and deal with raw products. Learning how to use controversial ingredients such as salt more effectively (by seasoning with large flake salt such as Maldon, or at the very least kosher, after cooking) adds to your bag of cooking tricks by adding taste without excessively high levels of sodium. This builds a stronger overall knowledge of core ingredients, how to prepare them, and how to recognize the ways in which they can be manipulated. Cooking also gives dietitians more experience seasoning foods with big flavor, low-calorie pungents and aromatics such as alliums (eg, garlic, shallots, scallions), spices, and citrus zests. These items offer many health benefits and few, if any, negatives. (Please ignore my garlic breath; I'm just being healthy.) 
Chefs are creative, and tapping into their creativity with fresh ideas based on a foundation of personal culinary skills builds their confidence in the dietitian. Time spent in the kitchen ultimately makes dietitians more valuable to clients by not only knowing what they should eat but also how to prepare it in delicious ways. Only by providing healthful and flavorful food choices can dietitians hope to impact their clients' long-term health. Otherwise, a diet is just another unsatisfying and temporary lifestyle. 
Team Up to Teach
Together, the chef and the dietitian stand to greatly increase the public's awareness of healthy eating and the many facets surrounding smart food choices. Chef- and dietitian-hosted cooking demonstrations are becoming increasingly popular as the public becomes more aware of what they eat and its nutritional value. When chefs and dietitians team up in culinary demonstrations, they can provide an excellent arena for educating the audience on new cooking techniques and flavor combinations, and they can also tout the nutritive value of particular ingredients. Favoring virgin olive oil over butter, for example, can lead to a discussion of the heart-healthy benefits of monounsaturated fats. Furthermore, knowing when and how to use that pat of butter most effectively adds valuable expertise to the discussion.
Comparison cooking of two versions of the same dish is an especially effective technique for cooking demonstrations to really drive home the visual and caloric differences in basic recipes. Stacked side by side, a classic shortening-based pie dough comes across as Godzilla with thunderthighs compared with a lighter, healthier olive oil dough.
Furthermore, cooking demonstrations are also a great way for audience members to visualize appropriate portion sizes, ingredient variety, and plating techniques. People are apt to mimic what they see professionals doing, so it is important to focus on appropriate serving sizes for any and all courses that may be demonstrated. Ingredient variety, which may be expressed through color and texture variations, stresses to the audience the enjoyment and importance of cooking with an array of ingredients, no matter how simple or complex the preparation. Finally, teaching simple yet attractive techniques for plating is a way to turn everyday food into something special.
As professionals who frequently interact with the dining public, it's essential for dietitians to inform not only clients but also the chefs they work with about the importance of cooking with seasonal, local ingredients that are sustainable and organic when possible and sensible. Smart dining choices can turn the once guilty pleasures of dining out into something healthy for the body and environment. With USDA-sponsored programs such as Know Your Farmer, Know Your Food that connect consumers to local farmers' markets, the dietitian can educate the public and, in some cases, chefs about sourcing options they may not have considered. This can be especially effective in institutional settings, where chefs may be more confined to predetermined and unseasonal menus in order to strike a consistent chord with their clientele. Together, the chef and the dietitian can team up to realize the importance of utilizing local and seasonal choices when designing menus. And when chefs do choose to feature local, sustainable, or organic foods, it would benefit them to make their customers aware of it. 
 When chefs cater to dietary restrictions, dietitians can be especially helpful and their input invaluable. Personal chefs are a group that often caters to gluten intolerances, diabetes, allergies, and sodium restrictions and many times are unaware of the full spectrum of necessary precautions when feeding these populations. As a food, nutrition, and culinary communications specialist at The Culinary Institute of America, Amy Myrdal Miller, MS, RD, finds that under the right circumstances, "chefs are [often] pleased to work with a registered dietitian, who can provide more insights into the nutrition content of specific ingredients."
A Diet Fit for Eating
The commonalities between dietitian and chef run deep. The dietitian is the liaison between food and its nutritive value for the public, and stuffed squarely in between that connection is the chef. The more both professionals work together, the greater the benefit to each, as well as to the public. The responsibility to learn about food falls on the dietitian's shoulders. With supportive encouragement, chefs are jumping on board to realize that flavorful cuisine can also be healthy. Bissex adds, "Working with chefs is a partnership with a common goal of making sure the food we create is tasty and healthy."
After all, if we're going to be eating a minimum of three meals per day for the duration of our lives, shouldn't everyone learn to cook? And wouldn't it be nice if dietitians were there to guide them down a healthier path?
— Bryan Roof, RD, LDN, is a chef, dietitian, and food writer living in Boston. In his spare time, he can be found at home cooking with his wife and three kids.