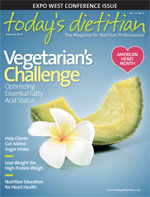 February 2010 Issue
Korean Food Is Hot
By Chef Kyle Shadix, MS, RD
Today's Dietitian
Vol. 12 No. 2 P. 64
Korean food is fast becoming popular. It is very similar to Chinese food in terms of its ingredients and cooking methods, but Korean cuisine differs from other Asian cuisines in its more extensive use of hot chili peppers and garlic. Meals commonly consist of noodles, tofu, short-grain rice, vegetables, meats, and the infamous kimchi, a pickled cabbage side dish that is served with almost every Korean meal.
Over the years, many foodservice trends have emerged in university dining halls. Murray State University in Kentucky, for example, has offered students a Korean menu since late 2008, with menu items such as beef bulgogi (thin-sliced beef marinated with soy sauce, sesame oil, sugar, garlic, and onions and then grilled), seaweed soup with sautéed beef, and wakame (seaweed, soy sauce, fish powder, and fish sauce). The school even hired a Korean native to consult on the menu since authenticity is key to the success of any regional menu item, especially among the millennial generation, according to an October 2008 Restaurants & Institutions online report.
Like fondue in the 1970s with its communal heat source at the table, Korean barbecue, or gogi gui, is becoming increasingly popular but primarily in large metropolitan cities across the United States. I will never forget my first visit to a Korean barbecue restaurant in New York City in 1994. I was shocked at this innovative way of dining; the tables are larger than those in traditional restaurants, and there is a gas grill built in the center of the table. One orders meats or vegetables, and they arrive at the table raw, often marinated, and each diner cooks his or her own foods.
I suspect that as the popularity of Korean foods continues to increase, an entrepreneur will emerge creating a chain of fast, casual Korean barbecue restaurants across the United States.
— Chef Kyle Shadix, MS, RD, is a culinary nutrition communications consultant in New York City and online at www.chefkyle.com.
Kimchi
Makes sixteen 1-cup servings
Ingredients:
2 heads Napa cabbage, coarsely chopped into 1-inch pieces
3⁄4 cup coarse salt (will be rinsed off)
1 tsp ginger root, finely minced
2 T garlic, chopped
1⁄4 cup red pepper powder
2 T brown sugar
1⁄4 cup fish sauce
4 bunches scallions, cut into 1-inch pieces
1⁄4 cup sesame seeds (for garnish)
Directions:
Place chopped cabbage in a container. Dissolve salt in 2 cups of water and pour over cabbage. Mix with hands. Cover mixture and allow it to "pickle" overnight.
Strain cabbage and discard saltwater. In a mixing bowl, combine remaining ingredients (except garnish). Pour over cabbage and blend in with hands. Divide mixture among four 1-qt jars or one 1-gallon jar, pressing down firmly to remove air bubbles. Cover and allow to ferment in a 70˚F environment for 24 to 36 hours.
Serve cold sprinkled with sesame seeds. Refrigerate for up to one week.
Nutrient Analysis for 1 cup:
Calories: 33
Total fat: 0 g
Saturated fat: 0 g
Trans fat: 0 g
Cholesterol: 0 mg
Sodium: 201 mg
Total carbohydrate: 4 g
Dietary fiber: 2 g
Protein: 0 g