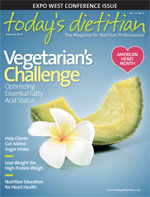 February 2010 Issue
Eating Out in a Down Economy
By Maura Keller
Today's Dietitian
Vol. 12 No. 2 P. 12
These days, just about every restaurant is facing some kind of economic challenge. From cancelled banquets to patrons' decreased spending, foodservice venues are working hard to entice consumers to open their wallets a little wider. Like many enterprises, the foodservice industry must be willing to make changes and be fluid in its thinking—it's simply no longer business as usual.
Industry Changes
It's a sign of the times. Glance through your e-mail or read the newspaper, and you are bound to see advertisements from restaurants and cafés eager to entice you to enjoy their menu offerings with sure-to-please coupons and discounts aplenty.
"Most casual dining restaurants have been forced to do discounting and special offers. Up until this recession hit, most chief marketing officers eschewed the idea, but most have capitulated and built it into their offerings," says Gary Edwards, executive vice president of client services at Empathica Inc and a customer experience management strategist who has worked with a large number of restaurants and quick-service restaurants to determine how the current economic conditions are affecting business and what companies can do to drive new revenue in this environment.
Edwards says there has been an almost perfect linear trend of "downward trading" among customers, with fine dining hit hardest and casual dining down across the board. "Quick-service restaurants, however, are picking up the net benefit, with many increasing sales," he says.
Despite fewer dollars to spend, consumers are as demanding—or even more demanding—as they ever were. "While having less to spend, they want more for their money," Edwards says. "We've transformed from an era of conspicuous consumption of 'look at how much I paid for this because I'm worth it!' to 'look at how little I paid for this because I'm clever and responsible!'"
Rebecca Cameron, RD, founder of Haute Nutrition and chef at Chandy's Natural Café, agrees: "Guests aren't looking for the over-the-top, elaborate menus at this time with this economy. Guest decisions are driven more and more by price. We have a promotion coming up where we are selling $4 plates (with four appetizer-sized portions). Specials like this are popular. We started marketing programs like 'Free Cookie Monday' and 'Bring a Friend Thursday' to drive more traffic into the restaurant. Also, our new signage program lists all allergens and vegan/vegetarian items on our menu. This has been a great guest-focused step that our customers are really excited about."
As an RD, a menu consultant, and a chef, Cameron understands the importance of providing an excellent value for the price, especially in light of the current recessionary economy. "Most of our development work is focused on continuously improving the quality of our menu items," she says. "We are also selling more comfort and familiar foods."
Educating Consumers
Being "in the know" is also increasingly important to today's budget-conscious food consumers. They want to know that what they are spending their money on is actually healthy for them. Erica Bohm, MS, vice president and director of strategic partnerships at Healthy Dining and Healthy Dining Finder (www.healthydiningfinder.com), says restaurants have recently become more responsive to the needs of those who are health, weight, and nutrition conscious.
"Our experience is that quick-serve and casual dining restaurants are more apt to be interested in Healthy Dining, but the fact is this program works for all kinds of restaurants," Bohm says.
The Healthy Dining Program began in 1990 to fulfill consumers' unmet needs related to restaurants and eating out. "Americans were frequenting restaurants more and more often, but it was difficult—sometimes impossible—to know what you were getting nutritionally when eating restaurant-prepared meals," Bohm says.
The specific purposes of the program are to do the following:
• Support restaurants in providing a selection of dietitian-approved Healthy Dining items. This includes completing nutrition analysis for a selection of the restaurants' menu items and suggesting, where appropriate, simple modifications (eg, less cheese, dressing on the side) for improved healthfulness.
• Make it easier for consumers to find dietitian-approved Healthy Dining items at popular restaurants. This includes establishing criteria for the recommended menu items and identifying them, along with the corresponding nutrition profiles (eg, calories, fat, fiber).
Today, the Healthy Dining Program is the largest-ever restaurant nutrition initiative, comprised of some 60,000 restaurant locations—from fast food to upscale dining. New restaurants are coming on board regularly, including more independent (single location) restaurants.
The growth of the Healthy Dining Program is evidence that informed consumers are happy consumers. "Healthy Dining's dietitians review the menus of the restaurants to see which items appear to meet our nutrition criteria," Bohm says. "We can also calculate the analysis for those that don't already have it. If the restaurants already have the analysis, we verify accuracy. In some cases, our dietitians suggest a 'Special Request,' a simple modification that typically reduces the amount of calories, fat, saturated fat, and/or sodium or increases the amount of fiber."
Coming Trends
Edwards notes it's a difficult and tricky time for restaurant operators. "With their big CAPEX [capital expenditure] dollars sunk into facilities, product, and labor and being forced to drive traffic through reduced prices, something has to give," he says.
As a result, today's operators are reconsidering staffing models and identifying technological innovations that can cut labor corners and reduce back-office time in favor of customer-facing time.
"Product innovation also certainly hasn't abated because that lure is critical to success," Edwards says. He acknowledges that using locally grown and organic offerings is grabbing the attention of many cash-strapped patrons looking for a healthy yet affordable meal. "These may have considerable appeal to the smaller restaurateurs, but for the large chains, it's a bit of a logistic nightmare to execute effectively," he says.
In her restaurant and menu-development endeavors, Cameron's goal is to increase the purchasing of local produce and grain products. "It's a win-win situation because it's great to give business to smaller local companies and producers," she says. "And on the other side, our customers are also seeking out these local products. Using these products speaks to higher quality raw ingredients, which is great for value."
California's Straw Hat Restaurants, which almost doubled in size in the last year to 63 franchise units, has addressed the economic downturn by making a conscious effort to return to the basics—namely the simple, made-from-scratch food and low prices that have been its signature since first opening five decades ago.
"We make everything from scratch, not processed food, using the same recipes from when we were founded 50 years ago," says Jonathan C. Fornaci, president of Straw Hat Restaurants. "Also, the big reason we are doing well is we promote family—from having team parties to something as simple as the family going out together for an inexpensive dinner. The kids also get entertainment with the games and televisions in all the booths."
Family attractions aside, Edwards has seen the grocery industry doing a pretty successful job of packaging "restaurant-in-a-box" value deals. "The attraction is obvious as consumers still desire a treat but are as time strapped as they are cash strapped," he says. "So the offer of a restaurant-quality prepared meal without the full price tag, plus no babysitting and/or inflated beer/wine tabs, has attraction. I'm reasonably confident we'll also see some restaurants step forward and counter with 'grocery-on-the-run' offers in the future."
— Maura Keller is a Minneapolis-based writer and editor.