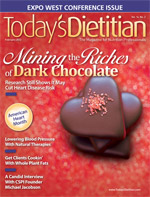 February 2012 Issue
Serve Up Paella — This Dish Is the Crossroad of Sofrito and Saffron
By Bryan Roof, RD, LDN
Today's Dietitian
Vol. 14 No. 2 P. 72
My mother always struggled with the perfect paella. She spent years living in Spain, developing a taste for the Valencian rice dish cooked in a large, wide skillet for which it is named that's likely to contain anything from rabbit to green beans. While the flavor was always outstanding, her paella invariably consisted of undercooked rice that resided on the wrong side of al dente. I wondered if I was doomed to inherit my mother's crunchy paella genes. That is, until I broke it down into its simple elements.
Paella is perhaps the ultimate one-pan meal. It's a dish of humble origins that oddly enough features the most expensive spice in the world, saffron, and its presentation and uniquely robust flavor make it unforgettable. It's all about layering flavors, and to that end I begin by quickly searing whatever meat I happen to be using. The crust that forms on the meat and the fond (browned bits) left behind in the skillet add intensity to the paella. Paella is a balance between the proteins, vegetables, and rice, so there's no need to overload it with any one item: 1 1/2 lbs of bone-in chicken will easily serve six once the other ingredients are considered.
The next layer, and arguably the heart of paella, is the sofrito, a mixture of deeply caramelized onions and tomatoes seasoned with smoked paprika that provides depth to the dish. Cooking this mixture low and slow allows the natural sugars of the onions and tomatoes to concentrate. The sofrito is a time commitment but as it forms the flavor base of the paella, it's not to be neglected. (I usually start the sofrito first and then prep the rest of the ingredients as it cooks.)
The importance of the rice isn't to be forgotten here. Valencian short-grain rice varieties such as Bomba or Calasparra are preferred because they have the ability to absorb large amounts of broth while still holding their shape and remaining firm. Use them whenever possible; however, in a pinch, I've substituted other short-grain rice with great success.
With all the ingredients prepped, it's as easy as adding everything to the skillet, giving it a stir, and letting it simmer away until the rice absorbs all the liquid and is tender. It's a cardinal sin to stir the paella once this process begins. Left undisturbed, a crust forms on the top of the paella that sets everything in place and acts as a lid, allowing the rice below to cook properly.
If my mom was still around, I'm sure she'd be excited about this dish and how I overcame all odds—having a troubled childhood riddled with undercooked paella—to make something that, at the very least, features perfectly cooked rice. Even still, the memory of my mom's will always taste better.
— Bryan Roof, RD, LDN, is a chef, dietitian, and food writer living in Boston.
Chicken and Mushroom Paella
Serves 6
Ingredients
2 T extra-virgin olive oil
2 (12-oz) bone-in, skin-on chicken breasts, each cut crosswise into three pieces
1/2 tsp black pepper
1 1/4 tsp fine sea salt
5 oz shiitake mushrooms, stems discarded, caps quartered
1 large onion, chopped fine
1/2 tsp sugar
2 plum tomatoes
2 garlic cloves, minced
1 tsp smoked paprika, plus extra for serving
1 bay leaf
1 sprig thyme
4 cups low-sodium chicken broth
1 1/2 cups Spanish Bomba or Calasparra rice (or any other short-grain rice)
5 oz fresh or frozen green beans, halved crosswise
1/2 tsp (loosely packed) saffron
Lemon wedges, for serving
Directions
1. Heat 1 T oil in 12-inch skillet over medium-high heat until shimmering. Season chicken pieces with pepper and 1/4 tsp salt. Add to skillet, skin side down, and cook until well browned, about 5 minutes. Flip and cook until no longer pink on second side, about 2 minutes; transfer to plate and set aside. Add mushrooms to now-empty skillet and cook until they just begin to brown, about 3 minutes; transfer to plate with chicken.
2. Remove all but 1 T of fat from skillet. Add remaining 1 T olive oil to skillet, and heat over medium heat until shimmering. Add onion, remaining 1 tsp salt, and sugar. Cook, stirring frequently, until onions are a deep amber color, about 30 minutes, reducing heat and adding water 1 T at a time if onions get too dark. While onions cook, halve tomatoes lengthwise, and rub cut sides on large holes of a box grater over bowl. Reserve pulp and discard tomato skins. Once onions are caramelized, add grated tomato pulp, garlic, smoked paprika, bay leaf, and thyme sprig and cook until darkened and thick, about 10 minutes.
3. Add chicken broth, rice, reserved chicken and mushrooms, green beans, and saffron to skillet and stir to combine. Bring to boil, then reduce heat to medium-low or medium to maintain simmer and cook, uncovered and without stirring, until rice has completely absorbed liquid, about 25 minutes. Let paella rest for 10 minutes before serving with lemon wedges.
(Note: Using bone-in chicken pieces imparts greater flavor to the paella, however, two boneless, skinless breasts may be substituted.)
Nutrient Analysis per serving
Calories: 390
Total fat: 10 g
Sat fat: 2 g
Trans fat: 0 g
Cholesterol: 55 mg
Sodium: 580 mg
Total carbohydrate: 48 g
Dietary fiber: 3 g
Sugars: 3 g
Protein: 26 g