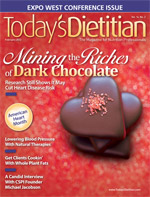 February 2012 Issue
Get Cookin' With Whole Plant Fats — Experts Say It's the Type of Fat Consumed That Counts, Not the Amount
By Sharon Palmer, RD
Today's Dietitian
Vol. 14 No. 2 P. 34
Nowadays dietitians have a new appreciation for healthful fats. While once we cautioned patients against consuming fat-rich whole plant foods such as nuts, seeds, avocados, and olives, today we encourage patients to include these foods in their diets.
To be sure, moderation is key for these nutrient- and calorie-dense foods. But evidence suggests that cardiovascular disease (CVD) risk isn't as much about the amount of fat people consume but the type. During the Academy of Nutrition and Dietetics' 2010 Food & Nutrition Conference & Expo, Walter Willet, MD, PhD, chairman of the nutrition department at the Harvard School of Public Health, reported, "Data in the 1980s found that total fat and coronary heart disease had no corelationship; it was the type of fat, not total fat, in the diet that was important." Willet also stated that research failed to link low-fat diets with energy balance or a lower risk of type 2 diabetes and breast or colon cancer.
Lowdown on Fats
Animal fats contain a higher proportion of saturated fats, which are associated with increased total and LDL cholesterol, insulin resistance, type 2 diabetes, and CVD risk, according to the 2010 Dietary Guidelines Advisory Committee Report. Plant fats, such as nuts, seeds, avocados, olives, and oils made from plants like sunflowers, olives, soybean, and safflower, tend to have a higher proportion of monounsaturated fatty acids (MUFAs) and polyunsaturated fatty acids (PUFAs), with the exception of coconut, palm kernel, and palm oils. Strong evidence suggests that if you reduce saturated fats in your diet and replace them with MUFAs and PUFAs, you can decrease the risk of CVD and type 2 diabetes because these fats improve blood lipid profile and responsiveness to insulin.
But you can take it a step further by replacing saturated fats with whole plant food sources of fats instead of refined plant oils—which are generally stripped of their fiber, vitamins, minerals, and phytochemical compounds—to gain even more benefits.
"There are definite health benefits associated with replacing refined oil with whole foods," says Janet Bond Brill, PhD, RD, LDN, author of Prevent a Second Heart Attack: 8 Foods, 8 Weeks to Reverse Heart Disease. "Despite what many are led to believe, hydrogenation of oils isn't the only process that forms artery-clogging trans fat—albeit the hydrogenation process does form the greatest amount of these deleterious fats. In refining, vegetable oils are commonly heated to a high temperature before deodorization. This process forms trans fats. In fact, even cold-pressed olive oil contains a very small amount of trans fat, generally between 0.1% and 0.3% of the total fatty acids. The message is that if you do use oil, make it cold-pressed extra-virgin olive oil—the least refined. Or even better, use the real thing, the whole food packaged the way Mother Nature intended us to eat it: packed with healthy fats, fiber, vitamins, minerals, and phytochemicals and better yet, virtually trans fat free."
While it may be difficult to swap out all refined plant oils for whole plant fat sources, it's certainly a healthful habit worth developing. For example, numerous studies have found benefits for including nuts in the diet. While most of the research on the benefits of nuts has focused on heart health, they've also been linked with bone health, cancer prevention, improved cognitive function, and diabetes prevention and treatment. It's quite simple to include nut butters or mashed avocado as sandwich spreads instead of refined margarine spreads. You can even replace refined oils in some of your favorite recipes—from quick breads to sauces—with nut butters, ground seeds, and mashed avocado. So take the plunge. Let the nutritional power of these delicious foods shine in your favorite dishes.
— Sharon Palmer, RD, is a contributing editor at Today's Dietitian, a freelance food and nutrition writer in southern California, and author of the forthcoming book The Plant-Powered Diet.
Avocanana Bread
Preparation: 15 min
Cook Time: 1 hr 10 min
Total Time: 1 hr 25 min
Serves 8
Ingredients
1/3 cup old-fashioned oats
1 cup all purpose flour
1 tsp baking powder
1 tsp baking soda
1/2 tsp salt
1 tsp cinnamon
1 ripe, fresh California avocado, seeded
1/4 cup canola oil
1 cup (packed) brown sugar
2 eggs
2 very ripe bananas
1/2 cup chopped walnuts
1/4 cup buttermilk
Directions
1. Line a 9 X 5 X 3-inch loaf pan with nonstick foil and lightly grease the bottom only.
2. Preheat oven to 350 degrees F.
3. Combine dry ingredients: oats, flour, baking powder, baking soda, salt, and cinnamon. Set aside.
4. Scoop the avocado into a large bowl and mash lightly.
5. Add oil and brown sugar to the avocado. Cream together using an electric mixer, until light and creamy.
6. Add eggs, one at a time, beating well after each addition.
7. Stir in bananas, then walnuts and dry ingredients.
8. Stir in buttermilk and beat just until buttermilk is incorporated.
9. Pour into prepared loaf pan and bake in preheated oven for 1 hour and 10 minutes. Avocanana bread is quite moist and may not pass the "toothpick" test at this point. If you prefer a drier bread, bake a little longer.
Yields 1 loaf
*Large avocados are recommended for this recipe. A large avocado averages about 8 ounces. If using smaller or larger size avocados, adjust the quantity accordingly.
Nutrient Analysis per serving: Calories: 360; Total fat: 17 g; Sat fat: 2 g; Trans fat: 0 g; Poly fat: 6 g; Mono fat: 7 g; Cholesterol: 55 mg; Sodium: 400 mg; Potassium: 282 mg; Total carbohydrates: 51 g; Dietary fiber: 3 g; Sugar: 31 g; Protein: 6 g; Vitamin A: 132 IU; Vitamin C: 5 mg; Calcium: 42 mg; Iron: 1 mg; Folate: 53 mcg; Omega-3 fatty acid: 1.4 g
Recipe courtesy of the California Avocado Commission
Whole Plant Fats for Health
Whole plant fats come packed with numerous disease-protective compounds that are linked with several health benefits. Here's a look at their benefits and culinary uses.
 
| | | |
| --- | --- | --- |
| Whole Plant Food Fat | Nutritional Benefits | Culinary Uses |
| Avocados | Packed with monounsaturated fatty acids (MUFAs); vitamins B6, C, E, and K; folate; potassium; magnesium; fiber; and lutein | Use mashed as a dip, salad dressing, spread on bread, and fat replacer in baked goods. Add to sandwiches and salads. |
| Tree nuts and tree nut butters (almonds, brazil nuts, cashews, hazelnuts, macadamias, pecans, pine nuts, pistachios, and walnuts) | Rich in protein, flavonoids, phytosterols, MUFAs, polyunsaturated fatty acids (PUFAs), thiamin, folate, vitamins B6 and E, iron, calcium, magnesium, potassium, zinc, copper, and manganese (levels depend on the nut variety) | Use tree nut butter as spread on bread; as dip for crackers and vegetables; as ingredient in sauces, vinaigrettes, and marinades; and for sautéing in Asian dishes. Use nuts in dishes such as salads, side dishes, stir-fries, baked goods, and cereals. |
| Peanuts and peanut butter | Source of protein; MUFAs and PUFAs; fiber; niacin; folate; pantothenic acid; vitamins B1, B2, B6, and E; choline; magnesium; phosphorus; potassium; zinc; iron; copper; magnesium; selenium; resveratrol; and phytosterols | Use peanut butter as spread on bread; as dip for crackers and vegetables; as an ingredient in sauces, dressings, and marinades; and for sautéing in Asian dishes. Use nuts in recipes such as salads, side dishes, stir-fries, baked goods, and cereals. |
| Olives | Rich in fiber, MUFAs, vitamins A and E, calcium, iron, copper, and range of phytochemicals such as phenols, terpenes, flavones, anthocyanadins, and flavonols | Used finely chopped (tapenade) as a spread on breads and crackers, dip for vegetables, and an ingredient in entrées, side dishes, salads, breads, vinaigrettes, and sauces. |
| Seeds (sesame, sunflower, flax, chia, pumpkin, and hemp) | Depending on the variety, rich in alpha-linolenic acid; MUFAs and PUFAs; protein; fiber; vitamins A, B1, E, and K; pantothenic acid; folate; manganese; calcium; magnesium; phosphorus; selenium; lignans; and phytosterols | Use ground seeds as a spread for breads and sandwiches, dip for crackers and vegetables, a fat replacer in baked goods, and an ingredient in sauces, dips, and dressings. Use whole seeds in salads, side dishes, baked goods, and cereals. |
— Table compiled by author from multiple sources