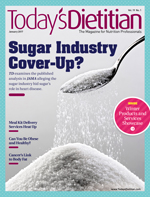 January 2017 Issue
Meal Delivery Services
By Juliann Schaeffer
Today's Dietitian
Vol. 19, No. 1, P. 24
Today's Dietitian profiles eight of the most popular for busy clients who want the convenience of prepping healthful meals quickly.
The premise is pretty much the same: A box arrives at your door, and it contains all you need to prepare two or more meals for the week. Also included is a recipe card, which details how to prep and cook the meal just right, often with nutrition analyses and pretty pictures included. No fretting about where to find potentially unfamiliar items such as hoisin sauce or celeriac in the grocery store, and no need to wonder how you'll ever use it again. All the necessary ingredients are provided—with little if anything left over. One additional bonus: You get to try new recipes you've never tasted before, and many of the meals cater to various diets and eating styles.
Such meal kit delivery services are all the rage (with an estimated $1.5 billion in sales by the end of 2016, according to a November CNBC article about the trend). More than 100 companies occupy this space today, catering to different niches, tastes, diets, eating patterns, and even health parameters and conditions. You'll pay for the convenience, for sure, but most kits cost less than you'd pay for the same meal at a restaurant—and some argue it's less than you'd pay for items in bulk at the grocery store, especially if you're not adept at using those leftover celery stalks or chicken broth elsewhere.
Good deal—or good way to rip people off? Depends on whom you ask. Janet Colson, PhD, RD, a dietitian and nutrition professor based in Tennessee, admits that at first glance, she wasn't sold on the idea. "As a thrifty (and older) registered dietitian, my original reaction was, 'I can't believe anyone would pay that much.'" But she needn't look further than her daughter to find a fast devotee. "My 35-year-old daughter, and mother of two young children, loves them!" she says. "My daughter's take is that you have no food waste. If a recipe calls for two stalks of celery and one small red onion, they include that specific amount."
While Colson has yet to try such meal kits for herself, she admits that for certain clients, such as those with a limited culinary background or time to spare, the meal kits may be cheaper than dining out.
Food waste was one of the factors that inspired Chicago-based dietitian and nutrition communications consultant Caitlin Plank, MS, RD, LDN, to try these services. "My husband and I found that fresh ingredients we purchased often went bad before we had time to use them (despite our intentions to make dinner at home)," she explains. "And while neither of us is opposed to leftovers, some of the recipes we did try would make way more than dinner plus lunch for the next day (and we didn't want the same meal so many times in a week). For the weeks where we didn't make it to the grocery store, we were spending a lot of money on meals away from home."
So she took a leap and ordered a box from HelloFresh. Overall, she says she enjoyed the ability to customize the size and frequency of meals, as well as the chance to improve her cooking skills. And while she admits the price point sounds high to some, she believes she at least broke even (when factoring in food waste and the time to plan, shop, and prep). She admits she didn't scrutinize the nutrition information but notes they seemed balanced to the naked eye, including protein, whole grains, and veggies.
According to the CNBC article, about 3% of US consumers (8 million people) have tried meal kit delivery services thus far, though potentially troubling statistics point to a customer retention problem among many of the companies. Could it be in part because new customers often take advantage of heavily discounted meal kits when signing up for a service?
The jury's still out on the future of the meal kit delivery trend, but for now, here's a guide to share with interested clients to eight of the most popular or otherwise innovative services with largely nationwide coverage.
HelloFresh
Overview: One of the earlier innovators, HelloFresh has been around since 2012 and offers chef-curated recipes that seek to give customers a chance to taste a variety of cuisines and flavors. With a team of RDs on staff, nutrient content is a keen focus from recipe concept to creation. Meals are meant to take 30 minutes or less of cooking time.
Meal breakdown: HelloFresh offers classic boxes, which include meat and fish recipes; veggie boxes, which are vegetarian with plant-based proteins; and family boxes, which are meant to be more healthful takes on kid-friendly favorites. HelloFresh has partnered with Jamie Oliver, and one of his recipes is highlighted each week. The meal kits don't cater to specific dietary needs, but in keeping with FDA regulations, the company does disclose all allergens on nutrition labels.
Meals generally fall around or under 650 kcal with an average of 12 g sugar. HelloFresh shoots for meals with less than 35 g fat and 10 g saturated fat (never to exceed 45 g fat or 15 g saturated fat) and more than 15 g protein, with the average classic meal containing 42 g protein and the average veggie meal containing 24 g protein.
Full nutrition facts are listed on the website as well as on the recipe cards themselves. Its freekeh salad with Brussels sprouts, roasted butternut squash, and apples contains 704 kcal, 29 g fat, 8 g saturated fat, 27 g protein, and 379 mg sodium.
What it costs: Starts at $69 for a classic box (three meals for two people), $59 for a veggie box (three meals for two people), $105 for a family box (three meals for four people).
How it gets to your door: In an insulated box, with proteins packed in ice separate from vegetables. Delivered nationwide to the lower 48 states and also in eight international countries.
For more information, visit www.hellofresh.com.
Blue Apron
Overview: Another meal kit delivery service early on the scene since August 2012, Blue Apron aims to reach a range of customers from beginners to experienced cooks. It leans on its direct relationships with independent American farmers and growers, as its culinary team works directly with farmers, ranchers, and artisans to craft recipes that highlight their specialty ingredients in the height of their season.
Meal breakdown: Blue Apron is a subscription-based model that offers vegetarian, pescetarian, and omnivore plans each week. Customers can choose from six new meals with the two-person menu or four new meals from the family menu, and can skip deliveries at any time with at least one week's notice.
Blue Apron chefs aim for meals that fall between 500 and 800 kcal per serving, providing balanced recipes that include healthful portions of vegetables, grains, and proteins. Nutrition information isn't offered on recipe cards but is available on its website. Its pork meatloaf with mashed rutabaga and sautéed collard greens totals 620 kcal, 37 g fat, 15 g saturated fat, 31 g protein, and 320 mg sodium.
What it costs: A two-person plan includes three meals per person per week: $9.99/meal or $59.94/box. The four-person family plan includes either two or four meals per person per week, at $8.74/meal, or $69.92/box for two meals.
How it gets to your door: Blue Apron ships nationwide in insulated boxes. All of its packaging is recyclable or biodegradable. It's working with Earth911 to help customers find local recycling centers and also has launched a returns program to foster the reuse of more of its shipping materials.
The company ships fresh ingredients and recipes in boxes that include ice packs and insulation to keep the ingredients fresh in transit. Blue Apron works with a network of shipping partners to deliver boxes across the country.
For more information, visit www.blueapron.com.
Plated
Overview: Also around since 2012, Plated focuses on fresh ingredients and globally inspired recipes. Its newly expanded menu features 11 dinner options—along with two desserts. Every menu offers recipes with vegetarian selections, gluten-free ingredients, proteins from land and sea, and fresh produce that changes with the seasons, says Jenna Robeson, director of nutrition science and regulatory affairs.
Meal breakdown: Plated focuses on seasonality, quality, and sustainability of all included ingredients, aiming for balance across offerings from high-protein seafood dishes to fiber-filled farro bowls and meatless options for vegetarians.
"With changes taking place to Nutrition Fact panels and serving sizes, we have tried to stay attentive to our customer's requests," Robeson says. "Estimated calorie counts for specific recipes may be found on the menu page, but a typical entrée is around 600 to 800 calories."
Some of Plated's most popular meals include the salmon poke bowl, Korean beef tacos, and chicken marsala.
What it costs: Plans start at $48 for two dinners per week plus shipping and $72 for three dinners per week (free shipping for orders of three or four dinners per week).
How it gets to your door: Insulated boxes containing foods packed in ice, which are currently shipping to 95% of the United States.

For more information, visit www.plated.com.
Terra's Kitchen
Overview: Terra's Kitchen, a newer meal kit delivery service that began catering to the health-conscious in early 2016, aims to offer nutrient-dense, well-balanced, seasonal meals that are prepped. (While all meal kits discussed in this article are intended to include only the ingredients needed for recipes sent, most still require some preparation, such as chopping, dicing, or mincing. Terra's Kitchen does that prep work before shipping, minimizing even more of the effort needed to compile meals.)
Terra's Kitchen offers subscriptions for a variety of meal types, including vegetarian, gluten-free, vegan, paleo, and low calorie, and no recipe requires more than 30 minutes of cooking.
Meal breakdown: Customers can choose from more than 40 meals on the website (new selections are added twice per month), such as pecan-crusted tilapia with lemony fennel-arugula salad and turkey spinach meatballs in skinny Sunday gravy. Meals are based on key nutritional tenets, similar to the Mediterranean diet, promoting an optimal carb to protein ratio, clean ingredients, plant-heavy meals, and an abundance of healthful fats.
On average, Terra's Kitchen aims for the following nutritional parameters in a typical serving: around 530 kcal, fewer than 45 g carbs, 7 g fiber, fewer than 10 g sugar, 33 g protein, 25 g fat, 6 g saturated fat, and 9 g monounsaturated fat.
What it costs: Choose from three plans (three dinners for two people, four dinners for two people, or two dinners for four people), at a $64.99 minimum delivery with free shipping and handling.
How it gets to your door: Unique to Terra's Kitchen, meal kits arrive in a climate-controlled, eco-friendly vessel with interior drawers that keep all the prepped food safely intact and separated as necessary. The vessel is reusable. It ships nationwide and comes with a return shipping label that gets sent back to the company the day after it's delivered to your door to be reused up to 100 times.
For more information, visit www.terraskitchen.com.
Martha & Marley Spoon
Overview: Marley Spoon's been around since April 2015, but a partnership with Martha Stewart is a bit more recent (April 2016). With a culinary team headed by Jennifer Aaronson, the former food & entertaining editor for Martha Stewart Living, Martha & Marley Spoon meals are meant to share Martha Stewart's passion for seasonal, healthful, and delicious home cooking while remaining easy enough for customers to prepare on a busy weeknight—all while supporting local farmers.
Meal breakdown: Customers can choose from two subscription plans: a two-person plan and a family plan, which feeds two adults and two children and offers more kid-friendly foods. Every week, customers receive an e-mail with five to seven new recipes (at least three are vegetarian), from which they can choose, or they can skip the week. All meals are designed to be prepped and cooked within 40 minutes, and recipe cards include smart cooking techniques and other tips.
One dish example: pork tenderloin and grapes with parsnips and spinach, which contains 540 kcal, 20 g fat, and 38 g protein. Recipe cards list only calories per serving and offer an abbreviated nutrition facts list on the website compared with some other meal kit delivery services.
What it costs: Meals range from $8.70 to $12 per portion, with the most popular plan (three meals for two people) totaling $61.50.
How it gets to your door: Martha & Marley Spoon delivers to most of the contiguous United States (free shipping), and all meals are divided into brown paper "dish bags" with proteins and dairy items shipped beneath ice packs to keep cool. All come neatly packaged in a cardboard box—which is notable, since Martha & Marley Spoon makes a point to focus on sustainability. For example, all paper-based tapes and bags and even polyethylene bags are fully recyclable.
For more information, visit www.marleyspoon.com.
PeachDish
Overview: PeachDish is all about the South. It's where it gets many of the ingredients for its meals and is the source of its inspiration. This kit is for Southerners at home and at heart. Think chicken and dumplings and shrimp and grits. Chefs develop meals aimed to highlight in-season foods, with many ingredients sourced locally to the Southeast.
Meal breakdown: From the website, customers choose from at least eight weekly menu options—one-half of these are swapped out seasonally, while the other half are refreshed weekly. Serving a crowd? Individuals can order up to 12 servings per dish (no fewer than two). PeachDish aims to ensure three vegetarian options are available, and gluten-free dishes are specifically labeled.
PeachDish has an RD on staff who helps to ensure meals follow USDA serving size recommendations and contain appropriate macronutrient distribution, and all nutrition facts are placed inside each meal kit. Notably, in 2016 PeachDish launched a "SuperFood Series," through which at least two superfood dishes are offered each week, featuring ingredients such as wheat berries, pepitas, kale, and edamame.
For example, in PeachDish's Butternut Squash & Three-Bean SuperFood Chili, squash is used in place of ground beef, with additions of roasted red pepper and savory nutritional yeast. Each serving contains 484 kcal, 16 g fat, 4 g saturated fat, 706 mg sodium, 20 g fiber, and 18 g protein.
What it costs: Boxes start around $12.50 per person per meal, depending on the number of meals ordered.
How it gets to your door: All meals are packaged at PeachDish headquarters, south of Atlanta, and arrive in an insulated box. Meals ship nationwide to the contiguous United States. One perk to becoming a regular subscriber: free shipping.
For more information, visit www.peachdish.com.
Chef'd
Overview: Chef'd has lots of partners in its meal planning. And unlike some meal delivery services, Chef'd offers both à la carte meal and dessert offerings, meaning no subscription required, as well as subscription-based meal plans.
As Kyle Ransford, founder and CEO of Chef'd, notes, the company works with a plethora of well-known chefs, including Scott Conant and Alex Guarnaschelli, as well as the American Diabetes Association, Weight Watchers, Atkins, The New York Times (which highlights meals, such as beef bourguignon, curated by culinary pros), and many others.
Meal breakdown: Because Chef'd offers à la carte meals, customers can use the website to filter through the 300-plus available meals for their particular dietary restrictions (such as gluten-free or vegan), preference (such as low carb or family friendly), preferred skill level, and even cook time.
Chef'd offers subscription-based meal plans for customers who follow the Weight Watchers diet or the Atkins lifestyle. Nutrition particulars vary greatly depending on meal specifics and plans. According to Ransford, one Atkins best seller is zucchini chicken alfredo (522 kcal, 41.8 g fat, 21.8 g saturated fat, 29.8 g protein, and 517 mg sodium).
There's also a plan that was developed in accordance with the American Diabetes Association. For this, dietitians evaluate and OK the meals to ensure they meet the association's nutrition guidelines for people with diabetes, Ransford says, noting that diabetes-friendly Chicken Lover Balsamic Chicken with Cherry Tomatoes (250 kcal, 10 g fat, 1.8 g saturated fat, 210 mg sodium, 27 g protein for a 4-oz chicken serving with 3 oz green beans) is a favorite among these customers.
What it costs: Two-serving à la carte meals range from $15 to $46; four-serving à la carte meals range from $25 to $79. In general, Ransford says per-serving meals range from $6.50 to $23.
How it gets to your door: Meals are packaged in Brooklyn, New York, or El Segundo, California, and arrive in an insulated box. Both à la carte and meal plans are available nationally to the lower 48 states.
For more information, visit www.chefd.com.
Green Chef
Overview: A USDA-certified organic meal kit delivery service, Green Chef offers chef-developed recipes that require 45 minutes or less of prep and cooking time. Menus cater to a range of dietary preferences, including paleo, gluten-free, vegan, and vegetarian, and aim to offer complex and varied flavor profiles. The company vets its suppliers to ensure they follow ethical, sustainable practices, and uses GMO-free ingredients whenever possible. Not only are 95% of its ingredients organic but all can also be tracked from supplier to the dinner table.
Meal breakdown: Plans for various dietary preferences and restrictions include vegetarian, omnivore (two meat or seafood with one veggie dish), carnivore (three meat or seafood dishes), gluten-free, paleo, and vegan. The company aims for well-balanced meals with loads of organic vegetables and other wholesome ingredients. In fact, all ingredients are USDA-certified organic and GMO-free whenever possible. One example of what this looks like: a fall harvest bowl with kale, walnuts, barley, roasted veggies, and fresh pear. On its vibrantly colored recipe card, customers will see that the meal contains 560 kcal. For the remaining nutrition information, they'll have to visit the website, where a full nutrition label reads 21 g fat, 3 g saturated fat, 21 g fiber, 18 g protein, and 290 mg sodium.
What it costs: Two-person plans with three dinners range from $10.49 per serving for the vegetarian option to $14.99 per serving for the paleo selection. Family plans (two dinners with four servings each) are priced at $11.99 and $12.99 per person (for omnivore and carnivore plans, respectively).
How it gets to your door: Green Chef ships to the contiguous United States (with a few exceptions) and true to its name, makes a continuous effort to work with environmentally conscious suppliers. Each box is made of recycled and recyclable and/or compostable materials, and in 2016 Green Chef reduced the size of its boxes used to ship ingredients and switched to a new type of insulation.
For more information, visit https://greenchef.com/home.
— Juliann Schaeffer is a freelance writer and editor based outside of Allentown, Pennsylvania, and is a regular contributor to Today's Dietitian.