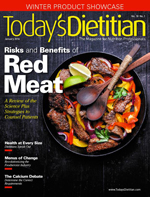 January 2016 Issue
Menus of Change
By Leslie Bonci, MPH, RDN, CSSD
Today's Dietitian
Vol. 18 No. 1 P. 30
This foodservice initiative is encouraging collaboration among leaders in nutrition and environmental science to offer healthful, sustainable food and food systems to the masses.
Sustainability and environmental stewardship have become critical components of current agriculture, as well as dietary and culinary arts initiatives that many dietitians have become passionate about. Unfortunately, sustainability and environmental stewardship haven't traditionally been a part of the curriculum for RDs and typically aren't considered areas of expertise in dietetics.
To help dietitians become more knowledgeable, the Hunger and Environmental Nutrition Dietetic Practice Group of the Academy of Nutrition and Dietetics (the Academy) developed standards of professional competency for sustainability and environmental stewardship. These standards were developed in 2014 so RDs could assess their current skill level and learn the core principles of sustainability, and resilient and healthy food and water systems, and integrate them into practice. "We have to understand that sustainability and environmental stewardship issues and concerns need to be a part of our professional competencies," says Anna Ardine, MBA, RD, LDN, clinical nutrition manager at Magee-Women's Hospital of University of Pittsburgh Medical Center (UPMC) Health System in Pittsburgh. An article published in the October 2015 issue of the Journal of Nutrition and Dietetics includes recommendations for RDs to increase their proficiency in environmental issues. "From farm to fork, improving food's sustainability is critical to achieving nutrition security and lessening agriculture's environmental impact," the authors write.1 According to Mim Seidel, MS, RD, an instructor at Falk School of Sustainability at Chatham University, dietitians who have an understanding of the issues surrounding sustainability and the environment will be in a better position to make an impact in the lives of their clients and communities.
Many nutrition professionals have become more aware that the concept of sustainability is one of inclusivity and broad reach, encompassing food production, processing, purchasing, preparation, consumption, and disposal, and that they need to prepare themselves to make an impact in all of these areas. In fact, many are doing just that in their communities and on a wider scale through Menus of Change, an initiative that's encouraging collaboration among leaders in nutrition research, public health, the environmental sciences, culinary arts, and the business sector to provide healthful, sustainable food and food systems. Launched in 2012 by The Culinary Institute of America (CIA) and the Harvard T.H. Chan School of Public Health, the program's mission is to educate food and foodservice professionals on how to create meals that are delicious, nutritious, healthful, environmentally sustainable, socially responsible, and ethical.2
Concept of Menus of Change
The CIA's Sustainable Business Leadership Council and Scientific and Technical Advisory Council created Menus of Change. Council members include scientists and other experts who work in the areas of nutrition, food, agriculture, the environment, and business management.
Amy Myrdal Miller, MS, RD, president and founder of Farmer's Daughter Consulting, a nutrition communications and marketing firm, and former program director of Menus of Change, says the initiative grew out of the CIA-Harvard Worlds of Healthy Flavors program she led for eight years, and eventually became a leadership initiative for foodservice professionals, including chefs, menu decision makers, and RDs from chain restaurants, campus dining operations, supermarkets, and contract foodservice companies.
The Menus of Change initiative integrates nutrition and environmental science to develop recommendations that help foodservice and culinary professionals address the provision of optimal nutrition, environmental stewardship and resilience, and social responsibility within the foodservice industry.
One company that implements strategies based on the Menus of Change philosophy as part of its sustainability platform is Compass Group North America, a foodservice management and support services company based in Charlotte, North Carolina.3 The company purchases a minimum of 20% of its produce and other products from local and regional sources, has increased the purchase of animal proteins from suppliers who promote the welfare of farm animals, sources foods produced with as few chemicals and antibiotics as possible, and uses the USDA Organic label for first-choice options on menus when available. In addition, the company serves only wild-caught and aquaculture seafood from environmentally responsible sources (or those on a path toward improvement), has reduced red meat purchases by 30% based on 2014 volumes, and has reduced the eco-footprint of its foodservice operations in food, energy, water, and landfill waste.
Another foodservice company that has implemented Menus of Change strategies to improve nutrition and environmental stewardship among its 9,000 client sites around the world is Sodexo. The University of Pittsburgh, one of Sodexo's clients, participates in a fossil-free fuel program, has phased out Styrofoam packaging in favor of biodegradable and compostable packaging products, purchases local produce when available, and uses a compost system and trayless dining to reduce food waste.4
The Leadership Summit
The driving force behind the Menus of Change concept is the program's annual Leadership Summit, where leaders in the culinary, foodservice, policy, research, and environmental arenas gather to attend sessions and develop ideas for improving health and the environment and create business strategies that shape the American foodservice industry. Speakers at the Leadership Summit include experts from health care organizations, research, academia, finance, culinary arts, and sustainability. Topics are selected to build upon dialogue from past summits and to address areas of concern moving forward.2 Attendance at the Leadership Summit is by invitation only and includes chefs and menu decision makers; food and beverage executives from independent restaurants, chain restaurants, and other volume foodservice operations such as hotels, universities, supermarkets, and corporate dining services; leaders in research, nutrition, sustainability, and public health from government agencies and academia; and members of the media. RDs interested in attending can apply by completing an application and are notified if they're invited to attend. The cost of attendance is approximately $1,000 for the three-day program.
The goals of the Leadership Summit reflect the following three concepts:
• to create a venue and action plan for collaboration among leaders in nutrition research and public health, the environmental sciences and sustainability, and culinary arts and business innovation;
• to develop new models of food and foodservice innovation that address future sustainability concerns and are considered fiscally responsible; and
• to educate the next generation of culinary and business leaders about strategies that address healthful food, environmental concerns, and social responsibility.
One of the initiatives associated with the action plan that may be of special interest to RDs who teach in culinary programs at universities or private institutions involves developing industry-standard culinary education programs for students and professionals. Curriculum development emphasizes providing optimal nutrition by incorporating the themes of Menus of Change while creating delicious dining experiences. Johnson and Wales University (JWU), a private, nonprofit institution, with campuses in Providence, Rhode Island; Miami; Denver; and Charlotte, North Carolina, introduced a Wellness & Sustainability course three years ago that has become a crucial part of JWU's "Changing the Way America Eats" initiative. The initiative resulted in new courses, degree programs, and collaborative opportunities in nutrition and sustainability.5
A second initiative associated with the action plan involves launching online and social media platforms. RDs, many of whom already engage in social media, may be particularly interested in this initiative as the quickest way to reach millions of individuals and serve as influencers of healthful eating and environmental responsibility.
Plant-Forward Eating
One of the most important take-home messages of Menus of Change is plant-forward eating—the new paradigm for healthful, sustainable menus. Plant-forward eating entails moving nuts and legumes to the center of the plate, decreasing portions and eating frequency of animal-based proteins, and choosing produce first. RDs need to be familiar with how to replace animal protein with plant-based protein and retain nutritional adequacy, great taste, and affordability. "This creates opportunity for diversified diets, but is also more economically realistic for consumers," Myrdal Miller says. "We as RDs need to embrace options for people of all income levels."
Elaine Magee, MPH, RD, former wellness and performance nutritionist at Stanford University in Stanford, California, says, "After I attended the Menus of Change Leadership Summit, I wanted to share the findings with other university dietitians, so I submitted a webinar idea on decreasing meat portions to the nutrition committee of the National Association of College and University Food Service (NACUFS). I teamed up with Arlin Wasserman, chair of the Menus of Change Sustainable Business Leadership Council, and Steve Solomon from The Mushroom Council. Arlin discussed the Menus of Change initiatives. I talked about foodservice strategies to decrease meat portions and the health benefits, and Steve talked about the cool new trend of blending meat with mushrooms that's sweeping the nation."
Foodservice Initiatives
In addition to plant-forward eating, foodservice operations are the major component of Menus of Change. Several of the sessions offered at the 2015 Leadership Summit focused on what can be done to optimize nutrition with a plant-forward emphasis and implement strategies that are environmentally viable. The Bruin Plate restaurant at UCLA is an example of a foodservice operation that has incorporated strategies gleaned from the Leadership Summit. The restaurant focuses on nutritionally balanced options, plant-based entrees, seasonal and locally sourced produce, composting, and reducing portion sizes to reduce food waste, says Dolores Hernandez, MA, RDN, nutrition education coordinator for UCLA Dining Services. The Bruin Plate restaurant sources high-quality lean meats and a greater variety of fresh vegetables. Chefs use healthful cooking techniques such as grilling, roasting, baking, and poaching to capture the freshest flavors. Desserts are lower in fat and fruit focused. Menu offerings include sustainable foods, such as vegetables from local farms, seafood that meets Monterey Bay Aquarium sustainability criteria, grass-fed beef, free-range chicken, cage-free eggs, and fair trade teas. And the restaurant composts 100% of its pre- and postconsumer waste.6
Another foodservice operation that has successfully implemented Menus of Change concepts is the Magee-Women's Hospital of UPMC Health System, which calls its program a green team initiative.7 The hospital has created onsite organic vegetable and herb gardens. Produce from the gardens is used to develop healthful menu options for the cafeterias, cafés, and patients' meals. "With foundation grants, hospital courtyards were transformed from annual gardens to produce gardens that benefit our patients and staff," Ardine says. "The hospital administration is a leader in sustainability and healthful eating and felt that this initiative would resonate well with the mostly female patient population. The garden has gone from growing lots of different vegetables to a few that are regularly used on the menu. A large portion of the harvest ends up in the salad bar where signage is used to educate patients, visitors, and staff."
How to Get Involved and Make an Impact
Whether dietitians work in foodservice, clinical care, retail, private practice, or the media, they can make an impact in the food industry and among consumers by sharing their food and nutrition expertise with the masses while being an advocate for plant-forward eating, sustainability, cost reduction, convenience, and taste. RDs who work with consumers one-on-one, in groups, or via social media get valuable feedback on consumer preferences and concerns, which can be helpful to the food industry. RDs also are in a position to discuss the importance of evidence-based nutrition information with food industry experts and communicate the food industry's messages to consumers.
According to Myrdal Miller, it's important for dietitians to participate in conversations with foodservice industry experts, research scientists, chefs, menu decision makers, and those in the culinary arts to help develop new budget-sensitive models for healthful, sustainable food choices that will increase consumer acceptance while preserving food traditions and honoring cultural diversity. She also recommends RDs take steps to make changes to existing nutrition education curriculum in dietetics programs that combine the science of nutrition and the environment with cuisine. RDs who teach courses in a nutrition and dietetics program should be the ones to spearhead this effort, she says.
Moreover, dietitians can make a difference in educating consumers about food waste by providing tips on purchasing, preparation, and storage. This may extend to teaching a class such as appliance boot camp to help individuals learn or relearn better ways to use a blender, food processor, or crockpot. And since hydration is a tenet of nutrition, RDs can educate clients on environmentally and economically sound strategies that decrease reliance on water bottles and can demonstrate the value of reusable/refillable containers.
To further broaden their influence and conversations from nutrition and health to the larger issues of sustainability and environmental stewardship, dietitians can educate people in their community by participating in a food demo that focuses on plant-forward cuisine with a chef at a local church, after-school program, YMCA, or community college. They can teach consumers how to roast vegetables, use beans to thicken soups and stews, and make vegetable smoothies, veggie burgers, grain pilafs, and hot cereals. RDs also can do research on the community gardens in their area with which they can get involved, lead a farmers' market tour where they can introduce attendees to the local farmers and increase their knowledge of agricultural practices, and consider leading grocery store tours that focus on plant-based cuisine and minimizing food waste.
Evidence-based recommendations, not sensationalism or emotion, should be the basis for educating food and nutrition professionals and consumers about sustainability and environmental stewardship. Dietitians must be agents of change to preserve tradition, conserve resources, and best serve the needs of their clients and patients.
— Leslie Bonci, MPH, RDN, CSSD, is the founder and owner of Active Eating Advice, a nutrition consulting company based in Pittsburgh. She recently diversified her professional menu, moving from a primarily sports nutrition-related practice to developing programs for kids that enable them to cultivate in the garden, create in the kitchen, and dedicate themselves to the goal of decreasing waste and preserving environmental space.
References
1. Vogliano, C, Steiber A, Brown, K. Linking agriculture, nutrition, and health: the role of the registered dietitian nutritionist. J Acad Nutr Diet. 2015;115(10):1710-1714.
2. Menus of Change — the business of healthy, sustainable, delicious, food choices. http://www.menusofchange.org/annual-conference-info/. Accessed November 22, 2015.
3. Compass Group 2015 sustainability platform. http://www.compass-usa.com/pages/sustainability.aspx. Accessed November 22, 2015.
4. University of Pittsburgh dining services. http://www.pc.pitt.edu/dining/sustainability.php. Accessed November 22, 2015.
5. Johnson and Wales University is changing the way the world eats. http://www.jwu.edu/eathealthy/. Accessed November 22, 2015.
6. The Bruin Plate concept. http://bruinplate.hhsmarketing.org/about.php. Accessed November 22, 2015.
7. Environmental Initiatives at Magee-Women's Hospital of UPMC. http://www.upmc.com/locations/hospitals/magee/about-us/pages/environmental-initiatives.aspx. Accessed November 22, 2015.
[Sidebar]
PURSUING HIGHER EDUCATION
To become more proficient in environmental stewardship, and agricultural and sustainability issues, dietitians can increase their knowledge of these topics by pursuing degree programs at universities.1,2 The Falk School of Sustainability at Chatham University in Gibsonia, Pennsylvania, offers a two-year Master of Arts program in sustainability (www.chatham.edu/MSus) and a Master of Arts in food studies program. Courses include food politics, food marketing, sustainable agriculture, and food writing. Field experiences and internships focus on sustainable culinary practices, soil science, food systems mapping, and sustainable meat production. "The food system encompasses farm to table to waste stream," says Mim Seidel, MS, RD, an instructor at Falk School of Sustainability at Chatham University. "Dietitians talk to consumers about food [such as] what to eat and why to eat certain foods, and in a foodservice application RDs provide expertise in menu planning and food purchasing." At Chatham University, "We help improve consumers' cooking skills and foodservice efficiency by teaching strategies on food preparation and storage to reduce waste, which benefits the individual's or institutions' budget as well as the environment."
Iowa State University's nutrition program offers a new course on the societal impact of food systems. If dietitians don't want to pursue additional coursework, they can become familiar with plant-forward eating and environmental stewardship by attending plant-centric cooking classes. There, they can expand their food and nutrition knowledge for menu development and educating consumers. Chef-led vegetarian cooking classes help RDs to perfect the nuances of flavoring plant-based dishes to create memorable eating experiences.
While many RDs may not be experts on topics such as animal welfare, agriculture, the supply chain, and crop care, they have opportunities to visit farms and familiarize themselves with these important issues. Each year, regional and national nutrition conferences offer farm tours they can attend. For example, at the Academy of Nutrition and Dietetics' (the Academy) Food & Nutrition Conference & Expo® in October, attendees had the chance to go on two farm tours where they learned about sustainability and agricultural practices. Members of the Academy can join the Hunger and Environmental Nutrition Dietetic Practice Group, which published a comprehensive paper on sustainability,3 and the Food & Culinary Professionals Dietetic Practice Group. Both groups offer continuing education courses focused on agriculture and food production issues. RDs also should review program offerings at state conferences, as several offer sessions on sustainability and plant-forward cuisine. The focus of the 2016 SCAN Symposium is on sustainability. For more information, visit www.scandpg.org/2016-symposium.
— LB
References
1. Toward a healthy sustainable food system. American Public Health Association website. http://www.apha.org/policies-and-advocacy/public-health-policy-statements/policy-database/2014/07/29/12/34/toward-a healthy-sustainable-food-system. Accessed September 17, 2015.
2. Lipinski B, Hanson C, Waite R, Searchinger T, Lomax J, Kitinoja L. Reducing food loss and waste: creating a sustainable food future, installment two. World Resources Institute website. http://www.wri.org/publication/reducing-food-loss-and-waste. Accessed September 17, 2015.
3. American Dietetic Association. Healthy land, healthy people: building a better understanding of sustainable food systems for food and nutrition professionals. http://www.hendpg.org/docs/sustainable_primer.pdf. Published March 16, 2007. Accessed September 17, 2015.