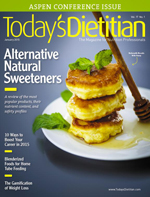 January 2015 Issue
Warm Winter Produce and Tahini — A Bowl Full of Nourishment to Kick Off the New Year Right
By Grace Dickinson
Today's Dietitian
Vol. 17 No. 1 P. 66
This month about 45% of Americans will make a new year's resolution. The No. 1 goal in 2014 for many people was to lose weight, according to a study published in the Journal of Clinical Psychology. I'd bet my entire life's supply of peanut butter that this same resolution will rank No. 1 again this year, and with the prevalence of overweight and obesity continuing to rise, setting a goal to drop unwanted pounds isn't a bad resolution to make.
One of the primary ways of achieving weight-loss success is to eat plenty of healthful foods such as fruits, vegetables, whole grains, and legumes while limiting sugary beverages and calorie-dense fare. And creating the Nourish Bowl is a great place to start.
What is a Nourish Bowl? Aside from becoming a popular recipe concept within the health-conscious blogging community, a Nourish Bowl is exactly what it sounds like—a meal containing a variety of nutritious ingredients that fit into one bowl. The ingredients you choose can vary widely, but its key makeup remains the same. Each bowl must contain a whole grain, a lean protein, a healthful fat, a green vegetable, a raw produce selection, and a variety of other vegetables. The concept closely aligns with the macrobiotic diet, a Japanese style of eating that calls for grains, such as brown rice and millet, to represent 50% to 60% of every meal; veggies, such as leafy greens and crunchy carrots, to account for roughly 30%; and legumes, such as lentils to make up approximately 10%. This eating pattern incorporates an array of colors, tastes, and textures, which can be achieved through various cooking methods. For example, steaming creates a soft texture that contrasts with the raw component of a dish.
The Nourish Bowl captures much of this and is considered a filling and satisfying meal due to its fiber content. The following Nourish Bowl recipe includes winter produce, such as steamed sweet potatoes and crispy roasted broccoli alongside a hearty mix of lentils and brown rice. Avocado adds a slight richness, and the creamy sesame tahini sauce pulls the entire bowl of flavors together.
Whether or not your goal is to lose weight, this is a recipe that will enable everyone to take advantage of nature's winter bounty. This meal will enable you to start off the new year on a light and healthful foot.
— Grace Dickinson is a photo enthusiast, food blogger, and recipe developer for FoodFitnessFreshAir.com.
Winter Nourish Bowl
This recipe welcomes the new year with a nourishing meal-in-a-bowl filled with lean proteins, grains, and winter vegetables. A creamy tahini sauce adds richness to the dish as it pulls all the flavors together.
Serves 4
Ingredients
1 cup brown rice
1/2 cup green lentils
1 tsp sea salt, divided
1 medium-to-large sweet potato, diced
1 head broccoli, chopped into bite-sized florets
2 shallots, chopped
1/2 T olive oil
1/4 cup flat-leaf parsley
1/2 cup sesame tahini
1/2 cup lemon juice
1/4 cup nutritional yeast
2 cloves of garlic, minced
Freshly ground black pepper
4 cups of spinach
1 avocado, diced and sprinkled with salt
Directions
1. Preheat oven to 400° F.
2. Rinse rice and lentils in a strainer. Place in a medium saucepan with three cups of water and 1/2 tsp sea salt. Bring to a boil, then reduce to a simmer, cover, and cook for 30 minutes.
3. Add the sweet potato and another 1/2 cup of water. Cook another 15 to 20 minutes, or until sweet potatoes are soft.
4. Meanwhile, place broccoli and shallots on a baking sheet and toss with olive oil. Roast in the oven for 15 minutes, or until broccoli is crisp and begins to brown.
5. Whisk together parsley, tahini, lemon juice, nutritional yeast, garlic, 1/2 tsp sea salt, and ground pepper to make dressing. Adjust salt to taste, if needed.
6. Per bowl, place one cup of spinach on one side, and the lentil, grain, and sweet potato pilaf on the other side. Place broccoli and shallots on top of the spinach, and avocado on top of the grains. Drizzle dressing on top. Repeat with remaining bowls. Serve.
Nutrient Analysis per serving
Calories: 511; Total fat: 24 g; Sat fat: 3 g; Trans fat: 0 g; Cholesterol: 0 mg; Sodium: 600 mg; Total carbohydrate: 58 g; Dietary fiber: 19 g; Sugar: 1 g; Protein: 22 g