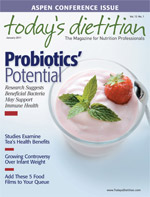 January 2011 Issue
Beets — The Jewel in Denial
By Bryan Roof, RD, LDN
Today's Dietitian
Vol. 13 No. 1 P. 64
Until recently, I honestly never cared for beets. They taste like sweetened dirt; stain your fingers, countertop, and clothes; and are the perpetuator of dishes such as borscht, one of the few tasting experiences I've yet to wrap my head or heart around.
However, beets are widely touted for their health benefits, offering a range of vitamins and minerals. Ignoring them seemed futile. Besides, I feel it's my duty to know and understand the passion with which some wax over these firm, soil-coated rubies, so I began making myself eat them and eat them in many different ways—but, no, not in borscht. In salads, invariably involving goat cheese; a combination that seems to border on necessity rather than choice for beet lovers; roasted with a host of other root vegetables; as a faux "tartar"; as a color-enhancing addition to mashed potatoes; in fresh ravioli sauced with brown butter; and even pickled. I've tried those adorable baby beets that come not only in their trademark maroon but deep sun yellow and the attractive red and white bull's-eye–patterned Chioggia beets. Through it all, though, my affection was born from a simple composed salad.  
There are two widely accepted methods of beet preparation: boiling and roasting. The former involves placing rinsed, topped beets in a pot of cool water and bringing them to a simmer until fork tender, during which time the water in the pot turns into a half gallon of potent dye that must be disposed of with the same care as hazardous waste to avoid an Easter egg-patterned kitchen. I prefer roasting. I wrap the individual beets in aluminum foil, place them in a 400˚F oven, and cook until the blade of a knife slides easily in and out, which takes between one and two hours, depending on the size of the beets. After cooling slightly, their skins are easily rubbed off with paper towels. I learned this trick in restaurant kitchens, and it's been my go-to ever since.
Cooked beets are like sponges, soaking up most of what you throw at them. So instead of simply drizzling them with just a superficial coating of dressing, I let them soak in a simple vinaigrette of woodsy sherry vinegar and virgin olive oil. This gives the beets an addictive sweet-sour tang that leaves the finished salad needing little more than a final drizzle of olive oil. In addition to bitter greens, which, again, bring out their sweetness, beets pair well with most fruits (which provide balancing acidity), cheeses, and nuts, which supply a toothsome contrast. This layering of flavors and textures results in a salad greater than the sum of its humble parts. Now, if I could only do the same for borscht…
— Bryan Roof, RD, LDN, is a chef, dietitian, and food writer living in Boston.
Beet Salad With Grapefruit and Hazelnuts
Serves 4
Ingredients
3 medium beets, topped and scrubbed (about 6 oz each)
3 T extra-virgin olive oil
5 tsp sherry vinegar
1 medium shallot, minced
Kosher salt and ground black pepper
2 oz frisée, root and dark green parts removed
1/4 cup skinless hazelnuts (about 1 1/4 oz), toasted and lightly crushed
1 medium ball fresh mozzarella (about 4 oz), cut into 1/2-inch dice
1 large pink or red grapefruit, segmented
Directions
Adjust oven rack to middle position and heat oven to 400˚F. Wrap beets individually with 15- X 12-inch pieces of aluminum foil. Place wrapped beets on baking sheet and transfer to oven. Roast until paring knife slides easily in and out of beets, about 1 1/2 hours.
Remove beets from oven and allow to cool slightly. Once cool enough to handle, unwrap aluminum foil. Using paper towels, rub skin of beets to remove completely. Cut beets into 1/2-inch dice and transfer to medium bowl. Add 2 T of olive oil, vinegar, shallot, 1/2 tsp salt, and pepper to taste and toss to combine. Let sit at room temperature for 20 minutes or refrigerated for up to one day.
Transfer beets to large platter and layer with frisée, mozzarella, grapefruit segments, and hazelnuts. Drizzle with 1 T of olive oil and season with salt and pepper. Serve immediately.
Nutrient Analysis per serving
Calories: 320; Total fat: 23 g; Sat fat: 6 g; Trans fat: 0 g; Cholesterol: 25 mg; Sodium: 360 mg; Total carbohydrate: 22 g; Fiber: 6 g; Protein: 9 g
Note: Sliced prosciutto makes a nice addition to this salad. A half pint of raspberries or figs can be substituted for grapefruit.