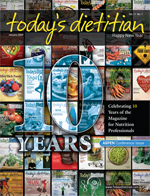 January 2009 Issue
Winter Nutrition — Healthy Eating Offers Good Protection During the Chilly Season
By Lindsey Getz
Today's Dietitian
Vol. 11 No. 1 P. 48
The weather outside may be frightful, but your diet doesn't have to be. Give your clients some nutritious advice: foods to boost immunity and mood, tips to avoid extra calories, and sinless food substitutions. It may be the best gift they receive this season (certainly the healthiest!).
As the temperature continues to drop in many areas of the country, people become increasingly challenged to maintain a healthy diet. On a chilly day, it's tempting to curl up on the couch with a bowl of canned (salty!) soup or a pile of leftover holiday treats. That's why it's so important for RDs to help their clients who struggle with healthy eating in the colder months. Keeping the body well nourished during the winter can be difficult, but it's crucial to prevent weight gain and ward off those pesky germs.
The Obstacles
Eating healthy throughout the winter months can be challenging for many reasons, and the holidays are an obvious one. Food is a large part of most winter celebrations. While munching on a few cookies or pieces of candy here and there is expected, consuming too many unhealthy options can be problematic.
"Winter holidays can be deadly in terms of the increased focus on food and especially those once-a-year desserts," says Andrea Dillaway-Huber, PhD, RD, LDN, who practices in Wyomissing, Pa. "A rule that I recommend to clients is to survey all the options available at a family event or holiday party and to pick whatever they can't live without, having just a bite. Not a slice of pie, but a bite of pie. I advise them to fill up on lower calorie fruits, vegetables, low-fat dips, reduced-fat chips, and snacks first. Then, when they are approaching that comfortably full feeling, enjoy that bite of pie and really savor it."
The problem with holiday eating is that it can not only lead to weight gain but also wreak havoc on the immune system. "The time between Halloween and the New Year can really stress the immune system with the additional refined sugar and alcohol consumption," says Debora A. Robinett, MA, RD, CD, owner and president of Health Enhancement Corporation in Tacoma, Wash. "These place undue stress on the immune system and the adrenal glands."
Another lesser known reason that healthy eating can be so difficult in the winter is the lack of sunlight. As it gets darker earlier, we get less exposure to the sun, which can lead to a drop in serotonin. That drop can cause depression and food cravings. Encourage your clients to spend a little time outdoors on their lunch break or even move their desk close to a window if they can. You can also encourage them to load up on their vitamin D, adds Gloria Tsang, RD, founder of HealthCastle.com, an online nutrition community. "Sunshine is the best natural source of vitamin D, so during a dark winter, you may want to consider supplements of this vitamin, which has also been shown to reduce the risk of colon, breast, and ovarian cancers by as much as 50%," she says.
You can also boost serotonin with healthy carbs. "Whole grains and high-quality carbs such as sweet potatoes, yams, pumpkins, and squash help boost serotonin levels," Tsang says.
But be aware that if a client is experiencing intense mood changes in the winter, he or she may have more than a slight case of the wintertime blues. As many as 10 million Americans may suffer from seasonal affective disorder (SAD). Be aware of the symptoms (depression, anxiety, overeating, and loss of interest, which suddenly onset in the winter) because it may mean that your client needs dietary alterations in the winter, advises Robinett.
Healthy eating can also be somewhat of a luxury in the wintertime. "It's so much easier to focus on making something quick and easy after a hard day, especially when it's already dark outside when you get home from work," says Tsang. Preparing a healthy meal often takes a lot of time, a luxury that many people don't have, especially during the busy winter months. It's much simpler to pop something in the microwave. On top of that, fresh produce is not readily available or can be expensive during the winter season.
Despite these obstacles, you can arm your clients with plenty of information to make healthy eating easier. For instance, when fresh produce prices skyrocket, direct your clients to the frozen foods section. Frozen vegetables tend to be more nutritious than canned varieties, which may lose nutritional value during the preservation process and can be loaded with salt. And you can encourage your clients to embrace winter fruits and vegetables that are plentiful in the stores, such as pomegranates, cranberries, citrus fruits, grapes, and root vegetables. "They add a healthy dose of vitamins and nutrients to your winter plate and are available fresh all season," Tsang explains.
Eating for Immunity
While nothing can completely stop a cold in its tracks, a healthy immune system can help ward off the germs that cause colds and the flu. A healthy immune system can even minimize a cold's duration. One way to boost the immune system is to maintain a vitamin C regimen. "Studies have shown that 1,000 milligrams of vitamin C supplements may make colds milder and even shorten them by half a day," says Tsang.
Also advise clients to increase their intake of fruits and vegetables rich in powerful nutrients. "Foods rich in the antioxidants vitamin C and beta-carotene, such as citrus fruit, cabbage, broccoli, pumpkin, sweet potato, and spinach, have immune-boosting power," says Amy Cartwright, MS, RD, LDN, who is in private practice in Conyngham, Pa. "To fight off infections, you should increase your intake of zinc, which is found in fish, oysters, poultry, eggs, milk, unprocessed grains, and cereals."
In addition, diets should include a healthy level of good bacteria. "Including adequate amounts of probiotics or friendly flora is valuable in restoring levels of these healthy bacteria in our body to protect us from other infection," notes Robinett. "Typically, fermented dairy products such as kefir and yogurt—and sauerkraut—provide live cultures but also contain calories, sugar, or salt. I generally recommend taking a probiotic as a dietary supplement, especially during the winter months and always after antibiotic use."
Robinett also recommends that her clients sip more tea in the winter to help ward off germs. "Drink more green tea, as the polyphenols, especially catechins, may stimulate the production and activity of specific cells associated with combating viruses," she explains.
However, it's also important that people keep track of how much they eat and drink, not only what they consume. Overeating tends to be more of a problem in the winter months, and that can affect the immune system, too. Healthy eating and energy intake can impact the immune system and function, notes Betsy Oriolo, MS, RD, LD, CDE, owner of Total Nutrition Therapy, LLC in Cincinnati.
"Research has shown that very low-calorie or very high-calorie diets can decrease our immune function," she says. "In addition, very high-fat diets can adversely affect our immune function and impact rates of infection and illness. I typically encourage a moderate fat intake of no more than 30% of the total daily energy needs and the incorporation of healthy fats [monounsaturated and polyunsaturated]. It may also be beneficial to incorporate a daily multivitamin mineral supplement and to eat from all food groups to maintain a healthy diet and boost immune function."
Ensure that your clients realize there is no magic cure for a cold or the flu. While many products claim to prevent a cold, there is no research to support that. The best defense is a healthy immune system, says Tsang. "Despite some claims out there, no diet remedy or supplement has been scientifically proven to effectively prevent a cold or the flu," she explains. "But following some of these simple nutrition steps gives your body the best chance of fighting off common winter bugs and keeping you healthy all winter long."
Extra Help
Realizing that your clients may need extra guidance during the winter months is crucial. You may need to highlight problem areas in their winter diet and offer advice for preventing overeating during the holidays. "I often ask my clients to think about these three questions: Am I hungry or am I actually thirsty? Am I hungry or bored? And am I hungry or just tired of dark days and winter? Then I have my clients make a checklist and resort to food only when all other variables are checked off as they hover in front of the refrigerator," says Dillaway-Huber.
"I recommend for my clients that they avoid skipping meals and try to eat on a regular schedule," advises Oriolo. "Fill up on vegetable or broth-based soups before eating your main meal. Eating slower aided by a hot soup may help to slow us down and consume less calories."
To help clients avoid diet pitfalls at holiday parties, suggest that they contribute a dish or two, says Cartwright. Helping prepare the food may mean more work, but if it's the only way they'll avoid the cakes, cookies, and pies, it may be worth it. "Advise your clients to offer to bring a healthy dish to parties and get-togethers. That way they'll know ahead of time that there will be at least one healthy item they can choose," she says.
Offering your clients some suggestions for healthy substitutes may also be helpful. For instance, if they need a warm, cozy beverage on a cold, dreary day, why not try a sugar-free hot chocolate with low-fat or fat-free whipped topping, suggests Dillaway-Huber. It's a better choice than some of the calorie-laden options at the local coffee shop. Or you can advise your clients to select better quality, natural sweeteners, recommends Robinett. "These include agave nectar, maple syrup, honey (in limited amounts), or stevia," she says. "Or substitute a sweet potato for a white potato and replace mashed white [potatoes] with mashed yams."
Instead of canned soup, suggest healthy, homemade varieties. "There's nothing like a hearty bowl of split pea, lentil, or black bean soup on a cold day," continues Robinett. "Lentils, peas, and dried beans are a great winter staple, and there are many ways to use them. Add pinto beans to a vegetable soup or toss 1/2 cup of edamame, garbanzo, or cannellini beans atop a salad."
Sharing healthy recipes with your clients may also be of use to them. Be sure to suggest some that are quick and easy to make and ones they can prepare in advance. That way, after they've had a long day at work, a healthy meal can await them in the refrigerator. (Check out our recipe sidebar for a few soup suggestions to offer your clients.)
More than during other times of the year, it's important to remind your clients to limit their intake and maintain an exercise regimen, something that becomes more challenging when the cold weather keeps us indoors. "I continue to stress everything in moderation," says Cartwright. "There are plenty of temptations during the holidays and throughout the winter, so choose foods and beverages in moderation. And try to find an exercise or activity that you enjoy so you are more likely to stick with it during the colder months."
Healthy Hibernation
Maintaining a nutritious diet is as important as ever during the winter months, and sometimes clients just need a little extra reminding. Notes Dillaway-Huber: "Clients forget that less physical activity, more comfort foods, and more hibernation can set them up for bad behavior and require radical changes come spring. With today's economy, where cheaper foods are often higher in fat and carbs, these bad behaviors can easily snowball." That's why it's so important to give your clients some extra support. With a helping hand, you can carefully guide them through the winter months.
— Lindsey Getz is a freelance writer based in Royersford, Pa.
Healthy, Hearty Soups
A steaming bowl of soup on a cold, snowy day often seems the perfect meal—and with the right ingredients, it can be a healthy option, too.
Pinto Bean Soup
Serves 6
Ingredients:
2 qts spring water
1 lb pinto beans
4 cloves garlic, chopped
1/2 yellow onion, chopped
1/2 green bell pepper, diced
1/2 bunch fresh cilantro (coriander), finely chopped
Directions:
Simmer all ingredients in a covered pot until beans are tender. Smash or blend about half of the beans to thicken. Add spices of choice, but limit salt and pepper.
Nutrient Analysis:
Calories: 271
Protein: 17 g
Carbs: 49 g
Total Fat: 1 g
Sat Fat: 0 g
Cholesterol: 0 mg
Sodium: 10 mg
Fiber: 12 g
Trinity Soup
Serves 8
Ingredients:
1 cup pinto beans
6 cups spring water
5 cloves garlic, chopped
1/2 red onion, chopped
11/2 cups fresh corn kernels
2 cups fresh string beans
4 cups zucchini (thick slices)
1/2 sprig cilantro or parsley
Directions:
Cook beans in water until tender; add garlic and onion during the last 15 minutes of cooking. Add all other ingredients and simmer slowly until the string beans are tender. Refrigerates well and can be frozen.
Nutrient Analysis:
Calories: 303
Protein: 19 g
Carbs: 56 g
Total Fat: 1 g
Sat Fat: 0 g
Cholesterol: 0 mg
Sodium: 21 mg
Fiber: 14 g
Green Pea Soup
Serves 10
Ingredients:
2 cups split green peas
10 cups stock
1 large onion, diced
1 clove garlic, chopped
2 stalks celery, sliced
2 carrots, sliced
2 potatoes, cubed
1 bay leaf
1/4 tsp thyme
1/4 tsp basil
1 tsp salt
Directions:
Cook peas in stock with bay leaf until they are tender and mushy, about 6 hours. Add seasonings and vegetables and cook about 20 minutes, until vegetables are tender. Turn heat down and simmer for a half hour or so to let the flavors blend.
Nutrient Analysis:
Calories: 292
Protein: 18 g
Carbs: 49 g
Total Fat: 3 g
Sat Fat: 1 g
Cholesterol: 7 mg
Sodium: 605 mg
Fiber: 12 g
— Recipes (excluding nutrient analyses) provided by and used with permission from Debora A. Robinett, MA, RD, CD