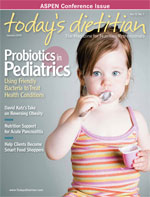 January 2010 Issue
Reducing Sodium in Canned Beans — Easier Than 1-2-3
By Chef Kyle Shadix, MS, RD
Today's Dietitian
Vol. 12 No. 1 P. 62
When the topic of canned food arises, people are sometimes surprised that a trained chef would use anything in a can. Well, I've got a surprise for them: Most chefs use canned products in one form or another, whether tomatoes, artichokes, hearts of palm, or beans. Nutritionally speaking, many canned foods are comparable to their cooked fresh and frozen counterparts. Studies have even shown that some canned foods yield higher amounts of essential nutrients. In addition, canned foods are available year-round, so people can easily and conveniently use them anytime in their favorite dishes.
When I am wearing my RD hat, those same people often ask me how I could use canned food because it is "full of sodium." These days, many companies are reducing the sodium in their foods. (Some are doing so without a marketing campaign so as not to confuse consumers. While it may have reduced sodium, the food item may not be "low in sodium.") In any case, it is important for RDs to help their clients understand where the sodium in a food product comes from by educating them on how to read ingredient lists and identify sodium-containing ingredients (eg, baking soda [sodium bicarbonate], soy sauce, monosodium glutamate [MSG], brine).
Recently, at the Institute of Food Technologists Conference, Joshua B. Jones and John R. Mount, both from the department of food science and technology at the University of Tennessee, presented "Sodium Reduction in Canned Bean Varieties by Draining and Rinsing." Jones and Mount showed that draining and rinsing are effective ways to reduce the sodium content of canned beans. Overall, the draining treatment alone reduced sodium by 36% while the draining-rinsing treatment reduced sodium by 41%. Rinsing beans after they are drained ensures that all residual sodium adhering to the bean's surface is removed and results in the highest reduction. All brands and all classes of beans tested demonstrated significant reductions in sodium by either draining or draining and rinsing.
If your clients are forced to become sodium-conscious consumers, they don't have to avoid canned beans. Let them know that canned beans are full of fiber and rich in nutrients and that by using a draining-and-rinsing technique, they can reduce canned beans' sodium content and simply enjoy their many benefits.
— Chef Kyle Shadix, MS, RD, is a culinary nutrition communications consultant in New York City and online at www.chefkyle.com.
Bean Purée
Makes 4 cups
Ingredients:
1⁄4 cup olive oil
1⁄2 cup onion, chopped
1⁄4 cup celery, chopped
1 clove garlic, minced
2 tsp dried herbs, such as sage, thyme, or rosemary
Two 15-oz cans beans, such as pinto, great northern, garbanzo, cannellini, black, or black-eyed "peas," rinsed and drained
1 cup canned low-salt vegetable broth
Directions:
Heat oil in a large, heavy saucepan over medium-high heat; add onion, celery, garlic, and dried herbs. Reduce heat to low and sauté until vegetables are tender, about 5 minutes. Increase heat to high and add beans and broth; bring to a boil. Reduce heat to low; cook until almost all liquid is absorbed, stirring often, about 20 minutes. Purée mixture in processor.
Nutrient Analysis for 1 cup using cannellini beans:
Calories: 405
Protein: 14 g
Carbs: 36 g
Total Fat: 13 g
Trans Fat: 0 g
Cholesterol: 0 mg
Sodium: 201 mg (based on rinsing and draining)
Fiber: 11 g
Serving Suggestions
• Serve as a side dish.
• Place cooked chicken or fish directly on mound of bean purée.
• Serve with toasted, sliced whole wheat baguette.
• Serve with tortilla chips or as a condiment on a sandwich.
• Try in a breakfast burrito.
• Use as a topping for baked potatoes.