E-News Exclusive
Pumpkin for the Holidays
By Liz Weiss, MS, RDN
Whether you're craving something savory or sweet, pumpkin can play a starring role in a variety of nutritious recipes. Pumpkin is a type of winter squash—it has seeds, so technically, it's a fruit—and it's in season from the middle of September through November (although canned pumpkin is available year-round). Pumpkins are grown on every continent, with the exception of Antarctica, and there are hundreds of varieties from which to choose. In the United States, Illinois is the largest pumpkin producing and canning state.1
The exteriors of pumpkins come in a multitude of colors, including orange, white, green, tan, and striped. They can be round, pear-shaped, or onion-shaped, and they can weigh as little as a few ounces or as much as 2,000-plus lbs.
Pumpkin Dishes for the Holiday Table
The holiday season is a time to celebrate family, friends, culture, and traditional cuisine. Gathering around the table, cooking together, and enjoying recipes passed from one generation to the next is good for the body and soul. The holiday season isn't the time to encourage clients to count calories or forgo favorite dishes. Instead, it's an opportunity to emphasize produce-forward dishes—especially those made with pumpkin—that family members of all ages can enjoy.
Fresh, cooked pumpkin, as well as canned, can play a role in a myriad of holiday dishes, including pumpkin pie, pumpkin bread, pumpkin cheesecake, pumpkin spice lattes, pumpkin pancakes, and pumpkin soup.
Pumpkin Varieties
In the United States, pumpkin is popular during Halloween when it's carved into jack-o'-lanterns, and the seeds are salted, roasted, and consumed as a snack or sprinkled onto salads. However, the pumpkins that are intended for carving aren't suitable for consumption.
Dietitians who counsel patients on healthful eating may be interested in the following types of pumpkins available at supermarkets and farmers' markets:
• Jack-o'-lantern or carving pumpkins. They weigh 12 to 18 lbs and are meant for carving. They have thin skin and less flesh (guts) inside. The flesh is stringy and grainy and has a greater water content than pie pumpkins.
• Pie or sugar pumpkins. These are smaller, round pumpkins that weigh 2 to 7 lbs. When roasted, their firm, orange flesh becomes tender and sweet. To make homemade purée, slice the pumpkin in half, remove the seeds, brush the flesh with oil, and roast it on a baking sheet, flesh side down, until tender. Let it cool, then scoop out the flesh, and puree it in a blender or food processor or mash it with the back of a fork until smooth.2 Use purée for soups, pancakes and waffles, smoothies, holiday pies, or other baked goods. Cooked pumpkin also can be diced and added to salads, grain dishes, and stews, or it can be roasted whole and puréed or stuffed.3
• Miniature. These small gourds are ornamental and mainly used for holiday decorations, but they're also edible. To cook, cut off the tops, remove the seeds, brush the cavity with oil, and roast them on a baking sheet whole. Use them as an edible bowl for soups, cooked grain salads, or desserts such as puddings and cheesecake.4
• Giant. Grown primarily for contests and county fairs, their weight can range from several hundred to more than 2,000 lbs.
Packed With Nutrition
Pumpkins are naturally low in fat, sodium, and calories and rich in beta-carotene, the carotenoid that gives pumpkin its bright orange color. Beta-carotene is converted in the body to vitamin A, a fat-soluble vitamin that supports immune health, vision, and normal growth and development.5
According to the USDA, one cup of cooked, boiled, drained, unsalted pumpkin contains the following6:
Calories: 49; Fat: <1 g; Sodium: 3 mg; Carbohydrate: 12 g; Dietary fiber: 3 g; Protein: 2 g; Vitamin A: 706 mcg; Vitamin C: 12 mg; Potassium: 564 mg
Role of Canned Pumpkin in Cooking
Nearly all of the canned pure pumpkin sold in the United States is made with Dickinson pumpkin, a large, oblong-shaped, tan-colored pumpkin that's sometimes referred to as squash. Its dense, deep orange flesh is well suited for cooking and canning. Canned pumpkin purée isn't the same as canned pumpkin pie filling, which contains spices, seasonings, and added sugars. Home cooks can swap canned pure pumpkin for the more time-consuming homemade purée in favorite recipes.
Leftover canned pumpkin (or homemade pumpkin purée) can be portioned and placed in small resealable bags or containers and frozen for later use, or swirled into oatmeal, blended into a smoothie, or added to tomato soup or chili for an extra boost of fiber and vitamin A. (One 1/2 cup canned pure pumpkin has 50 calories, 3 g fiber, and 950 mcg vitamin A.)
References
1. Pumpkins: background and statistics. US Department of Agriculture, Economic Research Service website. https://www.ers.usda.gov/newsroom/trending-topics/pumpkins-background-statistics/. Updated November 17, 2022.
2. How (and why!) to roast a pumpkin. Food Network website. https://www.foodnetwork.com/fn-dish/recipes/2016/10/how-and-why-to-roast-a-pumpkin
3. Livermore S. 16 stuffed pumpkin recipes that make carving one out worthwhile. Delish website. https://www.delish.com/holiday-recipes/halloween/g2941/stuffed-pumpkins-ideas/?slide=3. Updated October 25, 2018.
4. Mini sausage & rice stuffed pumpkins. Beautiful Eats & Things website. https://beautifuleatsandthings.com/2018/11/16/mini-sausage-rice-stuffed-pumpkins/. Published November 16, 2018.
5. Vitamin A and carotenoids. National Institutes of Health, Office of Dietary Supplements website. https://ods.od.nih.gov/factsheets/VitaminA-HealthProfessional/. Updated June 15, 2022.
6. Pumpkin, cooked, boiled, drained, without salt. US Department of Agriculture, Agriculture Research Service. FoodData Central. https://fdc.nal.usda.gov/fdc-app.html#/food-details/168449/nutrients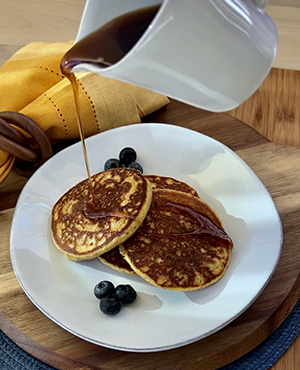 Pumpkin Maple Pancakes
Serves 4 to 5
Elevate your next holiday brunch with these winter-inspired pumpkin pancakes. Top with sliced banana, blueberries, or any other favorite fruit, and add a drizzle of maple syrup as desired.
Ingredients
3/4 cup all-purpose flour
3/4 cup whole wheat flour
2 T ground flaxseed
1 T baking powder
1/4 tsp ground cinnamon
2 large eggs, beaten
11/3 cups 2% reduced-fat milk
1/2 cup canned pure pumpkin purée
1 T maple syrup
1 tsp vanilla extract
Directions
1. Whisk together all-purpose flour, whole wheat flour, flaxseed, baking powder, and cinnamon in a large bowl.
2. In another bowl, whisk together eggs, milk, pumpkin, maple syrup, and vanilla until well blended. Pour liquid ingredients over dry ingredients and stir until just combined.
3. Lightly oil or coat a large nonstick skillet or griddle with nonstick cooking spray and heat over medium heat. Pour batter onto hot skillet using a 1/4-cup measuring cup, forming 4-inch pancakes. Cook until bubbles begin to appear on surface of pancakes and bottoms turn golden, about 3 minutes.
4. Flip pancakes, and cook until other sides are golden, an additional 2 to 3 minutes. Adjust heat as you go if bottoms brown too quickly. Repeat with remaining cooking spray and batter.
Nutrient Analysis per serving (3 to 4 pancakes)
Calories: 210; Total fat: 8 g; Sat fat: 3 g; Cholesterol: 100 mg; Sodium: 132 mg; Total carbohydrate: 25 g; Dietary fiber: 2 g; Sugars: 13 g; Added sugars: 3 g; Protein: 11 g