E-News Exclusive
Sustainable Family Meals
By Sharon Palmer, MSFS, RDN
Going green at mealtime is a growing trend. In addition to making family meals healthful and delicious, consumers increasingly want to ensure their meals also are sustainable. According to the 2021 Food and Health Survey from the International Food Information Council, 42% of consumers believe their food choices make an impact on the environment, and 7 out of 10 report that climate change sometimes influences their food purchasing decisions.1 But when you're advising clients on making sustainable choices, what does that mean on the dinner plate?
While many people consider food sustainability to be primarily focused on the environmental factors of food production, there are other facets of sustainable food systems to consider. According to the nonprofit food systems sustainability organization, Food + Planet, there are four dimensions of sustainability for diets, which are as follows:
• Sociocultural. Sustainable diets respect the welfare and rights of individuals, communities, cultures, animals, and the environment. Factors include animal welfare standards, culturally appropriate diets, food justice and sovereignty, and health equity.
• Nutrition. Sustainable diets support human health through their quality, diversity, safety, and accessibility. Factors include diet quality and diversity, food system safety, optimized health outcomes, and reliable food access.
• Economic. Sustainable diets require economies that balance people, planet, and profits. Factors include affordable food choices, circular economy, ethical labor and sourcing, and responsible governance.
• Planetary. Sustainable diets emerge from agricultural practices that are in harmony with the environment. Factors include biological diversity, climate-smart agriculture, resilient agroecological practices, and water and soil use.2
While planetary considerations, such as reducing the carbon and water footprint of food choices, avoiding food waste, trimming food packaging, and eating a more plant-based diet, are important when making sustainable food choices at the family dinner table, other issues are important for sustainable meal planning. If you're counseling clients, keep in mind factors, such as honoring cultural food traditions, local food systems, food affordability and access, nutrient-rich food choices, and diet diversity.2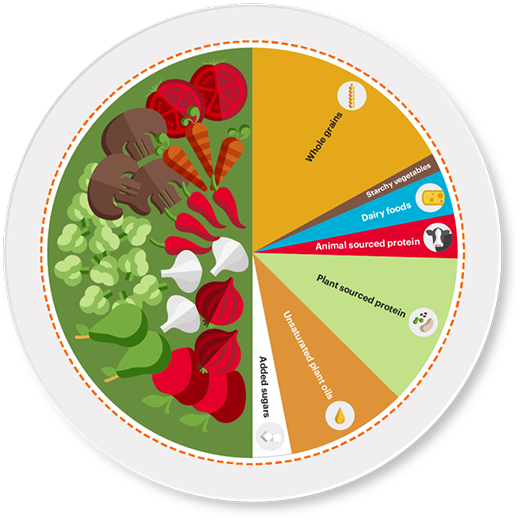 EAT-Lancet Planetary Health Plate [retrieved from https://eatforum.org/eat-lancet-commission/the-planetary-health-diet-and-you/].
One guide for making sustainable food choices is the science-based EAT-Lancet Commission's Planetary Health Diet, which addresses both the health of people and the planet. To transform to healthful diets for people and the planet, it will take a substantial shift in eating patterns, according to EAT-Lancet. It will require more than doubling the consumption of healthful foods, such as vegetables, fruits, nuts, and legumes, with a greater than 50% reduction in global consumption of red meat and added sugars. Analysis shows these changes result in major health benefits by reducing global deaths by up to 24% while making major impacts on planetary boundaries, such as biodiversity loss, greenhouse gas emissions, cropland and water use, and phosphorus and nitrogen application. This recommended diet pattern is flexible because it provides guidelines and ranges of food groups for an optimal diet, with targets in each section.3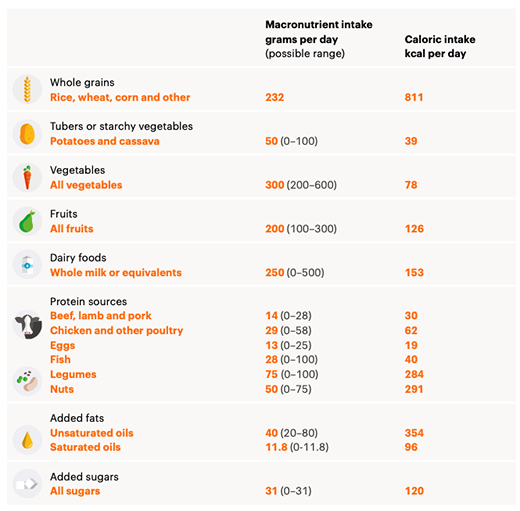 Healthy Diet Targets, EAT-Lancet. [Accessed August 25, 2022.]
Four Tips for Planning Sustainable Family Meals
The pillars of sustainable diets, including sociocultural, nutrition, economic, and planetary factors, all can be considered when recommending wholesome family meals. Try these tips for planning healthful, delicious sustainable meals for the entire family.
1. Consider cultural food preferences. What are traditional family meals that are part of the family's food culture? For example, a classic food tradition might be beans and rice, which also fit nicely into a nutritious, affordable, accessible, low-carbon footprint eating plan. Help connect families to these traditions by engaging them in favorite foods and memories.
2. Plan family meals that fit the budget. Before making healthful meal suggestions, it's important to identify access to affordable, healthful foods in your client's community. It's essential to work around food availability and their budget. For example, inquire about clients' food shopping routines to help identify access, and offer economical meal planning advice, such as using pulses in recipes a few times per week and relying on seasonal, canned, or frozen produce to save money.
3. Trim food waste. Low-hanging fruit is helping clients identify opportunities to decrease food waste, which can help save dollars and negative planetary outcomes. Discuss use of leftovers, making second and third meals from ingredients, such as beans and grains, and interpreting expiration dates on labels.
4. Plan more plant-based meals. Swapping meat for beans is a great way to promote sustainability in all four dimensions: economic, sociocultural, planetary, and nutrition. Show clients ways to reduce animal food intake and replace those foods with plant proteins, such as pulses, nuts, seeds, and soyfoods. One tip is to suggest recipes, such as vegetable lasagna, stir-fry, or stews, which use a small amount of meat for the entire dish, in combination with grains, pulses, and vegetables.
— Sharon Palmer, MSFS, RDN, The Plant-Powered Dietitian, is a plant-based sustainable food expert and cofounder of Food + Planet, a nonprofit food systems sustainability organization.
References
1. Wellness, nostalgia, innovation and new views of sustainability are among the food trends for 2022. International Food Information Council website. https://ific.org/media-information/press-releases/wellness-nostalgia-innovation-and-new-views-of-sustainability-are-among-the-food-trends-for-2022/. Published January 7, 2022. Accessed August 25, 2022
2. Four dimensions of sustainable diets. Food and Planet website. https://foodandplanet.org/. Accessed August 25, 2022.
3. EAT-Lancet Commission. Food planet health. https://eatforum.org/content/uploads/2019/07/EAT-Lancet_Commission_Summary_Report.pdf. Accessed August 25, 2022.
Recipes
Dietitians can recommend clients try these sustainable recipes for family meals.
Penne With Beans and Greens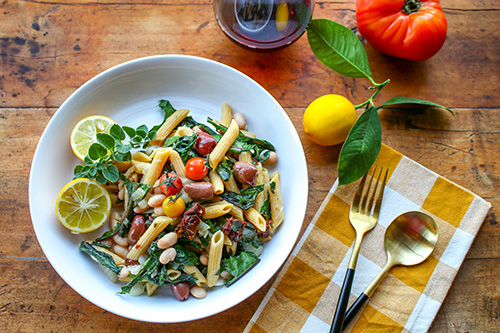 Based on Italian foodways, this recipe uses bean pasta, canned beans, sun-dried tomatoes, olives, and greens. It's easy to make, budget friendly, nutritious, delicious, environmentally friendly, and accessible. Clients can whip up this rustic, one-dish meal in under 30 minutes with only nine ingredients, not counting pantry staples.
Serves 6
Ingredients
4 cups water
8 oz uncooked bean penne pasta (ie, chickpea, lentil, or bean)
1 T extra-virgin olive oil
1/2 medium (4 oz) onion, diced
3 medium garlic cloves, minced
1 1/2 tsp dried oregano (or 1 T fresh)
1/4 tsp black pepper
1/3 cup kalamata olives, drained, whole
1/4 cup sun-dried tomatoes, chopped
1 (15-oz) can white beans (eg, cannelloni), rinsed, drained
1 8-oz bunch fresh greens (ie, rainbow Swiss chard, mustard greens, spinach, collard greens) sliced coarsely
1/2 lemon, juiced
Pinch of salt, optional
Directions
1. Fill a medium pot with the water, cover, and bring to a boil over high heat. Decrease the heat to medium, add the pasta, and cook for 7 minutes (or according to package directions), until al dente. Drain the pasta and return to the pot, covered, to keep warm.
2. While the pasta is cooking, heat the olive oil in a large skillet or sauté pan over medium heat. Add the onions, garlic, oregano, and black pepper and sauté for 4 minutes.
3. Add the olives, tomatoes, and beans, and sauté for an additional 3 minutes.
4. Add the greens, lemon juice, and cooked pasta, stirring gently. Cook for about 4 minutes, just until greens are wilted yet still bright green. Season with salt, if desired.
5. Serve immediately.
Notes: Many types of bean or pulse pastas are available. Clients can substitute with whole grain (contains gluten) or another variety or shape, such as fettuccine, rotini, or farfalle. They can replace the beans with another kind, such as chickpea, kidney, or an heirloom variety. They also can substitute beans cooked from scratch (1 3/4 cup cooked beans per 15-oz can of beans).
Nutrient Analysis per serving (11/2 cups)
Calories: 266; Total sugars: 4 g; Sodium: 325 mg; Total fat: 6 g; Sat fat: 1 g; Carbohydrate: 43 g; Dietary fiber: 9 g; Protein: 16 g
Source: Recipe and photo courtesy of Sharon Palmer, MSFS, RDN, SharonPalmer.com
---
Chicken and Pinto Bean Tacos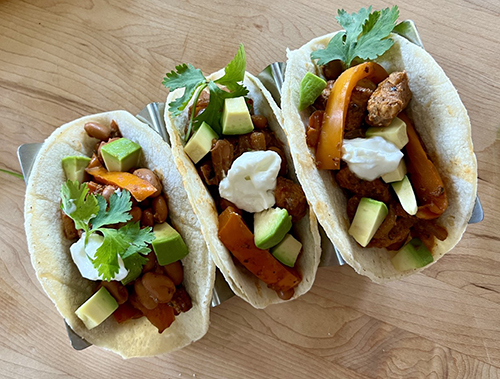 These chicken tacos are more plant than poultry. They're made with just half a pound of boneless, skinless chicken breast and a can of pinto beans, bell pepper, onion, salsa, corn tortillas, and lots of fresh and flavorful toppings. For people trying to eat a more plant-forward diet but who aren't ready to go completely meatless, this recipe provides the perfect balance. There's versatility in this recipe, too. Don't have pinto beans on hand? Use black beans instead. Any color bell pepper will work wonders in this recipe, and clients certainly can amp up the veggies even more by mixing in half a cup of corn kernels (frozen/thawed is fine), a shredded carrot, or some chopped cabbage.
Serves 6
Ingredients
8 oz boneless, skinless chicken breast, cut into 1/2-inch pieces
1 tsp ground cumin
1 tsp chili powder
1 tsp dried oregano
1/2 tsp smoked paprika
1/2 tsp garlic powder
1/2 tsp kosher salt
1 T plus 2 tsp extra virgin olive oil, divided
1 small onion, cut in half, trimmed, and cut into thin half-moons
1 bell pepper, cut into thin strips
1 (15-oz) can pinto beans, drained and rinsed
1/3 cup salsa
1/3 cup shredded reduced-fat Cheddar cheese
12 soft 6-inch corn tortillas (or crunchy taco shells)
Optional toppings (chopped lettuce or kale; salsa; diced avocado; shredded, reduced-fat cheese; roughly chopped cilantro; plain Greek yogurt)
Directions
1. Place the chicken in a mixing bowl. Add the cumin, chili powder, oregano, paprika, garlic powder, and salt, and stir until the chicken is well coated. Set aside.
2. Heat 1 T of the oil in a large nonstick skillet over medium heat. Add the onion and bell pepper and cook, stirring often, until softened, about 5 minutes.
3. Add the remaining 2 tsp of oil and the chicken and cook, stirring often, until the meat is cooked through and no longer pink, 5 to 7 minutes.
4. Stir in the beans, salsa, and cheese, and stir until the cheese melts, about 1 minute.
5. If using soft tortillas, warm first and then top each with 1/3 cup of the chicken mixture. Set out optional toppings, and let everyone build their own tacos.
Nutrient Analysis per serving (2 tacos)
Calories: 259; Total sugars: 2 g; Sodium: 582 mg; Total fat: 10 g; Sat fat: 2 g; Carbohydrate: 24 g; Dietary fiber: 7 g; Protein: 19 g
Source: Recipe and photo courtesy of Liz Weiss, MS, RD, Liz's Healthy Table