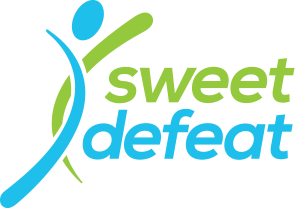 Take That, Sugar Cravings
Sweet cravings—we don't have to tell you how powerful they can be. It's bad enough we're surrounded by sweets all day, from the office cupcake party to the restaurant dessert menu (jeez, even seemingly healthy food products are a minefield); the taste of sugar makes us crave more and we feel powerless against the draw of sugar.
Until now. Sweet Defeat, a plant-based, natural lozenge, is clinically proven to reduce the desire for and consumption of sugary foods. How well does it work? Without it, people are 430% more likely to eat sugar. Boom.
So what's in it? It has just 5 ingredients: Zinc, mint, sorbitol, spirulina and gymnema sylvestre. If you're saying, "gymne-what?": This medicinal plant has been used in Ayurvedic tradition for centuries.
By now you know that avoiding sugar is important for optimal health, but just to give you a rundown of some of the advantages of cutting the sweet stuff:
Clearer skin
More consistent energy
Fewer cravings
Better sleep
The best part? Sweet Defeat is super-convenient and easy to use, and it works in seconds. Keep a few packets in your purse or gym bag, and just dissolve a lozenge on your tongue. After a meal or snack, or when that 4 p.m. slump hits, Sweet Defeat is your secret weapon against the siren call of that sugary "treat" that will leave you feeling awful after.
Ready to embrace your low-sugar lifestyle the easy way? Right now, Today's Dietitian readers can get 50% off and free shipping for a subscription, just use the code TD50 at checkout.