Web Exclusive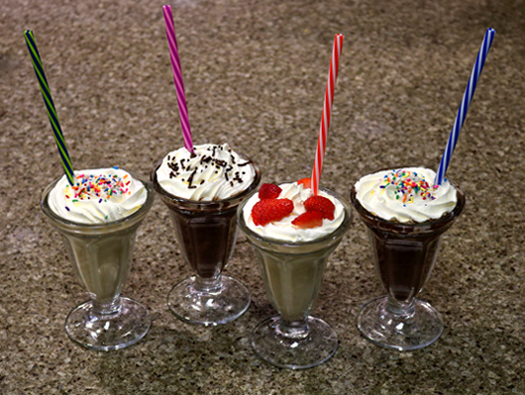 Gourmet Oral Supplement Shakes Transform Status of Malnourished Patients
By Johanna Rohler, RDN
I'm fortunate to be employed by one of the nation's most highly ranked cardiovascular hospitals, where the drive for excellence is at the heart of everything we do. An 80-bed facility, this award-winning hospital cares for patients facing some of the most life-threatening cardiovascular conditions spanning from severe dissections and occlusions of critical arteries in the heart to septic shock and multiorgan failure.
The hospital acknowledges the importance of nutrition for good patient outcomes and relies on the dietitian team as a key player in this regard. With many of my patients recovering from open-heart surgery, an important part of my role is identifying creative ways to meet their calorie and protein needs. I'm privileged to work on a team that supports innovation and enables me to implement new ideas to offer patients excellent nutrition care.
With an estimated one-third of patients clinically malnourished when admitted to the hospital and an additional one-third at risk of developing malnutrition while hospitalized, treating malnutrition is an important task facing clinical dietitians. Malnutrition can lead to poor wound healing, increased infection rates, longer hospital stays, higher readmission rates, increased health care costs, and even mortality.1 Surgical patients are particularly at risk of developing malnutrition, as appetites often decrease after surgery while calorie and protein requirements increase. Because I work in an acute care cardiovascular surgical hospital, I'm on the front lines of fighting this malnutrition pandemic. At any given time in my facility, an estimated 25% of admitted patients either have inadequate intake or have been diagnosed with protein and calorie malnutrition.
Gourmet Oral Supplements
To help remedy this problem, we provide oral nutrition supplements, but they're not just your average supplements. Many of my patients at highest nutritional risk often have complained of the taste of oral nutrition supplements and refused to drink them, so I developed gourmet high-protein, high-calorie supplement shakes that mimic flavors patients would find at their local ice cream shop.
My gourmet supplement shakes come in seven flavors: cookie dough, cookies and cream, peach pie, peanut butter banana, peanut butter brownie, peanut butter pie, and strawberry shortcake. They're served in old-fashioned milkshake glasses and all are topped with whipped cream and sprinkles, if desired. Between the delicious flavors and excellent presentation, patients find the shakes appealing and are eager to drink them. As a result, patients' intake of oral nutrition supplements has increased significantly. Most patients who initially decline oral nutrition supplements change their minds once they taste one of my gourmet shakes.
After the supplement shake recipes and menu were developed, I trained the foodservice staff on how to prepare them to ensure patients would experience a seamless ordering process. To showcase the new shakes and create excitement about the varieties, I prepared samples to share with nurses and other health care workers. When patients are discharged, we give them the recipes to make and enjoy at home if they want them.
I introduced my gourmet supplement shakes to the menu within the last few months, and already they've made a significant impact on the nutritional status of patients. Those who've been admitted to the hospital and are at high nutritional risk really like the shakes and maintain consistent intake. In fact, many patients haven't needed enteral nutrition support because of my gourmet shakes. The shakes are helping more and more patients improve their nutrition status and achieve their best quality of life.
— Johanna Rohler, RDN, a clinical dietitian with Touchpoint Support Services at St. Vincent Heart Center of Indiana, has a passion for innovation and creatively identifying new best practices in the nutrition field. With her career experiences spanning from clinical dietetics to regulatory compliance within the food industry, she brings unique perspective to problem solving. A recent graduate of Purdue University in the department of nutrition science, she's currently pursuing her MBA degree to equip her with additional skills to make a greater impact in her career.
Reference
1. Tappenden KA, Quatrara B, Parkhurst ML, Malone AM, Fanjiang G, Ziegler TR. Critical role of nutrition in improving quality of care: an interdisciplinary call to action to address adult hospital malnutrition. JPEN J Parenter Enteral Nutr. 2013;37(4):482-497.
Gourmet Supplement Shake Recipes
Directions for All Shakes
1. Place all ingredients in a blender.
2. Blend on high until smooth and pour into a 10-oz cup. Top with whipped cream and sprinkles, if desired.
Cookie Dough
4 oz vanilla oral supplement (eg, Ensure or Boost; one-half of a standard-sized bottle)
1/2 sugar cookie (3 inches in diameter)
6 oz ice cubes
Calories: 255; Total fat: 9 g; Sodium: 190 mg; Total carbohydrate: 33 g; Protein: 11 g; Potassium: 304 mg
Cookies and Cream
4 oz vanilla oral supplement (eg, Ensure or Boost; one-half of a standard-sized bottle)
1/2 chocolate chip cookie (3 inches in diameter)
6 oz ice cubes
Calories: 265; Total fat: 10 g; Sodium: 183 mg; Total carbohydrate: 34 g; Protein: 11 g; Potassium: 343 mg
Peach Pie
4 oz vanilla oral supplement (eg, Ensure or Boost; one-half of a standard-sized bottle)
1/2 sugar cookie (3 inches in diameter)
2 pieces canned peach slices
1 dash cinnamon
6 oz ice cubes
Calories: 275; Total fat: 9 g; Sodium: 192 mg; Total carbohydrate: 38 g; Protein: 11 g; Potassium: 316 mg
Peanut Butter Banana
4 oz vanilla oral supplement (eg, Ensure or Boost; one-half of a standard-sized bottle)
4 oz vanilla ice cream
1 1/2 T peanut butter
1/2 banana
6 oz ice cubes
Calories: 380; Total fat: 18 g; Sodium: 215 mg; Total carbohydrate: 46 g; Protein: 14 g; Potassium: 528 mg
Peanut Butter Brownie
4 oz chocolate oral supplement (eg, Ensure or Boost; one-half of a standard-sized bottle)
1.5 in square brownie
1 1/2 T peanut butter
6 oz ice cubes
Calories: 415; Total fat: 20 g; Sodium: 314 mg; Total carbohydrate: 43 g; Protein: 17 g; Potassium: 397 mg
Peanut Butter Pie
4 oz vanilla oral supplement (eg, Ensure or Boost; one-half of a standard-sized bottle)
1/2 sugar cookie (3 inches in diameter)
1 1/2 T peanut butter
6 oz ice cubes
Calories: 395; Total fat: 20 g; Sodium: 295 mg; Total carbohydrate: 37 g; Protein: 16 g; Potassium: 396 mg
Strawberry Shortcake
4 oz vanilla oral supplement (eg, Ensure or Boost; one-half of a standard-sized bottle)
1/2 sugar cookie (3 inches in diameter)
6 oz ice cubes
2 fresh strawberries, sliced
Calories: 262; Total fat: 9 g; Sodium: 190 mg; Total carbohydrate: 35 g; Protein: 11 g; Potassium: 336 mg