Web Exclusive
Pulses Take the Spotlight in 2016
By Andrea N. Giancoli, MPH, RD
The word "pulses" may be foreign to most clients and patients, but dietitians know full well that they can play an important role in providing plenty of vitamins and nutrients in the diet.
The United Nations has declared 2016 the International Year of Pulses, aiming to increase awareness of their nutritional value, economic accessibility, role in food security, favorable environmental impact, and agricultural sustainability. In this article Today's Dietitian answers the 10 most common questions clients and patients may be asking RDs about these nutritional giants. The answers cut through the confusion and get down to the basics.
1. What are pulses?
"Pulses are dry peas, dry beans, chickpeas (garbanzo beans), and lentils," says Jessie Hunter, MPH, RDN, director of domestic marketing for the USA Dry Pea and Lentil Council.

2. Is there a difference between pulses and legumes?
Pulses are members of the legume family; legumes are plants whose fruit is enclosed in a pod, says Sara Haas, RDN, a spokesperson for the Academy of Nutrition and Dietetics. "Pulses are legumes harvested for their dried seed," meaning the seed is dry when removed from the plant. In addition to pulses, the legume family consists of vegetable crops (green beans and green peas); sow (cover) crops such as clover and alfalfa; and oil seeds, including soybeans and peanuts.
3. What is the meaning of 'grain legume'?
This is just another name for pulses, Haas says.

4. What is the nutrient content of pulses?
Pulses are naturally low in fat, high in fiber, and provide a good source of protein. They contain folate ranging from 16% DV for dry peas to a whopping 45% DV for lentils per 1/2-cup cooked serving. Pulses also offer iron, potassium, magnesium, and many other essential nutrients.
Nutrient content varies depending on the soil, Hunter says, but in general when comparing 1/2-cup cooked servings of various pulses, white beans and lentils contain the most protein (17% DV and 18% DV, respectively) and iron (18% DV each) than other beans and peas. White beans deliver 14% DV for potassium and 8% DV for calcium. Navy beans boast the most fiber (38% DV), pinto beans provide 8% DV for selenium, and black beans supply 15% DV for magnesium.
                                                                            
Nutritionally, pulses are unique in that they comprise two food groups: the vegetable group and the protein group. Per the USDA's 2015–2020 Dietary Guidelines for Americans, ChooseMyPlate.gov recommends adults consume 1 to 2 cups of pulses (cooked from dry or canned) per week, depending on appropriate calorie needs. 
5. Do pulses provide high-quality protein?
While pulses provide up to 9 g protein per 1/2-cup cooked serving, they aren't considered complete proteins. Pulses don't contain adequate quantities of the essential amino acids methionine and tryptophan. Cereal grains do but are lower in lysine and isoleucine, making them a complimentary protein to pulses.

6.  How much of an impact do pulses have on health?
Research on the influence pulses have on chronic disease has shown they lower heart disease risk,1,2 improve short-term blood glucose control, and lower HbA1c values in people with diabetes,3 lower breast and colorectal cancer risk—possibly due to the resistant starch they contain,4,5 increase satiety, and may help with weight loss.6,7
7. Are pulse crops sustainable?
Pulses need much less water than other sources of dietary protein. Producing 1 lb of pulses requires 43 gallons of water compared with 469 gallons for chicken, 756 for pork, and 1,857 for beef.8-10
Pulse crops also enrich the soil by entrapping environmental nitrogen and putting it back into the soil. This decreases the need for fertilizer and results in a low carbon footprint. Pulses also promote soil biodiversity when grown in rotation with other crops.9,11

8. Do canned and fresh pulses contain the same nutrients?
Yes, both canned and fresh pulses provide the same amount of fiber and protein. "You may lose some water soluble nutrients like vitamin C and B vitamins from canned, but the difference isn't significant," Hunter says. If sodium is a concern, Hunter advises clients choose reduced- and low-sodium canned options. Clients should rinse canned beans well to wash away much of the sodium. Moreover, Hunter recommends clients look for sodium-free frozen pulse products on the market.
9. Don't pulses cause a lot of flatulence?
Pulses have received a bad rap for causing flatulence, but Hunter says this is a misconception. "People set up in their mind to expect gas from eating pulses, but research on the side effects of pulses has found that subjects who consumed a dish without pulses and heard that pulses were gas producers reported higher gastrointestinal flatulence than those who didn't hear about this association. Both groups ate the same thing."

However, humans don't have the enzymes to digest certain sugars in pulses, such as raffinose and tachyose. When these sugars reach the intestine, the intestinal bacteria digest them and this results in gas formation, Hunter says. The good news is that people can adapt to eating more pulses. She recommends clients start with one 1/2-cup or 1/4-cup serving during the first week and add a little more the second week. Hunter also suggests that clients preparing dry beans from scratch toss the water used to soak them and start fresh with new water to cook them. This will help to remove some of the water-soluble raffinose and tachyose.

10. Are pulses easy to prepare?
With the exception of lentils, pulses require soaking before they can be cooked. To decrease soaking time, Hunter advises adding baking soda to the soaking water. Baking soda softens pulses by breaking down their cell walls.
Once soaking is completed, and the pulses are ready to boil, clients should resist the urge to add salt to the water. Salt toughens pulses and increases cooking time. Likewise, acidic foods like tomatoes lengthen cooking and therefore should be added late in the cooking process.
By the end of 2016, pulses should become a household name. Dietitians will play a role in making that happen through consumer education and media communication. For more on pulses visit www.pulsepledge.com and www.pulses.org.
— Andrea N. Giancoli, MPH, RD, is a nutrition communications consultant and health advocate in Hermosa Beach, California.

References
1. Afshin A, Micha R, Khatibzadeh S, Mozaffarian D. Consumption of nuts and legumes and risk of incident ischemic heart disease, stroke, and diabetes: a systematic review and meta-analysis. Am J Clin Nutr. 2014;100(1):278-288.
2. Ha V, Sievenpiper JL, de Souza RJ, et al. Effects of dietary pulse intake on established therapeutic lipid targets for cardiovascular risk reduction: a systematic review and meta-analysis of randomized controlled trials. CMAJ. 2014;186(8):E252-E262.
3. Sievenpiper JL, Kendall CW, Esfahani A, et al. Effect of non-oil-seed pulses on glycaemic control: a systematic review and meta-analysis of randomised controlled experimental trials in people with and without diabetes. Diabetologia. 2009;52(8):1479-1495.
4. Wang Y, Wang Z, Fu L, Chen Y, Fang J. Legume consumption and colorectal adenoma risk: a meta-analysis of observational studies. PLoS One. 2013;8(6):e67335.
5. Zhu B, Sun Y, Qi L, Zhong R, Miao X. Dietary legume consumption reduces risk of colorectal cancer: evidence from a meta-analysis of cohort studies. Sci Rep. 2015;5:8797.
6. Marinangeli CP, Jones PJ. Pulse grain consumption and obesity: effects on energy expenditure, substrate oxidation, body composition, fat deposition and satiety. Br J Nutr. 2012;108(Suppl 1):S46-S51.
7. Li SS, Kendall CW, de Souza RJ, et al. Dietary pulses, satiety and food intake: a systematic review and meta-analysis of acute feeding trials. Obesity (Silver Spring). 2014;22(8):1773-1780.
8. What are pulses and why are they important? International Year of Pulses website. http://www.iyp2016.org/resources/what-are-pulses. Accessed January 22, 2016.
9. Pulses: your partner for sustainable food. Global Pulse Confederation website. http://www.pulses.org/pulses-the-future-of-food/sustainable-production. Accessed January 22, 2016.
10. Hoekstra AY, Chapagain AK. Globalization of Water: Sharing the Planet's Freshwater Resources. 1st ed. Malden, MA: Blackwell Publishing; 2008.
11. What are pulses? Food and Agricultural Organization of the United Nations website. http://www.fao.org/pulses-2016/news/news-detail/en/c/337107/. Updated October 15, 2015. Accessed January 24, 2016.
[Sidebar]
Boost Nutrition With These Pulse Swaps
• Lentils: Swap cooked lentils for one-half of the meat in your favorite recipe filling (eg, lasagna, chili, burgers) to lower the sodium and cholesterol content.
• Chickpeas (garbanzo beans): Substitute (1:1) up to one-half of the wheat-based flour (including all-purpose flour) in any baked goods recipe with chickpea flour to add iron, folate, fiber, and protein.
• White beans: Replace one-half of the butter or oil (1:1) in a recipe with white bean purée when baking to lower the fat content. 
• Dry peas: Swap out whey (milk-based) protein supplements in smoothies for pea protein powder, which can suppress appetite for longer periods.
• Black beans: Substitute 1 cup of black bean purée for 1 cup of flour in your favorite brownie recipe for a rich texture and added protein and fiber.
— Source: www.pulsepledge.com
[Recipe]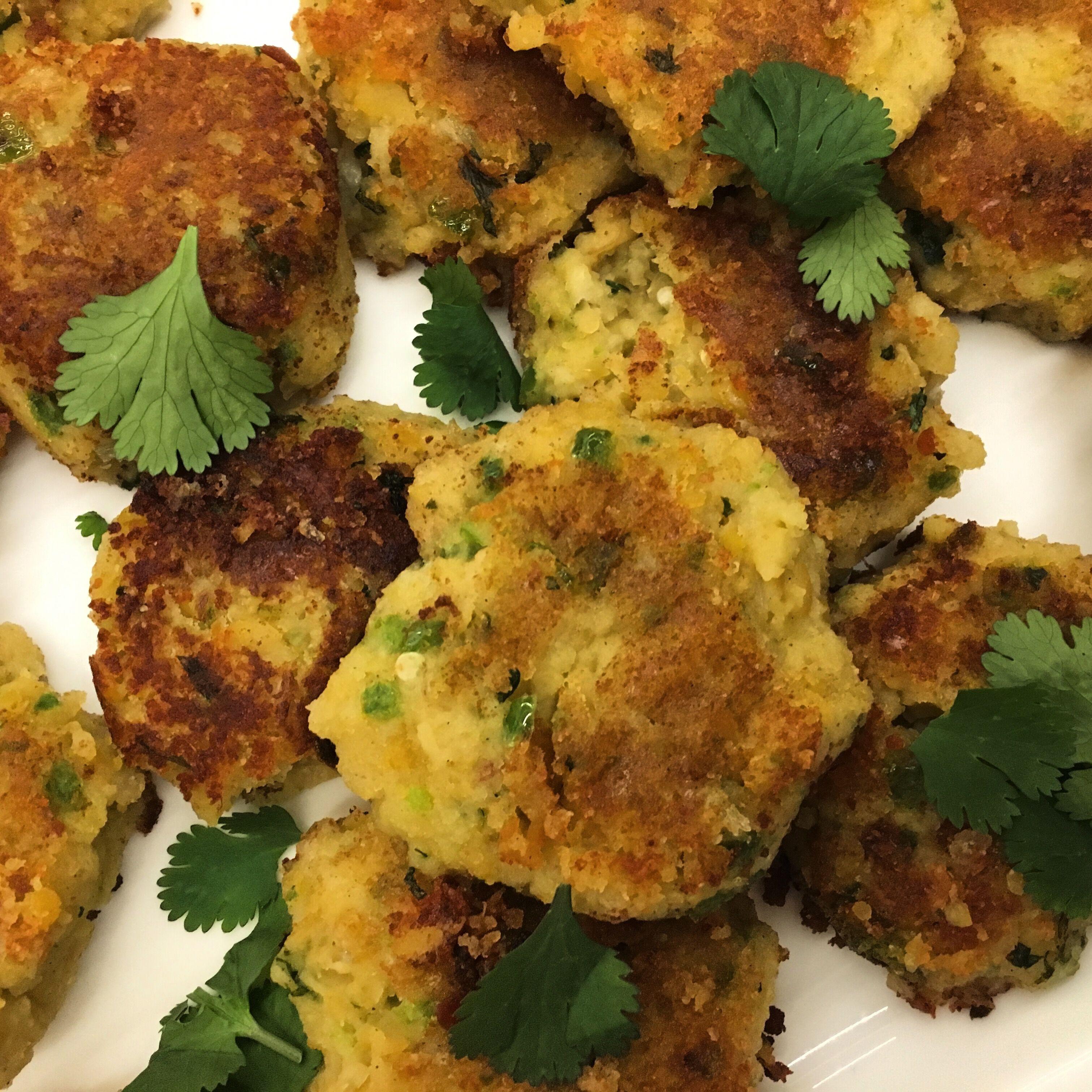 Vegetarian Patties (Sabzi Kabab)
Makes 24 kebabs
Ingredients
Peas
1 1/2 cups dried yellow split peas
1/2 cup chopped onion
1/2 cup grated lotus root or potatoes
1 T minced garlic
1 T minced ginger
1/2 tsp cardamom
1 1/2 tsp cumin
1/2 tsp cayenne pepper
Coarse salt, to taste
Kabob Mixture
2 T peanut or corn oil
1 cup minced onions
4 hot green chilies
1/2 to 1 tsp ground black pepper
1/2 cup fresh coriander, packed
2 tsp lemon juice
1 1/2 cups breadcrumbs
Water, as needed
1 cup peanut or corn oil or more as needed
Directions
1. Cooking the peas: Soak the peas in enough water to cover (by at least two inches) for four hours. Drain and rinse the peas.
2. Put them in a pot along with the onion, lotus root or potato, garlic, ginger, cardamom, cumin, cayenne, salt, and three cups of water, and bring to a boil. Lower the heat to medium and cook, partially covered, for 30 minutes or until the peas are cooked but still hold their shape. The water should be absorbed into the peas. If not, increase the heat and boil the mixture until all the water has evaporated. Turn off the heat. Let the mixture cool for a few minutes.
3. Preparing the kabobs: In the meantime, heat the oil in a small frying pan over medium-high heat and add the onions. Fry them, stirring, until they turn caramel brown (about 10 minutes). Turn off the heat.
4. Put the fried onions, green chilies, pepper, and coriander in the container of a food processor and process for 30 seconds, turning the machine off every 10 seconds to scrape down the sides. The herbs and seasonings should be evenly chopped and blended. Add the split pea mixture and continue processing, turning the machine off to scrape the sides every 10 seconds, for 30 additional seconds or until you have an integrated purée with a little bit of texture.
5. Transfer the mixture to a bowl. Add the lemon juice, breadcrumbs, and a few tablespoons of water so the purée achieves the consistency of a soft dough.
6. Place a small bowl of water on your work surface. Moistening your fingers occasionally with water, shape the mixture into neat patties, two inches round. Place them on a wax paper and set aside. You should have about 40 patties.
7. Heat 1/4 cup of the oil in a large frying pan until it's hot. Put about 8 to 12 patties in the hot oil and sauté, turning them until nicely browned on both sides (about 10 minutes). Remove with a spatula, and drain on paper towels. Repeat with the remaining patties the same way.
— Recipe courtesy of The Culinary Institute of America, Greystone.
Nutrient Analysis per serving (1 patty)
Calories: 170; Total fat: 10 g; Sat fat: 2 g; Trans fat: 0 g; Cholesterol: 0 mg; Sodium: 3 mg; Total carbohydrate: 16 g; Dietary fiber: 4 g; Sugar: 2 g; Protein: 4 g