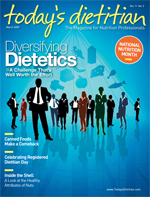 March 2009 Issue
Diversifying Dietetics: A Challenge That's Well Worth the Effort
By Sharon B. Salomon, MS, RD
Today's Dietitian
Vol. 11 No. 3 P. 26
The ADA has its first male president—it's one small step for man, one giant leap for an organization that's striving to more genuinely reflect America's "salad bowl" population. Recruiting men and minorities to the profession may take time, but the ADA's plans so far are encouraging.
In 2004, Today's Dietitian published an article by Sharon Palmer, RD, called "Changing the Face of Dietetics," in which she noted the sea of white female faces at the American Dietetic Association (ADA) Food & Nutrition Conference & Expo (FNCE) that year. While admittedly proud of her fellow dietitians and their contributions to the nation's health, Palmer lamented the field's lack of diversity. She closed with a wish that in the next decade, "The ADA Food & Nutrition Conference & Expo will better reflect the changing face of America."
We've yet to enter the next decade, but we are almost five years out from her hope for our profession. How have we fared?
A Changing Landscape
The face of America has changed over the last century, even if the faces of dietitians have not. What was once a white nation has become decidedly colorful. At the beginning of the 20th century, less than 10% of the U.S. population was nonwhite. By the end of the century, the percentage of people who weren't white increased substantially across the country, even in rural areas.
Recent estimates suggest that about 12% of the U.S. population is not native born and more than one quarter of Americans are considered minorities. States such as New Mexico, California, Arizona, Hawaii, New York, Texas, and New Jersey report that close to 40% of households do not speak English at all or do not speak it well. According to the 2000 U.S. Census, whites make up 75.1% of the total U.S. population; Hispanics, 12.5%; blacks, 12.3%; and Asians, 3.6%. 
Is the Profession Keeping Pace?
Diversity in everyday American life is a reality—look no further than the White House. Diversity in the dietetics community is only just beginning to be realized, but the field took a significant step recently when ADA members elected their first male president, Martin Yadrick, MS, MBA, RD, FADA.
Comparing the demographics of the ADA's membership with those of the country reveals a gap between provider and public, especially in urban centers where minorities tend to live in greater numbers. According to a 2007 ADA survey, 86.55% of the organization's members are white; 3.69% are black; 4.08% are Asian, Native Hawaiian, or Pacific Islander; 3.34% are Hispanic; and 0.52% are American Indian/Alaskan. More than 96% of members are female.
But these disparities are not unique to dietitians; physicians, nurses, and psychologists do not reflect the country's population much better. This issue affects healthcare as a whole, creating a cultural divide that can interfere with accessing and delivering healthcare services.
To be effective nutrition counselors, must we mirror the populations we serve? Can a 45-year-old white female RD successfully counsel a rural Native American male? Must we look and speak like our clients to be effective? Intuition tells us that people are more comfortable being counseled by someone who is more like they are in terms of appearance and language.
But the research on the effectiveness of client and provider similarities is inconclusive. A University of Florida study found that nonminority psychologists who received multicultural training can overcome and adapt to the differences to successfully treat minority clients. According to James J. Gormley, editor of H2O magazine, "It is ultimately most important for a healthcare provider to understand and respect a person's background and cultural values rather than merely looking similar to and/or sounding similar to him or her." It may be that cultural sensitivity and cultural competence trump or at least equal cultural sameness.
Yadrick has a distinct vantage point from which to assess the lack of cultural and gender diversity among dietitians. His personal experience as a man in a female-dominated profession has made him committed to improving the profession's diversity, considering his opening remarks at the 2008 FNCE: "Today, the percentage of men who are ADA members stands at about 3%. My status as a male in an overwhelmingly female profession over the 27 years I have been an RD is one of the factors that has made me keenly aware of the need to diversify our profession and our association. We need to reflect the rapidly evolving demographic profile and needs of our population—in the United States and around the world. We need to be able to continue changing in order to fulfill our mission and serve the public."
Meeting the Recruitment Challenge
The ADA's challenge is to increase the visibility of dietetics as a career for "underrepresented" groups: men, Hispanics, blacks, Asians and Pacific Islanders, and American Indians and Alaskan Natives. The association is meeting the challenge with grants and awards to foster minority recruitment, retention, and education. The association's Strategic Plan, which became effective in June 2008, includes working to attract members from underrepresented groups and strengthening cultural competence among its members to address health disparities.
Why haven't men been attracted to dietetics as a career? "I think the reason there aren't more men in our profession is the lack of awareness of dietetics as a career option," says Yadrick, who decided to pursue a dietetics career because he had role models in his sister, who is a dietitian and college professor, and his mother, who is also an RD.
Rick Hall, MS, RD, a lecturer in the department of nutrition at Arizona State University, has a somewhat different viewpoint: "There are a few things that prevent men from entering the field; low pay for dietitians is certainly a factor. I also believe that there continues to be an image issue for dietitians—people still see dietitians as hairnet-wearing women who act as food police. As dietitians, we all know the range of professional opportunities for registered dietitians, but the perception of consumers and some students is still quite different."
Hall offers some practical remedies that he believes will make it easier to recruit men, as well as a more diverse group of students: "I think our current pathway to registration creates a loss of potential men and women who would add great value to the profession. There continues to be a negative balance in the number of internships for each dietetic graduating senior. I'd like to see more internships or alternative pathways to registration. RD internships rarely pay students for work experience. I believe more men would be interested in becoming a dietitian if they could get paid for their internship experience."
David Grotto, RD, LDN, president and founder of Nutrition Housecall, LLC and author of 101 Foods That Could Save Your Life, says, "There needs to be a concerted effort to put new faces on our profession—ones that not only include diversity in gender but in race and culture, too. A white woman in a lab coat no longer represents the diversity of our profession. I think it's time to showcase the diversity that already exists."
Why don't minorities choose dietetics as a career? In an article published in the Journal of the American Dietetic Association in 2000, Greenwald and Davis attributed this population's reluctance to enter the field to several factors: educational disadvantages, especially in the sciences, for many minority students; a perception of low salaries; and lack of scholarship support.
A qualitative study of blacks' perceptions of their majors and future professions, published in the Journal of the American Dietetic Association in 2008, revealed that students did not choose a nutrition major because they lacked awareness of the field. The researchers reported that the students identified advanced training requirements, a lack of diversity, and low salaries as reasons for not seeking more information about the profession. Another qualitative study, this one of 11 minority student interns and published in the Journal of the American Dietetic Association in 2002 by Suarez and Shanklin, suggested early recruitment (eg, through school career days) as a way to attract more minority students.
ADA leadership and members have been working toward creating a more diverse profession through organizing working committees, offering scholarships and grants, and soliciting minority members' advice.
The ADA's Building Our Future mentor program tool kit is a response to minority students' lack of awareness of the profession. The tool kit (available for free download at www.eatright.org) is designed to help affiliates, dietetic practice groups, and diversity mentoring groups establish a mentoring program for students to raise awareness of dietetics as a career choice for underrepresented groups. The tool kit is a complete program with explicit, step-by-step information about how to recruit mentors and students and how to follow the mentoring progress.
The ADA Diversity Committee was formed to help diversify the association's membership. According to committee chair Eunshil Shim-McKenna, RD, LD, "The committee's goals are to increase the diversity of the profession and the membership and to support and encourage increasing the cultural competence of ADA's members so they can better serve a diverse population." The committee monitors and evaluates programs and provides feedback to the association on member activities designed to increase diversity.
Jeanette Jordan, MS, RD, CDE, a Charleston, S.C.-based dietitian, applauds the ADA's efforts to increase diversity, although she believes the profession has a long way to go, especially in recruiting minority students. She believes more individual outreach is needed. "I talk with high school students. I do career days to promote the profession. I work to encourage young people who are getting ready to go to college to investigate nutrition careers," says Jordan. "As individuals, we have to do more."
Tina Shepard, MS, RD, dietetic internship director at Arizona State University, reports that the school's dietetics program has 31 male dietetics majors, probably the highest number yet. "Although we have doubled the number of dietetic majors in the last three years and have many more men than ever before, our numbers of racial and ethnic minority students have stayed about the same," she reports. Shepard has had only one black and one Native American intern in the program in the last six years. But the internship program will be applying for a grant to recruit and provide mentoring to Native American students who choose dietetics.
The ADA views Member Interest Groups (MIGs), which grew out of official ADA networking groups, as a way to attract minority and underrepresented members to ADA leadership roles. While dietetic practice groups and affiliate associations focus on practice issues, MIGs were founded in the spirit of diversity and to celebrate the many characteristics of the ADA's membership and the public it serves. There are four official MIGs—Chinese Americans in Dietetics & Nutrition (CADN), Latinos and Hispanics in Dietetics and Nutrition, the National Organization of Blacks in Dietetics and Nutrition, and the National Organization of Men in Nutrition (NOMIN)—and several are working to become sanctioned groups.
MIGs are open to all ADA members and are not intended to exclude or restrict membership to any one group. NOMIN's chair, Stephen Roch, RD, LDN, CFT, reports that the group includes female members in addition to male members and that NOMIN can reach its goals more easily if men and women work together. NOMIN is working to develop and implement strategies to recruit men by increasing the visibility of dietetics as a career choice and advocating for continued research, education, and dissemination of information about men's health issues and men in dietetics.
CADN chair Caroline Chinn, MS, RD, reports that members finally feel they have "official participation, involvement, and a voice now that they have been recognized as an official MIG." Chinn attended an ADA leadership workshop, something she doesn't think she would have done were it not for the group. She is now mentoring other members to take on leadership roles. Non-Asian dietitians who work in the Asian community have contacted the MIG for help and guidance with culturally sensitive and appropriate materials. Chinn says they plan to develop materials for the public as the MIG gains more members.
Sarah Amer, MS, RD, CDN, believes that MIGs are one of the best ways to recruit members from underrepresented groups. Amer is working with other Muslim dietitians to help them get their MIG off the ground. They need 50 dietitians to sign on as members, but they're struggling to reach their goal because identifying potential members has been more difficult than anticipated.
Efforts Need Support
One of the most important ways an organization can support its members' efforts is with money. There is money to reward those who have already made a difference, as well as money to support program development. The Diversity Action Award recognizes accomplishments of dietetic education programs approved by the Commission on Accreditation for Dietetics Education, including affiliate dietetic associations, dietetic practice groups, and MIGs, that will increase and improve recruitment of ethnic minorities and men. The Pennsylvania Dietetic Association received the 2007 Diversity Action Award for its ongoing work to increase the awareness of dietetics and improve diversity through a coordinated program that included library events, school counselor workshops, and health fairs.
Karen Lechowich, MBA, RD, vice president of diversity and external relations for the ADA, says it usually takes more than six years to know whether a mentoring experience with a high school student will result in him or her becoming an RD. Will that student continue with the field through college, internship, and the registration exam? The St. Louis Dietetic Association, a 2008 recipient of grant money, is working with junior high school students by connecting them with a dietitian for a two-week experience at a hospital. After completing the two weeks, the students are assigned to a mentor who will stay in contact with them throughout high school and help them with college applications and any questions that may arise about the profession. "Keeping track of students for that length of time is difficult," says Lechowich. The students and the mentors must stay committed to each other for the program to work.
The Diversity Honor Roll is an ADA-supported program that recognizes accomplishments of individual members in mentoring, recruiting, tutoring, and providing leadership development for members of underrepresented groups. Any member who has acted as a mentor to a student or practitioner or developed a recruitment or leadership training program is eligible to apply for a $500 monetary award and to be named to the Honor Roll. Lechowich reports that so far, no one has submitted names for the award.
A Long but Hopeful Road Ahead
Although the profession appears to be moving toward more diversity in its ranks, it may be a long time before the membership mirrors the populations that dietitians serve. As the cultural, racial, and ethnic profile of the dietetics profession evolves, the opportunity for interaction among groups will allow for the sharing of ideas and will foster a better understanding of our differences and similarities, making all of us better practitioners. Clients who see a profession that values people like them may feel more comfortable seeking nutrition guidance.
Dietitians such as Lori A. Jones, MPH, MS, RD, LD, an instructor in the department of nutrition and dietetics at Saint Louis University, find the results of the ADA's efforts encouraging. "Diversity in the profession is one of the ways that we can positively impact health disparities," she says. "We may not see significant change in one year, but if we continue to recruit, nurture, encourage, and train, I think we can see some significant changes in four to five years."
— Sharon B. Salomon, MS, RD, is the owner of FoodSense, a food and nutrition consulting company.