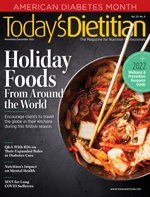 November/December 2021 Issue
Holiday Foods From Around the World
By Liz Weiss, MS, RDN
Today's Dietitian
Vol. 23, No. 9, P. 22
Encourage clients to travel the globe in their kitchens during this festive season.
What do the holidays mean to you? For many people in the United States, the holiday season starts in November with Thanksgiving; sweeps through Hanukkah, Kwanzaa, and Christmas, and doesn't really let up until New Year's. It's an exhilarating, exciting, and sometimes exhausting time.
The holidays bring people together to share all kinds of traditions, songs, ceremonies, and decorations, but at the heart of every holiday is food. Families celebrate with a bounty of traditional dishes and desserts that nourish the soul … and, in some cases, the body as well. They share roasted turkey and honey-glazed ham, cornbread dressing and green bean casserole, latkes and collard greens, cranberry sauce and creamed spinach, and desserts such as pecan and pumpkin pie.
People ritualize food to create some ceremonial significance as years pass. Holiday dishes become so habitual that it can feel a bit sacrilegious to even consider changing up the menu. But take a step outside your own family or culture and you'll find literally a whole world of holidays, with all kinds of rituals and celebrations and the many flavors that come with them. What if you could travel to India for Diwali, China for Chinese New Year, or Syria for Easter?
What would your senses experience if you celebrated other people's holidays with their dishes? The scent of cardamom in garbanzo fudge ladoos? The burst of lime and citrus and spice in roasted pork? The sizzle of buñuelos frying?
Global Traditions
Holiday celebrations are a unique and rich window into other cultures. To broaden our understanding of how people from around the world celebrate—and what they eat—Today's Dietitian speaks with seven RDs with roots in myriad places on the planet to create a primer on favorite holidays, discuss the foods that traditionally accompany those celebrations, and provide recipes that sample delicious special-occasion foods from around the world.
Mbali Mapholi, RD, a private practice dietitian from the Zulu tribe in South Africa, says, "The most celebrated holiday from my culture is the Royal Reed Dance ceremony, an annual event that aims to celebrate and unify the Zulu nation. This weekend sees thousands of maidens across the country come out to the Zulu King Royal house in my home village for the whole weekend." Traditional Zulu foods take center stage during this holiday: "Isigwaqane (maizemeal with beans), isijingi (maize-meal and pumpkin), amasi (maize-meal and maas, fermented milk), imifino (wild leafy vegetable drink), and umqombothi (fermented traditional sorghum beer)."
Vandana Sheth, RDN, CDCES, FAND, author of My Indian Table: Quick & Tasty Vegetarian Recipes and 2021 recipient of the Outstanding Dietitian of the Year award from Nutrition Entrepreneurs Dietetic Practice Group, who was born and raised in Madras (now Chennai), India, and lives in Los Angeles, describes how even within one country, the details can differ regionally. "Sweets are a big part of festivals, holidays, and celebrations," but specifics matter when it comes to food traditions, Sheth says. "In the North [of India], you are often welcomed as a guest with something sweet or you begin the meal with a sweet treat. In the South, usually the sweet is served at the end of a meal. This dichotomy was fascinating to me when we would visit family in the North or have guests visit our home in the South. Indian desserts are usually prepared on the stove top and not baked in the oven."
Symbolism
Celebratory food often is loaded with symbolism. Korean American Maggie Moon, MS, RD, associate vice president of nutrition communications for The Wonderful Company in Los Angeles, describes the Korean food served in the winter: "P'atjuk is a red bean porridge that's customary to enjoy throughout the 12th month, but especially on the shortest day of the year, the Winter Solstice (Dongji). The red bean is symbolic as a color of strength, positivity, and the sun. The red bean porridge is meant to chase away evil spirits, and long ago was also sprinkled around the main gates to the home. It was a way to celebrate the day the sun comes to life again."
The symbolism of Chinese New Year foods is rich, too, says Mary Lee Chin, MS, RDN, a Denver-based food and nutrition communications consultant with Nutrition Edge Communications, who was born in Massachusetts to Chinese immigrant parents. "Trays of tangerines would be set out, as the Chinese words for tangerine and for gold are similar and it foretells good fortune," she says. "Candied or dried lychee nuts (strong family relationships), coconut (togetherness), and melons (good health and growth) are among the selections in the Box of Harmony, a round or octagonal tray of candies, to begin the New Year sweetly."
Learning about customs, symbols, and food traditions in other cultures enables RDs to see (and taste) from their clients' perspectives, with a deeper understanding of the rich variety of traditional foods. While a tweak here and there nutritionally is appropriate and it's always great to add things such as fruits, veggies, and whole grains to a meal, it's more important that clients learn how celebration foods can fit into an overall healthful diet and lifestyle than it is for every single food to have a perfect nutritional profile. Holidays should nourish the body and soul.
India
India has many languages, religions, and celebrations. According to Sheth, some of the significant holidays in India include Pongal, a spring celebration in South India that features a savory lentil and rice dish cooked in a clay pot, and Holi, a festival of color to celebrate love and joy, where you might eat gujiya, sweet little dumplings stuffed with fruit and nuts.
Sheth's favorite holiday, Diwali, is celebrated by more than a billion people from many different faiths. It's "also known as the Festival of Lights, and celebrates the victory of good over evil. One of my favorite Diwali sweets was ghughra (a deep-fried pastry stuffed with nuts, aromatics, and sugar). I have fond memories of learning how to twist the pastry edges after filling it before frying them in my childhood home in India."
Cuba
Traditional foods abound at Cuba's celebrations. Many of the festivals began as religious holidays—such as Santiago, a week-long carnival held in July around the time of the saint day of St. James. There you might eat Cuba's national dish, ropa vieja—a nourishing stew of beef, tomato sauce, onions, and peppers, usually served with yellow rice.
Lourdes Castro, MS, RDN, director of the NYU Food Lab in New York, was born and raised in Miami to parents from Cuba. She says, "Nochebuena (Christmas Eve) is definitely the most celebrated Cuban holiday. It is arguably more important than Christmas Day and is definitely the most important Cuban food holiday. The typical menu isn't extensive, but it is delicious. Roast pork served with a garlic sour orange sauce is complemented with rice, black beans, and boiled yuca. Cuban households everywhere celebrate Nochebuena with those five simple recipes. My fondest memories of Nochebuena center around the whole pig roast my family hosted throughout my childhood."
Mexico
Dia de la Independence marks Mexico's independence from Spain with dancing, music, fireworks, and food including chiles en nogada—stuffed poblano peppers doused in a walnut sauce, with Mexico's flag colors of green peppers, white sauce, and red pomegranate seeds.
For Mexican American Christy Wilson, RDN, a nutrition counselor at UA Campus Health Service in Tucson, Arizona, and owner of Christy Wilson Nutrition, LLC, Nochebuena was the most food-filled holiday growing up in the southern Arizona border town of Nogales. She'd eat "tamales, beans, buñuelos (a fried dough fritter sprinkled with cinnamon and powdered sugar and served with syrup), boiled shrimp, and always a delicious abalone cocktail."
Menudo, a classic Mexican stew with beef tripe and hominy, is a big part of Christmas and New Year's. "In my family, there is no such thing as a small pot of menudo," Wilson says. "Menudo is cooked all day long, either inside or outside over an open flame, and typically served with fresh cilantro, diced white onion, sliced radish, and lots of lime. Menudo is well known as a classic hangover dish—soothing the body after a long night of celebrating!"
South Africa
South African celebrations have a huge spectrum; the country has had multiple waves of colonization and immigration and is far from homogenous. Mapholi was raised in the village of KwaNongoma and now lives in Johannesburg, both in South Africa. The Royal Reed Dance is the most celebrated holiday in Zulu culture and falls in September, which is Heritage Month, a celebration of the diverse populations and cultures that comprise South Africa. (September 24 is the Heritage Day holiday.)
But Mapholi's favorite holiday is "Christmas Day. On that day, we would wake up very early to cook the 'seven colors' meal, which is a plate with all sorts of salads (beetroot, coleslaw, potato salad, baked beans salad, etc), with rice and a chicken curry. After cooking, we would get in our new Christmas clothes and go around the village door to door eating and feasting the whole day. We would normally be so tired by late afternoon that we would come back home to nap before waking up to eat our own prepared lunch. This used to be my utmost favorite time of the year."
China
Hands down, the biggest holiday in China is Chinese New Year. This 15-day festival began around 4,000 years ago—its traditions run deep. Chin says, at Chinese New Year, "homes are cleaned from top to bottom and decorated with live floral blooms with special meanings, such as peonies signifying love and affection. Flower blossoms symbolize the rebirth that takes place with the coming spring." Loud and thrilling lion dances are performed in the streets, and, of course, there are plenty of food rituals. Chin's Chinese New Year meals are "filled with foods with auspicious meanings. Dumplings represent golden ingots, and uncut noodles represent longevity. A whole fish, with head and tail intact, is a common dish served at New Year and other celebrations. The word [for] fish has the same pronunciation as the word [for] abundance or having leftovers of money, so serving fish portends an increase in prosperity. The intact head and tail represent family unity."
Korea
There's a food for every celebration in Korea. Moon, whose parents immigrated from South Korea, says that at Korean Lunar New Year, "rice cake soup is a must-have and symbolizes the wish for a year of well-being, free of illness. Its clear broth represents a clear mind, and the discs of rice cake symbolize strength."
At Chuseok, the harvest celebration, "all the food is made from the new harvest. A classic dish is rice cakes steamed on a bed of aromatic pine needles, shaped like half-moons to symbolize growth and progress and a wish for a good harvest the next year." Moon's favorite is Jesa, "a day of remembrance and respect for ancestors, often on the anniversary of a parent's or grandparent's passing. My parents tell stories about their parents all night, and it makes me feel closer to our family history. There are often more than 20 dishes, but always rice, soup, seasonal vegetables, kimchi, rice cakes, fish, a rice drink, rice candies, fruit, and wine."
Syria
Most Syrians are Muslim, and there are two main Muslim celebrations, Eid Ul-Fitr (marking the end of a monthlong fast for Ramadan) and Eid Ul-Adha (marking the end of the pilgrimage to Makkah). Rahaf Al Bochi, RDN, LD, founder of Olive Tree Nutrition, who grew up in Canada with a Syrian background and spent time in Syria in the summers, says, "During Eid, Muslims start the day with a prayer at the mosque, then gather with family and friends to enjoy gifts and delicious foods. During Eid in Syria, many families enjoy savory dishes like ful mudammas (fava bean salad), grilled lamb liver, and lamb with freekeh or rice. The highlights of Eid are the traditional sweets, including ma'amoul (a cookie filled with dates or pistachios), baklava (layers of phyllo and crushed walnuts), knaffe (shredded phyllo pastry with cheese), and many other phyllo-based sweets filled with pistachios and walnuts and drizzled with rosewater syrup. There are so many varieties and shapes!"
She adds, "My favorite is Eid Ul Fitr, which is the celebration after fasting the month of Ramadan. The first day of Eid we would wake up and enjoy ma'amoul my mom made. That first bite is the most delicious."
Expand Your Palate
With a trip to the grocery store, some time in the kitchen, and the recipes TD has collected from its global RDs, dietitians and their clients can get a taste of the world's celebrations for themselves. While many of us rightly hold fast to our own traditions, this year let's make an effort to reach outside of our own culture and try a tasty piece of someone else's. You might find yourself serving ful madammas (recipe below) at all your Thanksgivings to come!
— Liz Weiss, MS, RDN, is a mom of two grown boys with a specialty in family nutrition. She's the voice behind the family food podcast and blog Liz's Healthy Table, and her website is filled with easy, flavorful, and nourishing recipes that appeal to both kids and adults. She appears regularly on Boston's NBC lifestyle show the Hub Today, and she's a Have a Plant Ambassador for the Produce for Better Health Foundation.

[Recipes]
P'atjuk (Red Bean Porridge)
According to Maggie Moon, MS, RD, p'atjuk is a red bean porridge that's customary to enjoy throughout the 12th month, but especially on the shortest day of the year, the Winter Solstice (Dongji). The red bean is symbolic as a color of strength, positivity, and the sun. The porridge is meant to chase away evil spirits, and long ago also was sprinkled around the main gates of homes. It was a way to celebrate the day the sun comes to life again.
Serves 6 to 8
Ingredients
1 cup small dried red beans (called pat in Korean; also called adzuki beans)
1/2 cup sweet rice flour (mochi flour)
5 T hot water
Honey, to taste
Salt, to taste
1 T pine nuts, for garnish, optional
Directions
1. Pick over beans, place in a colander, and rinse and drain under cold water. In a large pot, combine beans with 10 cups water. Bring to a boil and simmer for 45 minutes, or until beans smash easily with back of a spoon. Set a half-cup of cooked beans aside. Place remaining beans in a blender or food processor and blend, adding water as needed, until texture is smooth and creamy.
2. While p'atjuk is simmering, make rice ball dumplings. Place rice flour in a medium bowl. Add hot water 1 T at a time, and stir with a spoon until mixture is cool enough to touch. Knead into a dough until it has an elastic consistency. Pinch off thumb-sized pieces of dough and roll between your palms to make about 20 balls.
3. Return blended beans, reserved beans, and rice balls to the large pot. Simmer for 15 minutes to warm through. (Porridge will thicken as it cools.) Add honey and salt to taste. Garnish with pine nuts and a drizzle of honey as desired.
Nutrient Analysis per serving (1/6 recipe, with 1 tsp honey)
Calories: 195; Total fat: 2 g; Sat fat: 0 g; Cholesterol: 0 mg; Sodium: 2 mg; Total carbohydrate: 38 g; Dietary fiber: 5 g; Sugars: 6 g; Protein: 8 g
— Recipe and photo courtesy of Maggie Moon, MS, RD, associate vice president of nutrition communications at The Wonderful Company
Isijingi (Maize-Meal With Pumpkin)
Mbali Mapholi, RD, says, "Zulu foods take center stage in September, which is Heritage Month. One recipe that celebrates Zulu pride is isijingi, a traditional main dish that's relatively nutritious, inexpensive, and enjoyable. It can be eaten in hot or cold seasons, and I have fond memories of my grandmother making it for us, especially on cold days. Walking a long distance from school on winter days was hard, but getting home to this dish was blissful."
Serves 4
Ingredients
2 1/2 cups (500 g) peeled and cubed pumpkin or butternut squash
1 cup (190 g) maize-meal
1/2 cup (90 g) granulated sugar (brown or white), optional
2 T (30 g) pumpkin seeds
Directions
1. Place pumpkin in a saucepan. Add enough water to cover and bring to boil. Once boiling, reduce heat and simmer 30 minutes, or until soft.
2. Place maize-meal and 1 cup water in a bowl and stir until combined and mixture forms a paste.
3. Stir maize-meal paste into saucepan and stir constantly until pumpkin and maize mixture thickens and becomes smooth. Place a lid on the pot and reduce heat to low. Simmer for 15 minutes, stirring occasionally. Consistency should be like a thick porridge.
4. Add sugar 1 T at a time, as desired. Taste as you go until you reach desired sweetness. Simmer for 5 more minutes. Serve in individual bowls and garnish with pumpkin seeds.
Note: Corn meal can be used instead of maizemeal. Maize-meal is finer than cornmeal and is white, but it's very similar to corn meal.
Nutrient Analysis per serving (if made with added sugar)
Calories: 328; Total fat: 4 g; Sat fat: 1 g; Cholesterol: 0 mg; Sodium: 10 mg; Total carbohydrate: 71 g; Dietary fiber: 4 g; Sugars: 30 g; Protein: 7 g
— Recipe courtesy of Mbali Mapholi, RD, Mbali Mapholi Inc. at mbalimapholiinc.co.za
Magas (Cardamom Spiced Garbanzo Fudge Balls)
Vandana Sheth, RDN, CDCES, FAND, says, "Magas is a popular sweet originating from the Northwestern state of Gujarat, India. These garbanzo dessert balls (ladoos) are commonly prepared for celebrations, including Diwali. They're made from chickpea flour (besan), sugar, ghee, and cardamom. One of my favorite childhood memories with Magas was when I would sit on the kitchen counter and watch my mom make them for my sister and I as an after-school treat."
Serves 12
Ingredients
1/4 cup ghee
1 cup chickpea flour
1/2 cup powdered sugar
1 tsp ground cardamom
Directions
1. Heat ghee in a large skillet over medium-high heat. Add chickpea flour and cook, stirring frequently, until the mixture is fragrant and begins to darken in color, 7 to 10 minutes.
2. Transfer to a bowl and let cool, about 2 minutes. Add powdered sugar and cardamom and mix until well combined.
3. Rub a small amount of ghee over your palms. Working 1 tablespoon at a time, roll mixture into 12 balls. (If mixture feels too dry or crumbly, add a little more melted ghee.) Eat warm or store for later in an airtight container.
Nutrient Analysis per serving
Calories: 83; Total fat: 5 g; Sat fat: 3 g; Cholesterol: 13 mg; Sodium: 5 mg; Total carbohydrate: 9 g; Dietary fiber: 1 g; Sugars: 5 g; Protein: 2 g
— Recipe and photo reprinted with permission from My Indian Table: Quick & Tasty Vegetarian Recipes by Vandana Sheth, RDN, CDCES, FAND (Vandana Sheth, April 2019) at vandanasheth.com
Cuban Pork Roast
According to Lourdes Castro, MS, RDN, Cuban roast pork gets much of its flavor from the garlicky mojo (sauce) that's used as both a marinade and sauce. Combining garlic and spices with zesty oranges and limes gives lean pork tenderloin a special aromatic and fruity flavor. Don't forget to serve extra marinade on the side to add that extra splash of flavor.
Serves 6
Ingredients
15 cloves garlic (about 1 head), peeled
1 1/4 tsp salt, divided
1 large onion, sliced
1/4 cup orange juice
1/4 cup lime juice (from 2 to 3 limes)
1 T dried oregano
1 tsp ground cumin
1/3 cup olive oil
2 lbs pork tenderloin
Directions
1. Place garlic cloves in a mortar and lightly crush with the pestle. If you don't have a mortar and pestle, create one with a cup and the back of a wooden spoon or any other long tool with a blunt end. Sprinkle 1/4 tsp salt over the crushed garlic and mash into a paste.
2. Transfer garlic paste to a large resealable plastic bag and add remaining salt, onion, orange juice, lime juice, oregano, cumin, and olive oil and mix well.
3. Pierce the flesh of pork all over with the tip of a sharp knife, and place meat in bag, making sure to coat pork well with marinade. Press out as much air as possible from bag before sealing. Pork should be marinated in the refrigerator 30 minutes to 24 hours.
4. Preheat oven to 350˚ F. Place a nonstick oven-safe skillet over medium-high heat. Remove pork tenderloins from marinade, taking care to leave behind as many bits of onions and garlic as possible. Reserve marinade.
5. Sear pork until golden brown on all 4 sides. Transfer pan to oven, and roast for 30 minutes or until internal temperature of pork registers 145˚ F.
6. Meanwhile, place reserved marinade in a small saucepan and bring to a boil. Allow to boil for 2 minutes before lowering to a simmer. Continue cooking on low until the pork is ready to serve. When pork is ready, remove it from oven and allow it to rest for 5 minutes before slicing. Drizzle some sauce over pork and serve remaining sauce on the side.
Nutrient Analysis per serving
Calories: 344; Total fat: 17 g; Sat fat: 4 g; Cholesterol: 110 mg; Sodium: 573 mg; Total carbohydrate: 7 g; Dietary fiber: 1 g; Sugars: 2 g; Protein: 41 g
— Recipe and photo courtesy of Lourdes Castro, MS, RDN, director, NYU Food Lab and adjunct professor, NYU Department of Nutrition and Food Studies (lourdescastro.net)
Cóctel de Abulón (Abalone Cocktail)
Christy Wilson, RDN, says, "This seafood cocktail is served in small cups and was always such a treat for my family. Even though the simplicity of this recipe makes it so easy to prepare all year long, it was a staple 'botana,' or hors d'oeuvre, for the Christmas holiday."
Serves 6
Ingredients
1 15-oz can imitation abalone, drained, with 1 to 2 T salty water reserved (water optional)
1 15-oz can mixed vegetables, drained and rinsed
12 oz tomato cocktail juice, such as Clamato
5 T ketchup
Juice from 8 key limes (1/4 to 1/3 cup)
2 celery stalks, diced (about 1 cup)
2 T cilantro, chopped
6 lime wedges and 6 cilantro sprigs, for garnish
Hot sauce of choice (optional)
Directions
1. Cut large pieces of abalone into bite sized pieces (1/2- to 1-in cubes) and place in a large bowl.
2. Add canned vegetables, cocktail juice, ketchup, lime juice, celery, and cilantro. Stir to combine. Adjust amounts of fresh lime juice and cilantro to flavor preference. For added flavor, add reserved salty water from canned abalone, as desired. Cover bowl and place in refrigerator for 20 to 30 minutes to chill.
3. Ladle abalone cocktail into clear cups and garnish each with a lime wedge and cilantro sprig. For extra heat, add a few dashes of your favorite hot sauce as desired.
Note: For a lower-sodium version of this recipe, use a low-sodium tomato or vegetable juice. If you can't find key limes at the market, use regular limes.
Nutrient Analysis per serving
Calories: 90; Total fat: 0 g; Sat fat: 0 g; Cholesterol: 90 mg; Sodium: 434 mg; Total carbohydrate: 15 g; Dietary fiber: 2 g; Sugars: 8 g; Protein: 8 g
— Recipe and photo courtesy of Christy Wilson, RDN, nutrition counselor at UA Campus Health Service and owner, Christy Wilson Nutrition, LLC, at christywilsonnutrition.com
Steamed Fish With Sizzling Oil
Mary Lee Chin, MS, RDN, says, "A whole fish, with head and tail intact is a common dish served at New Year's and other celebrations. The fish is placed on the table with the head pointing to the most esteemed guest. Years ago, when I took my new (white) husband to a Hong Kong restaurant to meet family, he turned the fish head toward my eldest aunt. Everyone breathed a sigh of relief and acceptance. Each household has a version of this steamed fish dish. Here's my mom's."
Serves 4
Ingredients
1 whole fish (about 2 lbs), such as striped bass or red snapper, cleaned, scaled, with head and tail
1/2 tsp salt
1 T soy sauce
4 green onions, including tops, thinly sliced diagonally
1-in fresh gingerroot, peeled and grated
3 T canola oil
1/2 bunch cilantro, stems lightly trimmed but not removed
Directions
1. Bring a large quantity of water to boil in a bamboo or metal steaming vessel. Water should be up to level of rack, but not high enough to boil over into platter.
2. Place fish on platter and set in steaming vessel. Cover and steam over high heat for 10 to 15 minutes until opaque. Remove platter and pour off accumulated liquid. Sprinkle with salt and soy sauce. Scatter green onions and ginger over fish.
3. Heat oil in small pan until sizzling. Pour over fish. Sprinkle cilantro over top and serve with head pointed at your most honored guest, of course.
Nutrient Analysis per serving
Calories: 293; Total fat: 13 g; Sat fat: 1 g; Cholesterol: 71 mg; Sodium: 628 mg; Total carbohydrate: 1 g; Dietary fiber: 0 g; Sugars: 1 g; Protein: 40 g
— Recipe and photo courtesy of Mary Lee Chin, MS, RDN, Nutrition Edge Communications
Ful Mudammas (Middle Eastern Fava Bean Salad)
According to Rahaf Al Bochi, RDN, this Syrian fava bean salad, called ful mudammas, is an essential dish for brunch or breakfast, especially on special occasions like Eid. It's packed with fresh vegetables and plant-based protein and is served with warm pita bread.
Serves 4
Ingredients
1 16-oz can fava beans
2 Roma tomatoes, diced
1/2 cup chopped parsley
3 green onions, thinly sliced
1 lemon, juiced (about 4 T)
6 T extra-virgin olive oil
1/4 tsp salt
Pita bread, warmed, to serve
Directions
1. Open can of fava beans and place in a colander. Rinse and drain. Place in a pot of water and bring to a boil, then drain and set aside. (This heats up the beans, but this step can be optional.)
2. Place tomatoes, parsley, green onions, and fava beans in a bowl and stir to combine.
3. Place lemon juice, olive oil, and salt in a bowl and whisk to combine. Drizzle onto bean mixture and toss well to coat. Serve with warm pita bread and enjoy immediately. Store leftovers in fridge for up to 3 days.
Nutrient Analysis per serving (salad only)
Calories: 281; Total fat: 22 g; Sat fat: 3 g; Cholesterol: 0 mg; Sodium: 663 mg; Total carbohydrate: 17 g; Dietary fiber: 5 g; Sugars: 2 g; Protein: 7 g
— Recipe and photo courtesy of Rahaf Al Bochi, RDN, founder of Olive Tree Nutrition, LLC, at olivetreenutrition.com