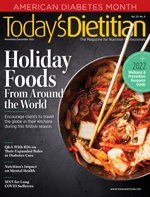 November/December 2021 Issue
Nuts + Seeds: Nuts and Seeds in Food Formulations
By Carrie Dennett, MPH, RDN, CD
Today's Dietitian
Vol. 23, No. 9, P. 20
How Industry Innovation Is Finding New Uses for These Nutrient Powerhouses
Nuts and seeds as snacks, baking ingredients, or crunchy toppings for salads are nothing new, but these healthful foods are gaining new ground as consumers interested in plant-based eating look for alternatives to meat and dairy that provide key nutrients—including protein and calcium—but also offer similar sensory qualities and culinary utility.
For example, hemp seed is being added to pasta, cashews are used to make vegan "béchamel," and walnuts are taking the place of ground meat in tacos and hearty Bolognese-style sauces. From a food manufacturing perspective, nuts and seeds can boost the "health halo" of plant-based products, as they bring a more healthful fat profile and a range of micronutrients to meat and dairy alternatives.
Mimicking the Mouthfeel of Meat
Chef and dietitian Michele Redmond, MS, RDN, who provides culinary nutrition and gastronomy education and consulting services at The Taste Workshop in Scottsdale, Arizona, says it's challenging to mimic key flavors when creating a meatlike dish with nuts and seeds. "There are specific amino acids and over 800 volatile compounds that give beef its unique flavor profile," she says. "Textures are also tricky, as the physical qualities of meats are complex to replicate. However, nuts and seeds are flexible ingredients that with a little creativity can complement or resemble classic dishes or be turned into new ones."
Earlier this year, the singer Lizzo took to TikTok to share a video preparing Brussels sprouts nachos with walnut "meat" and nondairy queso and the internet went nuts (pun intended). That doesn't surprise Jennifer Williams, marketing director of US branding and food innovation for the California Walnut Board.
"The simplicity of walnut ground meat makes it the perfect substitute for animal protein," Williams says. "If you look at the current plant-based meat alternatives on the market, most not only have long ingredient lists, but many also have ingredients that consumers are unfamiliar with. Conversely, walnut ground meat requires just three ingredients: walnuts, legumes, and a
seasoning blend."
Williams says because walnuts are neither too hard nor too soft, when combined with a legume they create a meaty mouthfeel. "Walnut ground meat also is versatile, and with different seasonings it can be used for everything from tacos to frozen lasagna," she says, adding that one favorite plant-based food is Eat Nice Foods' Meaty Walnut Ravioli, which uses walnuts as plant-based filling designed to mimic meat. Texas-based Azar Nut Co., which serves foodservice clients, makes It's Nature, a walnut-based meat substitute available with chorizo seasoning or Italian seasoning.
Walnut "meat" may have soared in popularity during the pandemic, but using walnuts in place of meat isn't new for plant-based cooks and chefs. Redmond says she often makes a toasted walnut mushroom ragoût that delivers a meaty flavor and texture. "Walnuts add savory, brothy, and meaty flavors to dishes because they're high in umami from free glutamate," she says. "I mince or food process walnuts into a ground meatlike texture and cook until tender but still chewy. With a few ingredient swaps, this walnut mushroom combo turns into vegan meals that resemble picadillo, sloppy joes, or Bolognese."
Creamy Without the Cream
Cashews are another important ingredient in plant-based food manufacturing. For example, Hong Kong–based meal delivery company Gafell—which got its start in 2016 making bean pastas—uses cashews in place of butter to make a "béchamel" sauce. The 100% plant-based sauce, which is higher in protein than traditional béchamel, is used in some of its frozen vegan entrées, including Impossible Lasagna, Cheesy Cauliflower and Broccoli Bowl, and Cashew Carbonara with Vegan Bacon.
"Cashew-based sauces are my go-to whenever I want a rich, creamy taste similar to cream," says St. Louis–based chef and dietitian Alexandra Caspero, MA, RD, CLT, owner of Delish Knowledge. "Nutritionally, cashews are a powerhouse nut packed with protein, iron, and magnesium. They are also lower in saturated fat and higher in healthful polyunsaturated fats—a key for reducing risk of cardiovascular disease. The decades of research on this topic is pretty clear: Replacing saturated fat with polyunsaturated or monounsaturated fats—or high-quality carbohydrates—significantly lowers coronary heart disease events."1
Redmond says that with a powerful blender and some soaked raw cashews, it's easy to create a mild-flavored, rich, creamy white sauce that plumps up pasta dishes and complements vegetable fillings in empanadas and galettes. "You can take this sauce many directions, making it extra savory with garlic and nutritional yeast or amping it up as 'nacho' dip with spices."
Caspero says cashews are a good option when making sauces to cover pasta, for mac and cheese, or serve as the base for a queso dip, and that soaked and blended sunflower seeds make a great alternative in most sauces for people who have nut allergies. "Blanched almonds and cashews also make a great spreadable cheese when blended with fresh herbs," she says, adding that toasted almonds blended with roasted red peppers have a similar taste to smoked cheddar and, depending on thickness, work well as a pourable sauce for nachos or a spreadable cheese for grilled cheese sandwiches.
"It's really remarkable how well nuts work as a healthier cheese alternative," Caspero says. "They have a similar fatty, buttery mouthfeel as cheese, but the fat profile of nuts compared to dairy makes them a far better choice for everyday eats."
Move Over Almond Milk and Peanut Butter
It's hard to keep up with all the latest plant-based "milks" made from nuts, seeds, or grains, but stalwarts such as soy and almond "milks" have been joined by hemp and cashew "milks." The latest entrant to the field is pumpkin seed milk, which often is touted as an allergen-free, more sustainable alternative to almond milk. Recipes abound online, and one New York company, Patch Organics, is expanding its market as the first company to commercially produce pumpkin seed milk.
Over in the nut butter aisle, walnuts finally are gaining mainstream traction, both as a standalone nut in a spread and as part of a nut medley. "Walnut butter pairs especially well with added ingredient flavors such as banana, coconut, or chocolate," Williams says. "The subtle nuttiness of walnuts helps elevate other flavors in a spread and provide a dynamic tasting product." For example, California-based Wellnut Farms offers retail walnut butter in three flavors: original, maple, and salted caramel.
Willliams says walnuts bring something no other nut can: omega-3 fatty acids. "Walnuts are the only nut that provide a significant amount of plant-based omega-3 alpha-linolenic acid (ALA), with 2.5 g per ounce. Omega-3 ALA may help with reducing the risk of heart diseases and inflammation."2
One reason walnuts traditionally haven't been as dominant in the snack aisle as almonds and peanuts is because they're rich sources of ALA; from a food processing perspective, the fragile omega-3 fats in walnuts makes them more susceptible to spoilage when exposed to heat. However, Williams says this isn't a deal-breaker. "Food manufacturers can easily prevent oxidation of walnuts' omega-3 ALA by using opaque packaging, coating the nut before inclusion, or making sure the inclusion is within the product rather than on the outside."
In fact, Williams says walnuts have become very popular in packaged foods in recent years, especially in baked goods and food bars. "The packaged cookie category has some amazing products, including Tate's Bake Shop's Walnut Chocolate Chip Cookies and Levain Bakery's Chocolate Chip Walnut. In food bars, products made with walnuts can be found from LUNA, Crafted Energy, and PROBAR."
It's worth noting that hemp seeds also contain ALA, and unlike many plant foods they contain all 20 amino acids. New York–based Sfoglini Pasta pairs organic hemp flour with organic durum semolina flour in its Hemp Radiators pasta.
Bottom Line
In plant-based circles, nuts and seeds have been used in these innovative ways for decades, Caspero says, so the fact they're now a "trend" feels somewhat surprising. Still, she anticipates that these applications of nuts and seeds will only continue to increase as more people shift to a plant-predominant lifestyle.
"Once you try nuts and seeds in this way, it's hard to go back," she says. "Walnut chorizo is so much more complex in texture and nutrition than its animal-based counterparts, cashew-based cream is rich and creamy with little saturated fat and no cholesterol. Stacking up the benefits of these plant-based items to animal-based ones, there's a clear winner when it comes to both health and sustainability."
— Carrie Dennett, MPH, RDN, CD, is the nutrition columnist for The Seattle Times, owner of Nutrition By Carrie, and author of Healthy for Your Life: A Holistic Guide to Optimal Wellness.

References
1. Clifton PM, Keogh JB. A systematic review of the effect of dietary saturated and polyunsaturated fat on heart disease. Nutr Metab Cardiovasc Dis. 2017;27(12):1060-1080.
2. Fleming JA, Kris-Etherton PM. The evidence for α-linolenic acid and cardiovascular disease benefits: comparisons with eicosapentaenoic acid and docosahexaenoic acid. Adv Nutr. 2014;5(6):863S-876S.