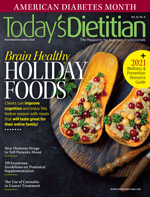 November/December 2020 Issue
Ask the Expert: Can Food Allergies Cause Weight Gain?
By Toby Amidor, MS, RD, CDN, FAND
Today's Dietitian
Vol. 22, No. 9, P. 8
Q: My clients have been asking whether food allergies or food intolerances can cause weight gain. What does the science say?
A: At this time, there's no evidence suggesting a link between food allergies or intolerances and weight gain. However, many consumers confuse the terms food allergies and food intolerances and make certain assumptions about either or both with regard to weight gain. Here's a look into the science and insights from two experts in the field.
Food Allergy vs Food Intolerance
Many consumers don't understand the difference between food allergies and food intolerances. A food allergy is defined as an adverse immunologic response to a dietary protein, whereas a food intolerance (also commonly called a food sensitivity) occurs when a person has difficulty digesting a particular food, leading to gastrointestinal symptoms such as abdominal pain, diarrhea, bloating, and intestinal gas.1
Food allergies affect 32 million Americans, with the most common allergens being milk and milk products, eggs, peanuts, soy, wheat, tree nuts, shellfish, and fish. There's a broad array of symptoms associated with food allergy, which may cause skin reactions or manifest in gastrointestinal, respiratory, and cardiovascular systems.1
Why Do Clients Perceive Weight Gain?
In addition to confusing food allergies with food intolerances, consumers also often incorrectly associate food allergies and intolerances with weight gain. According to Sherry Coleman Collins, MS, RDN, LD, president of Southern Fried Nutrition Services, this is in part due to gastrointestinal symptoms. "Intolerances to food can lead to bloating and that may appear to mimic weight gain," she says.
A self-diagnosed food allergy or intolerance can cause people to adopt a highly restrictive diet, even though research shows that people who self-diagnose food allergy are wrong 50% to 90% of the time.2 "Many people associate any adverse reaction to food with food allergies," Collins explains, adding that restrictive diets due to perceived food allergy or intolerance tend to be higher in sugar and simple carbohydrates. These low-nutrient diets also may encourage overeating, possibly resulting in weight gain and/or exacerbated bloating.
Weight Research
Research demonstrates different possible effects of food allergies and intolerances on weight in children vs adults. According to Carina Venter, PhD, RD, senior advisor to Food Allergy Research & Education and an associate professor of pediatrics in the Section of Allergy and Immunology at Children's Hospital Colorado and University of Colorado Denver School of Medicine, "there used to be the assumption that people, especially children with food allergies, were always underweight and short for stature. We published a study in 2018 indicating that this is not the case. Just as seen in the general population, children with food allergies (IgE [immunoglobulin E]- and non-IgE mediated) display a range of weights and heights."
According to Venter's study, 6% of children with food allergies from 12 international centers were underweight, 9% were stunted (ie, low height for age or shorter than expected), and 8% were overweight.3 Another study published in the Journal of Pediatrics suggests that children with food allergies, especially multiple food allergies, are more likely to be underweight.4
On the other hand, little research has been conducted on the relationship between food allergies and weight in adults. According to Venter, a 2019 study suggests that adults with IgE-mediated cow's milk allergy may have a lower height than control subjects without food allergies, but there was no difference in weight between the two groups.5
Recommendations for Clients
Helping clients with food allergies and food intolerances can be complex, but working with a multidisciplinary team to ensure all health needs are addressed can improve outcomes. Collins shares the following tips for RDs who counsel clients with food allergies and food intolerances:
• For those with food allergies, focus on foods naturally free from the allergen to avoid overreliance on heavily processed foods.
• Encourage a varied diet and nutrient-dense foods (including adequate fiber) to meet nutritional needs. Many people with food allergies or food intolerances overrestrict their diets because they fear a reaction.
• Consider a referral to a mental health professional if the individual expresses any disordered eating behaviors, excessive food restrictions, and/or significant anxiety around food.
— Toby Amidor, MS, RD, CDN, FAND, is the founder of Toby Amidor Nutrition (http://tobyamidornutrition.com) and a Wall Street Journal best-selling author. Her cookbooks include Smart Meal Prep for Beginners, The Easy 5-Ingredient Healthy Cookbook, The Healthy Meal Prep Cookbook, The Greek Yogurt Kitchen, The Best Rotisserie Chicken Cookbook, and The Create-Your-Plate Diabetes Cookbook. She's a nutrition expert for FoodNetwork.com and a contributor to U.S. News Eat + Run and Muscle&Fitness.com.

References
1. What is a food allergy? Food Allergy Research & Education website. https://www.foodallergy.org/resources/what-food-allergy. Accessed September 8, 2020.
2. NIAID-Sponsored Expert Panel. Guidelines for the diagnosis and management of food allergy in the United States: report of the NIAID-sponsored expert panel. J Allergy Clin Immunol. 2010;126(6 Suppl):S1-S58.
3. Meyer R, Wright K, Vieira MC, et al. International survey on growth indices and impacting factors in children with food allergies. J Hum Nutr Diet. 2019;32(2):175-184.
4. Mehta H, Ramesh M, Feuille E, Groetch M, Wang J. Growth comparison in children with and without food allergies in 2 different demographic populations. J Pediatr. 2014;165(4):842-848.
5. Sinai T, Goldberg MR, Nachshon L, et al. Reduced final height and inadequate nutritional intake in cow's milk-allergic young adults. J Allergy Clin Immunol Pract. 2019;7(2):509-515.