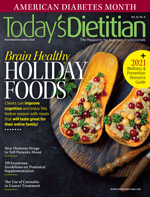 November/December 2020 Issue
Editor's Spot: Staying the Course
By Judith Riddle
Today's Dietitian
Vol. 22, No. 9, P. 6
It's been 10 months since the coronavirus came on the scene and drastically changed our everyday lives. Sadly, mask wearing, social distancing, avoiding crowds, and home isolation have become the norm. What's worse is that more than 9 million people have been infected and over 227,000 have died in the United States alone. Media RDs have taken to Zoom and other apps to conduct food demos and cooking classes. Others in private practice have transitioned from in-person counseling to telehealth services and have had to quickly learn about the virus and how it may be impacting their clients and patients.
Dietitians have learned that individuals with diabetes are at higher risk of developing severe complications from COVID-19 that can lead to prolonged hospital stays and even death compared with those who don't have diabetes. In recognition of American Diabetes Month, it's a good time for dietitians and certified diabetes care and education specialists to review the details of why people with diabetes are at higher risk of COVID-19 complications than those without diabetes, so you can better counsel patients and help them avoid COVID-19 infection.
According to the recent study "COVID-19 in People With Diabetes: Understanding the Reasons for Worse Outcomes," published in The Lancet Diabetes & Endocrinology, people with type 2 diabetes, and especially uncontrolled diabetes, have a higher risk of developing increased systemic inflammation, blood clotting, respiratory failure, pneumonia, and kidney and cardiac injury than those without type 2 diabetes.
The reasons are multifactorial but important to know and explain to patients. Type 2 diabetes is a disease that affects many vital organ systems in the body as can COVID-19. High blood sugar weakens the immune system and therefore decreases the ability to fight infections. COVID-19 in people with diabetes boosts the risk of developing diabetic ketoacidosis and sepsis. What adds fuel to this fire is older age, as people with type 2 diabetes tend to be aged 65 and older and have comorbidities such as CVD, hypertension, lung disease, and obesity, all of which can further weaken the immune system and the ability to fight off the virus.
What can RDs do to help keep patients safe? Stress the importance of staying home as much as possible, wearing masks in public, keeping six feet away from others, washing hands frequently and especially before blood glucose checks and insulin injections, and having at least a 30-day supply of diabetes medications and insulin on hand. Everyone has grown tired of the pandemic and its restrictions, but it's important for people with diabetes to stay the course and protect themselves until the virus gets under control and a safe and effective vaccine is available.
For more information on diabetes, Today's Dietitian is featuring articles on the latest diabetes medications and the importance of peer support within the diabetes community. Please enjoy the issue!
— Judith Riddle, Editor
TDeditor@gvpub.com