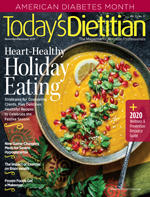 November/December 2019 Issue
Game-Changing Meds for Severe Hypoglycemia
By Hope Warshaw, MMSc, RD, CDE, BC-ADM, FAADE
Today's Dietitian
Vol. 21, No. 11, P. 24
The FDA's recent approvals of innovative treatments will help more people with diabetes be better prepared.
It was 2007, the year Mark defended his dissertation to earn his PhD in psychology. His decision to become a psychologist who specialized in diabetes, rather than a lawyer, was influenced by his own diagnosis of type 1 diabetes several years earlier.1
Now it was time to celebrate. Mark hosted a party at his home where he was surrounded by lots of friends and good food. To prepare for the party, he recalls taking a decent dose of rapid-acting insulin, figuring he would graze on the wide variety of food throughout the evening. Instead, Mark spent most of his time socializing with guests and not grazing on food. Hours later, after the party ended, he went to bed and fell asleep. While he was asleep, his blood sugar dipped dangerously low, and he was unable to regain consciousness. When his girlfriend noticed him sweating and making jerking motions, she called the paramedics. They arrived quickly and treated his severe hypoglycemia. The paramedics didn't take him to the emergency department, since Mark's blood glucose slowly rose and his symptoms subsided.
Severe Hypoglycemia
To be sure, all episodes of diabetes-related hypoglycemia require treatment, but level 1 (blood glucose <70 mg/dL but ≥54 mg/dL) and level 2 (blood glucose <54 mg/dL) hypoglycemia (see table on page 29), don't warrant a medical emergency, as they usually can be treated with a source of glucose or carbohydrate either by the person with diabetes or a caregiver, depending on age and capabilities. Severe hypoglycemia (defined as level 3 hypoglycemia) does constitute a medical emergency. The person with diabetes may be unable to safely consume glucose or carbohydrate; may be unconscious, as in Mark's case; or may be having a seizure. The bottom line: They need assistance.

The go-to treatment for severe hypoglycemia since 1960 has been one of two FDA-approved available glucagon kits: Eli Lilly's Glucagon Emergency Kit or Novo Nordisk's GlucaGen HypoKit. The kits are similar. They contain two items: a needle filled with diluent and a vial of glucagon powder. The diluent is injected into the powder, mixed, drawn into the syringe, and given subcutaneously as a full dose (1 mg/mL) or one-half the dose for individuals who weigh less than 44 lbs. Though the American Diabetes Association recommends that people at risk of level 2 hypoglycemia be prescribed a kit, many people, particularly adults, don't get a prescription, or get one initially and don't remember to check the expiration date.2 This is due in part to the challenging nature of using the kit in a stressful situation and the need for a non–health care provider (eg, parent, school nurse, athletic coach, coworker) to use it. "The older glucagon formulations require too many steps and are complicated to use, especially in an emergency, life-threatening situation," says Diana Isaacs, PharmD, BCPS, BC-ADM, CDE, clinical pharmacy specialist at the Cleveland Clinic Diabetes Center in Cleveland and the American Association of Diabetes Educators' 2020 Diabetes Educator of the Year.
60-Year Innovation Drought Now Over
Fast-forward to August 2019 when the FDA approved the first of potentially three treatments for severe hypoglycemia that are much easier to carry and administer. Then, just one month later, the FDA approved a second easier-to-use treatment available in two forms. Now, being prepared to treat severe hypoglycemia has a new look and feel for the person with diabetes and, more importantly, for the person who may be called on in an emergency to use it. "They're a total game-changer because they're so simple to use," Isaacs says.
Developing these new products didn't happen overnight. They were a decade or two in the making. For starters, "It's very challenging to make glucagon stable in a ready-to-use formulation," Isaacs continues. "Glucagon is a peptide that isn't stable for long periods in an aqueous solution." In addition, it takes years and dollars to conduct the research studies required to file a New Drug Application with the FDA and global regulatory bodies.3 Then, the company must develop a system to bring the product to market. Countless steps and significant expertise must be taken to accomplish each milestone. "I'm grateful that several companies have taken on this challenge," Isaacs says.
The Three Innovative Treatments
The two companies that developed easy, ready-to-use glucagon for severe hypoglycemia are Eli Lilly and Company and Xeris Pharmaceuticals, Inc. The FDA recently approved these two products. Zealand Pharma currently is developing an innovative treatment. Following are the details of each of the new or potentially new medications.
Manufacturer: Eli Lilly
Website for product: www.baqsimi.com
Medication name: Generic, (glucagon) nasal powder; trade, BAQSIMI (pronounced BAK-see-mee)
Dosing: Single, fixed 3-mg dose in a tube. Ready to use. One-time use. No reconstitution or priming. No need for refrigeration. Keep in shrink-wrapped tube until ready to use to keep dry and unexposed to moisture.
Shelf life: 18 months from date of manufacture
Route of delivery: Absorbed passively in the nose (not an injectable)
Mechanism of action: Acts like the hormone glucagon that's secreted from pancreatic alpha cells. Glucagon raises the concentration of glucose by activating hepatic glucagon receptors. This, in turn, stimulates glycogen breakdown in the liver and release of glucose into the blood stream.
Indication: Treatment of severe hypoglycemia in people with diabetes
Adverse reactions (possible): Nausea and/or vomiting (common side effects of glucagon administration), headache, runny nose (see website for others)
FDA approval/status: Approved July 24, 2019, for individuals aged 4 and older (not tested in younger children)
Cost/savings coupons: Lilly is trying to make BAQSIMI available to people at limited cost. Encourage clients and others to sign up for the Got Your BAQ program at www.baqsimi.com/patient-support.  
Manufacturer: Xeris Pharmaceuticals, Inc
Website: www.gvokeglucagon.com (consumers); www.gvokeglucagonpro.com (health care providers)
Medication name: Generic, glucagon injection (liquid stable glucagon); trade, Gvoke (uses patented XeriSol technology to prevent the peptide glucagon from breaking down)
Dosing: Two dosage forms. Gvoke HypoPen (autoinjector) will be available in 2020. The needle in the autoinjector pen retracts and autolocks after use and isn't visible during administration; and Gvoke PFS (prefilled syringe) is available late October/early November 2019. The form prescribed is based on prescriber and personal preference. Premeasured and prefilled ready-to-use in two doses, adult: 1 mg; younger than age 12: 0.5 mg. Can be purchased in 1- or 2-pack.
Shelf life: 24 months from the date of manufacture
Route of delivery: Subcutaneous injection
Mechanism of action: Same as BAQSIMI (see above)
Indication: Treatment of severe hypoglycemia in people aged 2 and older
Adverse reactions (possible): Nausea and/or vomiting (common side effect of glucagon administration)
FDA approval/status: Approved September 10, 2019, for individuals aged 2 and older
Cost/savings coupons: Gvoke PFS may be available with a copay at no cost through the end of 2019. Not valid for prescriptions reimbursed under Medicaid, a Medicare drug benefit plan, Tricare, or other federal or state health programs (such as medical assistance programs).
Manufacturer: Zealand Pharma
Website: www.zealandpharma.com
Medication name: Dasiglucagon HypoPal rescue pen
Dosing: One dose for all ages, pending FDA approval: 0.6 mg. Two forms: ready-to-use prefilled syringe and autoinjector (needle isn't visible during administration).
Route of delivery: Subcutaneous injection
Mechanism of action: Same as BAQSIMI (see page 27)
Indication: Treatment of severe hypoglycemia (age range not yet determined)
Adverse reactions (possible): Undetermined
FDA approval/status: Company expects to file New Drug Application submission in early 2020, with earliest approval likely early 2021.3
Drugs in the Pipeline
Xeris Pharmaceuticals, Inc, and Zealand Pharma have related products in their pipeline of interest to RDs.
Xeris currently is investigating the use of a much smaller dose of their liquid-stable glucagon for people who struggle with postbariatric hypoglycemia, which can result in recurrent episodes of severe hypoglycemia after meals; this condition occurs more often in people who have had the Roux-en-Y surgery. This application is being studied in a small, double-blinded, placebo-controlled phase 2 study.4 FDA filing and approval is several years away.
Zealand is collaborating on another application for dasiglucagon. The formulation would be a 1-mL cartridge containing 4 mg for use in Beta Bionics' iLet, the pocket-sized, dual-chamber, autonomous glycemic control system intended to mimic a biological pancreas.5 Currently, there's no liquid-stable glucagon approved by the FDA to use in this type of delivery system. A phase 2 study comparing the performance of the dual-hormone with the insulin-only system may start soon. For approval and use, the FDA would need to approve both Zealand's dasiglucagon and the delivery device.
Three New Levels of Hypoglycemia Defined
Hypoglycemia is the major limiting factor to achieving glycemic control (including both A1c and daily glucose levels) in people with diabetes who are prescribed one or more blood glucose-lowering medication that can cause hypoglycemia (see "Determining Hypoglycemia Risk" sidebar).2 For years, hypoglycemia was classified as mild, moderate, and severe. In 2017, the definitions changed to level 1, level 2, and level 3, based on a consensus statement from leading diabetes organizations (see table on page 29).6
Glycemic goals and the prevention or minimization of hypoglycemia may be different for young children with type 1 diabetes and older people with type 1 or type 2 diabetes. Both groups are at higher risk of hypoglycemia due to their inability or reduced ability to recognize the symptoms and communicate their needs for treatment. Recent publications discuss these increased risks, different glycemic targets, and strategies to minimize hypoglycemic events in pediatrics.7-10
The American Diabetes Association recommends health care providers ask everyone at risk of hypoglycemia about symptomatic and asymptomatic hypoglycemia at each visit (see "Determining Hypoglycemia Risk" sidebar).2 That's because at any time through the years of managing diabetes, people's risk of any level of hypoglycemia can change. In fact, the risks of severe hypoglycemia increase over time because the potential for hypoglycemia unawareness rises as a person's duration of diabetes increases.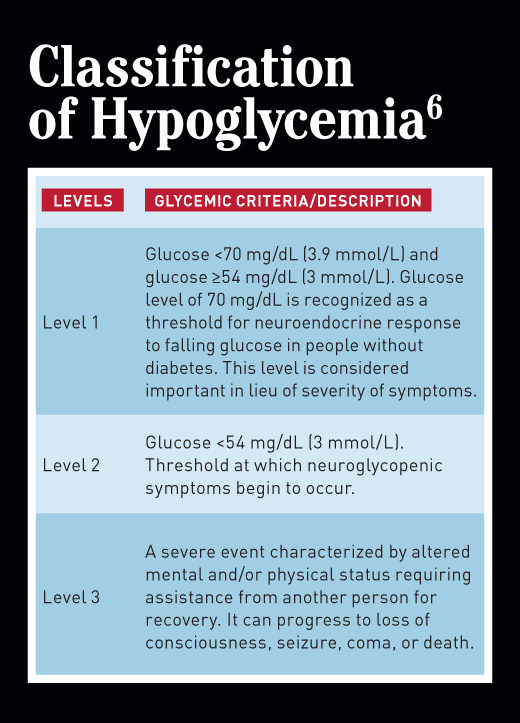 Take Action
The cadre of new severe hypoglycemia treatments are a game changer. Make sure your clients at risk of severe hypoglycemia know about them. Encourage them to ask their health care provider for a prescription so loved ones and others in their circle of life may be prepared to treat an episode of severe hypoglycemia.
Stephen Shaul, a person who's had type 1 diabetes for 28 years, and his wife, Maureen, have taken this step. Stephen filled a prescription for BAQSIMI just after it was initially stocked on his pharmacy's shelf. Reflecting on this treatment evolution, Stephen says, "I've had a glucagon kit at home for many years, and my wife Maureen was trained on it. But we've never used it." Maureen says, "The idea of going through the many steps to properly use it while watching Stephen under duress was never a viable option. Calling 911 was preferable."
Stephen adds, "While we hope we'll never have to use BAQSIMI, we already feel we have a treatment that Maureen, or anyone for that matter, can easily use. Now we feel more prepared than ever before."
Stephen and Maureen run Champion Athletes with Diabetes, in which they award medals to people with diabetes who meet their big or small athletic goals. Learn more at https://happy-medium.net/calling-all-athletes-with-diabetes-heres-your-award.
— Hope Warshaw, MMSc, RD, CDE, BC-ADM, FAADE, is owner of Hope Warshaw Associates, LLC, a diabetes- and nutrition-focused consultancy based in Asheville, North Carolina. She's the author of numerous books published by the American Diabetes Association. Warshaw served as the 2016 president of AADE and currently serves on the board of the Academy of Nutrition and Dietetics Foundation as secretary.
Hope Warshaw, MMSc, RD, CDE, BC-ADM, FAADE, reports the following relevant disclosure. She provided consulting services to Locemia Solutions, the developer of BAQSIMI, before Eli Lilly purchased it in 2015. On behalf of the American Association of Diabetes Educators, she serves on the steering committee for the Endocrine Society's Hypoglycemia Prevention Initiative.

References
1. Warshaw H. Making lemonade from lemons: meet PWD Mark Heyman, PhD, CDE. https://www.tandemdiabetes.com/blog/post/general/2019/09/13/making-lemonade-from-lemons-meet-pwd-mark-heyman-phd-cde. Published September 12, 2019.
2. American Diabetes Association. 6. Glycemic targets: standards of medical care in diabetes - 2019. Diabetes Care. 2019;42(Suppl 1):S61-S70.
3. New Drug Application (NDA). Food and Drug Administration website. https://www.fda.gov/drugs/types-applications/new-drug-application-nda. Updated June 10, 2019. Accessed September 5, 2019.
4. Glucagon ready to use (RTU) in subjects with hyperinsulinemic hypoglycemia after bariatric surgery. ClinicalTrials.gov website. https://clinicaltrials.gov/ct2/show/NCT03770637?term=glucagon+PBH&rank=2. Updated June 6, 2019.
5. Beta Bionics website. https://www.betabionics.com/. Accessed September 7, 2019.
6. Agiostratidou G, Anhalt H, Ball D, et al. Standardizing clinically meaningful outcome measures beyond HbA1c for type 1 diabetes: a consensus report of the American Association of Clinical Endocrinologists, the American Association of Diabetes Educators, the American Diabetes Association, the Endocrine Society, JDRF International, The Leona M. and Harry B. Helmsley Charitable Trust, the Pediatric Endocrine Society, and the T1D Exchange. Diabetes Care. 2017;40(12):1622-1630.
7. American Diabetes Association. 13. Children and adolescents: standards of medical care in diabetes - 2019. Diabetes Care. 2019;42(Suppl 1):S148-S164.
8. American Diabetes Association. 12. Older adults: standards of medical care in diabetes - 2019. Diabetes Care. 2019;42(Suppl 1):S139-S147.
9. LeRoith D, Biessels GJ, Braithwaite SS, et al. Treatment of diabetes in older adults: an Endocrine Society clinical practice guideline. J Clin Endocrinol Metab. 2019;104(5):1520-1574.
10. Academy Nutrition and Dietetics, Diabetes Care and Education Dietetic Practice Group. Navigating care for the older adult with diabetes. On the Cutting Edge. 2019;40(2):1-39.
DETERMINING HYPOGLYCEMIA RISK
Before 1995, we had only two glucose-lowering drugs for people who required medication to manage their glucose levels—a variety of insulins and several sulfonylureas. Due to their mechanisms of action, both had the potential to cause hypoglycemia. Therefore, the topic of hypoglycemia had to be discussed with everyone who took these medications.
Today, there are several new types of insulins available, some less associated with hypoglycemia. Even more relevant, there's a bevy of new categories of glucose-lowering medications that, due to their mechanisms of action, are unlikely to cause hypoglycemia unless they're used in combination with insulin, a sulfonylurea, or (rarely) meglintinides. The classes of glucose-lowering medications prescribed most frequently today are biguanides (metformin), SGLT-2 (sodium-glucose cotransporter-2) inhibitors, DPP-4 (dipeptidyl peptidase 4) inhibitors, and GLP-1 (glucagonlike peptide 1) receptor agonists. (For more information about these drugs, read Today's Dietitian's August E-News Exclusive, "Diabetes Medication Update," at www.todaysdietitian.com/enewsletter/enews_0819_01.shtml). The majority of people with type 2 diabetes on medication(s) take these agents.
When dietitians counsel people who take one or more (or a combination) of these medications, ask them and their caregivers about their understanding of their risk of hypoglycemia. Also ask about their experiences with and fears of hypoglycemia. RDs will gain insights and be able to clarify misconceptions. Many people with diabetes, caregivers, and the general public equate having diabetes with being at risk of hypoglycemia. However, there are many people, including everyone with type 1 diabetes and about one-third of people with type 2 diabetes, who take insulin and others who still use sulfonylureas due in part to their low cost. These individuals still need to be aware of their risk of the three levels of hypoglycemia and how to be prepared to treat it.
Dietitians can play a role in advocating for treatment modifications and/or changes in glycemic goals for individuals with diabetes they counsel. Let's work to update everyone's knowledge and encourage each person with diabetes at risk to be prepared. Suggest everyone with diabetes get referred to use their covered health care services, such as MNT and Diabetes Self-Management Education and Support (DSMES). New evidence demonstrates a positive impact of DSMES on reducing hypoglycemia events and/or symptoms.1
— HW
Reference
1. LaManna J, Litchman ML, Dickinson JK, et al. Diabetes education impact on hypoglycemia outcomes: a systematic review of evidence and gaps in the literature. Diabetes Educ. 2019;45(4):349-369.
---
STATS AND COSTS
Hypoglycemia can result in morbidity (eg, injury from falls or motor vehicle accidents, or cognitive dysfunction) and mortality (eg, death from cardiac events, motor vehicle, or other accidents), and have a grave impact on quality of life. It's also costly to the health care system, often involving 911 calls for paramedics, emergency department visits, and hospitalizations. It's acknowledged that these costs are substantially underestimated because they aren't reported.1
Following are additional important facts and stats about hypoglycemia:
• The US Department of Health and Human Services National Action Plan for Adverse Drug Event Prevention highlights hypoglycemia as a primary concern for its association with insulin and sulfonylureas.2
• Among Medicare-aged individuals, hospitalization for hypoglycemia is associated with a 30-day readmission rate of 18.1%.3
• Hypoglycemia is identified as one of the top three preventable adverse drug events by the Department of Health and Human Services.2,3
• Between January 2007 and December 2011, emergency department visits for therapy-associated hypoglycemia among Medicare beneficiaries resulted in more than $600 million in spending.4
• Hypoglycemia can significantly affect a person's quality of life, social life, work productivity, and ability to drive safely.1
— HW
References
1. American Diabetes Association. 6. Glycemic targets: standards of medical care in diabetes - 2019. Diabetes Care. 2019;42(Suppl 1):S61-S70.
2. US Department of Health and Human Services, Office of Disease Prevention and Health Promotion. National action plan for adverse drug event prevention. https://health.gov/hcq/pdfs/ADE-Action-Plan-508c.pdf. Published 2014. Accessed September 7, 2019.
3. Lash RW, Lucas DO, Illes J. Preventing hypoglycemia in type 2 diabetes. J Clin Endocrinol Metab. 2018;103(4):1265-1268.
4. Lipska KJ, Ross JS, Wang Y, et al. National trends in US hospital admissions for hyperglycemia and hypoglycemia among Medicare beneficiaries, 1999 to 2011. JAMA Intern Med. 2014;174(7):1116-1124.
---
THE ENDOCRINE SOCIETY'S LATEST INITIATIVES
Reducing hypoglycemia has been an ongoing initiative of the Endocrine Society since 2015. In 2016, the society established the Hypoglycemia Quality Collaborative. Along with several diabetes-focused organizations and for-profit entities, it published Hypoglycemia Quality Collaborative Strategic Blueprint, recommendations to reduce hypoglycemia in the United States.1 In addition, the society is collaborating with Avalere Health, a national health care advisory firm, on the Hypoglycemia Prevention Initiative,2 a multiyear quality improvement project to design and test interventions to improve early identification and management of hypoglycemia in adults older than 65 with type 2 diabetes who are at high risk. The goal is to determine best practices in primary care.
The initiative's first effort is the Hypoglycemia Prevention Study, which will be conducted at Pottstown Medical Specialists, a five-site physician-owned primary care practice in southeastern Pennsylvania. To lower the risks and incidences of hypoglycemia, providers will use shared decision making, individualized A1c goals, and/or changes to glucose-lowering medications.3 To date, two diabetes care and education specialists, one RD (the author of this article), and one RN, have played roles in this initiative.4
The Endocrine Society also is working with a technical expert panel to develop a set of clinical measures for older adults with type 2 diabetes at risk of hypoglycemia. These measures, aimed at health care providers, are related to health care processes, outcomes, patient perceptions, and more, and based on the results they will identify areas for improvement of care. These will be published online by the end of 2019.
Lastly, the society recently launched KNOW HYPO—a consumer education resource.5
— HW
References
1. Endocrine Society. Hypoglycemia quality collaborative strategic blueprint. https://endocrinenews.endocrine.org/wp-content/uploads/HQC_Strategic_Blueprint_VIEW.pdf. Accessed September 7, 2019.
2. Hypoglycemia Prevention Initiative. Endocrine Society website. https://www.endocrine.org/hypoglycemia-prevention-initiative. Accessed September 7, 2019.
3. Lash RW, Lucas DO, Illes J. Preventing hypoglycemia in type 2 diabetes. J Clin Endocrinol Metab. 2018;103(4):1265-1268.
4. Warshaw HS, Zlomek D. Diabetes educators facilitate primary care study to decrease hypoglycemia, improve safety in type 2 diabetes. Paper presented at: American Association of Diabetes Educators Annual Conference; August 2019; Houston, TX.
5. Severe hypoglycemia. Hormone Health Network website. https://www.hormone.org/diseases-and-conditions/diabetes/severe-hypoglycemia. Updated May 2019. Accessed September 7, 2019.