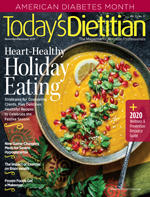 November/December 2019 Issue
Heart-Healthy Holiday Eating
By Densie Webb, PhD, RD
Today's Dietitian
Vol. 21, No. 11, P. 20
Clients with CVD can enjoy a variety of delicious holiday foods while continuing to follow their healthful eating patterns.
Celebrating the holidays while eating healthfully can feel like a tug of war. The tug is especially difficult this time of year for clients and patients who have been diagnosed with CVD and have been advised to stick to a heart-healthy diet low in saturated fat and sodium and rich in unadorned fruits and vegetables. Food is everywhere, and, more often than not, it isn't fare dietitians would recommend as a part of a heart-healthy eating pattern. Think stuffing and gravy, pecan pie, eggnog, sugar cookies, pumpkin bread, rolls slathered in butter, and pressure to take second helpings from loving family members who have slaved in the kitchen for days preparing holiday treats.
If you counsel older adult clients, chances are several of them have CVD, as it's the leading cause of death in the United States. Every 40 seconds, someone in the United States has a myocardial infarction or stroke, and deaths from heart attacks spike during the holidays.1-3 While researchers don't know exactly why, it's been suggested that changes in diet and alcohol consumption may contribute. It isn't news that diet affects CVD risk factors, such as high blood pressure, high blood cholesterol, and obesity, all of which are negatively affected by overeating foods high in calories, saturated fat, and sodium. Yet, countless holiday treats are high in all three. It can seem like everyone and everything conspires against eating a heart-healthy diet this time of year. So, what's the best advice for patients trying to enjoy the holidays while not putting their heart health at risk? Today's Dietitian speaks with consultants and spokespersons from the Academy of Nutrition and Dietetics (the Academy) for their top suggestions on how to help clients deal with the overwhelming influence of holiday overabundance.
Karen Collins, MS, RDN, CDN, FAND, a speaker, writer, and consultant specializing in heart health and cancer prevention, says to encourage patients to steer clear of an "all-or-nothing" outlook. "I think RDs can provide great help by coaching clients and patients to be flexible and try to escape the "all good" or "all bad" dichotomy. A detour off of usual healthful eating habits doesn't mean you've jumped off a cliff." At the same time, she says, "just because it's the holiday season, doesn't mean you should completely ignore how your food choices influence your energy and your health."
It's also important to bear in mind the extended time frame of what we call "the holidays." Libby Mills, MS, RD, LDN, FAND, a spokesperson for the Academy, says to remind clients that "the holidays are not one day. Though technically spanning Thanksgiving through the New Year, the challenges begin as early as Halloween and continue with lingering leftovers into January." She advocates helping clients develop a plan for handling all the excess food and goodies over the extended period of time. To do that, she says, help them focus on good feelings of empowerment, health, accomplishment, and joy to shift the value of party experiences from gratification in the moment to making fulfilling choices that will last a lifetime.
Kristen Gradney, MHA, RDN, LDN, a spokesperson for the Academy and owner of Pure Nutrition Wellness Services in Baton Rouge, Louisiana, suggests advising patients to save splurges for when they want them most, bring a heart-healthy dish with them to a family dinner, and have a healthful snack before the big holiday meal to head off hunger. Gradney says, "If you keep to your healthful eating pattern during the holidays, the transition to after the holidays should be fairly easy."
With regard to splurges, Collins says, advise clients not to "overcorrect" for splurges after the holidays. "Those who start the postholiday period with rules so strict that they can't stay the course can start a trend of swinging like a pendulum from aiming for perfection to rebellious excesses."
Though none of the RDs interviewed advocate excluding any one food or food group—unless of course clients have an allergy or medical condition that requires elimination—they suggest patients diagnosed with CVD limit the following foods and ingredients during the holiday season:
• salty condiments and sauces;
• fried foods;
• cheese and cheesy dishes;
• cream;
• butter;
• sweet bakery items (eg, pie, cookies, fudge);
• eggnog;
• stuffing/dressing;
• gravy;
• sugar-sweetened drinks;
• processed meats; and
• candy.
Following are four heart-healthy holiday recipes dietitians can share with clients and patients that they and their whole families can enjoy.
— Densie Webb, PhD, RD, is a freelance writer, editor, and industry consultant based in Austin, Texas.

References
1. Benjamin EJ, Muntner P, Alonso A, et al. Heart disease and stroke statistics – 2019 update: a report from the American Heart Association. Circulation. 2019;139(10):e56-e528.
2. Phillips DP, Jarvinen JR, Abramson IS, Phillips RR. Cardiac mortality is higher around Christmas and New Year's than at any other time: the holidays as a risk factor for death. Circulation. 2004;110(25):3781-3788.
3. Knight J, Schilling C, Barnett A, Jackson R, Clarke P. Revisiting the "Christmas holiday effect" in the Southern Hemisphere. J Am Heart Assoc. 2016;5(12):e005098.
Recipes
Easy Pumpkin Soup
Serves 6
Ingredients
1 T olive oil
1/2 cup finely chopped sweet onion
4 cloves garlic, minced
1/4 tsp salt
1/2 tsp ground cinnamon
1/2 tsp ground nutmeg
1/4 tsp black pepper
2 (15-oz) cans pumpkin purée
3 cups unsalted chicken stock
1 (12-oz) can nonfat evaporated milk
3 T maple syrup
Directions
1. Put olive oil in a large pot over medium heat. Add onion and sauté 5 minutes.
2. Add garlic, salt, cinnamon, nutmeg, and pepper, and sauté 3 minutes.
3. Add pumpkin and stock, stirring to combine, and bring to a boil over medium-high heat. Reduce heat to low and simmer for 20 minutes.
4. Stir in evaporated milk and maple syrup.
5. Let the soup cool for 10 minutes, transfer to a blender, and process until smooth.
6. Return soup to pot and heat.
Nutrient Analysis per serving
Calories: 170; Total fat: 3 g; Sat fat: 0 g; Sodium: 240 mg; Total carbohydrate: 28 g; Dietary fiber: 0 g; Sugars: 20 g; Protein: 8 g
— Recipe and photograph courtesy of Jessica Ivey, RDN, LD
---
Cranberry Apple Hazelnut Crumble
Serves 8  
Ingredients
12 oz fresh cranberries
3 apples, peeled, sliced
1 orange, zest and juice
1/2 cup coconut palm sugar (or brown sugar), divided
1 cup old-fashioned oats, gluten-free
1/4 cup whole grain, gluten-free flour (eg, quinoa, sorghum, or millet flour)
1/3 cup hazelnuts, chopped
1 tsp cinnamon
1 tsp cardamom
1/2 tsp ginger, ground
Pinch salt (optional)
1/4 cup coconut oil, melted, cooled
Directions
1. Preheat oven to 375° F.
2. Mix cranberries and apples together in a medium bowl. Add the zest and juice of one orange and the sugar and toss well.
3. Pour filling into a 9-inch pie dish.
4. In a small bowl, mix together oats, flour, hazelnuts, cinnamon, cardamom, ginger, and salt (optional). Stir in coconut oil with a fork to make a crumbly mixture.
5. Sprinkle crumb topping over cranberry apple filling and bake uncovered for 1 hour.
Nutrient Analysis per serving
Calories: 251; Total fat: 12 g; Sat fat: 6 g; Sodium: 6 mg; Total carbohydrate: 35 g; Dietary fiber: 5 g; Sugars: 21 g; Protein: 3 g
— Recipe and photograph courtesy of Sharon Palmer, MSFS, RDN
---
Instant Pot Turkey Tenderloin
Serves 6
Ingredients
2 T dried parsley flakes
1 T olive oil
3/4 tsp salt
1 tsp black pepper
1/2 tsp dry mustard
24 oz turkey breast tenderloin
1/2 cup low-sodium chicken broth
Directions
1. Combine parsley flakes, olive oil, salt, pepper, and mustard in a small bowl. Rub evenly over turkey.
2. Place turkey in a 6-quart pot and add chicken broth.
3. Cover Instant Pot and, using manual setting, set to 18 minutes on high pressure, making sure the pressure valve is sealed. When done, let the pressure slowly release.
4. Let stand for at least 5 minutes before slicing.
Nutrient Analysis per serving (3 oz)
Calories: 140; Total fat: 4 g: Sat fat: 0 g; Sodium: 360 mg; Total carbohydrate: 1 g; Dietary fiber: 0 g; Sugars: 0 g; Protein: 28 g
— Recipe and photograph courtesy of Jessica Ivey, RDN, LD
---
Lightened-Up Sweet Potato Carrot Casserole With Maple Pecans
Serves 10
Ingredients
Nonstick cooking spray
2 lbs sweet potatoes, peeled and cut into large chunks
1 lb carrots, peeled and cut into large chunks
1 T olive oil
3/4 cup chopped pecans
2 tsp maple syrup
1 tsp grated ginger
1 tsp orange zest
2 T freshly squeezed orange juice
1 cup light coconut milk
1 tsp ground cinnamon
1/2 tsp ground nutmeg
1/2 tsp kosher salt
Freshly ground pepper, to taste
Directions
1. Preheat oven to 400° F.
2. Line a large baking sheet with aluminum foil. Coat a 9 X 13-in baking dish with cooking spray. and set aside.
3. Toss sweet potatoes and carrots with olive oil and spread on baking sheet. Roast 30 minutes until caramelized, stirring once or twice during cooking.
4. While vegetables are roasting, in a small bowl, toss pecans with maple syrup and set aside.
5. When vegetables are finished cooking, remove from oven and reduce oven temperature to 350° F.
6. Transfer roasted vegetables to a large food processor. Add ginger, orange zest, orange juice, and coconut milk, and process until smooth, scraping down the sides of the bowl as necessary. Add cinnamon, nutmeg, salt, and pepper to taste, and process again until blended. Taste and adjust seasoning as desired.
7. Spread the sweet potato–carrot purée in the prepared baking dish and sprinkle with prepared pecans. Bake until hot and beginning to brown around the edges, 40 minutes.
Nutrient Analysis per serving
Calories: 180; Total fat: 9 g; Sat fat: 2 g; Sodium: 180 mg; Total carbohydrate: 23 g; Dietary fiber: 5 g; Sugars: 9 g; Protein: 3 g
— Recipe and photograph courtesy of Jessica Levinson, MS, RDN, CDN