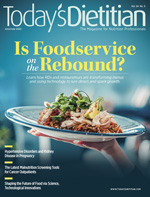 June/July 2022 Issue
Editor's Spot: Good News for a Change
By Judith Riddle
Today's Dietitian
Vol. 24, No. 5, P. 6
Many of you have heard the good news that our country is no longer in the "full-blown pandemic phase" of COVID-19, although we still need to tread cautiously. At press time, NBC news reported that COVID-19 infections had increased 58% in the United States over a previous two-week period, and we still could see a more dramatic spike in new infections as the virus continues to mutate into highly contagious variants, according to Anthony Fauci, MD, director of the National Institute of Allergy and Infectious Diseases.
Infection rates, hospitalizations, and deaths are way down compared with last year's numbers, but infections are spiking again because mask mandates are being lifted, and many people have returned to living their prepandemic lives.
Tens of millions have begun traveling by plane both domestically and internationally; attending sporting events, church services, concerts, weddings, and other family celebrations; and dining indoors at restaurants. From the look of things, it appears as if the restaurant industry has bounced back, as local eateries seem to be teeming with diners. But interestingly, the restaurant industry still has a way to go before sales and operations return to prepandemic levels.
According to the National Restaurant Association's "2022 State of the Restaurant Industry" report, the foodservice industry is forecast to reach $898 billion in sales in 2022 and its workforce is projected to grow by 400,000 jobs by the end of 2022, bringing total industry employment to 14.9 million. However, more than one-half of restaurant owners say it will be a year or more before business returns to normal. Food, labor, and occupancy costs will remain high and impact profits throughout 2022, and supply delays and shortages of key food and beverage products may continue. Plus, 51% of adults say they still aren't eating at restaurants as often as they'd like. For more on the state of the foodservice industry, read "Is Foodservice on the Rebound?" on page 24.
Not only has foodservice and the country made progress, but so has Today's Dietitian (TD). For the first time in two years, TD kicked off its 9th annual Spring Symposium in person, May 22 to 25, in Bonita Springs, Florida, at the Hyatt Regency Coconut Point Resort & Spa. Our continuing education event offered a wide variety of sessions and workshops, opportunities to interact and network, morning fitness activities, breakfast and lunch presentations, and special events. To learn more about the event and view the photo gallery, stay tuned for our August/September 2022 issue.
In the meantime, please enjoy this month's issue!
— Judith Riddle, Editor
TDeditor@gvpub.com