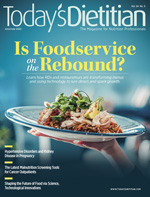 June/July 2022 Issue
Is Foodservice on the Rebound?
By Mindy Hermann, MBA, RDN
Today's Dietitian
Vol. 24, No. 5, P. 24
Learn how dietetics professionals and foodservice operators are engaging in menu innovation and technology to attract diners and spark growth.
The COVID-19 pandemic hit the foodservice industry particularly hard when it began in early 2020. Restaurant closures led to losses of hundreds of thousands of jobs in the industry. Dine-in food and beverage sales stopped, with ripple effects up and down the food supply chain Conversion from dine-in to takeout and delivery, along with staff shortages, led to fewer menu options. The pandemic caused what may have been the greatest upheaval ever in foodservice.
However, the 2022 outlook for foodservice is positive. Despite periodic spikes in COVID-19 cases, restaurants have reopened for dining, students are back on campuses, and consumers are easing back into prepandemic lifestyles.
This article looks at the state of the industry recovery and updates the perspectives of foodservice professionals Today's Dietitian interviewed this time last year.
Down but Not Out
According to the National Restaurant Association (NRA) Restaurant Industry Facts at a Glance, issued February 2022, industry sales and employment dropped approximately 7% to 8% from the prepandemic peak in February 2020. Restaurant industry sales reached $799 billion in 2021, down $65 billion from prepandemic levels, and the number of restaurant industry employees reached 14.5 million by the end of 2021, a loss of 1 million from prepandemic levels.
The report notes ongoing industry workforce recovery. In February 2022, eating and drinking establishments marked their fourth straight month with job gains near 125,000 and the 14th month of overall gains in employment. Among all foodservice segments, full service had the most job losses and is experiencing the slowest recovery, with these operators cutting items from their prepandemic menus. Quick-serve and fast-casual segments are slightly down, while declines are greater in cafeterias, buffets, bars, and taverns.
In comparison, limited-service restaurants were more likely to have continued operations through the pandemic and have added jobs since their earlier prepandemic peak. Still, the majority of operators in all restaurant segments say that they don't have enough employees to meet growing consumer demand.
Changed Consumer Behavior
The pandemic caused long-term changes in consumer behavior. Demand for alcohol to go and outdoor dining continues to be strong. More than one-half of adults surveyed by the NRA (most of whom were millennials and Gen Z) say that takeout and delivery food are essential to the way they live. Consumers also support innovations that improve the eating experience of takeout and delivery food, with a strong majority saying they'd order a wider variety of takeout foods if a restaurant used packaging that helped maintain temperature, taste, and quality.
An industry press release quotes Hudson Riehle, senior vice president of NRA Research and Knowledge Group, as saying that "restaurants and their patrons have found themselves in a 'new normal.' Given emergent technology, changing consumer behavior and dining preferences, and the extraordinary challenges of the last two years, the industry is unlikely to ever completely return to its prepandemic state."
Altered Labor Relationships
The biggest impact of the COVID-19 pandemic on service, menu items, and operational structures in foodservice is short staffing in restaurants, says Daniel Kedan, chef instructor at Culinary Institute of America in Greystone, California. "New health protocols require that employees stay home rather than come to work when they are sick, so restaurants may not have a full staff to cook or to serve customers. Restaurant pay is low and often isn't a living wage, so people who might have gone into foodservice look elsewhere." He adds that the technological and automation innovations that have been introduced to help solve the labor shortage, for example, burger-flipping robots and order-taking kiosks, will impact future work opportunities.
Kedan is excited about the industry's ability to rebound and predicts that restaurant menus will continue to evolve. "Shorter, simpler menus are here to stay, and they are driving chefs to be more creative," he says. "Innovation around plant-forward dishes is exciting. And while the popularity of online ordering and pickup removes the need for plating meals, chefs instead are making decisions about packaging performance and sustainability, as well as whether a dish will travel well."
Personalized Dining Is More Important
At Stanford University in Palo Alto, California, the COVID-19 pandemic forced the university's Residential & Dining Enterprises (R&DE) to move from a self-serve model to a preplated menu. Student input on menu items was encouraged as a way to replicate the personalized meals students were accustomed to prepandemic.
"We welcomed students back on campus for the 2021–2022 academic year and were able to embrace a new normal that reestablished many of our dining programs and operations that carried forward our learnings from the pandemic experience," says Jackie Bertoldo, MPH, RDN, assistant director of nutrition and food choice architecture at R&DE Stanford Dining. "One example is our Mindful Meal program for students with food allergies, which we created as a to-go program during the pandemic. Now that we've gone back to self-serve, each dining hall has a Mindful Meal station featuring chef-inspired entrées and sides that are free from the top nine food allergens."
Improvement in COVID-19 conditions and easing of restrictions have allowed R&DE Stanford Dining to return to culturally inspired food concepts and culinary celebrations. "Our Student Menu Innovation Committee works with our chefs to help guide the menu offerings in the dining halls and enhance menu options for the wide range of cultures, dietary requirements, and food preferences across campus," Bertoldo says. "We also use our dining program as a platform to recognize a diversity of chefs who influence and educate our culinary team and students. Together, we create critically important food experiences and educational opportunities. We support the academic mission of the university by offering a dining program where all students can be well nourished physically, socially, and emotionally."
Bertoldo sees growing student interest in health as students continue to transition away from early-pandemic comfort foods toward food options that help them feel their best and stay healthy. R&DE Stanford Dining provides nutrition consultations supported by enhanced food offerings to promote immunity and health, such as ginger, turmeric, and carrot juice shots; fermented foods to boost gut health; and colorful roasted vegetable boards rich in antioxidants.
RD&E Stanford Dining continues to build on its award-winning Sustainable Food Program—One Plate, One Planet—that encompasses aspects of complex global food systems, including equitable supply chains, climate-smart dining, regenerative agriculture, food waste reduction, and plant-forward options.
"R&DE Stanford Dining believes that with each plate we serve, and each meal our students eat, we have the opportunity to create a better future for this planet together," Bertoldo says. "One of our primary sustainability focus areas is waste reduction, including the elimination of to-go boxes that were implemented during the pandemic." With the easing of COVID-19 restrictions, R&DE Stanford Dining, in partnership with faculty and staff, also relaunched its research programs that use the dining halls as living laboratories to study the most effective strategies for reducing food waste and promoting sustainable food choices.
Health and well-being are top of mind. "We look forward to continuing to embrace our new normal, carrying forward lessons learned during the pandemic and launching new programs and innovations that help us provide an exceptional dining experience for our students and community," Bertoldo says. "Promoting well-being for students and staff will also be an important focus as we transition out of the pandemic, which has been a difficult time for many. Stanford Dining has joined a number of campuswide initiatives aimed at promoting student wellness, and we are collaborating with the university's employee wellness program to help make their programs and resources more accessible for our foodservice staff."
Enhancing the Customer Experience
At the height of the pandemic, fast food chain Taco Bell closed its dining rooms, shifted the majority of its business to drive-thru, simplified its menu offerings (including taking several favorites off the menu), and removed ingredients and preparation methods that increased the time it took to serve customers.
"Drive-thru ordering surged in 2020, the first year of the pandemic, and it continues to be the main driver of Taco Bell sales," says Missy Schaaphok, RDN, Taco Bell's director of global nutrition and sustainability. Schaaphok notes that with the reopening of dining rooms, Taco Bell has worked toward increasing the efficiency of both drive-thru and dining room operations to create an easy, frictionless experience for both its customers and team members.
Menu innovation, a driving force at Taco Bell, has accelerated in recent months. "Over the last year or so, the Food Innovation Team and I tested or launched the Klondike Choco Taco, Crispy Chicken Wings, and the Naked Chalupa with a Crispy Plant-Based Shell—a plant-based option," Schaaphok says. "Taco Bell has long been a destination for vegetarians since everything on our menu is highly customizable. Menu items containing meat can easily be swapped for potatoes or beans. Fans can easily order vegetarian options online with our 'Veggie Cravings' menu or in restaurant with the 'Veggie Mode' feature on kiosks, and almost any menu item can be customized 'Fresco style' to substitute fresh, diced tomatoes for dairy toppings. We were one of the first fast food restaurants to partner with the American Vegetarian Association to certify menu items, and we display an easy-to-spot vegetarian symbol on our menu boards."
Taco Bell's technology also has continued to evolve. The Taco Bell app provides customers with exclusive access to the digital-only menu items, early notification regarding limited-time offers, and unique opportunities for special offerings like the Friendsgiving Party Pack and Cyber Monday Days. In 2020, Taco Bell introduced its Go Mobile restaurant that enables its guests to order ahead with the Taco Bell app and use a priority pickup lane to get food faster. Go Mobile restaurants also feature smart kitchen technology, curbside pickup, and a concierge service to help streamline the ordering process.
The restaurant chain prides itself on serving high-quality food with great value. "While we've incorporated various menu changes throughout the last year, we consistently offer quality, craveable food for all lifestyles at an affordable price," Schaaphok says.
Celebrating the Student Community
Chartwells Higher Education Dining Services kept students' needs at the core of its pandemic-related changes to foodservice. It used a three-tiered menu approach to meet a variety of dietary preferences regarding food allergies and other health concerns while switching to menu items that were portable and held up well in to-go packaging. The past year has marked a return to reusable service items along with continued focus on students' needs. "To support the shift back to campus life, we launched a series of events called Joyful, to help students come together and bring a sense of joy, togetherness, and community back to campus through food," says Megan Dudczak, RDN, director of nutrition at Chartwells Higher Education in Chicago.
Student feedback, voting, and requests continue to drive the menus and concepts that Chartwells develops for residential dining. "Many campuses have a dedicated Student Choice station where students can vote on the menus and concepts they want to see," Dudczak says. "Issues with supply chain and staffing have continued to affect our flexibility. For example, we had trouble getting blenders for a smoothie station on one campus, but we continue to seek student feedback and try to respond to their preferences." She adds that plant-forward dining is popular and Chartwells held a plant-forward menu takeover in April as part of a celebration of the earth, foodservice teams, and student communities.
Chartwells was an early adopter of technology solutions during the pandemic. It continues to use ghost kitchens for their flexibility, convenience, and menu variety. Mobile ordering platforms, including a proprietary mobile ordering app for online takeout orders, and delivery robots have become more widely used, while QR codes enable access to digital menus and facilitate communication between the dining team and students.
Postpandemic Recovery Continues
The foodservice industry has undergone dramatic changes that are likely to continue in the coming years. According to the NRA's Restaurant Industry Facts at a Glance 2022, more than one-half of restaurant operators expect full recovery to take at least another year. They anticipate continued supply delays and shortages of key food or beverage items and acknowledge that higher prices for food, labor, and rent will impact profit margins.
Technology is a bright spot for the industry; more than 8 in 10 operators say the use of technology in a restaurant provides a competitive advantage, and a good proportion of operators plan to ramp up investments in technology for online or app ordering, reservations, mobile payment, delivery management, and back-of-house operations.
The industry insights company Datassential, which monitors trends in the foodservice industry, noted in a March webinar that chain restaurants have returned to about 85% of their pre–COVID-19 activity. Many are using innovation rather than combo meals and value items as a way to boost sales. But with inflation rising and consumers expecting inflation to worsen, Datassential foresees a combination of value, innovation, and uniqueness of menu items to fuel growth. The company also predicts growth in experiential menus that are shareable on social media platforms such as Instagram and TikTok.
Press releases from several chains predict continued growth in 2022. Sweetgreen added 31 restaurants in fiscal year 2021 and launched 17 restaurants in mid-March 2022. Dine Brands, owner of Applebee's Grill + Bar and IHOP, plans to focus on technology, as well as off-premise innovations such as virtual brands and ghost kitchens. Virtual brands are delivery-only concepts, in which menu items are prepared in ghost kitchens, or central kitchens, which operate as restaurants but don't have their own kitchens, dining space, or corporate structure. Ghost kitchens enable companies to test new markets at a lower cost, while virtual brands make use of kitchens during slower hours without having to add staff.
An October 2021 article in Restaurant Business noted that although economic recovery is expected in 2022, labor and food item shortages will endure. This could force restaurant operators to continue streamlining their menus and innovating with ingredients and products they have on hand. The article suggested that chefs might explore nontraditional preparations of familiar foods, including blistering, aging, pickling, and fermenting, to add excitement to menus. Protein swaps with underused cuts of meat, "whole animal" cooking, nuts and seeds, and plant-based meat and dairy alternatives could help manage costs while also addressing food waste.
Roles for Dietitians
COVID-19 and postpandemic industry recovery affect dietetics professionals in various settings. Dietitians in foodservice will continue to play an important role in the evolution of menu items that considers supply chain issues, staffing availability, consumer needs, food waste, and, importantly, nutrition. "Dietitians can provide healthful menu solutions that work for the back-of-house operations, simplify supply chain challenges in a way that's cost-neutral or cost-saving, and repurpose ingredients being used in other places on the menu," says Sarah Hendren, MS, RDN, LD, CD, a consultant in food policy, quality assurance, and regulatory affairs in Dallas.
Dietetics professionals who work with clients, whether in private practice, clinical settings, or education facilities, should monitor trends to educate individuals on smart choices in the rapidly changing foodservice environment.
— Mindy Hermann, MBA, RDN, is a food and nutrition communications consultant in metro New York.